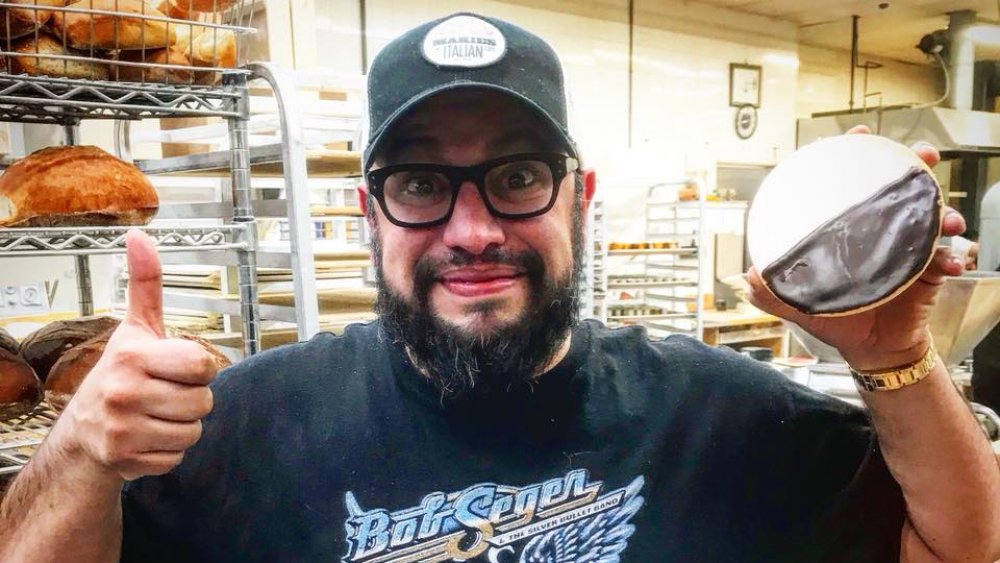 Food Network is the star-studded home to fantastic food shows and culinary competitions. In fact, the channel has been instrumental in the astronomical rise to stardom for many celebrity chefs.
Unfortunately, not every chef who has graced the screen of the Food Network is still with us. Some of these losses were more widely mourned, like that of the iconic French chef, Julia Child. Child's shows are mainstays on Food Network, and her death in 2004, at the age of 91, wasn't missed by many (via Today).
Similarly, few will have missed news of celebrity chef Anthony Bourdain's sad demise in 2018. He was most famous for his gripping travel-food shows, and also wrote several cookbooks. Bourdain actually started his television career on Food Network, with the popular show, A Cook's Tour (via Eater), and his passing was met with a wave of grief and sadness around the world.
Sadly, the Food Network has lost more than just a handful of other stars through the years — and there's a good chance a few of them have escaped your attention. Read on to find out more about the Food Network stars you may not know passed away.
Anthony Sedlak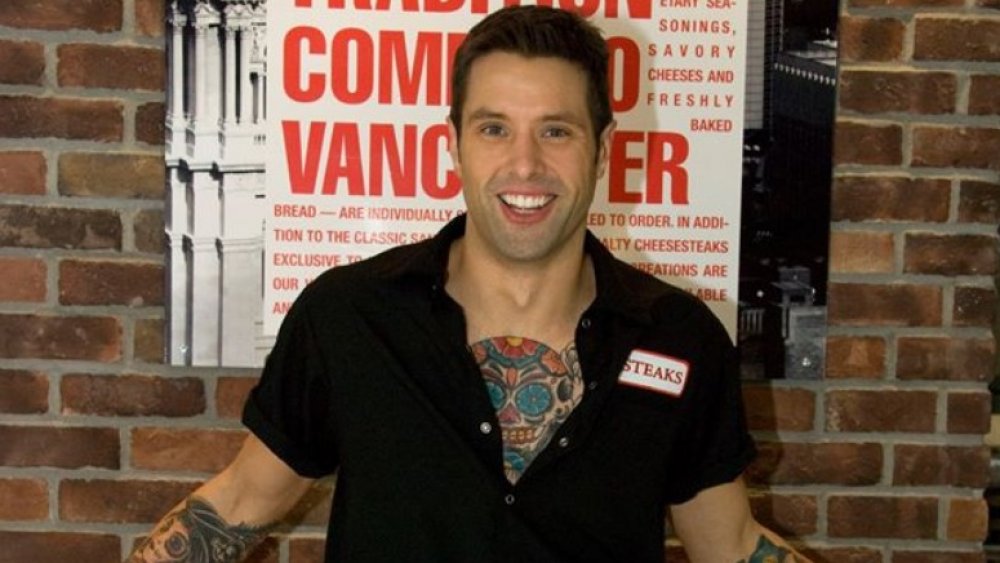 He had just filmed an appearance on Anna & Kristina's Grocery Bag for the Oprah Winfrey Network. Its host, Anna Wallner said later on Twitter that Sedlak had seemed "full of life." He had also shot what would be his last appearance, on Food Network Canada's You Gotta Eat Here! (via Vancouver Sun). Its host John Catucci was just one of many celebrities who paid tribute after Sedlak's passing.
Sedlak's fame began on Food Network Canada. After winning the second season of Superstar Chef, he was offered his own show, The Main. This was a dream come true, as he had always talked about having his own show (via Vancouver Observer). He later released the 2011 bestseller, The Main: Recipes.
Sadly, he died just a year later at age 29. Initial reports stated he collapsed from an undiagnosed medical condition (via National Post). However, in 2013, reports emerged saying he died of an intentional drug overdose (via CBC).
The young chef had been an industry gem. He even influenced those he had never met, like food writer Dan Clapson. In a tribute, Clapson wrote (via Food Network), "I'm sad to say I will now never meet the man who taught me how to cook a damn fine flank steak, but, rest assured, every time I cook this dish in my kitchen, I'll be thinking of him."
Fatima Ali
Fatima Ali had a promising career ahead of her before her untimely death.
She moved from Pakistan to America at 18 to attend culinary school. After a stint as a sous chef at Café Centro, she became a contestant on Food Network's Chopped in 2012, and appeared as a contestant on Top Chef in 2017. Shortly after that filming, Ali announced she had been diagnosed with a rare type of cancer. Called Ewing sarcoma, it occurs in the bone or soft tissue (via Johns Hopkins). Refusing to let it slow her down, she continued to cook, posted updates on Instagram, and shared her story with Ellen DeGeneres.
In 2018, she penned an article in Bon Appetit's Healthyish about being given a year to live. She described her struggle and treatment, writing, "When we think we have all the time in the world to live, we forget to indulge in the experiences of living. When that choice is yanked away from us, that's when we scramble to feel."
Ali had dreamed of owning her own restaurant. She wrote about modifying it to "sketching a plan to eat my way through New York and the boroughs while I can."
After she died in 2019, several stars, including Padma Lakshmi, posted tributes to the young chef. Her family paid tribute by traveling the world on the food tour she never completed (via Today).
Floyd Cardoz
In March 2020, the world lost superstar chef, Floyd Cardoz. He was known for his marriage of regional and international flavors. And, for his pure love of food.
As he told Forbes India in one of his final interviews, "Being a miserable chef leads to miserable food, miserable staff, and a miserable restaurant."
He started his career in India, and studied in Switzerland. In New York, he opened an acclaimed restaurant, Tabla. As The New York Times said in his obituary, he was the first Indian chef to have such an influence over the New York restaurant scene.
He was a winner of Top Chef Masters, and on Food Network, Floyd regularly hosted Chef du Jour and hosted Fine Dining with Floyd Cardoz.
Before his passing, he shared pictures of a trip to India on Instagram. Among them, new venture, Bombay Sweet Shop, and appearance on Netflix's Ugly Delicious. Almost immediately after his return, he was admitted to hospital in New Jersey with a fever. Here, he succumbed to the coronavirus a few days later (via CNN).
Several celebrities reacted to his passing, including Food Network's Alex Guarnaschelli. She posted on Twitter, "I can't process it. A true gentleman in every sense and a great credit to the chef community. He will be sorely missed."
Clarissa Dickson Wright
Eccentric television chef Clarissa Dickson Wright was a culinary force to be reckoned with. She was also a controversial figure.
A former lawyer, Wright was once charged with hunting offenses and used to be an alcoholic. More importantly, she was a well-respected chef and food historian (via The Guardian).
She was also one of the BBC's cheeky Two Fat Ladies. The duo's famous show also aired on Food Network in the US. The early hit was instrumental in increasing the popularity of the channel (via Los Angeles Times). In it, she and chef Jennifer Paterson toured the UK to cook in new locations — and they did it with Paterson on a Triumph Thunderbird motorcycle and Wright in the sidecar.
Wright was also well-known for her outspokenness. When asked if the title, Two Fat Ladies offended her, she clapped back, "I had problems with 'ladies' because it sounds like a public convenience. But which bit do you object to? Are you saying I'm thin?" (via Express).
She wrote several cookbooks, including the celebrated Two Fat Ladies Ride Again. In 2011, she published the acclaimed A History of English Food. The Independent called it a "richly informative book" and Express gave it four out of five stars.
Sadly, in March 2014, she passed away at the age of 66. According to BBC America, Wright had been sick for several months prior.
Kerry Simon
Kerry Simon was often called the 'Rock n' Roll Chef.' He cooked for rock stars and politicians. And some of his biggest fans included Alice Cooper and Joe Perry (via Rolling Stone). So, when he died in 2015, it wasn't just culinary celebrities who were crushed.
After years as a personal chef to the stars, he eventually opened several restaurants of his own. Simon also appeared on Food Network's Iron Chef America and even judged an episode of the show.
But, in 2013, with his career booming, he was diagnosed with a terminal brain disease. Suddenly, he had to learn to manage multiple system atrophy or MSA. The disorder is a sporadic progressive neurological one, like Parkinson's (via National Organisation for Rare Disorders).
In 2014, he opened up to Esquire about how hard it was to accept his MSA diagnosis but insisted it would not slow him down. He said he still checked up on his restaurant because he didn't want the quality to slip. He explained, "More than ever, I need to stay vigilant. I have to be there regardless of how I'm feeling."
After he died in 2015, the Las Vegas Sun paid tribute with an article about his life. In it, he was called the "first, and only, rock' n' roll chef."
Keith Floyd
Before Anthony Bourdain, there was the inimitable Keith Floyd.
Initially a journalist, he developed an affinity for cooking in an unlikely place — the army. After opening his own restaurants, he hosted countless food shows. He also wrote over 20 books. So, it's no wonder he was 'the original modern celebrity chef' (via Irish Times).
His show that started it all, Floyd on Fish, aired on the BBC, but many shows that followed that were also found on the Food Network UK.
In 2009, he was diagnosed with bowel cancer, but was determined to fight it. Before chemotherapy (and after several operations), he said, "I'm not thrilled about it, no, but what can I do? I'll get through it" (via Express).
Tragically, he died of a heart attack just a few hours after celebrating his partner's 65th birthday with an extravagant lunch, in 2009 (via Evening Standard).
Ken Kostick
Ken Kostick was best known for hosting a food show with an innovative format. What's for Dinner? (was famous for its sitcom-like appeal and Kostick's comedic banter with co-host Mary Jo Eustace and had more than one spin-off on TV and radio, featuring the same stars. After his death, Eustace told CBC News Network, "I just want everybody to know he was a fantastic person on TV and off."
The Gemini Award nominee wrote several cookbooks, including one called The $10 Gourmet: Restaurant-Quality Meals That Won't Break the Budget, which included recipes as well as pantry-stocking tips. His show Ken Kostick & Company was celebrated for its guest chefs and musical sidekicks. It was also one of the first shows for Food Network Canada.
In 2011, tragedy struck when Kostick was hit with acute pancreatitis. As he recovered at home after treatment, he endured a fatal complication. The Canadian chef's death was announced by his business team in April 2011 (via National Post).
Judson Todd Allen
Judson Todd Allen was a finalist on the eight season of Food Network Star in 2012. By 2018, he was close to the top and didn't show any signs of slowing down.
With a degree in food science, Allen made healthy eating seem sustainable and fun. The Chicago chef called himself The Architect of Flavor, and built a career on teaching people that big flavor could help fight unhealthy cravings.
He was a chef to the stars, cooking for the likes of Steve Harvey and Jamie Foxx. In Allen's popular book, The Spice Diet, he shared a diet plan that helped Harvey lose weight and get camera-ready. The book is renowned for using principles of food science to break food addiction.
In an interview with Illinois Alumni, he shared his personal journey with food addiction, saying, "I was always the biggest kid in school. As a kid, one of the main things people bully you about is weight. And I've had to deal with that for a large part of my life." In a video for Kids Recipe Challenge, Allen said that he championed healthy food for kids. He added that it was especially important to him since it was a personal issue.
Allen's dedication to healthy eating made his untimely passing even more tragic. In 2018, at just 36 years old, he died at a Chicago hospital. The Chicago Tribune reported the cause of his death was an apparent heart attack.
He also owned his own catering company known as Healthy Infused Cuisine, and launched a popular hot sauce. Following his death, his family halted sales of the sauce (via Instagram).
Jessica Vogel
Before Jessica Vogel was on television, she worked in several renowned restaurants.
Vogel started her career working at Kevin's Thyme. She was then a pastry chef at Christine Nunn's Picnic on the Square. A stint as executive chef at Black Rebel Burger followed.
Vogel's first television appearance was on Hell's Kitchen. After she placed 12th on that show (out of 20 contestants), it was a while before Vogel was on reality TV again. In 2016 she became a contestant on Food Network, when she joined the chocolate-themed episode of Cutthroat Kitchen's season 11, hosted by Alton Brown (via USA Today).
Her career looked promising. However, in her personal life, she was struggling, and Vogel passed away at just 34 years old.
In her obituary, Vogel's family revealed she had alcohol and drug issues. Even though she had recently been in rehabilitation and was dedicated to changed her life, the years of abuse had taken a toll on her body. She was diagnosed with colitis, which causes inflammation of the colon.
According to her fiancé, her "heart gave out" during her colitis treatment (via US Weekly). Before tragedy struck, the two were planning to open a restaurant together.
Her former employer, chef Nunn, spoke fondly of Vogel after her death. She said, "She was really a talented chef who never reached her potential. It's a shame." (via NorthJersey.com).
Cristie Codd
Cristie Codd was just getting started, when a tragedy cut her promising career short. The chef's culinary journey started at home in the South, cooking Cajun cuisine with her father. Codd then attended college in Germany, where she picked up a love of European cuisine. She had also dreamed of opening her own café (via Food Network).
In 2012, she was swept into the limelight while participating in season 8 of Food Network Star, known then as Cristie Schoen — even though she was the first chef to leave that season. In an interview after her appearance, she spoke about life after the show. She had catered the film Ender's Game and was pitching two food shows. She also spoke about her passion for healthy food, saying, "Healthy does not mean boring and bland."
Sadly, she and her husband, Joseph Codd, met an untimely death in 2015. The couple was initially thought to be missing from the North Carolina home. However, the star, who was pregnant at the time, had been murdered, along with her husband. It seemed as if it had been a home invasion gone wrong. Soon after their bodies were found dismembered and burned on their property, a suspect was arrested. However, it took years for courts to convict him.
In 2017, handyman Robert Jason Owens (who worked as a contractor for the Codds) finally admitted to the murder. He also admitted to staging the home invasion scene. Owens said he had accidentally run the couple over, and claimed to have burned their bodies only because he had been afraid of receiving the death penalty (via CBS News).
Her friend Michael Mendez told CBS News that Cristie had been "a firecracker" and called her "A bright light."
Carl Ruiz
Jovial, full of life and a stellar cook — that's how most would describe Carl Ruiz.
The New Jersey native worked in many restaurant kitchens until he and ex-wife Marie eventually opened a restaurant. Called Marie's Italian Specialties, it was featured on Diners, Drive-Ins and Dives. The rest, as they say, is history.
Ruiz was soon a regular on Food Network. His gigs on Food Network included appearances on Guy's Grocery Games and Guy's Ranch Kitchen. He even had stints as a judge on many of the network's cooking competition shows.
Sadly, in 2019, he was visiting friends when he suddenly passed away in his sleep. The New York Times reported he had died at 44 of undetermined causes. A month later, USA Today reported that the cause of death had been atherosclerotic cardiovascular disease, which results from restricted blood flow due to clogged arteries.
Co-star Guy Fieri posted on Instagram after his death, "I have no words to describe what a great friend he was to me and my family. His ability to make me laugh and smile under any circumstances was only outshined by his talent as a chef."