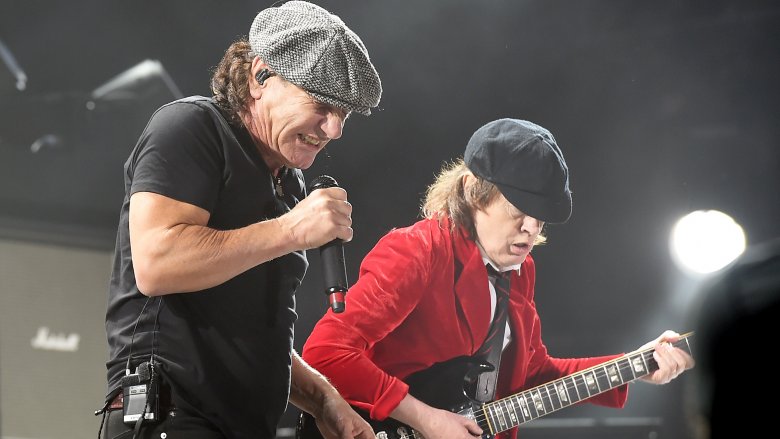 Anyone who knows anything about music knows AC/DC — whether they want to admit it or not. They're behind some of the most quintessential rock anthems in the world, songs that have brought entire stadiums to their feet and kept them there. As biographer Jesse Fink told The Irish Times, "AC/DC's music is the best antidepressant there is," and it's absolutely true.
He's also said that even though everyone knows them, they're notoriously private people. There's a huge schism between the on-stage and backstage personas, and even though the core of the group is one of rock's most successful families, tracking down the truth is a bit of a challenge.
Malcolm and Angus Young have been the backbone of AC/DC from the beginning, and they — along with fellow bandmates — had a life that was far from smooth sailing. Their music — rough, feral music with riffs that go straight to your soul — spoke to the everyman in a completely non-pretentious, honest way we can all understand because they've been on some of the same journeys as their fans. Highway to Hell, indeed.
Ten Pound Poms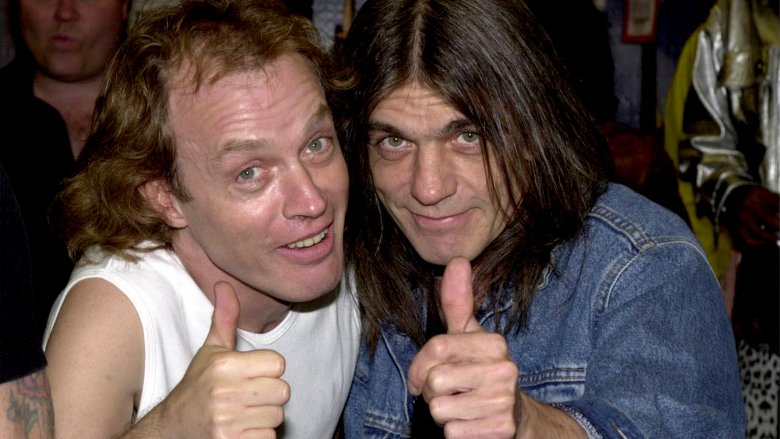 Brothers Malcolm and Angus Young might be larger-than-life, but in person, it's a bit of a different story. Older brother Malcolm is the taller of the two, at only 5-foot-3. Angus stands all of 5-foot-2 (via Ultimate Classic Rock), and there's a pretty heartbreaking reason for their small stature: Lead pipes contaminated the drinking water on the Glasgow housing estate they lived in.
That's the family's story, says the Sydney Morning Herald, and that's just a peek into how bleak their childhood in Scotland really was. The brothers — along with their parents and a pack of siblings — had an early childhood shaped by the perpetual unemployment of their father and seemingly endless poverty. The Scotsman says the last straw came in 1963. The winter was the worst in recorded history, burying the countryside under snow and ice as temperatures plunged into the subzero range. Sunny Australia started looking pretty good, so the Youngs signed up for a government program designed to encourage immigration to Oz. For just the price of two adult, one-way tickets — discounted to just £10 each — they packed up and headed off.
When they got there, they started at the very, very bottom. The family found themselves living in the tin shelters of a migrant hostel, and music really did save them when older brother George and his band, The Easybeats, put out a song that became Australia's first international rock hit, Friday on My Mind.
They were 'asked to leave' school
In 1980, Rolling Stone got a glimpse behind the curtain of the band that had a reputation as being sort of the typical rock-n-roll troublemakers. Instead they found a few devoted family men, a lot of tea, and a strange sort of introspective reflection. Unexpected? Absolutely, but the players also say their reputation for quick tempers and quicker fists isn't just deserved, it went back a long time to a tragic place.
"That's because we always stick together," Angus told them. "Like us Youngs, we're all short. We walk into a show now, and we still get people hassling us. We used to pull up at a show in a car, and the security people wouldn't let us in."
Tempers came from a sort of "us versus them" mentality that started from the time they were in school. Malcolm remembered his Glasgow school as being a string of fights, and by the time it was Angus' turn to head to school in Australia, there was already a reputation attached to his last name. He was caned on his very first day just to set an example. By the time he was 15, he was told to leave or he was going to be kicked out. Later, when the New York Post asked him about his trademark schoolboy outfit, he said, "Yes, I got a kick out of wearing it, and that's funny because as a kid I was never much a fan of school."
Bon Scott's death
AC/DC came to a major crossroads early in their run with the tragic death of front man Bon Scott. Thirteen years older than Angus, he had first been hired as the driver for the original incarnation of the band. When he passed, Angus told Rolling Stone, "I was sad for Bon. I didn't even think about the band."
Just what happened on the night Scott died — alone, in a Renault 5 parked on a South London street — is still a bit of a mystery. Classic Rock took an in-depth look at the circumstances surrounding his death, and says the original cause of death was given as acute alcohol poisoning. It was only later that would be changed to asphyxiation, with the official ruling he had choked on his own vomit after an all-night drinking binge.
That's a horrible way to go, but not everyone is convinced that's what happened. According to a 2017 biography by Jesse Fink (via Classic Rock), the actual cause of death was heroin use. Fink says he interviewed a series of people who were with Scott in the days leading up to his death, but admits they were mostly using heroin themselves at the time. Was Scott? It's unlikely anyone's going to ever come up with a definitive answer. What is known is that the rock world lost a legend that night.
Linked to a serial killer
AC/DC has always had something of a reputation — as Rolling Stone points out, their 1976 tour was called the Lock Up Your Daughters Tour. That's all in good fun, but in the mid-1980s things took a very real, very dark turn when an AC/DC hat was found at the murder site of one Dayle Okazaki. The media ran with it, and suddenly the band was being connected to something Satanic. Apparently, listening to their music incited murderous tendencies in their fans, and Ultimate Classic Rock says that's when some people started claiming AC/DC actually stood for "Anti-Christ/Devil's Child."
The murderer was eventually caught, and the serial killer known as the Night Stalker was finally identified as Richard Ramirez. It also didn't help when a childhood friend of Ramirez's went public with the killer's fondness of the band, and it definitely didn't look good when the media gave him the Night Stalker nickname, as it was uncomfortably close to AC/DC's song "Night Prowler."
According to the LA Times, suddenly, AC/DC was no longer selling out shows, and entire cities rallied to ban them from performing. It remained a hugely dark part of the band's history for a long time.
Malcolm Young's alcoholism
AC/DC released Blow Up Your Video in 1988, and a tour followed right on the heels of the album. But all was not well behind the scenes, and before the tour even started, Malcolm announced he was going to be stepping out of the spotlight to take care of a problem that had been steadily becoming worse: his alcohol addiction.
"It caught right up to me and I lost the plot," he said (via The Guardian). "Angus was going: 'I'm your brother, I don't want to see you dead here. Remember Bon?' So I took that break and cleaned myself up."
Nephew Stevie Young stepped in to take his uncle's place on the tour, and while he was back in time for their 1990 album, it's clear Malcolm's addiction — and healing process — went on to shape the band. It also spoke volumes about just how much of a family affair AC/DC always was. When Rolling Stone touched on the incident in their retrospective on Malcolm's life, they quoted his older brother, George: "Malcolm had a problem. In our family, if we have a problem, we deal with it ourselves." And deal with it they did. From then on, backstage gatherings were almost strangely tame. When Megadeth joined them on tour, Dave Mustaine remembered, "Someone said, 'Can I get you a bottle of something?' and someone else said, 'All they do is drink tea and smoke cigarettes.'"
The deadly concert
In 1991, an AC/DC concert in Salt Lake City ended in tragedy with the deaths of three teenage fans: 19-year-old Elizabeth Glausi, along with Jimmie Boyd Jr. and Curtis White Child, both 14 years old, died when they were crushed by fans surging forward.
There were about 13,000 people at the show, and according to People, 4,400 of them were crammed into festival-style seating. That basically means no seating at all, a setup that had caused 11 deaths at a Who concert in 1979. Witnesses testified about an insanely horrible scene, where crowds of fans pushed forward, knocked people over, and buried others under a pile of bodies. Just what happened in the chaos differs based on the source, but it's not disputed that the pushing and shoving started right when the concert did. While security says it took about 45 minutes before someone was able to make it onstage to tell the band what was going on, AC/DC maintains they only played four songs before Brian Johnson called for a spotlight on the crowd and an end to the chaos.
Ten years later, AC/DC returned to play another show at Salt Lake City. Johnson spoke to Deseret News about the lasting effect it had on them all, saying, "No matter how long ago it happened, you still think about it. You hope and pray it never happens again. … That was an awful incident, and it hit us very hard."
Malcolm Young's battle with dementia
Malcolm Young died on November 18, 2017. When AC/DC announced his passing on Facebook, Angus wrote, "As his brother it is hard to express in words what he has meant to me during my life, the bond we had was unique and very special. … Malcolm, job well done."
His death came after a long and heartbreaking battle with dementia, one that was announced in 2014. According to Rolling Stone, they were originally vague about his health issues, only saying he was going to be taking a break and his nephew, Stevie Young, would fill in for him again. It wasn't until later that Angus publicly announced Malcolm had also undergone major operations on his heart and lungs, saying (via Ultimate Classic Rock), "He seemed to get everything hit him at once, besides his dementia. So he had quite a lot of things going on."
When Angus talked to The Guardian in 2014, he said Malcolm's dementia had started during their Black Ice tour. He'd needed to relearn the songs he had written before getting on stage. "Sometimes you would look and he'd be there, and you'd be, 'Malcolm!' … And other times, his mind was going. But he still held it together," he said.
Phil Rudd's legal troubles
It wasn't long after AC/DC announced Malcolm's retirement that another band member was making headlines. Drummer Phil Rudd was in court, and according to Rolling Stone, it was over a strange bit of drama.
Rudd would ultimately get eight months of house arrest after pleading guilty to drug charges and charges that he had threatened to kill his former security guard. After the failure of his solo album, Rudd fired most of his staff before making a phone call to an unnamed associate. According to the hearing, Rudd offered that associate $200,000 and the choice of a car, a motorcycle, or a house for killing his former staffer. There were also claims he had threatened not only the security guard but the man's daughter as well. A warrant for his arrest kicked off a search that turned up both marijuana and methamphetamine, it was pretty much all downhill from there.
Rolling Stone also reported that after the charges (and before the hearing), Rudd went public with claims he was going to be staying with AC/DC and continuing to perform. But, Billboard said the rest of the band had other ideas and distanced themselves from it all pretty quickly. Angus went on record as saying there had been issues between Rudd and the other members before, and that they hadn't been in contact with him at all.
Brian Johnson's hearing issues
In 2016, rock fans were treated to a "Wait … what?!" sort of moment when AC/DC abruptly announced Brian Johnson was out and Axl Rose was in (via Rolling Stone). Shortly after, Johnson issued his own statement on what was going on — his doctors had told him he had only two choices: quit or face complete hearing loss.
"That was the darkest day of my professional life," Johnson said, and went on to admit that he had been having trouble for some time. His partial hearing loss was only getting worse due to the sound levels at their concerts, and he said he quit not necessarily to protect his hearing but because he felt it was compromising his ability to perform. "Our fans deserve my performance to be at the highest level, and if for any reason I can't deliver that level of performance I will not disappoint our fans or embarrass the other members of AC/DC," he explained.
Later, Johnson released a bit of a hopeful statement, saying he'd had some major success using in-ear technology that acted to absorb some of the most damaging sounds, like a second eardrum (via Rolling Stone). As of 2018, he was enjoying retirement, and told The Sunday Times, "The way I look at it, I had a great run."
It's all a misunderstanding
AC/DC has always had a very specific sort of reputation. They're not taken seriously, they're condemned by critics as unchanging, one-dimensional, and controversial for the sake of being controversial. And that's tragic, because what is music supposed to do? If the point of music is to make you feel, then AC/DC not only does that, but is unfortunately underestimated and misunderstood.
Brian Johnson said as much to Westword back in 2008, saying they're not about to change just for the sake of changing because, simply put, they love what they do. He added that a ton of what's been written and said about them makes it clear that most people have missed the point. According to him, fans should imagine them as less rabble-rousing troublemakers and more working-class guys with a Monty Python-esque sort of humor who loved to use the double entendres because swearing wasn't allowed in the house when they were growing up.
When asked what he thought about their music being condemned as evil, Johnson had this to say: "They're just nutcakes, an' if they can get advertisin' for themselves, they'll pick on somethin' people are enjoyin' just because they're enjoyin' in." And that pretty much sums up the tragedy that is AC/DC — great music that's underestimated because it doesn't put on airs. That's worth a salute.