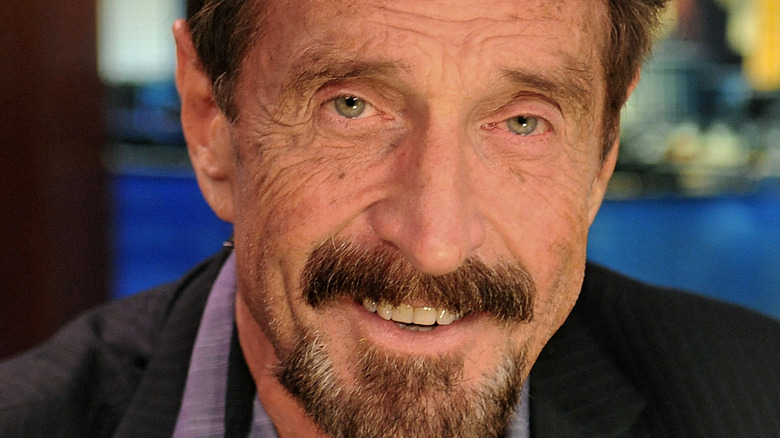 Death is a part of life, even for famous people. While they're immortal in the media, in real life, their lives come to an end just like ours. And much like us regular people, sometimes those lives end in ignominious ways, such as in jail after being convicted for a crime. You would think the perks of being rich and famous would be enough for them, and they would have no need to push things too far into the realm of the illegal, that living in a big house would mean they'd strive to stay out of the Big House. And yet, it's not like there's a shortage of celebrities who end up inside prison's brick walls.
While there are plenty of people who became famous because they committed crimes, such as Charles Manson or Richard Ramirez, and who ended up dying in prison, we're specifically looking at people who were famous before their crimes were committed, or at least before they came to light. Notoriety is very different from true celebrity. Here's what happened to these celebs who lost everything and ended up dying in jail.
This article includes trigger warnings for suicide, sexual assault, domestic violence, addiction, and mental health issues. If you or anyone you know is having suicidal thoughts, please call the National Suicide Prevention Lifeline​ at​ 1-800-273-TALK (8255)​.
Phil Spector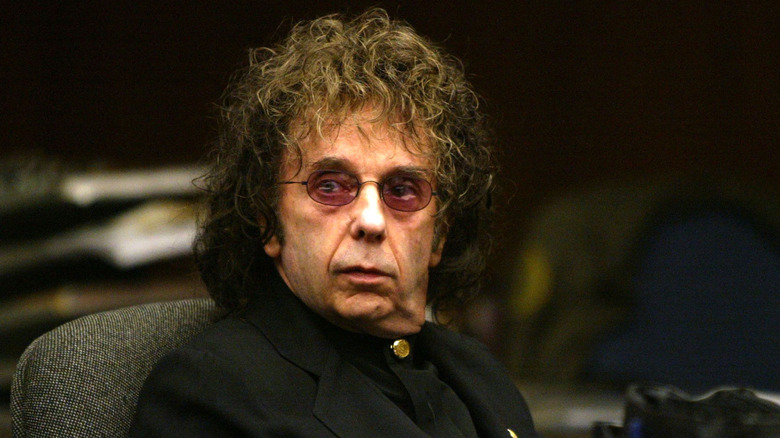 In the 1960s, record producer Phil Spector was an icon, working with just about every famous band of the time. Unlike producers of the past, Spector was seen as an auteur, bringing a unique approach, dubbed the "Wall of Sound" to dozens of records that ended up being hits. By doubling or even tripling the sounds of the instruments and applying a thick wash of echo, Spector invented a loud, rich sound that had previously gone unseen in the music world.
The Wall of Sound spawned many imitators, and some musicians still use the technique today, many years after Spector's shocking fall from grace. On February 3, 2003, Spector met a nightclub hostess named Lana Clarkson, according to The New York Times. He invited her back to his home, but the night ended with Clarkson dead in Spector's foyer. According to testimony by Spector's chauffeur, who was waiting nearby, he heard a pop and then saw Spector emerge with a revolver in his hand, uttering the words that would ultimately guarantee his prison sentence: "I think I killed somebody."
During a drawn-out legal process with Spector looking increasingly disheveled, his first trial, ending in 2007, resulted in a hung jury, but a second trial that ended in 2009 resulted in Spector's conviction and imprisonment. In early 2021, after more than a decade of incarceration, Spector died on January 16th due to complications resulting from the COVID-19 virus.
Jeffrey Epstein
While Jeffrey Epstein is now far more famous for his numerous disturbing crimes than he ever was beforehand, there's no denying that he was a huge name investor for many years. Epstein was so successful in the financial world, turning small fortunes into massive ones, that he handled the assets of celebrities, politicians, and more.
What's more is that Epstein was famous for his social life. He frequently held massive parties on his various properties, with invites only given to the biggest names in the world. It was later discovered that these parties might have had sinister things going on behind the scenes, but at the time he was simply seen as a very powerful socialite, according to the BBC, with those who worked with him shrugging off the rumors that he secretly trafficked minors.
In 2005, after being accused of molestation by a 14-year-old girl, Epstein went to prison for 18 months and was a registered sex offender but was otherwise given a very lenient sentence. In July 2019, however, he was arrested once again, accused of running a massive child trafficking network. On August 10, 2019, Epstein was found dead in his jail cell, an alleged victim of suicide. Things may not be so cut and dry, though, as numerous ongoing rumors claim that Epstein was actually secretly murdered.
John McAfee
If you owned a PC in the 90s or early 2000s, you probably recall a suite of internet security tools created by a company called McAfee, founded by John McAfee, an outspoken tech voice known as much for his social media presence and political campaigns as the software he created.
Near the end of his life, McAfee the person was no longer associated with McAfee the company, which was purchased by Intel in 2011 without McAfee's involvement, according to Reuters. In October 2020, McAfee was arrested by Spanish authorities attempting to fly out of an airport in Barcelona. He had previously been charged with tax evasion in the United States, who intended to extradite him from Spain, according to CNN.
In June 2021, the Spanish National Court finally approved McAfee's extradition. It was on June 23, 2021, that McAfee was found dead of suicide at the age of 75 in his cell in Spain. What makes matters even more complicated is that nearly two years prior to his death, McAfee claimed that the U.S. government intended to do him harm and publicly alleged that he was not suicidal and that if he died in such a manner, it was actually a murder. While there's no current evidence supporting the claims McAfee was murdered, it has created an air of suspicion around his death.
Aaron Hernandez
In 2010, Aaron Josef Hernandez was just at the start of a great football career. Playing for three seasons, Hernandez was a lauded athlete, and even made it to the Super Bowl in 2012. Things were looking great for Hernandez, and it was his career to throw away.
In the 2013 off-season, Hernandez was arrested for the murder of Odin Lloyd, his fiancé's sister's boyfriend and a fellow football player, albeit a semi-professional one, according to Sporting News. On June 17, 2013, Lloyd was murdered not far from Hernandez's house, though to this day, the exact motive remains unknown. Hernandez initially denied being involved in the crime to his coaches, but it soon became clear that was not the case.
On April 15, 2015, Hernandez was convicted of the murder and sent to prison for life. Nearly two years later to the day, however, he was found dead in his cell, where it appeared he had taken his own life. When Hernandez died, he had not yet exhausted all of his appeals, so his conviction was briefly vacated, though it was later restored after an appeal by Lloyd's family. Hernandez was also suspected of other violent crimes, including two 2012 murders, those of Daniel de Abreu and Safiro Furtado in a drive-by shooting outside of a club Hernandez had visited that night, but he was acquitted of these killings days before his death.
Max Clifford
Celebrity publicist Max Clifford might not be a household name in America, but he was more well-known in his native Britain, where he worked as a celebrity publicist for decades for folks like Simon Cowell. However, he was also notorious for representing a variety of figures peddling so-called "kiss-and-tell" stories. That is, they were claiming that they had secret relationships with other famous people (some were true, some were probably not) and wanted to sell their secrets to England's extensive tabloid industry, according to The Guardian.
Clifford acted as a publicist for basically anyone he thought would make him money, no matter how unsavory they might seem to the general public, and by all reports, he was pretty good at it, making household names (even if briefly) out of dozens of people desperate for 15 minutes of fame.
But outside of the public arena, Clifford had a history of accusations of sexual abuse. Numerous women, some who were underaged at the time of the incidents, began coming forward in the 2010s to accuse Clifford of various offenses. While Clifford denied these stories, in 2014, he was convicted of indecent assault and sentenced to eight years in prison. He didn't make it that long, though. In 2017, while cleaning his cell, Clifford collapsed from a heart attack and died shortly thereafter.
Lou Pearlman
You might not know who Lou Pearlman is, but you've heard his work. Pearlman was a record producer and manager with a particular knack for forming boy bands in the late 1990s. Namely, he created a group you might be familiar with — the Backstreet Boys — by recruiting five previously unknown singers. He followed this up by introducing the world to bands like NSYNC, O-Town, and LFO, all of whom he produced and managed, according to Billboard.
But while Pearlman had a talent for developing pop groups, he was even better at his other job, which was ripping people off. Nearly every single band that worked with Pearlman later sued him for fraud. And all that time, Pearlman was secretly running one of the biggest Ponzi schemes in U.S. history, scamming investors out of half a billion dollars, something that ended up getting him put in prison in 2008, where he was sentenced to 25 years for conspiracy and money laundering.
In 2010, Pearlman suffered a stroke in prison, but did survive. In 2016, Pearlman was scheduled for heart surgery, but suffered a cardiac arrest before the surgery was completed. He died on August 19, 2016. None of the bands he made famous performed at his funeral.
Bernie Madoff
Lou Pearlman ran one of the biggest Ponzi schemes ever, but the biggest was run by a fella named Bernie Madoff, a celebrity investor who was even chairman of the NASDAQ exchange for years, according to the Associated Press. While Madoff seemed like a legitimate businessman on the surface and being thought of as a bit of a legend in the money game, behind the scenes he was running a pyramid scheme the likes of which the world hadn't seen since ancient Egypt.
It wasn't even fancy, built 100% on fraud without a single investment made, and it's a wonder he got away with it for as long as he did, but people simply assumed he was on the level because of his prominence. It took his sons ratting him out to the government to finally get him caught. Madoff was convicted and sentenced to 150 years in prison in 2009 after pleading guilty to multiple types of fraud.
A century and a half is a long time and Madoff was already at an advanced age when he was sentenced, so his death in prison wasn't a surprise to anyone. In all, he made it just over a decade in jail. In April 2021, Madoff died of natural causes at the age of 82 while still serving his sentence.
Eddie Johnson
"Fast" Eddie Johnson was one of the best basketball players of the 70s and 80s, spending a decade on the court from 1977 to 1987, primarily with the Atlanta Hawks. He even made it as an NBA All-Star twice, in 1980 and 1981, according to the New York Times. He was no slouch on the court and earned his nickname of "Fast Eddie" by, well, being fast.
Off the court, though, Johnson suffered from drug addiction. As time went by and his drug abuse got worse, Johnson fell out of the NBA and began playing for smaller associations. He attempted a comeback in the late 80s but was soon suspended by the NBA due to his heavy cocaine use. Things didn't get better from there, and Johnson had already had several brushes with the law in regard to his drug use and other minor crimes, but things quickly spiraled out of control after his professional career ended, with Johnson being arrested for crimes from burglary to assaulting a police officer.
Johnson ended up in and out of prison until 2008, when he was convicted of assaulting an 8-year-old girl, which finally landed him in jail for good, with a life sentence and no possibility of parole. It's there that Johnson's story finally came to an end. In 2020, Johnson died of an undisclosed illness while still serving time in Milton, Florida.
William 'Boss' Tweed
In the 1800s in New York (both the city and the state), no one in the Democratic Party could get elected without the blessing of Tammany Hall, a political machine that played kingmaker in New York political circles. Between the 1850s and 1870s, the organization was led by a man named William M. Tweed, better known by his nickname of "Boss." Boss Tweed was himself a politician, serving as a Congressman for New York in the 1850s and a New York State Senator, and getting on his good side was an important step for any members of the Democratic Party at the time.
But with that kind of power also comes the possibility of corruption, and Tweed began to embezzle an outrageous sum of money, estimated to be around $30 million and possibly as much as $200 million when adjusted for inflation, according to Biography.
Tweed was finally caught in 1871. However, even after his arrest, he got re-elected to the New York State Senate. He was able to afford bail for his first few arrests, but eventually ran out of cash and had to stay in jail. In 1875, he managed to escape and fled to Spain where he worked as a sailor. He was recognized based on his appearance in a political cartoon and returned to the United States in 1876. He went back to prison and died there of pneumonia in 1878.
Brian Christopher
Back in 1997, just before the WWF changed to the WWE we know today, a little-known wrestler by the name of "Too Sexy" Brian Christopher (also known as Grandmaster Sexay) hit the scene. He was briefly the WWF Tag Team Champion with his partner, Scotty 2 Hotty, and the two wrestled as a pairing called Too Cool, according to The Daily Beast. (It was the late 90s, in fairness.)
Little did viewers at home know, Brian Christopher was actually Brian Christopher Lawler, son of wrestling legend Jerry "The King" Lawler. While he never reached the heights of his dad's work in the ring, he did okay for himself. At least, until 2001, when he was caught smuggling drugs from Canada into the United States, which led to him being released from the WWF/WWE.
Christopher had a few other run-ins with the law, including an arrest for disorderly conduct and another for public intoxication, but nothing major until he was arrested in his hometown of Memphis, TN for a DUI in 2018 with an included charge of evading police. On July 7, 2018, Christopher was jailed and on July 29, found hanging in his cell after an altercation with another inmate. He was declared brain dead and removed from life support later the same day after his father arrived to be by his side. He was 46 years old.
Lawrence Phillips
Lawrence Phillips had an extremely bright future. He had a successful college football career with the University of Nebraska and transferred into the NFL, playing for the St. Louis Rams beginning in 1996.
However, even before joining the NFL, Phillips had encountered a spate of legal troubles, the worst of which involved him breaking into a teammate's apartment to violently assault a woman who was Phillips' ex-girlfriend, according to Bleacher Report. Amazingly, Nebraska didn't kick him off the team, deciding to suspend him temporarily instead. He was reinstated later in the season and the Rams hired him in spite of his arrest. His legal issues didn't end there, though, and the Rams cut Phillips during the '97 season.
Phillips attempted a comeback with the 49ers in 1999 but didn't last long due to performance issues. After playing with smaller leagues for a few years, Phillips was arrested after hitting three teenagers with his car during a dispute, according to the New York Times. While in prison for that, he was also charged with even more domestic violence charges, which led to him serving a 31-year sentence. He then made things far worse by murdering his cellmate, Damion Soward. While awaiting trial for this crime, Phillips was found unresponsive in his cell and declared dead. Investigators later determined the death to be a suicide.
Roy Buchanan
Roy Buchanan never achieved mainstream fame, but in blues circles, he was a bit of a legend with his rich, clear tone on his iconic Fender Telecaster guitar, according to Louder Sound. Working as a sideman in various bands in the late 1950s, Buchanan later set out on his own as a solo artist in the 1960s. It wasn't until the early 1970s that Buchanan began to see some fame after an hourlong PBS documentary titled "Introducing Roy Buchanan" aired, bringing his sound to an even larger audience, according to Music Enthusiast.
He had two albums go gold during the 1970s — 1973's "Second Album" and 1977's "Loading Zone." He's also rumored to have turned down a job playing for the Rolling Stones around this time, earning him even more underground clout. He would have fit in, however, because behind the scenes, Buchanan had developed a nasty drinking habit, abusing drugs as well.
While Buchanan tried to clean up in the 1980s after a hiatus from the studio for most of the decade, he relapsed on August 14, 1988, when he was arrested for public intoxication. A few hours later, during a routine check, Buchanan was found dead, having hung himself with his own shirt. Buchanan's friends and family claimed that the "suicide" was actually a cover up by police and that Buchanan had bruises on his head, but these claims were never proven.