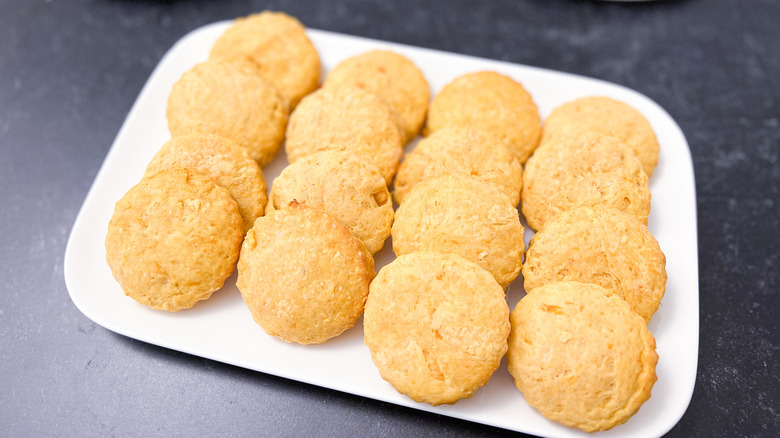 When most people think of biscuits, they think of a southern staple that goes well with just about anything. While most biscuits typically encompass the same old ingredients, this recipe adds a little something extra — sweet potato. If you have never had the delight of enjoying a sweet potato biscuit, then you are definitely missing out. And if you have ever tried one, then you know what we're talking about. These incredible little biscuits are packed with flavor, and they pair well with any main course.
Recipe developer Erin Johnson came up with this homemade sweet potato biscuits recipe that is every bit as delicious as it is unique. "My favorite thing is that it can be made with pantry ingredients and is quick to pull together," Johnson shares. "These are a holiday staple in my family and are present at any family meal where ham is present."
So what's the big difference between these and a regular biscuit? "These are more dense than a typical biscuit because of the sweet potato," Johnson says. "These work in place of dinner rolls with practically anything." If you love biscuits and you love sweet potatoes, keep reading to find out how to make this wonderful recipe.
Gather the ingredients to make homemade sweet potato biscuits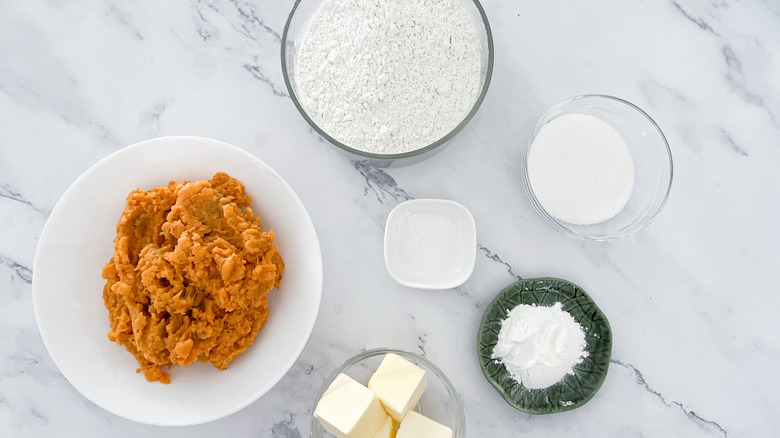 Ready to start? We are! First things first, take a trip to the store and gather all of the necessary ingredients to make these sweet potato biscuits. For starters, you will need a few sweet potatoes and unsalted butter. Next, hit up the spice aisle and get some salt and pepper. Be sure to check at home first, as you probably have some already. The last place that you need to stop at the store is the baking aisle. Toss some flour and baking powder into your cart. This recipe is great because it requires just six ingredients, and as we mentioned, you may already have a few at home.
Preheat the oven and heat potatoes
For this recipe, you will be using your oven, so let's not waste any time. Go ahead and preheat the range to 425 F, and as it heats up, you can move on to more prep for this dish. Heat up the mashed sweet potatoes in the microwave. Once you've heated them, stir in the butter and continue mixing until it has melted. "You can use any kind of sweet potato for this, even canned," Johnson notes. "Just make sure to mash them well and remove any strings. This is a great way to use up leftover baked sweet potatoes."
Add the other ingredients to form a dough
After you've melted the butter into the sweet potatoes, add in the salt and sugar. This adds a nice salty and sweet flavor to your dough. Mix them with the potatoes until everything is evenly combined. Now, gradually add the flour and baking soda. Remember that you should have sifted the flour ahead of time, making this a cinch now. Keep mixing everything until a dough forms. If the mix seems like it's too dry, add a tablespoon of milk to help retain some moisture.
Knead the dough
Now that you have your dough ready to go, take it out of the bowl and turn it onto a floured or nonstick mat. Gently knead the dough until all the flour is incorporated. Then, press the dough out until it is about ½- to 1-inch thick. This really just depends on your preference and how thick you want the biscuits. Using a biscuit cutter or a glass, cut out each biscuit. "If you don't want to use a biscuit cutter to cut these, you can also use a scooper and make dinner roll-shaped biscuits instead," Johnson shares.
Bake the biscuits and enjoy
Now, it's finally time to make use of that preheated oven. Take out a parchment-lined baking sheet and place the biscuits on the top. Set your timer for 12 minutes, and then pop the biscuits in the oven. Continue baking until the biscuit feels firm and the tops start to brown. "The exact cooking time will depend on how thick you made your biscuits," Johnson explains. "Feel for firmness and don't let them overcook!"
If you prefer eating these homemade sweet potato biscuits warm, that totally works. If not, they're also great served at room temperature. "These are a staple for us when we are having country ham but are also delicious with prosciutto," Johnson raves. "My favorite way to eat these is with honey and butter." She also adds that "these are best eaten fresh but can be stored in an airtight container for up to 2 days." We hope you enjoy this unique rendition on traditional biscuits!
2 cups sweet potatoes, mashed
½ cup butter, unsalted
½ teaspoon salt
¼ cup sugar
3 cups flour, sifted
4 teaspoons baking powder
Preheat the oven to 425 F.
Heat the mashed sweet potatoes in the microwave and then stir in butter. Mix until the butter is melted.
Add the salt and sugar. Mix until well combined.
Gradually add the sifted flour and baking powder to the sweet potatoes. Mix until a dough forms. If the mix is too dry, add a tablespoon of milk.
Turn the dough out onto a floured surface or nonstick mat. Gently knead until all the flour is incorporated.
Press dough out until it is about ½- to 1-inch thick, depending on your preference, and then cut with a biscuit cutter or glass.
Bake on a parchment-lined baking sheet for approximately 12 minutes, or until the biscuits feel firm and have just begun to brown.
Serve warm or at room temperature.