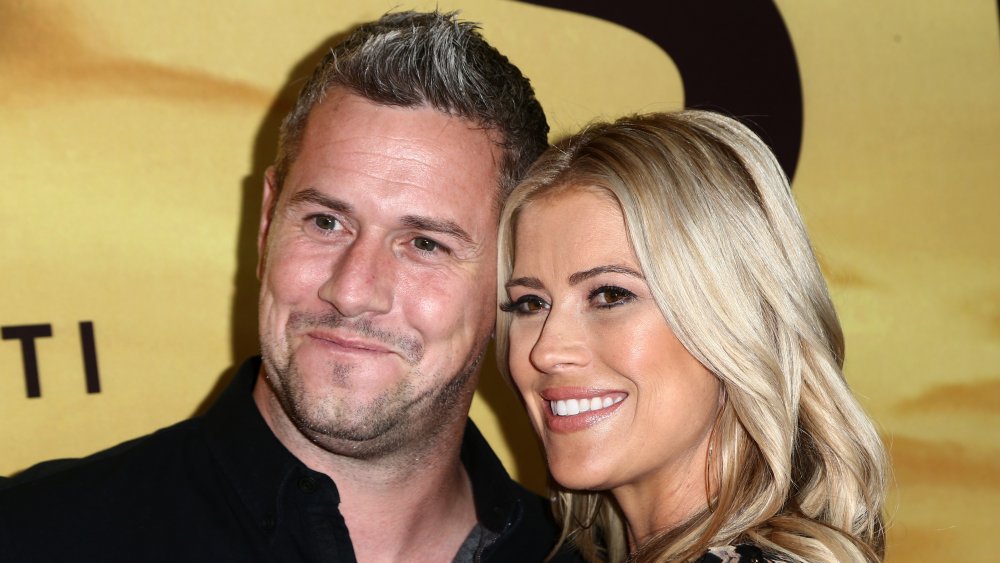 The story of HGTV personality Christina Anstead and automotive TV show host Ant Anstead is a unique one.
Before Christina married Ant, she was married to her Flip or Flop co-host, Tarek El Moussa. In December 2016, El Moussa and Christina announced in a statement to People that they decided to separate after seven years of marriage. Their split, which was widely publicized, was a tempestuous one, but the end of their romantic relationship did not mean the end of their professional relationship.
The Flip or Flop host lineup has remained unchanged, but when it comes to the host's personal lives? They've seen more updates than any of the houses they have taken on over the years — yes, that includes even the house where they installed a fire waterfall in the backyard. And one of the big updates is, of course, the titular star of Christina on the Coast's relationship with Ant, an English television presenter whose credits include For the Love of Cars and Wheeler Dealers.
The Ansteads' love story has since come to an end, but the details of their relationship remain pretty remarkable. Here are a few of the interesting things that make Ant and Christina's marriage feel like a one-of-a-kind relationship.
How long was Christina Anstead & Ant Anstead's first FaceTime?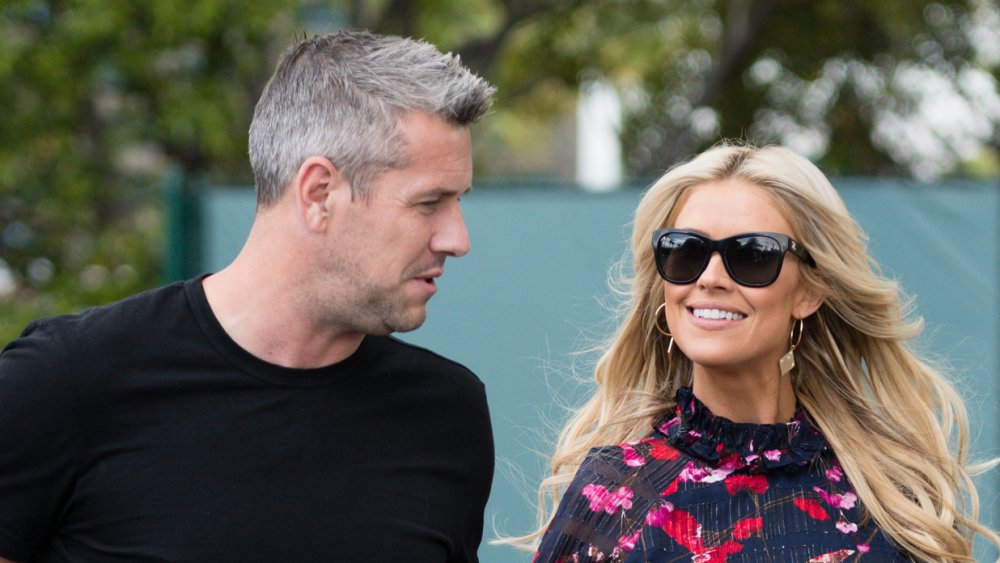 Before they went out on their first date, Ant Anstead called Christina Anstead over FaceTime. That in itself is not weird; lots of people screen their dates over video call before they get together in person. However, this pair of strangers hit it off so well, their very first call ended up going on for hours.
The future Mr. & Mrs. Anstead were set up on a blind date by a friend back in 2017, and, as Christina shared in a 2019 interview with Extra, they spent "about two hours" being amazed by those filters that turn you into an elephant. We're kidding, the call was a success, and the in-person date was a go. Christina told Extra that they "met at a restaurant with a group of people, and it was just love at first sight."
On Oct. 29, 2018, Christina reminisced about this fateful FaceTime on Instagram. She wrote, "A year ago today @ant_anstead called me for the first time and we spoke for 29 mins two days later while he was at Sema he FaceTimed me (I was thinking who FaceTimes) anyways I answered and we spoke for 2.5 hours." That same day, Ant also took to Instagram to wax nostalgic about the video chat that started it all. He wrote, "ONE YEAR TODAY!!!!! You answered my phone call! Then A TWO AND A HALF HOUR FACETIME! I knew then!" Sounds more like love at first two-and-a-half hour FaceTime call.
Christina Anstead knew they'd get married right away
On Oct. 29, 2019 (yes, as a matter of fact that is the second anniversary of the FaceTime that got the relationship ball rolling — way to keep up!), Christina Anstead shared on Instagram that she knew straight away that she and Ant Anstead was the one. Well, the second one. She wrote, "I told my dad at a hockey game a week after we met that we were going to get married. He said 'well if you are saying it then you probably are.'"
The feeling sure seemed to be mutual. The same day Christina posted about the prophetic father-daughter hockey game chat, Ant posted, "'A soulmate is a stranger you recognise….' I called you Two years ago today! And straight away I knew I knew you!"
The pair clicked right out the gate, and they knew they clicked right out the gate. In a January 2019 issue of People, Christina said it was as if her "life did a 180" after she met her soon-to-be second husband. Ant added, "We've both had challenges, but ever since we met it's just been an instant connection." Wow, their FaceTime connection was strong in more ways than one.
Ant Anstead's first marriage ended months before he met Christina
Before Ant Anstead was set up with one of the hosts of Flip or Flop, he was married to Louise Anstead for about 12 years. According to House Beautiful, the two dated for around nine years before they got hitched, and after about two decades together, the pair decided to go their separate ways. The TV presenter announced the split on Twitter in October 2017, writing, "Despite the fact I am usually a very private person, I do feel the need to let my friends and followers know that Lou and I have been separated since July." He wasn't kidding about that "a very private person" thing: While Ant would eventually end up in a fairly high profile relationship with an HGTV personality, he and Louise kept their marriage out of the spotlight.
Speaking of October 2017, do you know what else happened during that very month? Ant met Christina Anstead (then El Moussa). As the Christina on the Coast star wrote on Instagram in 2018 to commemorate the first anniversary of their first meeting, they have "been inseparable ever since." For the folks at home keeping a meticulous timeline: Ant's Twitter announcement about his July 2017 separation was posted on Oct. 13, 2017, and, according to their annual FaceTime call anniversary posts, his first chat with Christina happened on Oct. 29, 2017.
Christina Anstead continues to work with her ex-husband
You'd be cool with your spouse working alongside their ex everyday, right?
As we previously mentioned, Christina Anstead and Tarek El Moussa are no longer married, but they still host the HGTV program Flip or Flop together, including Summer 2020's Season 9. Of course, this was not the first season they filmed post-split: El Moussa and Anstead separated in 2016, and as Today noted, the first post-divorce episode of Flip or Flop aired in May 2018.
The post-divorce era of Flip or Flop is still going strong, as of this writing, and the former spouses have eased into their new dynamic. In August 2019, El Moussa joked to People that the best part of hosting a show with his ex-wife is that he does not "have to say yes to everything anymore" when they are working on a house together. He continued, "'You want new cabinets? I don't think so. No cabinets for you!'" This lines up with something Anstead said in an interview with Yahoo! Life in 2018. Following the premiere of their first post-divorce season, she told the site, "At the end of the day, we knew that we were still together and going home together … but we're going to battle for our own choices now more than we used to."
While this whole dynamic sounds like a powder keg of awkward, El Moussa and Anstead have somehow kept things more than civil.
There was a secret engagement
Following her split from Tarek El Moussa, Christina Anstead's personal life has been a fixture of the tabloids. However, her engagement to Ant Anstead would not be covered in the celeb gossip rags — well, not right away, that is. Ant proposed to Christina in September 2018, but as he shared with People in January 2019, "We had an engagement, we just didn't tell anyone." Their reasoning? They wanted to keep their wedding as hush-hush as possible. Christina added, "We didn't want all the fuss. Just a quiet wedding without all the drama and paparazzi."
As much as they tried to maintain some level of secrecy, rumblings of an engagement seeped out before the couple could make any official announcements. In June 2018, Life & Style reported that a source claimed Ant was "already ring shopping." And then, as People pointed out, when Ant mentioned on Instagram that he and Christina were "Celebrating something special tonight" on Dec. 15, 2018, some fans wondered if a proposal was the cause for celebration. Apparently, it was not: A rep for Christina told E! that his caption was in reference to her wrapping on Christina on the Coast, not about an engagement.
But as we now know, they were already very much engaged when Ant posted that photo. They just did not get engaged that night.
And there was a surprise wedding
On Dec. 22, 2018, Christina Anstead and Ant Anstead tied the knot in a surprise wedding ceremony at their home. How surprising was this surprise wedding ceremony, you ask? Well, for starters, apparently their guests did not know they were about to watch two people exchange vows. According to People, Christina and Ant asked 70 of their friends and family members to head on over to their house in Newport Beach, Calif. on that December day, but they did not tell the invitees it was to witness holy matrimony. Instead, they told the invitees that they would meet at the house to board "a charter bus" bound for the Newport Beach Christmas Boat Parade together. When the unwitting celebrants showed up to the house, there was no bus in sight. Rather, a "winter wonderland" themed wedding greeted them in the front yard.
In the aforementioned People interview, Christina talked about the rush that came with putting together a surprise ceremony. "Then the day we went to get our marriage license, the guy working was like hyperventilating, excited," she told the magazine. She continued, "We had to tell him this is a huge secret. No one knows." She also said that they were "checking the internet to see if anyone found out" on a regular basis as they geared up for the big day. Evidently, word about their surprise wedding ceremony did not hit the internet after all, and they got hitched without a hitch.
Christina Anstead apparently didn't expect to be remarried in 2018
Christina Anstead told Us Weekly in June 2018 that she had a feeling she would get married again, but believed it would not happen until 2020. Well, looks like she was only sort of right: Three months after that Us Weekly interview happened, Christina and Ant Anstead got engaged, and then, three months after the proposal, they walked down the aisle. Yeah, she was right about getting remarried eventually, but her prediction was a whopping two years off.
One evening in September of the year 2018, Ant and Christina hopped on their bikes and went to get some dinner. Christina assumed it was just a chill night of food and riding bikes and looking at the sunset, but she quickly learned that was not the case. When telling People about the proposal the following January, she said, "We were watching the sunset, and then all of a sudden he just got on his knee and proposed. So yes, I was surprised."
As caught off guard as she was by the timing of the proposal, it sounds like it was not entirely out of the blue. A source claimed to Life & Style in February 2018 that the couple "would love to get married, and they're discussing it already." And in April 2018, In Touch reported a source claimed Christina and Ant were "already talking marriage."
They have a 'weird synergy'
Ant Anstead and Christina Anstead had a lot in common before they started dating, and that has not gone unnoticed by Ant. In a 2019 interview with People, he said "it's kind of strange" how similar he and Christina are. He noted that they both have two kids from a previous relationship, they both wrote books, and they both host TV shows about fixing something up with the intent to eventually sell it (Christina's series Flip or Flop follows her journey as a house flipper; Ant co-hosts Wheeler Dealers, a series about repairing and selling old cars). According to Ant, "there's very weird synergy between" them.
Christina's first husband's new relationship also has a "synergy" thing going on: Tarek El Moussa is dating real estate agent and Selling Sunset star Heather Rae Young (above right). Yes, like El Moussa, Young is a reality television personality and works in the world of real estate. But wait, there's more: Christina and Heather just so happen to have some things in common, too. As Christina told Us Weekly in April 2020, she and Heather are both "super healthy" and text each other about recipes. Oh, and may we not forget that there's the whole thing where they look strikingly similar. Lots of synergy happening here.
Christina Anstead oddly improvised her pregnancy announcement
Following her honeymoon with Ant Anstead, Christina Anstead had a hunch she might be pregnant, so she took a test. And what did that test tell her? Why, it told her what she suspected it might. When talking about the pregnancy in a July 2019 interview with Entertainment Tonight, she said, "I was just like, 'OK, this makes five — here we go!'" The baby is their first child together, and Christina and Ant both have two kids from their previous marriages.
After Christina saw her positive pregnancy test, she did not simply just walk up to Ant and share the news. Instead, she served up a piping hot mug of creative route. When speaking with People about her pregnancy in April 2019, she recalled, "He always makes coffee in the morning, so I just chucked the pregnancy test in the coffee cup because I didn't know what to do and I wanted to surprise him, and I ran around the corner." Wakey-wakey!
Ant told People that when he saw the pregnancy test bobbing in his java, he "thought it was a thermometer." He continued, "I was thinking, 'Is the coffee machine broken?'" He quickly realized that she was not trying to take a sick coffeemaker's temperature, but was trying to tell him she was pregnant. As far as that morning was concerned, the best part of waking up was a pregnancy test in Ant's cup.
Christina Anstead's ex spilled the sex of her baby
In March 2019, Christina Anstead and Ant Anstead announced on Instagram they were having a baby. In the caption, Christina wrote, "[Ant] and I are so excited to announce #babyanstead coming this September!! The kids are all so excited to meet their new sibling."
When chatting with TMZ the following month, Tarek El Moussa casually mentioned that his ex-wife was pregnant with a boy… which was a detail that had not yet been revealed to the public. Following El Moussa's interview with TMZ, a rep for Christina and Ant told Us Weekly that though the couple "wished they could have shared the news themselves, they are very excited to welcome a baby boy in the fall."
El Moussa accidentally broke the news of the baby's sex, but he did not spill the baby's due date. On Aug. 30, 2019, Christina shared on Instagram that her "scheduled c-section" was set to happen in a week. The day before the baby's arrival, El Moussa told Us Weekly that his ex-wife would give birth the following day, adding, "Tomorrow my children are going to have a new brother. It's all one big family!"
On Sept. 6, 2019, the big family got even bigger: Christina and Ant announced on Instagram that Hudson London Anstead was born.
Christina Anstead's ex also said he'd babysit for her
After Christina Anstead and Ant Anstead welcomed baby Hudson Anstead in September 2019, Tarek El Moussa wrote on Instagram that he "can't wait to meet the little guy." Christina's first husband also joked that he'd be up for babysitting as long as "Christina and Ant pay well."
El Moussa and Christina may be in a place where they can kid around about babysitting rates now, but that was not necessarily always the case. On a 2018 episode of The Dr. Drew Podcast, El Moussa said, "I was so broken after everything I went through, literally broken, that I was devastated. I could barely walk, I was so broken as a person after going through all the trauma and the divorce and all these different things."
It looks like time can heal even the messiest of public splits. In an Instagram Story (via House Beautiful) that went up in January 2019, El Moussa said, "So I want to let everybody know I'm not devastated, I'm not heart-broken, I'm not upset. I'm actually really happy for her and I'm happy for Ant and most importantly I'm happy for my kids, because guess what? They're going to have a nice stable household and really at the end of the day it's about them and I'm just very, very happy."
What a difference a few years can make.
Christina and Ant Anstead split before their second anniversary
Less than two years after they walked down the aisle at their surprise wedding ceremony, Christina and Ant Anstead split up. The Flip or Flop co-host announced on Instagram on Sept. 18., 2020 that she and Ant have ended their relationship. "Ant and I have made the difficult decision to separate," she wrote. "We are grateful for each other and as always, our children will remain our priority."
Apparently, Christina and Ant's separation came as a surprise to members of their inner circle. After the news broke, Us Weekly reported an insider claimed that the two "have been very private about this and friends are shocked to hear the news because they seemed happy together publicly and while in front of others." There have also been reports regarding how Christina's first husband may or may not have reacted to this development. A source claimed to HollywoodLife that Tarek El Moussa "liked the guy" and "is not going to ask nor does he care what happened with Ant and he'll be there to support the kids with the transition." And over at Us Weekly, an insider said El Moussa "is sad that Christina is going through a hard time." The insider also claimed El Moussa "did not think that Christina and Ant would last," which is way harsh.
And on that note, let us respect Christina's request for privacy as she and Ant and their families "navigate the future."