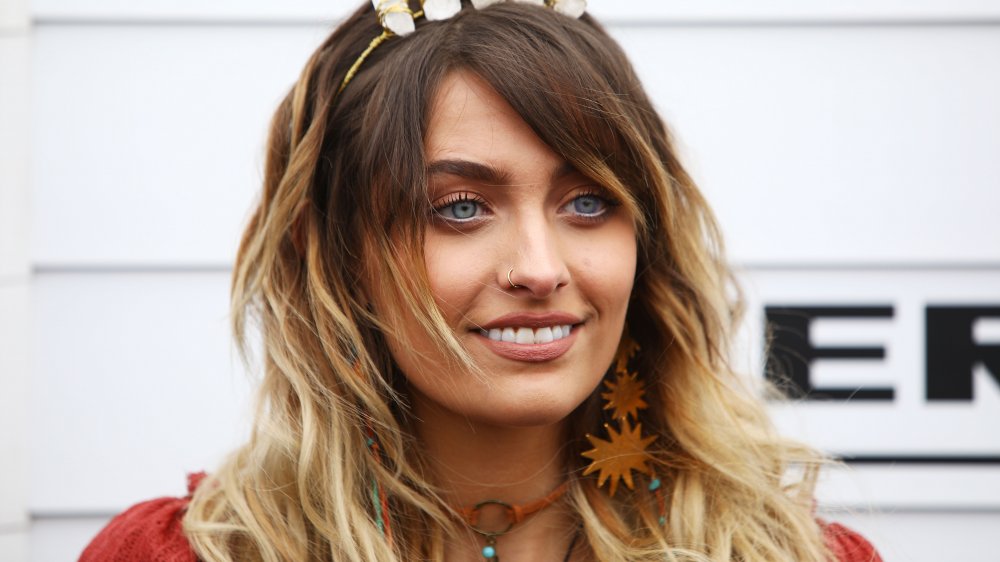 Paris Jackson was born into an unimaginable world, if only because of her father's fame. Michael Jackson has earned his title as the King of Pop. His seminal album Thriller was the first in history to spawn seven Top 10 hits on the Billboard Hot 100, and later on, he became the first artist to sell 1 million digital tracks in a week. Still, fame has always come with pitfalls, and Michael's scandals have outlived him. In the wake of his 2009 death, Michael's children have been forced to endure his sprawling legacy for better or for worse.
Most of us remember Paris as the small girl whose face was always shielded from the paparazzi beneath a mask. According to Rolling Stone, she spent the first seven years of her life in Neverland, enjoying the 2,700-acre ranch's zoo and amusement park away from the prying eyes of the public. As she put it, her father was her world, but then he tragically passed, and she was thrust into the spotlight, unmasked and alone. The first time she publicly spoke was at her father's memorial, and from that point on, Paris has been trying her best to reckon with her family's legacy while carving her own path in the music industry. Though mental illness, substance abuse, and family tragedy, Paris Jackson has managed to persevere.
If you or someone you know needs help, please call the National Suicide Prevention Lifeline at 1-800-273-TALK (8255).
Paris Jackson was estranged from her mother for years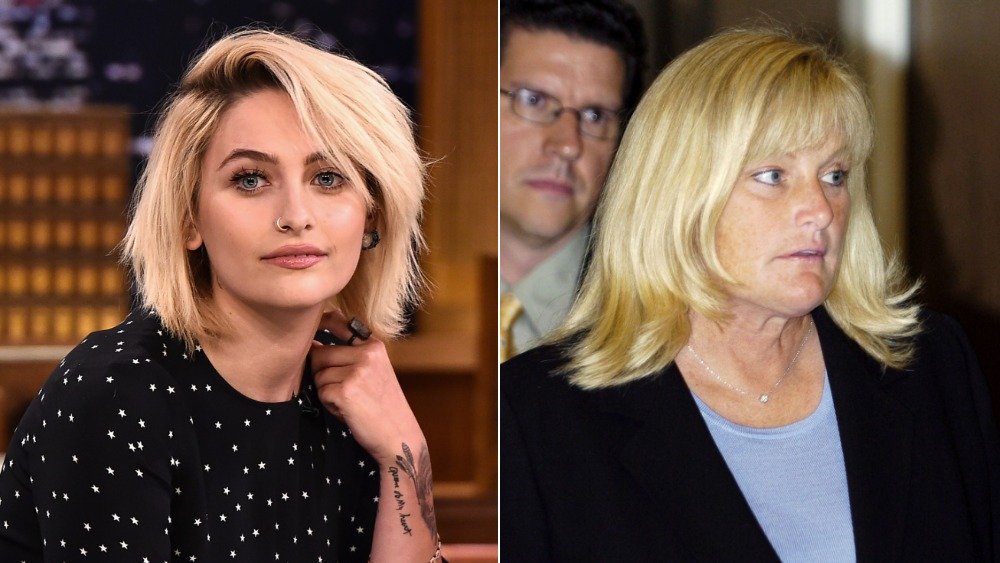 As a child, Paris Jackson didn't have a relationship with her mother, Debbie Rowe. According to ABC News, Michael Jackson's ex-wife is the biological mother of both Paris and her eldest brother, Prince, but had "almost no contact" with the pair for nearly a decade. This was something she chose voluntarily. Per ABC's report, Rowe gave up custody during the divorce in 2000 and relinquished parental rights during a separate hearing in 2001. In the midst of the latter, the mother of two told the court (via the Los Angeles Times) that "they're his kids. They're his kids. They are not my kids."
"I did it for [Michael Jackson] to become a father, not for me to become a mother," she revealed (via ABC News). "You earn the title parent. I have done absolutely nothing to earn that title."
That sentiment didn't last forever. In an interview with Rolling Stone, Paris revealed that she only sought out information about her mom after her father's passing. She was 13 years old when they first "got together," and according to ABC News, Rowe planned to seek custody. However, Extra uncovered alleged emails in the month after Michael's death, where the mom of two supposedly revealed that she still didn't actually want custody. Rather, she didn't want to "look like the woman who gave away her kids and just forgot about them." According to People, Paris and Rowe only publicly reconciled in 2013.
She was 11 years old when she lost her father
When Paris Jackson was 11 years old, she had to endure the tragic death of her father, Michael Jackson. According to CNN, the King of Pop was planning his comeback tour when he died from an overdose of propofol, a drug he was reportedly using to treat his insomnia. The Los Angeles Times reports that Jackson's death was ruled a homicide, and Dr. Conrad Murray, who had been administering the surgical anesthetic every night for about two months, was ultimately convicted of involuntary manslaughter.
According to Rolling Stone, the Jackson family leveled a wrongful death suit against AEG Live, the concert promoters behind Michael's This Is It tour. Though AEG won the lawsuit – with jurors accepting their claim that Michael was at fault for his own death — Paris still slammed the company in her Rolling Stone interview, claiming they don't "treat their performers right" and "drain them dry and work them to death."
Paris was uniquely close to her father, and she never completely healed from the pop star's death, but she told Rolling Stone that she doesn't expect to. "They always say, 'Time heals,'" she admitted. "But it really doesn't. You just get used to it. I live life with the mentality of 'OK, I lost the only thing that has ever been important to me.' So going forward, anything bad that happens can't be nearly as bad as what happened before. So I can handle it."
Her heartbreaking speech at her father's memorial was unplanned
Michael Jackson's memorial service was so monumental that it was broadcast in Times Square, and Paris Jackson's unexpected, unplanned speech was perhaps the most heart-breaking moment. The 11-year-old grabbed the microphone and fought back tears as she bid farewell to her father. "I just wanted to say, ever since I was born, Daddy has been the best father you could ever imagine," she said. "And I just wanted to say I love him so much."
According to TIME, this was the first time the child, whose father largely shielded her from the paparazzi, spoke in public. Following her statement, she was embraced by her aunt Janet Jackson and whisked off stage as some of the 21,000 members in the audience wept. AEG Live CEO Randy Phillips, who directed Paris off-stage, told TIME that when she spoke, he "lost it" and "almost short-circuited [his] walkie-talkie crying into it." Kenny Ortega, Michael's longtime collaborator, told the magazine, "I've never seen a girl love her daddy as much as Paris loved Michael. It wasn't planned. She was also his No. 1 fan. And it came through there."
Paris Jackson began self-harming when she moved in with her grandmother
Following Michael Jackson's death, Paris and her siblings moved in with their grandmother, Katherine Jackson. This living situation proved to be difficult because it lacked structure. That's when Paris first began to self-harm.
In an episode of her Facebook Watch series, Unfiltered: Paris Jackson and Gabriel Glenn (via Entertainment Tonight), the King of Pop's only daughter revealed that she'd been living a "very healthy" lifestyle with her father, but when she moved in with her grandmother "there were no rules." She had "soda and cake all the time," which led to significant weight gain. "Food became an addiction," she said. "And then a cousin called me fat and I was like, 'OK, I can't do that anymore.' And that's how I fell into self-harm."
Paris claimed that she didn't think her self-harming behavior, which included cutting and burning, would ever claim her life. Instead, she was desperately seeking control in a world of chaos. "I was always the one that was in control of the razor. I knew how deep I was going," she said (via Entertainment Tonight). "Part of it was the dopamine release. And dopamine is called dope for a reason. It feels good … There's a lot of things that cause a dopamine release and self-harm is one of them … Part of it was that and then it was also a distraction from emotional pain and transferring to physical pain and the need for control."
She's a survivor of teenage sexual assault
Paris Jackson hasn't spoken a whole lot on the subject, but she did endure abuse as a teen. In an interview with Rolling Stone, the singer revealed that she was sexually assaulted by a "complete stranger" when she was 14 years old.
At the time, Jackson felt like she didn't fit in with many of her peers at private school, which she started in the seventh grade. Instead, she fell into a crowd with "a lot of older people doing a lot of crazy things." Jackson admittedly tried to grow up fast and "wasn't really that nice of a person." "I was doing a lot of things that 13-, 14-, 15-year-olds shouldn't do," she told Rolling Stone.
On top of habitual cyberbullying (we'd be remiss not to mention the cruelty of tabloids), she hid her traumatic assault from the public. "I don't wanna give too many details. But it was not a good experience at all, and it was really hard for me, and, at the time, I didn't tell anybody," she said.
Paris Jackson had 'many' suicide attempts
Paris Jackson's self-harm eventually escalated to attempted suicide. In her Rolling Stone interview, the star revealed that she tried to kill herself "multiple times," but it only went public one time when she was 15 years old in the midst of major depression and drug addiction. That particular incident in 2013, where she cut her wrists and took 20 pills of Motrin, was the last straw for the hospital, which had a "three-strike rule." She was sent to a residential therapy program shortly thereafter.
"It was just self-hatred," she told the outlet, "low self-esteem, thinking that I couldn't do anything right, not thinking I was worthy of living anymore."
Jackson has been on the mend despite tabloid reports that surfaced in 2019 shortly after the release of Leaving Neverland. According to Billboard, the singer, who has adamantly maintained her father's innocence, brushed off these claims as "lies lies lies omg and more lies" in a tweet. Strangely enough, this was aimed at Real Housewives of New York's Bethenny Frankel, who reacted to TMZ's alleged false report with "we are the product of our parents' unresolved issues." Both Jackson and Frankel's tweets have since been deleted, and a source told Billboard that while Jackson did receive medical treatment, it was not for a suicide attempt.
Paris Jackson spent a year and a half at a therapeutic boarding school
Following her 2013 suicide attempt, Paris Jackson was reportedly transferred from the psychiatric facility at UCLA Medical Center to the Diamond Ranch Academy, a therapeutic school in Utah. According to the Daily Mail, who parsed through reports from The Sun and The New York Post, this was not an easy road. Her family allegedly feared that she'd relapse amidst her father's wrongful death suit — especially if she had access to Twitter and the Internet. Jackson also reportedly needed special security to protect her from "dangerous obsessive fans" who could potentially sneak into the $10 million facility, which specializes in "depression and grief management."
In a Rolling Stone interview, Jackson revealed that she ended up spending her sophomore year and half of junior year in Utah, which seemingly helped. "It was great for me," she told the mag. "I'm a completely different person. I was crazy. I was actually crazy. I was going through a lot of, like, teen angst. And I was also dealing with my depression and my anxiety without any help."
In an episode of Unfiltered (via Entertainment Tonight) that aired three years later, Jackson seemed to have a different opinion. The star claimed that she never wanted to go to Utah but was forced because she was a minor. "The problems that I went there with got fixed, but I left with way more than I came in with," she said.
Breast cancer reunited Paris Jackson with her mother
Paris Jackson was reportedly estranged from her mother for more than a year when the pair reconnected in July 2016. Unfortunately, it wasn't under the best circumstances. Debbie Rowe had been diagnosed with breast cancer, and it was the fear of losing another parent that allegedly brought the pair together.
According to TMZ, Jackson reached out to Rowe ahead of her surgery with a digital olive branch, a simple "I love you" text. This opened up the doors, and according to People, Jackson stuck by her mother's side throughout treatment, even posting a photo on Instagram kissing Rowe's head. "I'm a fighter because she's a fighter," she wrote in the caption. "Love you mom."
Rowe, who had her last round of chemotherapy treatment in early 2017, told Entertainment Tonight that Jackson had been her "rock." "She's been with me the whole time. She was there. First phone call, [it] took her 30 seconds [to reach out] when she found out," Rowe said, adding "for her to kiss my bald head, [her love] is pretty unconditional."
Paris Jackson tragically lost friends to overdoses
Paris Jackson spent much of 2018 dodging awful tabloid rumors that claimed she was a partier on the brink of a breakdown. This included a gutting Radar Online report titled "Jackson Family 'Terrified' Rail-Thin Paris Will Die From Drugs Like Late Dad Michael," which cruelly claimed that "it seems like no one can save her." The singer was rightly upset, and took to Twitter to slam the report, claiming she'd "never once given the impression that I'm someone who likes to party" and that she's "never read an article from Radar about myself that's actually true."
A lot of the speculation happened following Demi Lovato's accidental overdose in July. According to CNN, reports claimed that the incident convinced Jackson to check herself into rehab, but that wasn't exactly the case. Rather, Jackson already had a tragic past that led her to adopt a healthier lifestyle. In an Instagram Story captured by CNN, Jackson revealed that "someone doesn't have to almost die for me to know to be healthy, I've already had friends OD and die. That's enough for me."
She reportedly went to rehab and emerged 30 days sober
Though Paris Jackson initially denied claims that she was headed to rehab 2018, reports from the start of 2019 told an entirely different story. Radar Online claimed the star primarily sought treatment for alcohol abuse and mental health issues amidst a so-called "rocky road of self-destruction." Entertainment Tonight, who first reported on the alleged news, weren't quite so dramatic.
A source told the magazine that the star "decided that she needed to take some time off to reboot, realign and prioritize her physical and emotional health. She checked herself into a treatment facility to aid in her wellness plan."
Though Jackson didn't publicly address whether or not she actually went to rehab, Radar Online found some evidence that she was in recovery. Paparazzi shot a photo of the star walking her dog and reportedly captured a 30-day sobriety chip from Narcotics Anonymous that was clipped to her keychain. This picture surfaced in February, about a month after the rehab rumors. The timing makes sense, but Jackson absolutely deserves her privacy as she faces her very private health issues.
Did Paris Jackson's ex-boyfriend help her stay sober?
In 2020, Paris Jackson hit the road with her band Soundflowers. The duo — which included her then-boyfriend Gabriel Glenn — embarked on a European tour, but Jackson reportedly skipped out on a show after she came down with a "mystery illness," according to Radar Online. The publication suggested she was "heading for a meltdown" and that the star canceled her appearance because of prescription pills. "Paris has panic attacks and she takes pills to help calm the effects of the attacks," claimed a source, "She takes them every day and when she doesn't she has nightmares, gets nervous and sweats. She mixes them sometimes, which is very unhealthy!"
This is, of course, sensational. According to a report in Scientific American, one in six Americans takes a psychiatric drug. Flatly put: it's not abnormal, but Jackson already revealed she's dealing with her mental health issues without medication. "I used to be on anti-depressants and mood stabilizers and it just kind of clouded my third eye… You can't numb the bad without numbing the good," she said in an episode of Unfiltered (via Entertainment Tonight).
According to Radar Online, Glenn "scaled back the wild times" in order to "help get her back on track." The pair eventually broke up later in the year, in August 2020, with TMZ reporting the split "was amicable."
Paris Jackson still struggles with self love
Paris Jackson hasn't exactly had an easy life. That's just the price of being Michael Jackson's daughter. In an episode of Unfiltered (via Metro), the singer revealed that her past trauma is what drives her to create, and it's led her to the family business. "Whether it was him [Michael Jackson] passing or all the s**t that has happened to me in my life. If I don't talk about it or if I don't put it in the music, it's going to completely ruin my life and it's going to own me," she said.
Today, Paris seems like she's stronger than she's ever been — and it's impossible to argue that the little girl who gave that speech at her dad's memorial service wasn't strong, to begin with. Even so, she's still human, and she still finds self-acceptance hard. During an episode Unfiltered (via Entertainment Tonight), Paris revealed that she "struggle[s] to accept herself," and it's always a work in progress.
"I want to influence self-acceptance and courage and being comfortable in your own skin," she said. "I'm just working on content. I'm trying to just be content. Baby steps. Self-love s**t is hard."