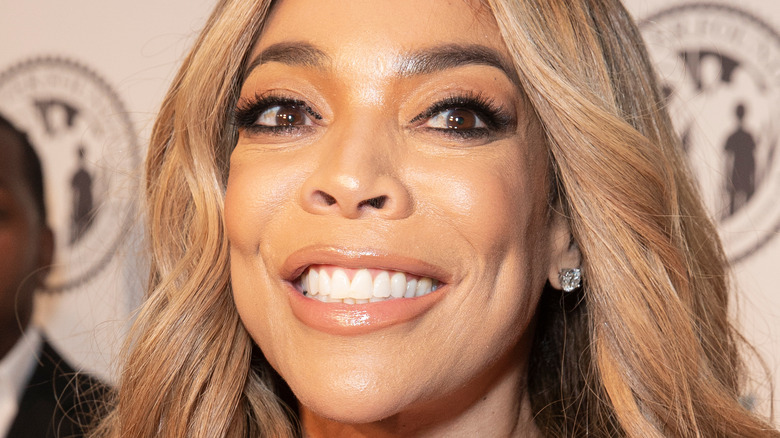 Wendy Williams hasn't had the easiest time when it comes to love, and almost her entire dating life has played out in the public eye ever since she shot to fame as a notoriously outspoken New York radio host.
But while she's made a living from talking about other people's (often salacious) private lives, the gossip queen has also found herself to be a hot topic on her own gossipy daytime talk show, "The Wendy Williams Show," more than once. The star has discussed her rollercoaster relationship with her now former husband, Kevin Hunter Sr., on multiple occasions, with their long-term romance being plagued by infidelity allegations for years before they eventually went their separate ways.
But while the meme queen's rumor-plagued ill-fated romance with the man who went on to become her manager and producer may be her most famous, it's certainly not her only. So sit back, say "How you doin'?" and get ready for some drama as we take on our own Hot Topics segment for a trip down memory lane with a look into Wendy Williams' romance history.
Wendy Williams accused Sherrick of abuse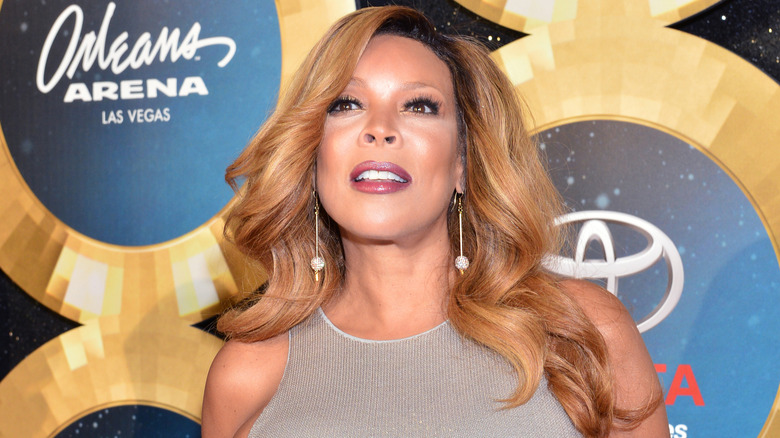 Wendy Williams' dating history sadly begins with abuse allegations, as she opened up about an alleged encounter she had with the R&B singer Sherrick in the 1980s. The singer had mild success in 1987, releasing a handful of tracks including "Just Call" and "Let's Be Lovers Tonight."
Williams spoke out in January 2021, accusing Sherrick of allegedly date raping her. Williams told media that they met when she interviewed him and she became "mesmerized" by "his twinkling eyes," adding she was "gaga over this man" (via People). She claimed Sherrick invited her to attend an album release party, which she agreed to, but alleged she "was date raped by him" before the event, also stating it was not the first time she had been sexually assaulted.
Sherrick died in 1999, though his widow, Lynne Conner Smith, responded to Williams' allegations to Page Six, saying the allegations were "quite painful" for herself and his family. Smith questioned why Williams chose to make the claims when Sherrick himself could respond. Smith's family also hit back in a statement, which read in part, "I will never minimize or dismiss the horrid actions of sexual assault, I am saddened that Ms. Williams feels the need to publicly make these allegations when the man she is accusing is no longer on this earth to defend himself." The family added they were "not aware of any relationship or encounter they may have had."
Wendy Williams dated Eric B.
Wendy and Eric B., sitting in a tree! Wendy Williams had a thing with the hip-hop star — whose real name is Louis Eric Barrier and is best known as one half of Eric B. and Rakim — after she interviewed him in 1991.
2021's "Wendy Williams: The Movie" saw Williams suggest they dated for a while before he "[ruined] her credit" after she rented him a car, as she claimed he didn't have his own vehicle. The movie even implied there was a warrant out for her arrest after he allegedly didn't return the vehicle (via Baller Alert). Williams also claimed to have gotten pregnant by him, but got an abortion.
Eric B. hit back at Williams on Instagram, sharing a throwback snap of him next to a flash car wearing several chains alongside the words, "Damn, I need a rental." He wrote in the caption, "[Too] hilarious I laughed [too] well it made for great Tv But the truth is something different."
That wasn't the first time Williams spoke about their relationship though, as she also dished in her 2004 book, "Wendy's Got The Heat." "Looking back, I was just one long, extended booty call for him. We didn't really have a relationship. It was all sex," she wrote. She also wrote about her abortion, saying, "even in my cocaine haze, it didn't take much for me to make the decision — hell, no, I wasn't having his baby."
If you or anyone you know is struggling with addiction issues, help is available. Visit the Substance Abuse and Mental Health Services Administration website or contact SAMHSA's National Helpline at 1-800-662-HELP (4357).
The Wendy Williams and Erick Sermon rumors
Another throwback to the 1990s, Wendy Williams is thought to have had a fling with rapper Erick Sermon. Sermon opened up about their apparent dalliance during an interview with Vlad TV in February 2021, where he suggested Williams pursued him as "ploy to get famous." When asked if they were "romantic," Sermon said there was never any "romance" in their relationship — he instead claimed Williams was "a fan" of his — but noted that the rumors about them were "true," though didn't clarify further.
He was then asked about the speculation he hooked up with her and then presented her with "bus tokens" to get home, though Sermon denied that and said she was instead dropped off at the train by his "boy." "Anybody can verify that story," he continued, coyly suggesting that did have an intimate moment at least once, as he was "moving" around New York City at the time and plenty of men in the area know his name because of past encounters with their wives or girlfriends. Hint, hint, then.
As for those other rumors Sermon mentioned? Well, All Hip Hop alleged in 2013 that Williams supposedly wasn't too happy about the way she was treated after their supposed hookup and was accused of starting a widely heard rumor Sermon was gay "as a way to get him back and ruin his [reputation]."
Williams doesn't appear to have spoken out about the allegations.
The truth about Wendy Williams and Notorious B.I.G.
What really happened here? Rumors have swirled for years that Wendy Williams may have had a little something with the late rapper Notorious BIG before his death in 1997, with her admitting they went on at least one date around 1994.
Williams opened up about her relationship with the iconic rapper in her 2021 Lifetime documentary, "Wendy Williams: What a Mess!," claiming they "had a cool relationship" while she was a radio DJ (via Hollywood Life). "I liked him. He had a great sense of humor, and he liked to eat. One day, after we did an interview, Big asked me out. I said 'Yeah.' I wasn't thinking about Big in a romantic way. I mean, he was a nice guy, but definitely not my type. But I was still very single and a young girl. And I was out here, doing it," she explained. But it sounds like Williams had one thing on her mind… And it wasn't marriage. "I planned this scene," she admitted, revealing she chose where they went depending on where the paparazzi would be. "I said, 'Let me get on Page Six. It's good for my business,'" she recalled, even admitting they even held hands to "create a stir."
Williams also opened up about what went down on "Live With DJ Suss One," confessing she went on the date because she wanted "stories" to tell her grandchildren but never actually wanted "to be with Biggie."
Wendy Williams' first husband
After a few brief romances, Wendy Williams got serious with her first husband, Bert Girigorie, in 1994 following her brief media firestorm with Notorious B.I.G. Williams dated Girigorie on and off for around two years before they walked down the aisle after meeting while working at a radio station (via Radar). Not too much is known about their relationship — except for the fact it didn't last long. They went their separate ways just five months after they tied the knot, and Girigorie later claimed they had a "big blowout" that "strained" their relationship. "It was very bizarre. She just turned into a different person. I don't know what was going on. I didn't understand a lot of things that she did," he told Radar in 2019.
Girigorie also accused Williams — who has been open about her drug abuse in the past — of allegedly "doing drugs" while they were together, saying, "I assumed that she was but I didn't know anything about it. I know I was seeing strange behavior and behavior that I didn't understand."
Williams didn't share much about her first marriage in "Wendy Williams: The Movie," instead admitting in the accompanying documentary, "Wendy Williams: What A Mess!" that she was "skipping over [her] first husband" because "he was just a rebound after the disaster with Eric B." (via CheatSheet). She added, "It was a starter marriage … and frankly, it's not interesting enough to talk about." Ouch!
If you or anyone you know is struggling with addiction issues, help is available. Visit the Substance Abuse and Mental Health Services Administration website or contact SAMHSA's National Helpline at 1-800-662-HELP (4357).
Wendy Williams gets serious with Kevin Hunter
Here's where the infamous Kevin Hunter enters Wendy Williams' life. After divorcing her first husband, Bert Girigorie, following a (very) brief union, Williams didn't waste much time moving on. 1994 was clearly a very busy year for the star in terms of romance, as it was then that she started dating the man who would eventually go on to become her second ex-husband. According to People, Williams and Hunter have quite the meet cute as they actually met at a skating rink event. The two dated for around three years before Hunter proposed to her in 1997, shortly after the two found out she was pregnant (Williams later discovered she'd experienced a miscarriage around two months before they married).
Williams recalled how her wedding day was a very low-key affair in her book, "Wendy's Got the Heat." "Neither of us wanted a big wedding in a church and all of that," she recalled. "We didn't want to spend all of that money. We'd rather put our money toward something else — like another house. Our love was beyond that showy s**t … besides, just the thought of a big wedding — vomit."
Instead, the loved up couple kept things very small and casual and went to the Justice of the Peace at the Jersey City Court House, before he returned to work later that day.
Wendy Williams wanted a divorce early
Though it seemed like Wendy Williams and Kevin Hunter had it all — that wasn't the case behind the scenes. After multiple miscarriages, Williams discovered she was pregnant with the couple's son, Kevin Hunter Jr., around two years into their marriage, but her pregnancy in 2000 was far from the happiest time in her life.
Speaking to Insider in January 2021, Williams confessed that's when she knew she wasn't happy and made plans to leave her "serial cheat" husband before giving birth. "I went into the delivery room knowing in my mind, 'I'm planning my divorce,'" she admitted. "He cheated when I dated him. He cheated when I married him. He cheated while I was on bed rest during the entire nine months of me being pregnant."
However, the new parents ended up staying together, with Williams later telling Extra in January 2021, "I found out [about the cheating] and I could've divorced him then, but I said, 'No, I have a son and I'm not going to have any more children'… I didn't want him to leave me by myself." The couple even went on to entwine their lives even more, as they tackled parenthood and work by one another's side. As reported by People, sometime after their son was born, Hunter Sr. became Williams' manager as well as her production partner and the two set about getting "The Wendy Williams Show" as we know it today off the ground.
Kevin Hunter's bombshell cheating allegations
Kevin Hunter Sr, and Wendy Williams dodged cheating allegations on Hunter's part for years after Williams initially found out about his purported infidelity, but the rumors really came to a head in September 2017 when Daily Mail published bombshell claims alleging he'd been living a double life with a mistress for over a decade.
The outlet alleged that Hunter had been having a "secret long-term affair" and had supposedly been splitting time between the home he shared with Williams and their son, Kevin Hunter Jr., and another home he shared with his mistress, which he purportedly purchased for them.
Williams denied the claims after the report surfaced — and on more than one occasion. "One plus one does not equal three. This woman is a friend of Mr. Hunter but there is no 'there' there," Williams' spokesperson told Daily Mail, just three months before the couple were due to celebrate their 20th wedding anniversary. Williams also addressed the controversy on "The Wendy Williams Show" one day after the report was published, proudly flashing her wedding ring as she called it a "weird story." She added, "You can believe what you want. I stand by my guy" (via ET). Although, that didn't exactly work out.
Wendy Williams files for divorce
Despite initially letting the world know she was taking Tammy Wynette's advice and standing by her man, less than two years after the shocking claims hit the headlines, Wendy Williams was officially done with Kevin Hunter. Williams filed for divorce in April 2019, citing "irreconcilable differences" (per Page Six).
The filing came after Hunter allegedly welcomed a child with his reported mistress, as Page Six claimed Hunter and his supposed longtime girlfriend had welcomed their first child together, Hunter's second, into the world in March 2019. The outlet noted at the time that it hadn't been officially confirmed that Hunter "is the father of the child, but there is widespread speculation." Williams then alluded to the child during a tell-all interview with The New York Times in August 2019, suggesting it was the last straw in the marriage. Williams claimed that "Kevin had a major indiscretion that he will have to deal with for the rest of his life," describing it as "an indiscretion that I will not deal with."
In July 2021, The Sun shared candid photos of Hunter in Florida with the woman reported to be his mistress and their alleged child, a daughter, who he was carrying.
Wendy Williams got a new man
Miss moving on! By June 2019, two months after her divorce filing went public, Wendy Williams was linked to a new man. Step forward, Marc Tomblin! The two reportedly met through Williams' on/off friend and reality star and model Blac Chyna. Williams and Tomblin were snapped on both sides of the country, enjoying the sun in Los Angeles before then enjoying some time together in New York (per Page Six).
The relationship raised a few eyebrows not only because of their age gap (Williams was 54, Tomblin was 27), but also because Tomblin's less than squeaky clean rap sheet hit the headlines. TMZ questioned Williams about her new man's past, to which she hit back, "I am a 54-year-old grown a** woman. I know what I'm doing. Look, my husband had a full baby with a woman he was involved with for 15 years … where I was cooped up only to be a show pony. Now, I'm living my life." Well, we can't argue with that!
The fun didn't last too long though. The two had split by July 2019 when Williams claimed on "The Wendy Williams Show" she was seeing an unnamed doctor. "Mama doesn't deal with children," she said of her breakup, adding, "I'm not on the market anymore … I'm not in love, but there's someone I'm crazy about … I need some time in their 50s too, and he's got to work" (via Hollywood Life).
Wendy Williams is looking for love
Wendy Williams' romance with the mystery doctor didn't go the distance, as she revealed she was getting more serious about dating again in multiple interviews in early 2020. Speaking on "The Wendy Williams Show" in February 2020, she said of dating again, "You can ever say never! As my marriage was crumbling … I want to get married again. I do, I do. I don't know if it'll happen again, but you know, I'm dating" (via Hollywood Life).
That same month, she was linked to musician Blac Papi and shared a photo of them on her Instagram account that appeared to suggest she and the rapper were an item. The snap showed the two cuddling up and laughing alongside the caption, "Later on…studio with @blacpapipmh …another Friday night."
The two never officially confirmed if they were dating, but if they were, it was all over by April 2020. Speaking to ET, Williams revealed she was "getting used to life as a single woman again," adding, "I was involved with [Kevin Hunter] for over 25 years or so, and now I am a woman of a particular age in a particular stage in life, so being single now is a lot different."
Wendy Williams' revenge
Just because Wendy Williams moved on, that didn't stop her from still speaking out about her divorce from Kevin Hunter. Despite previously staying quiet about her ex-husband's alleged infidelity, Williams started to open up more about what really went down in their marriage in 2021, even calling it "emotionally abusive" in her Lifetime documentary, "Wendy Williams: What A Mess!" (via The Sun).
"Kevin's not a woman beater. I was an emotionally abused woman, and I was taken advantage of horrifically," Williams claimed during the tell-all. "I was very naive in believing in love… He's just a weird man with a lot of issues that I'm glad I'm rid of." She also admitted she knew about Hunter's alleged mistress almost instantly and recalled how she went over to the home he shared with the purported other woman and used spray paint to vandalize it. As for what she wrote? "Wendy and Kevin forever," of course.
Williams has no regrets, though. Speaking on "The Jess Cagle Show" in January 2021, she said she doesn't "regret putting up with him for all 25 years" but also claimed "that has nothing to do with him having this baby or him having this side girl for almost 15 years of our marriage." She added, "I've known about her almost since the beginning. I've known that Kevin is a serial cheat."
Are Wendy Williams and Kevin Hunter friends?
As Wendy Williams navigated the dating scene, she admitted Kevin Hunter Sr. was still a part of her life as they co-parented their son, Kevin Hunter Jr., together. Speaking to Extra in January 2021, Williams explained that her former husband still "calls from time to time" and she never blocked his number, pointing out, "he's my son's father."
Hunter Sr. was even by Williams' side as she and Hunter Jr. attended her mom's funeral. The star opened up about her reunion on "The Wendy Williams Show" that same month, saying that "he smelled really good" (via The U.S. Sun) as she recalled how she and her ex-husband and son all went out for food together after the event. However, she was quick to clarify there were no reunions in the works, stating, "No, we're not getting back together."
"Then [Hunter Sr.] dropped us off … at my sister's house and felt as though, I'm just going to go on," she continued. "'You all have a nice right of the day, and give me a call if you need something.' And that is all I'm going to say about that situation." Williams opened up about what happened as she hit back at her brother, Tommy Williams', claims she skipped the funeral to spend time with her ex-husband.
Wendy Williams used The Wendy Williams Show to date
"The Wendy Williams Show" turned into "The Dating Game" in early 2021 when Wendy Williams used her platform to find herself a new man. For several episodes of the series, Williams opened up about her single life and encouraged men to send in videos telling her why they want to date her for a segment called "Date Wendy."
Williams then chose one of her suitors, Mike Esterman, and shared how excited she was to date him. "We're both of a certain age and realistic about love or what will happen and the possibilities. But also we're both crafters… That might be corny to you. But not me," she said on "The Wendy Williams Show" in March 2021 (via The U.S. Sun), gushing, "Oh Mike, so cute, funny, smart."
The two dated for a few weeks, with Williams keeping fans updated on her talk show. However, this one was almost over as quickly as it began. Esterman confessed in May 2021 that they weren't seeing each other as their busy schedules didn't line up. "I don't know if I can give her what she wants. Nobody called it a day, there's just no time to meet up. We talk when we can. I can't hold her back from meeting someone who can give her more," he told The U.S. Sun in May 2021. "She's allowed to meet others, we're not in that type of relationship. She will find someone," he added.
Who is Wendy Williams' new boyfriend?
Sound the new man klaxon! Wendy Williams didn't let her split from Mike Esterman get her down for long. In August 2021, Williams confirmed she was loved up again when she went public with her new boyfriend.
Williams debuted her new man by posting a photo of them on Instagram as she told fans that they'd attended a party for her son, Kevin Hunter Jr., together. The slightly blurry snap showed the two in the back of a car as Williams' boyfriend looked at her, while she wrote in the caption, "My son's 21st birthday party on the yacht in #Miami was everything he wanted! Even my boyfriend." It seems like Williams is determined to keep this one a little more secret, though. The star doesn't appear to have publicly revealed the identity of her new man as of October 2021, so it seems like she could be keeping her loyal fans guessing with this one!
Her new man came as Williams took some time away from "The Wendy Williams Show" and the spotlight after "experiencing serious complications as a direct result of Graves' Disease and her thyroid condition," per a statement posted to her Instagram, which may be why the two have stayed a little more on the down low.