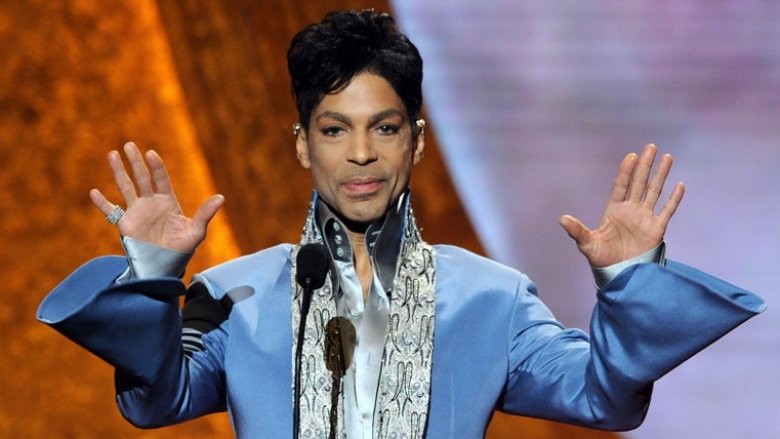 One week after putting on a show-stopping performance at Atlanta's Fox Theater, Prince Rogers Nelson — better known as Prince — was found unresponsive in an elevator inside of his Paisley Park studio compound. His April 21, 2016 death sparked an outpouring of grief from the music world and beyond, with many in utter disbelief that the music legend's life was cut so short.
It was later determined "he died of an accidental overdose of fentanyl, a synthetic opioid that is 50 times more powerful than heroin," according to the Associated Press. News of his cause of death sparked countless questions about the "Little Red Corvette" singer's life. Though it was apparent he lived a rich and glamorous lifestyle, his shocking death also unearthed painful secrets about his past and incredible stories about his anonymous good works. From substance abuse and tremendous loss to politics and social activism, here are the many secrets Prince tried to hide.
Prince fathered a secret child
Of all the secrets Prince kept in his life, arguably the most heavily guarded was the birth of his son in 1996. At the time, tabloids were running rampant with rumors that the baby had been born with health problems or birth defects. Eventually, the media circus grew so crazy that Prince's record company finally acknowledged that, yes, Prince and his then-wife, Mayte Garcia-Nelson, had given birth. Nothing was mentioned about the boy's condition, according to Entertainment Weekly.
Media outlets then began reporting that the baby had died. The Minneapolis Star-Tribune obtained what it reported to be the child's death certificate, on which the baby's name was listed as "Boy Gregory." It was also reported that the child had died seven days after birth from Pfieffer syndrome, Type 2, a "rare skull deformity resulting from a genetic mutation."
Garcia later wrote in her memoir, The Most Beautiful: My Life with Prince (via Daily Mail), that they had named their son Amiir, and their baby boy's death was something that greatly affected Prince. "I don't think he ever got over it," she wrote. "I don't know how anybody can get over it. I know I haven't."
Prince's wife had a miscarriage
According to The Mirror, Mayte Garcia-Nelson suffered a miscarriage shortly after the death of her and Prince's son. The trauma from losing two children had devastating effects on the couple's relationship and may have become a catalyst for their split. "To lose two babies is really scary … it really caught on me emotionally, physically, everything," she said. "It took me at least 15 years to get over it and still, to this day, I miss my son. I believe a child dying between a couple either makes you stronger or it doesn't. For me, it was very, very hard to move forward and for us as a couple I think it probably broke us."
Garcia-Nelson spoke about the physical and emotional ramifications of the miscarriage. "When you miscarry your body is freaking out, like 'Why can't I feed the baby?' so those were the things I went through," she said. "Every day was a struggle even to breathe."
Did Prince have a drug problem?
In the wake of Prince's death, the Star-Tribune reported that police were investigating the role that prescription drugs might have played in the singer's demise. Among the areas of investigation: the emergency landing that Prince's private plane made in Moline, Ill., just six days before his death. According to TMZ, Prince was rushed to a hospital and given an emergency "save shot" typically administered to counteract the effects of an opioid; doctors advised him to stay in the hospital for 24 hours, but Prince and his team reportedly bailed after three hours because the hospital could not provide a private room.
Amid the police investigation, two reports from the Star-Tribune seemed to confirm that Prince was battling an opiate addiction. One story said Prince was being treated by a physician for withdrawal symptoms several weeks before his death; another reported that he was scheduled to meet with a California doctor to help kick his painkiller addiction one day after his death.
Six weeks after his death, the Midwest Medical Examiner's Office confirmed that Prince died from an accidental opioid overdose. According to People, the performer took too much Fentanyl, a controlled substance with a high risk for addiction and dependence that is used to treat severe pain. A press release from the medical examiner's office said the performer weighed only 112 lbs. at the time of his death.
Prince's sister battled drug addiction
The late singer's youngest sister, Tyka Nelson, opened up about her struggles with addiction in a heartbreaking 2003 interview with The National Enquirer (via Eurweb). Though they were raised in the same household, their lives ventured off down very different paths. Prince was propelled into superstardom, and Nelson revealed that her substance abuse issues led to homelessness and prostitution. "I was a single mother and my boys were babies," Nelson said. "I sold my body for food, money and Pampers … I pawned the car Prince had given me and sold the kids' TV for drugs."
Nelson also admitted to the publication that her relationship with Prince was strained from time to time, revealing that he helped her enter into a drug rehab program, but would often turn his back on her, as well. "I love my brother," she told the Enquirer. "But I'm not a yo-yo. He can't just keep spinning me in and out of his life."
Was Prince sexually abusive?
Much has been made about Prince's wild and passionate love affairs. It's long been rumored that the song "Scandalous Love Suite" included sounds of the artist and actress Kim Basinger getting to know each other in the studio. But not all of Prince's relationships were smooth sailing, at least according to a lawsuit filed by his former girlfriend of two years, Charlene Friend. In court documents obtained by the Daily Mail, Friend alleged that Prince "would have bizarre sex parties where he had different theme rooms. He kept people in rooms at his homes and would have different acts in each room. He had cages, chains, whips in these rooms. Sometimes he would watch and sometimes he would participate."
Friend also alleged in the lawsuit that Prince "ran hot and cold, treating me nicely, then being cruel. He would kick me out of bed, ordering me to sleep elsewhere. I would want to leave but he would prevent me. He said I belonged to him. He also demanded that I be on call for him … Prince threatened to have me killed after we broke up, saying no one else could have me."
Prince denied Friend's allegations, which originally came to light during a property dispute following the couple's breakup, reported the New York Post.
Prince's finances were reportedly a hot mess
The absence of a will sent Prince's surviving family members into a tizzy as they began to sort out who would inherit what from the entertainer's estate, but according to TMZ, Prince's business affairs had been in disarray for years. It was "virtually impossible" to get his signature on any legal documents because he felt he had been "screwed over" by people in the past, TMZ reported, noting that his closest advisors were "beautiful, 20-something women, all models with no experience in anything" pertaining to financial security.
As of April 2019, the singer's heirs — his six surviving siblings — had yet to inherit any part of his estimated $200 to $300 million fortune. According to USA Today, "platoons of lawyers have been working on it for three years, racking up bills, arguing with each other, arguing with the heirs, arguing with consultants hired to advise on various estate matters, and filing blizzards of documents and paperwork with the Carver County probate court, which has made little progress in its mission to sort all this."
Prince had a secret stash of music, gold, and other treasures
In the basement of his Paisley Park studio, Prince kept a secret vault that only the closest members of his inner circle were privy to. According to the CBC, following the singer's April 2016 death, the Carver County Sheriff's office released photos from inside the vault, and it was jam-packed with some hidden treasures, including "reel-to-reel tapes of classic albums," rare footage on VHS, "endless Batman-inspired works," "a duet with Michael Jackson," "a costume for the Minnesota Twins' mascot," "67 gold bars valued at $840,000 USD, and 47 pairs of high-heeled ankle boots."
Shockingly, the vault also included what archivists claimed was enough recorded music to release a posthumous album "every year for the next 100 years," and his estate has since released some of that material. According to NPR, his estate will also release a book via Random House in October 2019. Titled The Beautiful Ones, it will reportedly "include snippets of Prince's handwritten lyrics, original scrapbooks and never-before-seen photos."
Prince allegedly suffered from depression during his final days
At the time of his death, Prince was reportedly in a relationship with a woman named Judith Hill, and while being interviewed by the Carver County Sheriff's office, Hill told investigators that the singer had been in a despondent mood in the days prior to his April 2016 death, the Daily Mail reported.
During his final concert in Atlanta on April 16, 2016, Hill reportedly said that Prince walked off the stage and told her, "I enjoy sleeping more these days … maybe it means I've done all I'm supposed to do here on Earth." When Hill asked him if he no longer enjoyed being "here," Prince reportedly answered, "No, it's boring, incredibly boring." Hill described Prince as "kind of depressed" and claimed that he even referred to his final performance as the "mountain top," before telling Hill: "Now I can go away."
Prince hid his dedication to philanthropy
After Prince died, countless stories emerged about the musician's charitable donations and social work. Environmental activist Van Jones recalled receiving an anonymous $50,000 check to support solar panels in Oakland, Calif. "I promptly returned it," Jones told Rolling Stone. "I'm not taking anonymous checks for $50,000. It could be from anybody." The check reappeared, followed by a phone call from the mysterious donor's rep, who told Jones "I cannot tell you who the money is coming from, but his favorite color is purple." Prince eventually contacted Jones directly and the two continued to work together.
Prince's charity extended to other sectors as well. The artist was involved with #YesWeCode, which works to break down racial barriers in the tech world by teaching urban youth about technology. He used his music to support the Black Lives Matter movement, and according to the Rev. Al Sharpton, he donated money to the family of Trayvon Martin — an unarmed Florida teen who was shot and killed by a neighborhood watch captain. Sharpton told the New York Daily News that Prince didn't want any credit for his good works. "He didn't even want Trayvon Martin's family to know where the funds came from."
"His cause is humanity," Jones told Rolling Stone. "…His cause was empowering and uplifting people. That didn't stop when he walked off the stage or out of the studio. It was a current of genius trying to move the human heart."
Was Prince secretly a Republican or Democrat?
Prince never directly aligned himself with one political party, but much as been written about the seemingly low-key ways that he supported economic and social platforms. "He wasn't red, and he wasn't blue," environmental activist Van Jones told Rolling Stone. "He was purple. With one sentence, you would think he was Republican, because he'd be talking about the economy, and with the next, you'd think he's a liberal Democrat, because he was talking about the need to fight racism. It was a flow of insights and inspiration. At the end of the day, it was purple politically."
Jones also suggested on CNN that Prince used his concerts as "a cover for him to be able to go into cities and help organizations and help leaders and touch people." Instead of focusing on ticket sales and vendors, Prince reportedly focused on bringing different community groups and politicians to the table. "A lot of times, he would do these tricky things, where people [in power] are coming because they think or assume or hope they're going to meet him," Jones said (via Rolling Stone). "And then they get stuck in a green room for an hour with their worst enemy and wind up being friends … He would do stuff like that to people all the time."