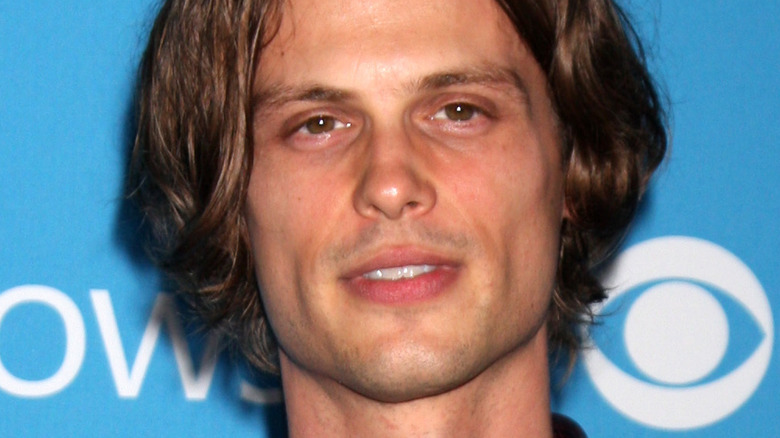 With his boyish good looks, Matthew Gray Gubler stands out from his rugged peers with an aesthetic that can only be described as Gubleresque. In an industry of hunky Chris Evans and Channing Tatum types, the quirky Gubler is less beefcake, more fruitcake, and that's just how he likes it. The actor has come a long way since the self-described nerdy kid who was bullied relentlessly. It is Gubler's unwavering positivity in the face of adversity that has transformed him into the man he is today.
On "Criminal Minds," he is famed for playing genius loner Dr. Spencer Reid, who is always adept at delving into the psyches of the complex killers he analyses. But while Spencer is devoted to his sole craft, Gubler is anything but myopic. Throughout the years, Gubler has exhibited his aptitude for acting, directing, painting, and even masonry. Gubler may be best known as a forensic plainclothesman, but away from the camera he's a true Renaissance man. From "Criminal Minds" to "Alvin and the Chipmunks," the incredible range of the star is evident. Moreover, his ability to play somber figures while being a zany eccentric in real life can only be attributable to his ability to Reid between the lines.
So, let's take a look at the transformation of Matthew Gray Gubler from childhood to 41 years old. From overcoming difficulties in his adolescence to securing a role on one of the biggest TV shows of all time, he's a chipmunk off the old block.
Matthew Gray Gubler overcame childhood adversity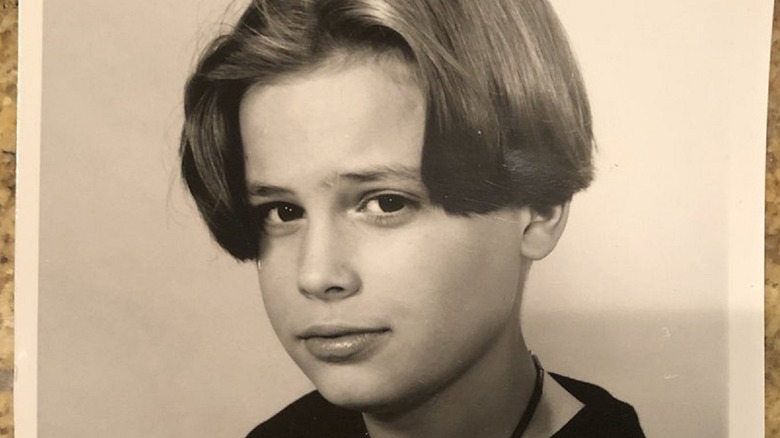 Matthew Gray Gubler's story begins in Las Vegas, where he was born in 1980. Celebs may be gorgeous otherworldly figures with legions of fans, but even they're not immune to having experienced the boundless cruelty of bullies as youngsters. Despite being a heartthrob, Gubler was picked on as a child. However, he ultimately views being bullied — or rather, overcoming being bullied — as a positive experience. As he told Buzzfeed, "I thank every bully I ever had because that's the only reason I'm here. I learned how to not be affected by it and triumph over it, and that made me — again, if I had any success whatsoever, it's because these people made fun of me."
The dashing star went on to recount the first time he was made to feel like an outsider, exemplifying his ability to turn even the most horrendous experience into a positive. In particular, he was targeted by schoolyard trolls for wearing glasses, telling Glamour that he "wore these glasses that floated on my head. They were called floaters."
As he recounted to Buzzfeed, "I remember a kid throwing an orange at the back of my head in Spanish class and calling me four-eyes, and I remember saying, I said, 'That's true, and I have two more eyes than you. I felt like it was better. If I have four eyes, I'm twice as good as you." Gubler's witty comeback should serve as a lesson for bullies everywhere.
His parents encouraged him to pursue his passions
Supportive parents are one of the most important benchmarks for any child, particularly those who are made to feel like oddballs by their peers. From an early age, Matthew Gray Gubler was encouraged by his parents to embrace his creative side and even reclaim the oddball moniker as a form of empowerment. Speaking with Glamour about his upbringing, he said of his parents, "They are the most lovely, encouraging parents a kid could ever ask for. I've been lavished with nothing but encouragement—probably too much!"
Of his father he enthused, "He's like Abe Lincoln meets Atticus Finch, and he dresses like that too. I have the greatest parents in the world." As for mom? It seems that the multi-talented Gubler takes after her most of all. "She's a rancher, a jack of all trades, a brilliant real-estate mind, and most of all, just the most loveliest mom. She's a beautiful force of nature," in remarked in a touching tribute.
Further reflecting on his childhood, Gubler told Glamour, "I feel an affinity to that kid Manny on 'Modern Family.'" As any "Modern Family" aficionado knows, Manny is a sensitive, highly intelligent kid with a strong sense of solicitousness towards his parents. In the words of Manny, "I've always felt out of place at public school. Like a lone petunia in an onion patch." As for Gubler, he's one petunia that went on to become the flower of the flock.
Directing was his first love
In the late '90s, Matthew Gray Gubler enrolled at New York University Tisch School of the Arts. According to the college's alumni records, he graduated in 2003 with a Bachelor of Fine Arts. But acting wasn't at the top of his list when he enrolled at the prestigious university. In fact, directing was his first love and he majored in filmmaking.
"I think I veered towards filmmaking because there's more of a sense of control in it. You're not waiting to be picked," he told Backstage, but added that he was often cast in student films despite his initial aversion to acting. With those dashing good looks, we're not at all surprised. "That said, in film school I acted in probably 6,000 student films because no other filmmakers knew anyone who wanted to act. It was all a big beautiful snake eating its tail, progressing along the way," he added rather modestly. However, it wouldn't be long before the actor could indulge in his love of directing; in just a few years, he would find himself juggling multiple passions.
As for why he initially decided to pursue acting as opposed to film directing, Gubler has quite the analogy. "I just see it as different tentacles off of the same deranged octopus," he told AP News in true idiosyncratic fashion. "I kind of just love making stuff." For Gubler, he's a big fish in a small pool.
Matthew Gray Gubler was once a top model
With his pretty boy looks, Gubler's countenance fits right in with the models of the 2000s. At the time, there was an emphasis on non-threatening, boyish, and almost feminine male models. Subsequently, Gubler's appearance was highly sought after by the scouts of the era.
According to CBS, his modelling career began in 2001 when he was a film student at New York University and he swiftly honed the clotheshorse craft, working for some major luxury brands. "I'm in Paris opening up a Louis Vuitton show," Gubler told CBS, adding, "It was a thing I knew very little about. It was like someone calling you and asking, 'Hey, do you want to be an astronaut?'" Considering his chiseled and dainty features, it's a little hard to believe that modelling was a totally alien concept to the heartthrob.
Looking back on his stint as a model with good humor, he contrasted the demands of modelling and acting when interviewed at the M-C TV Festival. "The hardest acting of all is doing modelling because it's very seldomly an area where they want any amount of personality," he acknowledged, adding, "They just want you to just be like [poses] … I look at it more as performance art than modelling." Despite his good looks, Gubler remains self-effacing. "It was during a time when modelling went away from the Zoolander buff, cool-guy thing and into — luckily for me — a scrawny, weird-eyed, longhaired thing," he quipped to CBS.
Wes Anderson gave Matthew Gray Gubler his big break
Matthew Gray Gubler's first foray into acting came with Wes Anderson's film "The Life Aquatic with Steve Zissou," starring Bill Murray. Rather than follow the conventional path of a film school graduate, he had the gumption to chase down Anderson, who is one of his heroes. Subsequently, he was made an intern for the indie director, who cast him in a small role … as an intern. Accordingly, he owes a lot to Anderson. "I'm very fortunate because he was the first person to ever put me in something as an actor, so I'm very grateful for him for doing that," he told Glamour.
In an interview with Another Mag, he elaborated on his experience with the acclaimed director. "When I had to get an internship to graduate from film school, there was an easy way to do it, but I thought: 'F**k it! Wes Anderson's in New York and he's my favorite film maker!'" he explained. "For me, in life, it's always seemed that the quickest point between two things is a direct path, so why not go straight into working for and learning from the best? Actually, I was the worst intern ever! Like, he would send me on shopping runs and I wouldn't know what couscous was."
There's no denying that the opportunity opened a lot of doors for Gubler, who went on to lend his voice to "Alvin and the Chipmunks" and soon scored his most famous role.
All hail Spencer Reid
In 2005, Gubler got his big break thanks to "Criminal Minds." He was cast as Dr. Spencer Reid, a criminal profiler with an extraordinarily high IQ, who has swiftly become one of the most beloved characters on the show. In an interview with Assignment X, the erudite actor described how he prepared for the challenging role. "I read a lot of the profiling books, the John Douglas book, familiarizing myself with the crime scene photos to hopefully desensitize myself and I realized that it's impossible to desensitize yourself to this sort of thing," he expounded. "And I realized Reid probably wouldn't, at that young age, be in any better situation than I am."
In further bringing Reid to life, Gubler suggests that his own background of experiencing bullying has helped buttress his characterization of the loner special agent, who often empathizes with teen killers. "Whenever there's a preteen in trouble, Reid seems to empathize with them," he reflected.
With regards to the show's longevity, he pondered in an interview with Glamour, "It's so bizarre it has been on for so long because in no way shape or form does it feel like that. It still feels like day two." This is largely due to the fact that, for Gubler, "Criminal Minds" feels like home. "Family is the only thing I can think of to sum it up. It's a real honor," he added, rather emotionally. Subsequently, the series propelled Gubler towards stardom.
Becoming an indie darling with '500 Days of Summer'
Following on from his work with Wes Anderson, Matthew Gray Gubler was cast in indie film "(500) Days of Summer" alongside Joseph Gordon-Levitt and Zooey Deschanel in 2009. The film was a natural progression for Gubler, who went on to appear in a string of indie flicks thereafter, including "Life After Beth" with Aubrey Plaza and dramedy "Endings, Beginnings" with Shailene Woodley.
Gubler noted that "(500) Days of Summer" marked one of his first roles alongside actors his own age. "It was great fun to be a part of such a special film," he gushed to Mademoiselle Robot. "Also, I rarely do movies with people who are anywhere near my own age. I'm usually the 'little kid' in the movies I'm in … Zooey Deschanel is incredible in this, so is Joseph Gordon-Levitt."
In the movie, Gubler plays Paul, protagonist Tom's BFF who offers wisdom amidst his obsessive struggle to win the heart of the titular Summer. The film has been upheld as an example of male fragility, with star Joseph Gordon-Levitt later criticizing his protagonist for forcing his insecurities and selfishness onto a woman, telling Playboy (archived by NME) that Tom "develops a mildly delusional obsession over a girl onto whom he projects all these fantasies." Regarding that aspect of the film, and in particular Tom's obsession with Summer, Gubler told Mademoiselle Robot, "I am proud of the message this movie sends, a completely accurate depiction of the rollercoaster known as love."
Matthew Gray Gubler returned to his first love, directing
Matthew Gray Gubler has directed several episodes of "Criminal Minds," beginning with season 5's "Mosley Lane" in 2010. Altogether, he has directed 12 episodes of the series, as per IMDb.
Returning to directing felt natural for the actor, who told Entertainment Weekly, "It's sort of one of my main loves in life, so it was tremendous to be in the directing frame of mind and in the chair." Discussing his work on the show, he described it as "Such an exceptional honor … And just to be asked to do it meant the world to me."
Aside from "Criminal Minds," Gubler has directed various short films, as per his IMDb profile. The charming actor may be famed for his pretty boy looks, but don't expect him to cast similarly genetically blessed stars any time soon. "I kind of pride myself on my casting choices with everything I direct," he explained to Another Mag. "There's a tendency in TV in general — not on our show — to go the safe route with casting. You know, the beautiful blonde is the victim, and … I like people that have a natural character. You know, I like John Waters' casting essentially." This is in reference to quirky indie filmmaker Waters' frequent decision to eschew conventional casting choices in favor of those who may be deemed as outsiders. Rather appropriately, Gubler went on to play a young Waters in the director's stand-up tour, as per Another Mag.
Painting is his other major passion
Matthew Gray Gubler has many passions and side-projects, one of which is painting. Known for his drawings steeped in childhood regression, and often horror-tinged, his artwork featured in a 2010 issue of Juxtapoz Magazine. Regarding his idiosyncratic painting style, Gubler is aware it isn't everyone's cup of tea, "Some people misinterpret my style of painting as offensive," he told Buzzfeed. "And I've had instances where I've painted beautiful portraits for, like, a girlfriend or someone, and they're just like, they look at it with a grimace and they're like, 'This is terrible. I don't look like this, and you're awful, and you must hate me.'"
Gubler uses his Twitter platform to showcase his unusual artwork. In one post, he exhibits a grotesque interpretation of Donald Duck. In another, he depicts a "ghost on a platter with a pickle for a leg." Additionally, he bagged a whopping $10,000 when his watercolor "Mushface" went up for auction on eBay. But, in true Gubler style, he didn't pocket the earnings for himself. According to the auction listing, all proceeds from the sale went to the Smith Center for Performing Arts in his home city of Las Vegas.
We would certainly be interested in hearing Spencer Reid's analysis of Gubler's paintings. In the words of his forensic alter ego, "Sometimes for an artist, the only difference between insanity and genius is success." Seriously, Dr. Reid, help us figure out what a ghost with pickle legs means.
With so many projects, Matthew Gray Gubler is a workaholic
What does a successful guy like Matthew Gray Gubler do at the weekend? Hang with famous pals? Court stunning supermodels? Well, no actually. He likes to … work. Gubler has been pretty open about being a workaholic, which is unsurprising considering his insatiable need to constantly pursue different creative avenues.
When Mademoiselle Robot asked the actor what his typical weekend consisted of, Gubler replied, "Saturday evenings I just stay at home and try and make stuff … light a pumpkin candle and watch a movie, but only after I feel I have done something productive with my day. If I haven't done something productive, I will carry on working through the night." Pumpkin candles and extra work don't sound like the typical weekend pursuits of a Hollywood A-lister, but Gubler isn't typical in any sense of the word.
This is nothing new for the actor, who admits that he's always been addicted to keeping himself super busy with work. "My job is really time consuming, but it is the greatest in the world!" he enthused to Mademoiselle Robot. "I love to work, even when I worked for retail shops in high school, nothing is better than a long hard day of work. If I don't fall asleep exhausted, it feels like a waste of space." We can't help but feel that Gubler is taking his commitment to work to Spencer Reid level proportions, but then again, great (criminal) minds run in the same channel.
He bought a haunted tree house
All of Matthew Gray Gubler's passion projects have clearly paid off, as he now enjoys a life of immense wealth and luxury. With a reported net worth of $10 million according to Celebrity Net Worth, one would assume that Gubler lives in a huge, ostentatious mansion. But, rather typically for the idiosyncratic star, that's not his style.
In fact, if you think the quirky actor lives among the elites of Beverly Hills, you'd be barking up the wrong tree. Quite literally — it turns out that Gubler lives in a tree house. Not just that, but he purports it is in fact a haunted tree house, which Vanity Fair describes as "one-half Tim Burton, one-quarter J.R.R. Tolkien, and one-quarter Wes Anderson." The rather Gothic abode is a treasure trove of all things creepy and macabre, with the actor joking on Twitter that he even keeps a coffin in his home.
"I wanted it to look like a drunk gnome had built it in the 1800s," Gubler joked to Vanity Fair regarding his attempt at some DIY masonry on his fireplace. In his distinctive house, Gubler keeps all sorts of oddities, including hand-made puppets, his friend's extracted wisdom teeth, and a screw that was in his knee for seven months, which, he tells Vanity Fair, he plans on gifting to "a special girl someday." Forget the Grey's Anatomy handbook, Dr. Spencer; this one is straight out of Gray Gubler's anatomy.
Embracing his silly side is fundamental to Matthew Gray Gubler's growth
As evidenced by his witty haunted house tour, Matthew Gray Gubler has a rather frivolous side. It should come as little surprise, then, that his favorite genre of all is probably the silliest. In addition to painting, directing, and acting, Gubler has ventured into making mockumentaries. In 2006, a year after he found fame with "Criminal Minds," he made the satirical short "Matthew Gray Gubler: The Unauthorized Documentary." One scene shows the fictionalized, highly pretentious Gubler describing his acting method, which results in an impromptu mime performance. The miming, it should be noted, is terrible. Criminal Mimes anyone?
"That's what I love to do when I can; it's my favorite genre," he told Medium in 2019 when discussing whether more mockumentary projects were in the works. "It was quite shocking to everyone that knows me when I got cast on such a serious TV show. Those documentary shorts were based on some of the people I've come across in Hollywood; they are the funniest people in the world, mainly because they don't realize it."
While his mockumentary shorts aren't quite in the league of, say, "This Is Spinal Tap" or even "Borat," Gubler is nevertheless adept at poking fun at the absurdities of fame and fortune. It's this instinct that truly sets him apart from many of his contemporaries. FBI profiler, chipmunk, and now mockumentary filmmaker: is there anything that Gubler can't do-bler?
Matthew Gray Gubler published a best-selling children's book
Just when it seems like Matthew Gray Gubler can't impress his fans much more than he already has, he publishes a children's book. His debut book, "Rumple Buttercup: A Story of Bananas, Belonging, and Being Yourself," was released in 2019, with Gubler branding it "a 136 page hug."
However, his original intention was not to write a children's book; rather, he simply wanted to write a book, which ended up being infused with childish whimsy. As he explained to Parade, "I didn't set out to write a kids book, I just set out to write a book that I knew I would enjoy, and so I like to think that it's a book maybe for the young at heart … I feel that as people get into their 20s and 30s, they forget how to have fun and just enjoy simple things like books with pictures." In a promo for Penguin Random House, he explained, "My goal with this book is sort of the same goal I've had in anything I've ever made. And that is to, hopefully, make anybody who feels alone not feel alone. And anyone who feels like an outsider, I just want them to realize that they belong."
The book is a #1 New York Times bestseller. Mallory Loehr, who works for Random House, praised the first-time novelist. "He is a true artist," she enthused to AP News. "As much as he's a fabulous actor, his heart is here."
Matthew Gray Gubler now has a horde of Gubloids
Matthew Gray Gubler's eccentricity has led to him garnering hordes of fans; in an interview with Medium, he affectionately dubs his admirers "Gluboids," which could be a term straight out of Spencer Reid's lexicon. Regarding his love for his fans, he told Mademoiselle Robot, "I'm the luckiest person in the world because besides having the best, most loving, most awesome, and most unique family, friends, and coworkers in the world, I also happen to have the best, most loving, most awesome and most unique fans in the world … They are so much more than fans they are 'fands' (fans/friends)."
Unlike many other celebs who remain unapproachable or build barriers between themselves and their fans, he actively welcomes Gubler stans into his life. In fact, Gubler's Tumblr and Twitter accounts show him frequently engaging with fans on a personal level. Gluboids are so devoted, it turns out, that they're prepared to get tattoos of their idol's artwork. On BUILD Series, Gubler said that he's touched when fans get said tats. "It's an incredible honor and a responsibility and I would never want someone to have a dumb tattoo," he joked. "I have four dolphins on my back, so I know about a dumb tattoo."
Gubler has come a long way since that little Manny-esque boy who was bullied for sporting floaters. The bona fide heartthrob has grown into a star that so many idolize and look up to. Gubler, we salute ya.