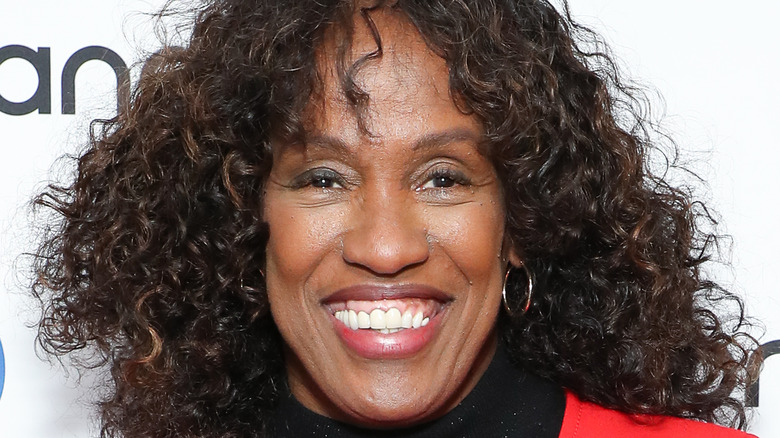 Olympic legend Jackie Joyner-Kersee was named by Sports Illustrated as the "Greatest Female Athlete of the 20th Century" — on the cover of the magazine's September 1987 issue (Serena Williams, if you were wondering, was only 6 at the time)! Indeed, the athlete was a force to be reckoned with during her time. Jackie has six Olympic medals under her name — three of which are gold — and she competed in four different Olympic Games between 1984 and 1996 (via Sports Illustrated).
Jackie Joyner-Kersee first rose to fame in the sports world as a heptathlete. The heptathlon is a women's track and field competition that consists of seven events that test an athlete's abilities in various disciplines — 800-meter run, javelin throw, long jump, 200-meter sprint, shot put, high jump, and hurdles, per Topend Sports. Jackie was the first athlete to achieve higher than 7,000 points, and to this day, she still holds the world record for the highest score in the heptathlon with 7,291 points, per ESPN, a record she set at the 1988 Olympic Games in Seoul, South Korea.
Despite retiring, Jackie Joyner-Kersee continues to dedicate her life to sports, concentrating on her organizations and working with younger athletes to achieve their dreams in various sports. She also provides assistance and supports several charitable causes that target low-income families, especially in her hometown of East St. Louis in Illinois (via Britannica).
Joyner-Kersee's books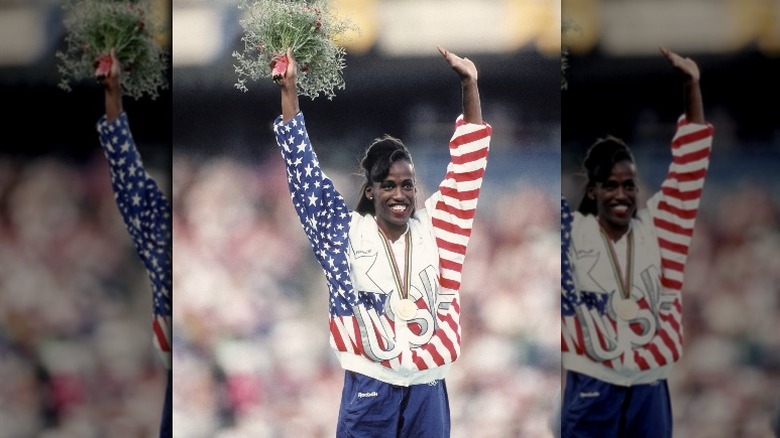 Apart from her sports career, Jackie Joyner-Kersee has also co-authored a couple of books. In 1994, the book "A Woman's Place is Everywhere," which she co-authored with Lindsey Johnson, was published. The book consists of the stories of 30 women who have great personal and professional achievements in different fields that may be an inspiration to girls and women everywhere.
In 1997, Jackie Joyner-Kersee released her autobiography titled "A Kind of Grace: The Autobiography of the World's Greatest Female Athlete." The book was co-authored by Sonja Steptoe and talks about Jackie's struggles growing up in a poor family and her journey toward competing in the Olympic Games. The book also delves into Jackie's struggles with asthma and a tragedy that her family experienced. The autobiography focuses on Jackie's values and how important they were to her while facing challenges, not only in sports but also in life, and how she overcame them and came out on top.
Through these inspirational books, Jackie Joyner-Kersee hoped to inspire readers, especially women, to be the best they can be through hard work and dedication, despite the struggles that they face.
Jackie Joyner-Kersee's retirement
Jackie Joyner-Kersee announced her retirement from track and field in 1996. Soon after, she made her debut in the American Basketball League, joining the Richmond Rage women's team. Joyner-Kersee played basketball in college, and according to her, joining the basketball team was a way to challenge herself. "I didn't want to sit at home and say, 'Oh I wish I coulda or shoulda.' So I challenged myself to see if I could get in shape and see if I could play in the league," she said in an interview with CS Monitor. Her husband, Bobby Kersee, also shared that one of the reasons basketball was attractive to Jackie was because she played with a team. Her basketball career didn't last, though, and she left the team without finishing a season. She then came out of retirement and joined long jump competitions after her short basketball stint.
In 2000, Joyner-Kersee attempted to join the Olympics once again for what would have been her fifth Olympic Games. However, her effort at the qualifiers was not up to par, and she finished in sixth place in the long jump event per a report from CBC. Jackie officially announced her retirement from track and field in 2001 when she was 38 years old. In a statement, she said, "I could never be disappointed because I've been on four Olympic teams. This was a long shot." In the end, she said, "For me, this was it."
The Jackie Joyner-Kersee Foundation
The Jackie Joyner-Kersee Center in East St. Louis is home to the Jackie Joyner-Kersee Foundation, which was established in 1988. After her retirement in 2001, Jackie was able to focus more on her foundation. The organization focuses on providing the disadvantaged youth in St. Louis (Jackie's hometown) an opportunity to reach their goals and dreams in life. The foundation provides athletic and educational programs to help children succeed (via JJK Foundation).
The JJK Center provides reading programs and career days, as well as STEM (Science, Technology, Engineering, and Math) programs that focus on robotics, architectural design, life sciences, math, and physical sciences. The foundation also has partnerships with school districts in order to offer better enrichment programs to struggling students. Additionally, the Jackie Joyner-Kersee Foundation offers summer camps to youths ages 6 to 18 years. Furthermore, they follow the Winning in Life curriculum, which focuses on several life skills (confidence, self-respect, dedication, values, and others) that are integrated in the programs they offer.
In an interview with New York Daily News, Joyner-Kersee talked about the work her foundation does. "Besides sports, we also have them do their homework and read books. If you produce great people, those people will do great things. Whatever career they choose to be great in, we teach them to be on time, be respectful, listen and be coachable," she said.
Co-founding athletes for hope
Jackie Joyner-Kersee is all about giving back to the community and uplifting aspiring athletes. Aside from her work at her own foundation, she also co-founded Athletes for Hope, a non-profit organization that provides workshops and programs to athletes in different sports. The organization was established in 2007 by Joyner-Kersee together with renowned athletes such as Muhammad Ali, Andre Agassi, Tony Hawk, and Mia Hamm, among others (via Athletes for Hope). The professional athletes involved in the cause do not only give monetary donations but also offer their time and resources to push athletes to their full potential. The founders have a common vision for the organization: "to make a difference in the world through sports philanthropy."
Since its establishment, Athletes for Hope has provided hundreds of workshops, trained more than a thousand student-athletes, and partnered with brands and other organizations to give back to the sports community. Through the organizations she helped establish, Joyner-Kersee is able to be a steadfast advocate for sports, education, racial equality, and women's rights. The original founders are now joined by thousands of professional athletes in various sports in this philanthropic endeavor.
Celebrating Jackie Joyner-Kersee's legacy
In 2021, sportswear company Adidas paid tribute to Jackie Joyner-Kersee in their Honoring Black Excellence initiative, which celebrates personalities who fight for change. Joyner-Kersee was honored with the unveiling of a mural at her foundation's headquarters, as reported by the Chicago Defender. The sports company also donated $65,000 to the organization to be spent on community programs.
During the event, Jackie said, "It was an honor to be part of Adidas Honoring Black Excellence. The mural is a wonderful reflection of the philanthropic work I've done and will continue to do in my community." She continued to say that the mural is a great reminder for the youth to "dare to dream and believe in themselves."
Since her official retirement from track and field, Jackie Joyner-Kersee has been putting all her efforts into her supported charities, as well as fighting for social reform and racial equality. Despite being one of the greatest women athletes of all time, Jackie expressed that she does not want to be remembered as just that. In an interview with Stony Brook University, she said, "What I hope other people remember about me … is that I was a great human being."