The world of gaming has hit a major turning point. Late 2020 saw the dawn of a new generation of console gaming with the release of Sony's PlayStation 5 and Microsoft's Xbox Series X, both of which are still extremely difficult to obtain. Gaming as a hobby has shifted considerably with new technology and practices, not to mention the fact that more people are staying home than ever before — and the new generation of gaming has only just begun.
And there has been no shortage of new and incredible games to fill out 2021. Between highly-anticipated sequels, stunning remakes, and console exclusives for the new generation, there's a title out there for everyone. As 2021 continues on, it's important to take a look back at all of the excellent games that have been embraced by gamers over the course of the year.
Here are the best video games of 2021 — so far.
Psychonauts 2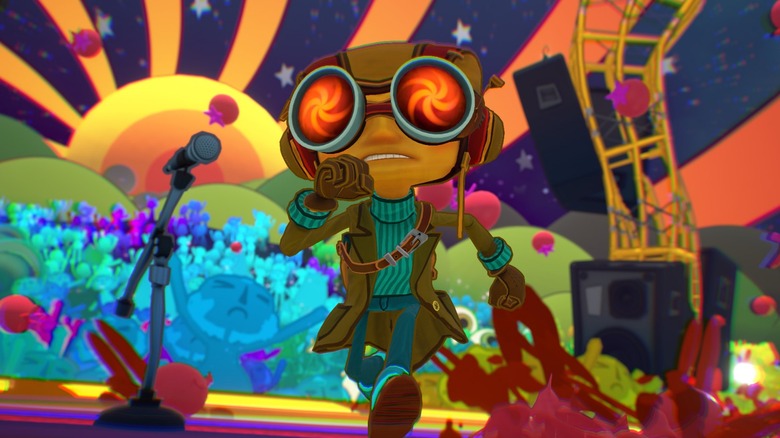 When the original "Psychonauts" released in 2005, it became the epitome of a cult classic: tons of praise and awards, but a total flop in sales. Nobody who played the game expected a sequel, but everyone who did predicted it would be amazing. Either they were psychic, or they knew a good thing when they saw it.
"Psychonauts 2," much like "Psychonauts" years before it, is a trippy platformer that asks players to traverse a gallery of mindscapes. The game is a throwback to 3D platformers of old, complete with collectibles and an ever-improving host of psychic powers. But more than that, "Psychonauts 2" tells a compelling and hilarious story. The characters might come in a rainbow of skin tones with heads of every geometric shape imaginable, but don't let the aesthetic fool you. The narrative tackles plenty of mature subjects that might go in one young audience member's ear and out the other.
While the story of "Psychonauts" 2 is leagues beyond what you find in most platformers, the main appeal is its levels. Since the game is all about delving into character psyches, each mindscape tells a deeply personal story veiled in creative metaphors. Players trek through the calcified hallways of a demented brain dentist's delusions, a film noir bowling alley/city, and a Woodstock acid trip. The game doesn't have anything quite on par with the legendary Milkman Conspiracy level from the first "Psychonauts", but it does have Jack Black singing a psychedelic song with a sentient ear.
While "Psychonauts 2" hasn't won any awards yet, it has received rave reviews from critics, so it's probably only a matter of time before the nominations start rolling in.
Release Date: Aug. 25, 2021
Available On: PC, PlayStation 4, Xbox One, Xbox Series X|S
Genre: Action, Adventure
Game Modes: Single-player only
Metacritic Score: 89 (PC), 87 (PS4), 91 (Xbox One) 87 (Xbox Series X|S)
The Forgotten City
If you've ever played "The Elder Scrolls 5: Skyrim" mods, you've probably downloaded a special custom quest called "The Forgotten City." This mod is a beloved, time-bending whodunnit mystery that actually won a screenwriting award. Many gamers likely wondered what the mod would look like as a standalone game, and in 2021, they got the answer.
At its core, "The Forgotten City" is a remake of the original mod, developed by an indie team led by the mod's creator. While the standalone title takes place in a new setting, it retains all the strengths of the original experience. Players have free reign to wander the titular Forgotten City and have to restart the game's day multiple times to unravel the mystery of why its inhabitants were transmogrified into golden statues. Well, that's only half true. Players know characters were punished for the "sins" of one person, but the game revolves around who that person was and what they did.
While many players probably come for the time-traveling aspect of "The Forgotten City", they will likely stay for the writing. Every character is beautifully penned and voiced (although their faces seem dredged up from the depths of the uncanny valley), and each has his or her own personality and philosophy. The Forgotten City's inhabitants were punished for the "sins of the one," and the game makes you ponder what a sin actually is — every NPC has their own opinion, and by the end of the game, your concept of sin might change.
"The Forgotten City" is a labor of love and was produced by a small team of three developers. Only time will tell if it will follow in the award-winning footsteps of its predecessor.
Release Date: July 28, 2021
Available on: PC, Nintendo Switch, PlayStation 4, PlayStation 5, Xbox One, Xbox Series X|S
Genre: Adventure, RPG
Game Modes: Single-player only
Metacritic Score: 85 (PC), 84 (PS5), 88 (Xbox One), 86 (Xbox Series X|S)
Deathloop
Another PS5 exclusive that endured multiple delays, "Deathloop" managed to arrive on the gaming market relatively unscathed. That makes sense, considering it has a great pedigree. Developed by the team behind "Dishonored," Arkane Studios," "Deathloop" puts players in the shoes of Colt Vaughn, part of a team of Visionaries responsible for ensuring the safety of the Loop, a time loop full of debauchery, hedonism, and mad science. Anyone that dies in the Loop will be reborn once the cycle starts again, so Colt must work to break the Loop and escape the world entirely. There's just one problem: He doesn't remember anything. A mysterious woman named Julianna is ready to kill him at every turn, hunting him throughout the timeline, so breaking the Loop will ultimately take a lot of intel and a lot of repeated deaths on Colt's part.
"Deathloop" takes the best parts of "Dishonored," like its interesting power system — called Abilities in "Deathloop" — and completely flips the aesthetic on its head. Instead of a strange pseudo-Victorian steampunk city, "Deathloop" takes place in a 1960s spy-themed outpost, complete with mod interiors, a horn-filled jazzy soundtrack, and lots of sleuthing around.
One of the things that makes "Deathloop" so great is its variation. Players can choose how they want to approach different situations, using stealth or sheer force to take down enemies. There's something to appeal to every playstyle, which makes the game an excellent choice for a wide variety of gamers.
Release Date: Sept. 14, 2021
Available On: PlayStation 5, PC
Genre: First-person shooter, Action
Game Modes: Single-player, Online Multiplayer
NEO: The World Ends With You
"The World Ends With You" made quite the splash when it first came out in 2007. The original Nintendo DS title was universally praised for its innovative gameplay, eclectic soundtrack, and unique sense of style. Fourteen years later, the elements that made "TWEWY" great came through once again, making its unexpected and critically acclaimed sequel just as wonderful.
Three years after the events of the first game, Rindo Kanade finds himself stumbling right into a revamped Reaper's Game, a competition held in a bustling purgatorial Shibuya, where players must team up against each other to return to the world of the living. As Rindo and his team struggle to maintain their place among the other Players, they soon end up in the middle of an extra-dimensional conspiracy that threatens to erase them and their beloved city from existence.
What "NEO: The World Ends With You" lacks in the functionality of the DS, it makes up for in a console-savvy combat experience that encourages players to use every part of the controller for stylishly rhythmic attacks that combine the abilities of the many playable characters. It can be difficult to grasp at first, but no button is wasted when trying to erase the Noise plaguing Shibuya.
Of course, every bit of charm and style that made the original "The World Ends With You" stand out has made a comeback as well. Rindo and his fellow companions are as vibrant as the city they live in, and the characters are brought to life through impeccable voice acting. The mysterious world of the Reapers even reaches new heights, making the considerable gap between numbered installments well worth the wait.
Release Date: July 27, 2021
Available On: Nintendo Switch, PS4, PC (starting Sept. 28, 2021)
Genre: Action, RPG
Game Modes: Single-player only
NieR Replicant ver.1.22474487139…
The full title may be a mouthful, but this major overhaul of Yoko Taro's 2010 cult classic still makes a name for itself as an incredible action RPG title worthy of filling out the "NieR" legacy.
"Overhaul" is the operative word here, as "NieR Replicant" features a number of graphical improvements and quality-of-life gameplay adjustments that help it fit right into the current and next generation of gaming. Taking cues from 2017's "NieR:Automata," combat feels much more fluid and stylish thanks to perfect dodges, different combos, and seamless transitions between magic book bullets and sword slashes. Easy to pick up and fun to master, the revamped combat makes "Replicant" feel like a whole new game.
Fortunately, the trademark emotional intensity of the "NieR" games remains intact. It's easy to become immersed in the post-apocalyptic world of "NieR," thanks to its deep characters and sprawling narrative. Whether you're visiting this game again in its newest version or playing it for the first time, "NieR Replicant ver.1.22474487139…" makes for an unforgettable gameplay experience.
Release Date: April 22, 2021
Available On: PlayStation 4, Xbox One, PC
Genre: Action, RPG
Game Modes: Single-player only
Scarlet Nexus
It's not always easy for a new IP to make a splash in this modern age of gaming, but "Scarlet Nexus" manages it in style, thanks to over the top action and sprawling gameplay, all of which is wrapped up in a pitch-perfect anime aesthetic.
"Scarlet Nexus" introduces players to a world of psionic powers. The game follows Yuito Sumeragi, the latest recruit in a psychic military force known as the OSF (Other Suppression Force) in the fight against extradimensional monsters known as Others. Shortly after being instated, a major conspiracy splits the OSF down the middle, creating a politicized conflict of psychic abilities that puts the entire world at stake.
The combat in "Scarlet Nexus" is one of the most refreshing gameplay experiences of 2021, allowing the main character to use his psionic abilities in conjunction with those of his companions. Intuitive and brandishing a distinct sense of flow, being able to stack your party members' abilities on top of each other to take down your enemies is nothing short of wildly entertaining.
But the game truly shines in its story and narrative presentation. Its anime aesthetic isn't just for show, as the sprawling narrative and nuanced characters feel just like something ripped out of a binge-worthy anime series streaming on Crunchyroll or Netflix. This game feels like it could easily be an anime in its own right, which y'know, it also is. But being able to replicate the exact feel of an engrossing anime narrative on top of solid gameplay makes the game itself much more immersive than simply watching it.
Release Date: June 25, 2021
Available On: PC, PS4, PS4, Xbox One, Xbox Series X|S
Genre: Action, RPG
Game Modes: Single-player only
Metacritic Score: 79 (PC), 79 (PS4), 80 (PS5), 77 (Series X|S)
Ratchet and Clank: Rift Apart
Exclusive titles for the next-gen consoles may be few and far between for now, but Insomniac Games made a huge splash when it brought this beloved intergalactic duo exclusively to the PS5.
Spanning across nearly 20 years and four console generations, Ratchet and Clank's adventures reach new heights on the PS5 as their bout with the evil Dr. Nefarious goes inter-dimensional. After Nefarious steals a new "Dimensionator" and travels to an alternate universe where he rules with an iron fist, reality itself begins to collapse. Joined by a new and rebellious female lombax, Rivet, Ratchet and Clank must once again fill out their ridiculous arsenal and stop Nefarious in all his iterations before he can destroy reality.
"Ratchet and Clank: Rift Apart" was easily one of the best choices to usher in the Playstation 5 era. Gorgeous and explorable open worlds provide the perfect backdrop for the franchise's time-honored platforming, complete with a reality-bending twist. While the combat itself doesn't necessarily break any new ground, Ratchet's classic zany shootouts make a smooth transition to next-gen gameplay, thanks to weapons that could only be realized on the new hardware. Not to mention, the game is still chock-full of the cartoonish charm, playful references, and overall wackiness that the series is known for.
Release Date: June 11, 2021
Available On: PlayStation 5
Genre: Action, Platformer
Game Modes: Single-player only
Metacritic Score: 88 (PS5)
Resident Evil Village
What is there to say about "Resident Evil Village" that hasn't already been said. The eighth installment of the "Resident Evil" series reunites players with Ethan Winters, the protagonist of "Resident Evil 7," as he searches for his missing child in a small Eastern European village. Early in 2021, the gaming community became obsessed with Lady Dimitrescu, the sexy vampire lady haunting every "Village" ad, as well as many gamers' dreams.
Those dreams were fully realized when "Resident Evil Village" hit shelves in May. The game provided a smooth continuation of Ethan Winters' story, and perhaps a conclusion to his suffering. Even though the next "Resident Evil" could take years to make, fans are willing to wait. Gamers enjoyed "Village" so much that they begged Capcom for DLC, and Capcom obliged with promises of more content to come.
"Resident Evil Village" stands as one of the best games of 2021 — both because of its hype and in spite of it. Pushing aside all of the fan thirst for the game's villains, "Resident Evil Village" stands on its own as an exciting action-horror title. It has a horde of creepy monsters, a satisfying ending, and the potential to open up bigger storylines in the "Resident Evil" universe. Most importantly, "Resident Evil Village" is fun, with a good deal of replay value for those who want to snag every achievement.
Release Date: May 7, 2021
Available On: PC, PlayStation 4, PlayStation 5, Xbox One, Xbox Series X|S, Stadia
Genre: Survival horror, Action
Game Modes: Single-player only
Metacritic Score: 83 (PC), 81 (PS4), 84 (PS5), 83 (Series X|S)
It Takes Two
Couch co-op is a dying art in video games. Hazelight rekindled the magic with "A Way Out," and sought to make lightning strike twice with "It Takes Two." Judging from critical reviews, it's safe to say the company succeeded.
"It Takes Two" is a co-op experience that asks the age-old question: What does it take to rekindle love between two parents who are ready for divorce? Apparently, the answer is transform them into dolls and force them to traverse a variety of worlds in an equally-diverse series of challenges and game genres. The estranged characters delve isometric cardboard castles ala-"Gauntlet," ward off weaponized hornets in a third-person shooter style, and fight squirrels atop paper airplanes in impromptu "Street Fighter"-esque matches.
Even though "It Takes Two" keeps players busy with its frenetic game genre swaps, the title's true magic lies in its multiplayer. "It Takes Two" is stuffed with challenges that require tight cooperation from players, and while half the fun is predicting each other's moves and working like a well-oiled machine, the other half is intentionally screwing your partner over. And, if players get too tired of watching their friends mess up puzzles, they can work out their frustration in dedicated competitive minigames, from finger-blistering matches of Tug of War to good-old brainy Chess.
Best of all, a duo of gamers only needs one copy to enjoy "It Takes Two." While the title locks players out of any solo experience, it lowers the barrier of entry by implementing both couch co-op and a Friend's Pass that lets game owners invite friends to the fun for free. Nothing encourages cooperation quite like making someone else foot the bill.
Release Date: March 26, 2021
Available On: PC, PlayStation 4, PlayStation 5, Xbox One, Xbox Series X|S
Genre: Action, Adventure
Game Modes: Multiplayer co-op only
Metacritic Score: 88 (PC), 89 (PS4), 88 (PS5), 89 (Xbox Series X|S)
WarioWare: Get It Together!
The kooky and frantic "microgame" action of the "WarioWare" series finally made its official debut on the Switch, and the results are wildly entertaining. When Wario and his many friends are accidentally sucked into their own game console, they must find a way to escape and defeat the bugs plaguing their system the only way they know how: by taking part in tons of non-sensical short burst games! In "WarioWare: Get It Together!," layers take control of Wario and his crew, using their unique abilities to make it through a vast array of mini challenges ranging from simple and silly to full-blown classic "Super Mario" levels.
Outside of actual fitness games on the Switch, like "Ring Fit Adventure" and "Fitness Boxing," this may be one of the most exhausting and enjoyable games on the system to date. In time-honored "WarioWare" tradition, this collection of minigames requires quick reflexes, split-second decision making, and some creative thinking to master. Even if some challenges offer a difficult learning curve, players will likely still have a blast trying to figure out what on earth is going on during each increasingly wacky minigame. The vast array of characters at your disposal also makes for a good time, as each of them have their own unique ways of conquering levels.
Release Date: Sept. 10, 2021
Available On: Nintendo Switch
Genre: Party, Minigame
Game Modes: Single-player, multiplayer (1-4 players)
Metacritic Score: 76 (Switch)
Boyfriend Dungeon
"Boyfriend Dungeon" was one of three surprise releases for the Nintendo Switch in 2021, and it made quite a stir in the gaming community, both because of its glowing reviews from critics and its controversial content warning. Although gamers were split over the game's storyline, "Boyfriend Dungeon" managed to win over a legion of fans with its charming storyline that combined dating with dungeon crawling.
The game's plot focuses on the player's customizable protagonist, who does their best to date a number of weapons while visiting their cousin. Oh, right, and some people can turn into weapons, be wielded by another person, and have a fun time adventuring in a dungeon of one's deepest psychological fears. What seems like a cozy dating sim on the outside is actually a nuanced exploration of romantic, platonic, and familial love. While there is a pronounced dating element to "Boyfriend Dungeon," the title also focuses heavily on the second part of its title, allowing players to hack and slash their way through two multi-leveled dungeons.
The combat of "Boyfriend Dungeon" isn't overly complicated, and somewhat resembles another surprise indie hit, "Hades." Players can rampage through the roguelite dungeons and face their greatest fears, leveling up their abilities and learning more about the protagonist and the weapons they wield along the way.
"Boyfriend Dungeon" won several awards in indie circuits before its release, and aims to keep the attention of fans by updating the game to include more potential partners/weapons in the future. Anyone looking to play an inclusive and emotionally connective roguelite should pick up "Boyfriend Dungeon."
Release Date: Aug. 11, 2021
Available On: PC, Nintendo Switch, Xbox One, Xbox Series X|S
Genre: Dating sim, Roguelite, RPG
Game Modes: Single-player only
Metacritic Score: 71 (PC), 72 (Switch), 74 (Xbox One), 70 (Series X|S)
Monster Hunter Stories 2: Wings of Ruin
Have you ever wanted to play a "Pokemon" game where you rode around on a Pokemon's back, caught as many creatures as you could, and turned the rest of your quarry into armor and weapons? That's a pretty odd desire, but it's also the best way to describe "Monster Hunter Stories 2: Wings of Ruin."
This sequel to "Monster Hunter Stories" abandons the mainlines series' action combat in favor of the turn-based, rock-paper-scissors battle system seen in the previous "Stories" However, instead of resting on its laurels, "Stories 2" refines the existing system to give players more options in combat, as well as a wider roster of weapons. And, like "Stories" before it, the main draw of "Stories 2" is its monsters. You still need to hunt them to create and upgrade equipment, but the spinoff series adds a collecting mechanic. If you scrounge up some eggs, they hatch into allied monsters that aid you in combat. But if you want the strongest monster allies and choicest monster parts, you'll need to team up with fellow players and embark on special co-op missions.
While "Monster Hunter Stories 2" seems like it should be story-driven, the narrative is actually threadbare. What truly keeps players going is the game's ability to scratch that "just one more" itch. No matter how many monsters you kill or eggs you collect, "Monster Hunter Stories 2" has enticed audiences and critics to keep on going, be it to find that one monster with a super rare ability or to fully upgrade some dragonskin pants and helmets.
"Monster Hunter Stories 2" isn't the hardest RPG out there, but it is the most addictive. And, Capcom is constantly updating the game with new missions and monsters. "Stories 2" is the gift that keeps on giving.
Release Date: June 25, 2021
Available On: PC, Nintendo Switch
Genre: Adventure, RPG
Game Modes: Single-player, Online multiplayer
World of Demons
Right before Clover Studios reformed into PlatinumGames, the company created the celebrated adventure game "Okami." Now, PlatinumGames is primarily known for wild action titles such as "Bayonetta" and "Metal Gear Rising: Revengeance." What would happen if PlatinumGames tried combining the two formulas? One of 2021's best mobile titles.
"World of Demons" is the standout app for Apple Arcade. The game, playable only on iPhone and Mac, is designed to be fairly simple. Players are mostly squeezed through linear "skirmish" maps and only have a few buttons to work with, including a dedicated attack and dodge button, to knock some sense into hypnotized enemies ripped straight from Japanese myths. Along the way, these demons (or yokai) will join players to help fight even more brainwashed enemies, have them join your cause, and repeat until gamers have an army of fire-breathing umbrellas and sickle-weasels at their beck and call. It's like the gacha mechanics of mobile titles but tweaked so players can actually earn yokai through skill and hard work, not credit card numbers.
The game might not have the depth of other PlatinumGames titles, but "World of Demons" will likely win players over with its presentation and combat. Much like the game's enemies, the music and art style are ripped straight from Japanese tradition, and the fighting system is a stripped-back version of what you see in titles like "Bayonetta." However, even though "World of Demons" is 90% fighting enemies, the combat never loses its charm because of its speed and ranking system that eggs players on to perform better each time.
While "World of Demons" is best played in short bursts, odds are you will enjoy every adrenaline-fueled, shamisen-backed minute.
Release Date: April 2, 2021
Available On: iOS
Genre: Action, RPG
Game Modes: Single-player only
Metacritic Score: 76 (iOS)
Cris Tales
The turn-based JRPG genre is a tried-and-true blade honed through the ages. When a game boasts that combat system, audiences can usually expect improvisation in the story and world, not the battles. But, every so often, a game comes along to shatter those ideas and try something new. "Cris Tales" is one such game.
As the first title produced by indie studio Dreams Uncorporated, "Cris Tales" follows the JRPG formula while also blazing its own path. The game features a striking aesthetic that will never be confused for any other title on the market, and like any good JRPG, its eclectic soundtrack will earworm its way into players' brains and set up shop for years to come. "Cris Tales" also sports an engrossing story and colorful characters who have decently-realized personalities. However, what most audiences will remember about "Cris Tales" is its time-traveling system.
Unlike games like "Chrono Trigger," which mostly relegate time-traveling to its levels, "Cris Tales" uses the concept in its presentation. In the game, the screen simultaneously shows the past, present, and future in a stained glass window of probabilities. Changes on one side can affect the others, and this system also creeps into combat. Players can alter the time on one side of the battlefield, which affects enemy models and stats, but the system also encourages experimentation. For instance, splash water on a boss' impenetrable shield and turn the clock forward to make it rust away.
"Cris Tales" is a novel take on an old genre that feels like it always belonged. But if that's not enough for you, the game also won countless awards before it even released.
Release Date: July 20, 2021
Available On: PC, Nintendo Switch, PlayStation 4, PlayStation 5, Xbox One, Xbox Series X/S, Stadia
Genre: Adventure, RPG
Game Modes: Single-player only
Metacritic Score: 73 (PC), 72 (Switch), 70 (PS4), 69 (PS5), 79 (Xbox Series X|S)
Super Mario 3D World + Bowser's Fury
It's hard to go wrong with a "Super Mario Bros." title, but even so some get overlooked when fans discuss the larger pantheon of Nintendo classics. "Super Mario 3D World" isn't one of the first titles gamers mention when listing favorite "Mario" games, but its delightfully weird dedication to cats, strange costumes, and fun made it a winner all the same. However, the system it originally released on, the Wii U, flopped, leaving "Super Mario 3D World" to fall into obscurity. Luckily, Nintendo decided to rerelease the title in 2021, complete with an entirely new adventure, "Bowser's Fury."
Critics said "Super Mario 3D World" is just as fun as it was years ago, but the bigger focus of many reviews centered on "Bowser's Fury," which saw Mario and Bowser Jr. team up to take down a frightfully big version of Mario's most famous nemesis, Bowser. In many ways, "Bowser's Fury" is the first open-world "Mario" game. It does not have discreet levels, and Mario can simply walk from area to area in search of new missions. In "Bowser's Fury," Mario must find Cat Shines in order to then morph into a giant cat himself and defeat the giant Bowser. This giant version of Bowser will periodically appear to rampage across the land and destroy the landscape, which sometimes opens up new areas for Mario to explore. Overall, "Super Mario 3D World + Bowser's Fury" made fans feel like they were getting a miraculous 2-for-1 deal.
Release Date: Feb. 12, 2021
Available On: Nintendo Switch
Genre: Platformer, Action, Adventure
Game Modes: Single-player, Couch co-op (up to four players)
Metacritic Score: 89 (Switch)
Returnal
"Returnal," one of the highest-profile PS5 exclusives, doesn't pull any punches. The game is difficult and refuses to apologize for its recursive, looping narrative. Fans recognized the brilliance of "Returnal," too, helping the title outsell almost every other PS5 game in one day. Though some players through "Returnal" felt too familiar and copied some elements from the "Metroid" series, it provided a different take on narratives about science fiction, time, and grief.
The story follows Selene, an astronaut stranded on an isolated alien planet with little but her wits, her space suit, and her ability to plug all sorts of alien life into herself. Selene isn't afraid to touch anything on the planet, and players can modify her abilities by interacting with alien technology throughout the game. While the narrative sounds straightforward, things get more complicated when Selene begins seeing her own home appear amongst the alien vegetation. The story quickly takes a dark turn as players investigate Selene's past.
"Returnal" is a roguelite game, with players looping back in time to Selene's crashed ship once they die. Selene does take a few things with her when she returns — like some strange alien tech she finds in the wilderness — but in many ways she has to start her journey fresh. The looping mechanic makes each run different, allowing players to determine for themselves what constitutes a "good" or "bad" run. The intricate gameplay mechanics and punishing difficulty make "Returnal" stand out, though its PS5 exclusivity does provide a barrier of entry for many players.
Release Date: April 30, 2021
Available On: PlayStation 5
Genre: Roguelite, Third-person shooter
Game Modes: Single-player
Metacritic Score: 85 (PS5)
Narita Boy
Indie games often help shape the future of gaming, especially when an indie title catches on and becomes part of the mainstream conversation. "Narita Boy" managed to be a quiet hit in 2021, but it absolutely deserves to be on any list of the year's top games. "Narita Boy" has a completely original plot line, but is filled with nostalgia. In the 1980s, the Narita One console and its biggest selling game, "Narita Boy," are huge sellers. Even though the game is a massive success, people can't see what's going on inside the game, where the titular hero must journey through source code to help his creator regain his memories.
"Narita Boy" plays with the Metroidvania genre, crafting an interesting game-within-a-game story that pairs well with the game's retro graphics. Pixels combine with hand-drawn animation for a memorable visual experience that gives "Narita Boy" a distinct feel, recalling the 1980s video game era perfectly. "Narita Boy" even won an award at the Unity Showcase Awards in 2021 for its beautiful 2D visuals. Oh, and for anyone that loves games with a killer soundtrack, "Narita Boy" is a must-play. With an electronic-inspired, sweeping score, music makes the game special.
Overall, "Narita Boy" is about uncovering new information and journeying through difficulties to find out more about oneself, and that's something everyone could use more of in 2021.
Release Date: March 30, 2021
Available On: PC, Nintendo Switch, PlayStation 4, Xbox One
Genre: Action-adventure, Metroidvania
Game Modes: Single-player
Hitman 3
While the "Hitman" franchise officially kicked off with "Hitman: Codename 47" in the year 2000, the more succinctly-titled "Hitman," released in 2016, marked something of a series reboot. "Hitman 3" finally brings together the various plot threads that have been building since the series relaunched.
While the plot of "Hitman 3" isn't negligible, it's the series' approach to stealth-action gameplay that defines "Hitman 3" first and foremost. As longtime series protagonist Agent 47, players must figure out how to assassinate predetermined targets in lush, sandbox-like recreations of real-life locales in cities like Dubai, Chongqing, and Berlin. How players choose to do so is left open to their own discretion. Thankfully, "Hitman 3" provides ample options for infiltration and plenty of creative kill opportunities, letting players build their own emergent narratives within the larger story told throughout the last three "Hitman" games.
Aside from the increased importance of plot in this latest entry, what sets "Hitman 3" apart from prior "Hitman" games isn't so much that it innovates in any major way, but simply that it pulls off its signature brand of stealth-oriented gameplay better than virtually all of its series predecessors, and as good as if not better than many of its genre peers.
Release Date: Jan. 20, 2021

Available On: PC, Nintendo Switch, PS4, PS5, Xbox One, Xbox Series X|S, Stadia

Genre: Stealth, Third-person shooter, Action-Adventure

Game Modes: Single-player only

Metacritic Score: 87 (PC), 70 (Switch) 84 (PS4), 84 (PS5), 87 (Series X|S)
Chicory: A Colorful Tale
Hit indie game "Super Meat Boy" more-or-less sums up its premise in its title: it's a platformer like "Super Mario," but with a guy made of meat. Indie platformer darling "Celeste," meanwhile, is titled after a mountain its protagonist, Madeline, must climb. That surface-level simplicity, however, masks a story that earnestly explores its central character's fluctuating mental health. "Chicory: A Colorful Tale" similarly hides a poignant story beneath a deceptively straightforward surface.
Most of the gameplay in "Chicory" relies on the ability of its protagonist (who is named through a prompt asking for the player's favorite food) to paint virtually any surface within its almost entirely black-and-white game world. Players are required to use this ability in a variety of circumstances, including solving puzzles throughout the game's overworld, as a combat mechanic in boss battles, and even to straight-up paint in a variety of painting segments.
Those sections of the game, focused strictly on art rather than puzzles, are anything but trivial. They include no means through which the game subjectively evaluates the player's work, but rather are integral for their relevance to the game's story. In short, "Chicory" reckons with various struggles faced by real-life artists, namely the commodification of creativity. While gameplay in "Chicory" includes enough to appeal to audiences at large, creatives in particular are most likely to find its poignant examination of artistry to be among the best stories told in gaming this year.
Release Date: June 10, 2021

Available On: PC, PS4, PS5

Genre: Action-adventure, Puzzle

Game Modes: Single Player Campaign, Co-op Couch Multiplayer (Up To 2)
New Pokemon Snap
In June 2020, Nintendo announced "New Pokemon Snap," the second-ever "Pokemon Snap" game, following the original's release for the Nintendo 64 in 1999. "New Pokemon Snap" largely follows the gameplay loop introduced in its predecessor: players maneuver the viewfinder of a camera to take pictures of Pokemon, while their character automatically moves forward in a rollercoaster-like vehicle. Whereas catching 'em all is a prime directive in the mainline "Pokemon" games, the acclaimed "New Pokemon Snap" encourages players to take photos of as many Pokemon as possible. To do so requires visiting a variety of natural biomes, each of which attracts different species of Pokemon. The original "Pokemon Snap" itself was largely well-received (via Metacritic), so more of the same in this case is very much a good thing.
That said, not only does "New Pokemon Snap" feature a wider variety of stages than "Pokemon Snap" for the N64, but each of those stages can now be leveled up through repeated gameplay. Higher level versions of stages introduce new Pokemon, new routes, and new interactions alike. At the end of each level, the player character's mentor Professor Mirror assigns a star rating to one photo, chosen by the player, of each Pokemon photographed that stage. Maxing out the Photodex — like a Pokedex, but for photos — with one, two, three, and four-star variants of each Pokemon in the game is a monumental task, practically on par with catching every Pokemon in a mainline "Pokemon" game. The key difference, of course, is that "New Pokemon Snap" is one of a handful of games to feature photography as its core mechanic, and in the magical world of Pokemon to boot.
Release Date: April 30, 2021

Available On: Nintendo Switch

Genre: Photography, Puzzle

Game Modes: Single Player Campaign

Metacritic Score: 79 (Switch)
Monster Hunter Rise
In some major video game series, key gameplay elements differ significantly from one entry to another. "Final Fantasy 10," for example, is a turn-based fantasy RPG, whereas the combat in "Final Fantasy 15" takes place in real-time and people drive cars. In virtually every mainline "Mario" game, meanwhile, Mario can jump and will get bigger after eating a mushroom. Like "Mario," the "Monster Hunter" games continue to reel in massive amounts of players by iterating only in minor ways upon the formula long since established in and gradually improved upon over the course of prior entries.
Whereas combat in "Mario" is usually as simple as jumping and throwing the occasional fireball, however, combat in "Monster Hunter" approaches fighting game-like levels of complexity, with each usable weapon type functioning akin to a discrete character. Players must use their weapon of choice to defeat gigantic, powerful beasts, from which they can then collect materials to turn into armor. While various additional gameplay mechanics introduce further levels of complexity, killing monsters and harvesting materials is the core loop that has more-or-less sustained the "Monster Hunter" series.
Perhaps the biggest addition to "Rise" is the Wirebug, which notably provides players with a quick method of mid-air transportation. Thanks to the Wirebug and the ability to ride new doglike creatures called Palamutes, traversal in "Monster Hunter" has never been easier. On top of the series continuing to do what it has always done well, these and some other small-but-impactful innovations make "Monster Hunter Rise" the definitive title in what has already long been a must-play franchise.
Release Date: March 26, 2021

Available On: Nintendo Switch

Genre: Action, RPG

Game Modes: Single Player Campaign, Local Co-op Multiplayer (Up To 4), Online Co-op Multiplayer (Up to 4)

Metacritic Score: 88 (Switch)
No More Heroes 3
As critics have noted, "No More Heroes 3" is far from a perfect game, but fans of series creator Suda51 — one of a select number of game designers who can be comfortably described as an auteur — likely wouldn't have it any other way. Suda is reliably weird, repeatedly delivering works that attempt to push the boundaries of what gaming can accomplish as a medium, often at the expense of some occasional gameplay frustrations. As a new Suda51 game, "No More Heroes 3" succeeds triumphantly.
"No More Heroes 3" is arguably lighter in overall absurdity than past Suda51 hits, like "Killer 7" or "The Silver Case," both of which few games resemble even today. Nevertheless, "No More Heroes 3" earnestly attempts to subvert expectations from beginning to end, aiming to keep players surprised and ideally delighted even into its final moments. Gameplay-wise, action in "No More Heroes 3" is slicker than the combat of both prior mainline entries. The addition of some new supernatural abilities adds some welcome variety to combat, as well. New villain FU is another highlight, anchored by an excellent performance from voice actor Noshir Dalal.
On its surface, "No More Heroes 3" can seem like a relatively repetitive adventure, requiring players to alternate between same-y battles and grindy job segments spread throughout a sparse overworld just to reach another self-contained boss fights. But like most Suda games, words hardly do "No More Heroes 3" justice, and its frequent surprises are best experienced firsthand.
Release Date: Aug. 27, 2021

Available On: Nintendo Switch

Genre: Action

Game Modes: Single Player Campaign

Metacritic Score: 75 (Switch)
Persona 5 Strikers
"Persona 5 Strikers" retains both the fantastical setting and central group of characters of its predecessor in "Persona 5," but shifts in style from the turn-based RPG combat of a typical "Persona" title to a musou game. Musou is a quasi-subgenre recently exhibited in "Hyrule Warriors: Age Of Calamity," in which player-controlled characters must battle large hordes of AI-controlled enemies — typically on a large battlefield — in real-time. While it very well may have pleased plenty of "Persona" fans to feature the "Persona 5" cast in an otherwise by-the-books hack 'n' slash adventure, "Strikers" goes the extra mile and re-contextualizes various core elements of gameplay from "Persona 5" in its real-time action environment.
Furthermore, "Strikers" is a direct story sequel to "Persona 5." While its plot doesn't necessarily elaborate upon what came before in any meaningful way, what occurs over the course of "Strikers" is, nevertheless, now a part of "Persona 5" canon. Whereas a non-canonical spinoff would likely have sufficed, the "Strikers" team again went above and beyond and created a straight up sequel.
Succeeding in combat requires both quick reflexes and a tactical understanding of how to deploy its RPG-inspired abilities, largely adapted from "Persona 5." "Strikers," then, is essential for fans of the "Persona" franchise, and a hugely-enjoyable experience in its own right for fans of the action genre new to "Persona."
Release Date: Feb. 23, 2021

Available On: PC, Nintendo Switch, PS4

Genre: Action, RPG

Game Modes: Single Player Campaign
Tales of Arise
As the first new game in the "Tales" series since "Tales of Berseria" dropped in 2016, "Tales of Arise" modernizes the series in many ways. Critics praised the slick combat system that improved on the faults from past iterations. The series also received quite a facelift, as the graphics shoot far above what was possible in 2016 with "Berseria" and elevate the character animations and cutscenes. The story doesn't slack, either.
In "Tales of Arise," the Dahnan people worship the Renans, who came from another planet to govern their people. Alphen, an Dahnan slave who can't feel pain, and Shionne, a Renan woman who pains anyone she touches, join forces to overthrow their oppressors. They, along with the other misfits they meet along the way, embark on a journey to oust the Renan regime.
Many critics reported that, despite some uneven pacing and unnecessary plot points, the game still held up as an enjoyable experience. Before its release, "Arise" even earned a nomination for "Best Roleplaying Game" and "Best Sony PlayStation Game" at Gamescom 2021 (via PlayStation Lifestyle). Players can expect around 50 to 65 hours of thrilling combat and twists in a typical "Tales" fashion with this newest installment.
Release Date: Sept. 10, 2021
Available On: PC, PlayStation 4, PlayStation 5, Xbox One, Xbox Series X|S
Genre: JRPG
Game Modes: Single-player only
Metacritic Score: 85 (PC), 82 (PS4), 87 (PS5) 86 (Series X|S)
Guilty Gear Strive
"Guilty Gear Strive," the latest installment of the Bandai Namco's "Guilty Gear" series, brought anime fighters back into the mainstream consciousness when it released its beta and quickly followed up with a solid June launch. People still complain about loading times, but it doesn't take away from the fast-paced, stylistic gameplay that defines the series. Even warnings from one Guilty Gear dev about a possible slowdown using 4K resolution on PC version didn't seem to slow the hype.
"Strive" boasts a compact but diverse cast in terms of playstyles, aesthetics, and backgrounds. This game brought back many series mainstays and introduced two new characters in its starting roster: Nagoriyuki, a vampire samurai, and Giovanna, a special ops officer who fights with a wolf spirit. Two DLC characters, Goldlewis Dickinson and Jack-O Valentine, have also arrived and three more are on the way. That's just for the Season 1 Pass, too.
"Guilty Gear Strive" already has quite a passionate community, enough that someone actually put their life on the line to win a Twitch Rivals tournament during an earthquake.
Release Date: June 8, 2021
Available On: PC, PlayStation 4, PlayStation 5
Genre: Anime Fighter, Fighting Game
Game Modes: Single-player Arcade Mode, Online Multiplayer, Local Multiplayer
Famicom Detective Club: The Girl Who Stands Behind
This year, Nintendo treated fans to remakes of "Famicom Detective Club: The Girl Who Stands Behind" and "Famicom Detective Club: The Missing Heir." Both games star the same teenage protagonist solving different murder mystery cases. "The Missing Heir" focuses on the mysterious murder of a wealthy woman with a fortune and the protagonist's missing memories. "The Girl Who Stands Behind," the prequel to "The Missing Heir," investigates the death of a high school girl and the disturbing rumors that followed.
Yoshio Sakamoto, director of "Super Metroid," wrote the scripts for both "Famicom Detective Club" games back in 1988 and 1989 for a Japanese-only audience. Sakamoto told the Washington Post that things were different back then; games publishers were still experimenting with what kinds of genres people enjoyed the most. His goal was to create a game "focused solely on narrative." The remakes of these games add enhanced visuals and several quality-of-life features, not to mention voice acting, English localization, and more touches that help to modernize the experience for a more global audience.
Polygon's review of the remakes claims that the script holds up despite the age of these games. They might not offer the most difficult puzzles or endless content, but the compact stories will likely entertain sleuthing fans. Overall, critics enjoyed "The Girl Who Stands Behind" slightly more than "The Missing Heir," with publications such as Switch Brasil praising its superior storyline.
"Famicom Detective Club" is only available on the Nintendo Switch. You can either buy the games separately or together as a bundle for about $10 cheaper, making the double dose of nostalgia almost a no-brainer.
Release Date: May 14, 2021
Available On: Nintendo Switch
Genre: Visual Novel
Game Modes: Single-player only
Metacritic Score: 74 (Switch)
Dark Deity
"Dark Deity" stands out as one of this year's indie hits with its satisfying gameplay and charming characters. In an interview with Siliconera, developer Charles "Chip" Moore described it as a "Fire Emblem"-based tactical strategy game, which should excited old school RPG fans. Players place characters based on weapon advantage, hit rate, and other odds as they traverse chess-like maps. Irving and his friends go from unwilling participants in their country's war to passionate rebels overthrowing power-hungry figures.
"Dark Deity" differs enough from "Fire Emblem" to give fans of the series a familiar but fresh take on the genre. Players start with four class-locked weapons per character, which they an strategically upgrade with weapon tokens. Players can also equip Aspects, artifacts with special powers, to aid their units in battle. Support conversations between the characters add context to the story and entertain players with amusing antics, and the overall experience eliminates a lot of the grind found in "Fire Emblem."
"Dark Deity" garnered enough interest to get a Nintendo Switch release for 2022. Chip Moore also announced on Kickstarter that the team was in the middle of developing a new beach mode and expanded side stories for the characters, all of which should also arrive sometime in 2022.
Release Date: June 15, 2021
Available On: PC, Nintendo Switch (2022)
Genre: Strategy RPG (SRPG)
Game Modes: Single-player only
Metacritic Score: 80 (PC)
Life Is Strange: True Colors
"Life is Strange: True Colors" slightly pivots from the typical "Life is Strange" formula by featuring a single protagonist. Alex, an Asian American queer woman, moves to Haven Springs, Colorado to be with her long-lost brother Gabe. Unfortunately, things take a turn when her life becomes something like a murder mystery. Players can expect an emotionally compelling action adventure that lasts between 10 to 20 hours and, as evidenced by the song-filled trailer, a stacked soundtrack to accompany them on the way.
Alex has her own superpower, of course, but critics are divided on how well it fits with the story. Her empathy blends well with the interactive elements because of how it can trigger memories and hidden meanings. On the other hand, some reviewers thought that this ability didn't have enough of an impact on the story and wasn't fully fleshed out. Others also thought that Alex's character actually lacked depth, and that the story did little to explore her Asian heritage or queer experiences. Even so, the soundtrack and strong character interactions have made this game a favorite among longtime "Life Is Strange" fans and new players.
Release Date: Sept. 10, 2021
Available On: PC, PlayStation 4, PlayStation 5, Xbox One, Xbox Series X|S, Stadia
Genre: Action Adventure
Game Modes: Single-player only
Metacritic Score: 82 (PC), 84 (PS4), 81 (PS5), 84 (Series X|S)
Axiom Verge 2
"Axiom Verge" was an impressive indie hit created entirely by one person, Thomas Happ. In 2015, the confusing ending of "Axiom Verge" left gamers clamoring for more. Luckily, the long-awaited sequel didn't disappoint. "Axiom Verge 2" was one of the surprise Nintendo Switch announcements during 2021's Indie World Showcase, alongside sleeper hits like "Garden Story" and "Boyfriend Dungeon."
"Axiom Verge 2" is set in the same universe as the first game, but players can dive into it either before or after the first game without any drawbacks. It involves a completely different cast and world. Indra, a billionaire in charge of a worldwide conglomerate, replaces scientist Trace as the protagonist. As "Axiom Verge 2" kicks off, Indra has found a new world — with voices calling to her.
Critics generally praised the game, though it had a few faults. Some reviewers were disappointed in the combat, finding it to be inferior to the battles seen in "Axiom Verge," or otherwise difficult to adjust to. Otherwise, critics seemed to appreciate how the twisting narrative was presented in the game.
Release Date: Aug. 11, 2021
Available On: PC, Nintendo Switch, PlayStation 4
Genre: Action, Adventure, Platformer, Metroidvania
Game Modes: Single-player only
Lost Judgment
"Lost Judgment" follows detective Takayuki Yagami in a new murder mystery adventure through the streets of Tokyo. It's the long-awaited sequel to Ryu Ga Gotoku Studio's (RGGS) "Judgment," a spinoff of the beloved "Yakuza" series. Longtime fans noticed that this installment featured notably darker, more mature themes when compared to its predecessor, even though it kept the series' characteristic lighthearted humor. In "Lost Judgement," man is charged for two serious crimes at once, and it's up to Yagami to sniff out the real story.
Critics were split on "Lost Judgment," both in terms of mechanics and content. Some were pleased with how it cut down on tedious features from "Judgment." GameSpot's reviewer felt that the detective mini-games were "tedious and overly rigid," while other reveled in the bizarre nature of the side quests and character interactions. Content-wise, many critics enjoyed the high school storylines, but equally as many seemed to have an issue with how sensitive topics were handled in the game.
Basically, "Lost Judgement" might not be everyone's cup of tea, but it does provide a good deal of entertainment. At the very least, "Lost Judgment" spurred an important discussion on how to handle triggering subjects in games. On the bright side, it also enthralled its players with skateboards and high school antics.
Release Date: Sept. 24, 2021
Available On: PlayStation 4, PlayStation 5, Xbox One, Xbox Series X|S
Genre: Action, Adventure, Stealth, RPG
Game Modes: Single-player only
Metacritic Score: 83 (PS5), 83 (Series X|S)
Cozy Grove
When players first begin "Cozy Grove," it seems like a sweet slice-of-life game, full of fetch quests and cute characters — and for the most part, it is — but somewhere beneath that is something a little darker. Sure, "Cozy Grove" has cute bears and the ability to craft decorations for one's island, but it's also, at its heart, a game about death. The plot, loose as it is, follows a Spirit Scout stranded on a mysterious island. Gradually, the Scout can awaken bear spirits, each of whom has specific abilities and needs. As the Scout fulfills more quests for each spirit, they find out about the ghosts' past and what their lives were like on the island.
In her review for Polygon, Nicole Carpenter noted that "Cozy Grove" is similar to "Animal Crossing," but with a more defined structure to guide players through the game's story. In fact, there are several notable differences between "Cozy Grove" and "New Horizons," including the fact that the former only has enough quests for about 20 minutes of play per day. Considering that gamers have to spread out their play time over several weeks to beat the game, "Cozy Grove" offers a different sort of slowburn, life simulation experience from many other titles available in 2021. Its bitesize commitment, slightly dark story, and cute aesthetic make "Cozy Grove" the perfect game to snuggle up with at the end of a long day.
Release Date: March 19, 2021
Available On: iOS, Switch, PS4, PC, Xbox One
Genre: Adventure, Sim
Game Modes: Single-player
Behind the Frame
"Behind the Frame," a game about an artist trying to finish a beautiful painting, uses its story to draw players in and put them at ease. After all, sweeping a paintbrush across a blank canvas while a lush orchestral soundtrack plays definitely feels relaxing. However, the themes tackled in "Behind the Frame" creep into view midway through the plot, making it a gut-wrenching look at loss, the past, and fate.
One Steam user said bluntly, "The themes are seriously heavy but if you have 90 minutes and a pulse, it should be played." "Behind the Frame" doesn't feature action-packed gameplay or confusing twists and turns. Instead, the gameplay is fairly linear with players being pitted against a series of art-based puzzles. As the unnamed artist, gamers must discover various paint colors tucked away throughout the house. The painting becomes more beautiful as the artist discovers her secret stash of pigment, but she also becomes increasingly curious about the older gentleman that lives next door with his cat. Soon, she unlocks memories she couldn't place, and the game comes to a heartfelt, emotional climax.
"Behind the Frame" looks, in many ways, like a Studio Ghibli film. Its hand-drawn anime-styled animation and sweeping score make it an atmospheric joy, perfect for gamers that want something aesthetically pleasing and sincere. Plus, the game feels especially interactive since it can only be played on the PC or iOS, forcing the player to sweep the artist's brush with the stroke of a mouse or finger.
Release Date: Aug. 25, 2021
Available On: PC, iOS
Genre: Indie, sim
Game Modes: Single-player
Metacritic Score: 76 (PC)
Humankind
Considering that it takes upwards of 150 hours to beat "Civilization 6," is there any need for another turn-based strategy game that allows players to take over the world? The answer is, enthusiastically, yes. "Humankind" offers a similar, but different experience from "Sid Meier's Civilization" by putting some interesting twists on a favorite formula.
Unlike "Civilization," "Humankind" allows cultures to evolve over time as players progress through various eras and interact with other cultural groups — who are, of course, also changing with the times. Instead of ending up landing on the moon with a Roman general, players can create a culture that combines the best aspects of many societies, which is more realistic. Cultures also have more options when it comes to creating and personalizing different religions, which earn bonuses for players.
Combat also feels a bit different in "Humankind." One player explained that "You have to pick your battles wisely, because terrain matters. Even settling cities sometimes takes consideration of what a siege would look like." In other words, fights aren't just about who has the most manpower or more advanced armies. Instead, location and landscape matter, meaning that strategic formations are more important than ever.
Critics generally found "Humankind" to be a refinement on a classic game type, and considered the title's complex cultural system a major selling point. With new ways to strategize and plan, "Humankind" is definitely worth a play for 4x buffs.
Release Date: Aug. 17, 2021
Available On: PC
Genre: Turn-based strategy, civilization-building
Game Modes: Single-player, Online PvP
Metacritic Score: 78 (PC)
Maquette
Puzzle games can fly under the radar. No one talks about "Candy Crush" like it's an award-winning idea or hails "Dots" as a narrative masterpiece. "Maquette" changes all that by bringing in top-notch actors (who may sound awfully familiar to film lovers) and by utilizing an emotional story to connect all that puzzle work together.
"Maquette" incorporates an interesting, rarely used puzzle mechanic by allowing players to manipulate miniature objects that correlate to the larger world. While it's difficult to explain, "Maquette" is all about size and relativity. A tiny ball inside a miniature city translates to a giant one in the normal-sized world. Players must alter objects' size and position in order to solve a series of increasingly difficult puzzles and unlock the story of the two protagonists, Kenzie and Michael, as they fall in love. Really, the game's puzzle format is right in its name; Maquettes are miniatures used to test ideas without going to the expense of making a piece of art full scale.
Working through "Maquette" feels like falling through an M.C. Escher painting, as if the world has no up or down. That sort of journey makes the game one of the best titles of the year, even if players get turned around in the process. Critics generally enjoyed "Maquette" when it released in March, complimenting its lovely story and intricate design.
Release Date: March 2, 2021
Available On: PS5, PS4, PC
Genre: Puzzle
Game Modes: Single-player
Metroid Dread
After the controversial "Metroid: Other M" assassinated the character of Samus Aran, gamers feared for the future of the "Metroid" franchise — and the even worse "Metroid Prime: Federation Force" didn't help matters. "Metroid: Samus Returns" rekindled some optimism, even if it was a remake, but true hope didn't blossom until Nintendo announced "Metroid Prime 4." And then the company dropped news of "Metroid Dread," the first all-new 2D "Metroid" game in over 20 years. Cautious optimism eventually gave way to well-deserved critical acclaim.
Ever since "Super Metroid," the franchise has stood for big, explorable worlds that open up the more abilities players collect, an atmosphere of isolation, and tight combat. "Metroid Dread" does not disappoint on any of these fronts. Each biome in the game feels as alive as it does threatening — doubly so whenever Samus enters the bleak, sterile lairs of the unstoppable E.M.M.I. And while "Metroid Dread" includes many returning classic abilities such as the Morph Ball, it also features many new ones that emphasize new level designs and combat tactics.
The Terminator-like E.M.M.I. also add stealth-based challenges to the standard "Metroid" formula, and they single-handedly put the "dread" in "Metroid Dread." Players will come to genuinely fear each encounter, as every E.M.M.I. is programmed with a new bag of tricks to keep gamers on their toes and drenched in anxiety.
Audiences expected "Metroid Dread" to up all the antes, and the game doesn't disappoint. Odds are good that "Metroid Dread" will be the bar by which future "Metroid" games are measured.
Available on: Nintendo Switch
Genre: Action, Adventure, Metroidvania
Game Modes: Single-player only
Metacritic Score: 89 (Switch)
Far Cry 6
It could be argued that there are two kinds of video games: innovative ones and iterative ones. Innovative games offer novel experiences but run the risk of scaring off players since developers often can't predict audience reactions. Meanwhile, iterative games rely on well-worn formulae but can lose player interest if they don't add new features. The latter sums up "Far Cry 6" — but that isn't a criticism.
If you have played a "Far Cry" game before, you probably know what you're getting into with "Far Cry 6." A charismatic villain holds a sizable chunk of beautiful landscape under their thumb, and it's up to players to stop them — the only question is how. Do you strike silently from the shadows with bows and machetes, or do you go in guns blazing and blow up more enemy soldiers than a Michael Bay movie? The open world nature of "Far Cry 6" makes either option viable, complete with a weaponized backpack and a petting zoo's worth of allies.
Of course, "Far Cry 6" isn't a complete carbon copy of past titles. This time, instead of letting villains steal the show, protagonists shine with relatable personalities and motivations that keep the story rolling. Plus, many missions take twists that might surprise "Far Cry" veterans, and anyone who grows tired of spreading freedom from the barrel of a gun can take a break and participate in a "Street Fighter"-esque cockfighting mini-game.
Anyone who goes into "Far Cry 6" expecting something new will be disappointed, but audiences looking for a familiar game confident in its abilities to entertain will walk away happy.
Available on: PC, PlayStation 4, PlayStation 5, Xbox One, Xbox Series X/S
Genre: Action, Adventure, Open World, Shooter
Game Modes: Single-player campaign, Online Multiplayer
Metacritic Score: 76 (PC), 75 (PS5), 80 (Xbox Series X)
Kena: Bridge of Spirits
At the dawn of the video game era, many publishers were grandfathered into the industry. For instance, Sony was a general electronics giant before it cultivated a library of PlayStation titles. Today, most game studios are founded for the express purpose of developing video games — the key word being "most." Ember Lab is an exception, since it was originally an animation studio. "Kena: Bridge of Spirits" is the company's first foray into gaming, and judging by the title, Ember Lab has a bright future.
"Kena: Bridge of Spirits" is unsurprisingly breathtaking. Every landscape is verdant, and all in-game characters are full of charm, especially the Pikmin-like Rot. The art design, animations, and graphical fidelity are indicative of Ember Lab's pedigree. Moreover, the game sports a strong narrative revolving around facing your mistakes and forgiving yourself, as well as excellent gameplay. These elements pale in comparison to the graphics, but that bar might have been set a little too high.
The basic gameplay loop of "Kena: Bridge of Spirits" mirrors classic adventure titles like "The Legend of Zelda" (oddly fitting since one of Ember Labs' most popular productions is a short "Majora's Mask" fan film). The protagonist of "Kena" splits her time between fighting an evolving roster of enemies and using the Rot to solve puzzles. But, don't let the game's cuteness deceive you; "Kena" might look like it was made for children, but the game's combat will challenge most players.
Ember Lab scored a hit right out of the gate with "Kena: Bridge of Spirits."
Available on: PC, PlayStation 4, PlayStation 5
Genre: Action, Adventure
Game Modes: Single-player only
Lost in Random
Lately, EA has made baby steps to separate the company from its shadier past. EA is slowly learning that, contrary to its previous position (via Destructoid), single-player experiences aren't dead, and the company is helping demonstrate that point with games like "Lost in Random."
"Lost in Random" is a surreal trip through lands that look straight out of a Laika film made by Tim Burton. Each of the game's levels are populated by memorable characters, clever writing, and Dutch angles. When players aren't wandering through the twisting alleyways and talking to gloriously contorted NPCs, they are participating in the game's battles.
Combat in "Lost in Random" is one part card game, two parts action RPG, all random chance, and that can make or break a player's enjoyment. Every ability is determined by cards in the protagonist's deck, but she can't draw them unless she chips shards off enemies. She also can't play cards unless she has enough mana, which is determined by a literal roll of the dice — a sentient, charming dice that is missing some of its dots and doesn't reclaim them until later in the game. This system encourages players to build combat decks that both channel and defy the skills they learned from games like "Magic: The Gathering."
True to its name, "Lost in Random" guarantees players will lose themselves in the game's random-yet-endearing worlds and combat. But, even though the game and its systems seem chaotic, there is a method to the madness.
Available on: PC, Nintendo Switch, PlayStation 4, PlayStation 5, Xbox One, Xbox Series X|S
Genre: Action, Adventure
Game Modes: Single-player only
Metacritic Score: 77 (PC), 79 (Nintendo Switch), 78 (PS5) 80 (PS4), 74 (Xbox Series X)