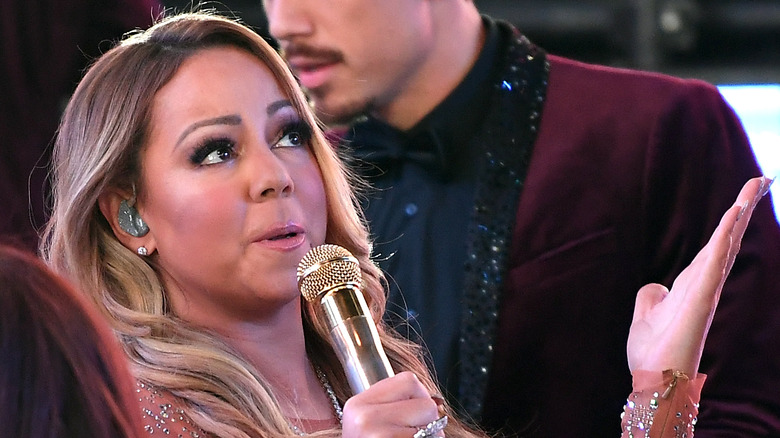 There's just something about a live performance that we all love. After all, anything can happen during live performances. That's what makes them so exciting and unique. But with the thrill of showcasing talent live and unedited comes the risk of embarrassing flubs. Even the most seasoned live performers aren't immune to the occasional hilarious goof-up, which, thanks to the internet, may now live on forever. These are some live performance bloopers you won't be able to watch without laughing.
Ashlee Simpson's SNL hoedown
We're starting out with Ashlee Simpson's 2004 "SNL" lip-sync disaster, because not only was it one of the worst-executed examples of a pretty standard practice — lots of artists use backing tracks for live performances — but also because of Simpson's complete inability to handle the situation. Instead of pausing and waiting for the proper track to start, Simpson did the now infamous "hoedown" jig for a few seconds before fleeing the stage and scrapping the whole live performance.
At the end of the show, Simpson blamed her band for playing the wrong song, then doubled down on that excuse to ET a few days later, as well as tossed in the old, "I have severe acid reflux and it was just acting up that day" excuse. Whatever really happened, it remains one of the all-time greatest live TV bloopers, as well as pretty much effectively killed any chance the "hoedown" ever had of becoming popular again. (Sorry, cartoon grandpas everywhere.)
John Travolta mangles Idina Menzel's name at the Oscars
Even in the current internet environment where literally anything is fair game to become a meme, it's not often that a viral celeb flub gains as much traction as John Travolta's mispronunciation of Idina Menzel's name at the Oscars in 2014.
These days, it's kind of awkward to watch Travolta do anything — "The People v. O.J. Simpson: American Crime Story," anyone? — but hearing him refer to the "Let It Go" singer as "Adele Dazeem" was more than the internet could handle. Countless parodies were born, and Slate even created the "Adele Dazeem Name Generator" which allows users to "Travoltify" their name.
Miss South Carolina Teen USA fails geography
During the live 2007 Miss Teen USA Pageant, contestant Lauren Caitlin Upton, representing South Carolina, was asked, "Recent polls have shown a fifth of Americans can't locate the U.S. on a world map. Why do you think this is?" Her answer can best be described as the exact opposite of what happened to Will Ferrell's character from "Old School" when he blacked out during the debate and accidentally delivered a perfect, coherent response to the question.
But even that description pales in comparison to Upton's actual words, which we will now share unedited, courtesy of The Transcription Room. "I personally believe that U.S. Americans are unable to do so because some people out there in our nation don't have maps and, uh, I believe that our education, like such as in South Africa and, uh, the Iraq, everywhere like such as and I believe that they should, our education over here in the U.S. should help the U.S., er should help South Africa, and should help the Iraq and the Asian countries so that we will be able to build up our future for our children."
In the equally immortal worlds of host Mario Lopez, who amazingly was not doubled over with laughter, "Thank you very much, South Carolina."
Brooke Shields attempts to sing at The Tonys
How many attempts should one make to land an Anthony Weiner punchline in song form on live television? According to Brooke Shield's live 2011 Tony's flub, the answer is three. That's how many times she started over before arriving at the line, "In fact, one guy sent a twitpic of his crotch." At one point, she even cried, "I don't know what I'm doing — Oh my God!"
Speaking with Vulture a few days later, Shields said of the viral gaffe, "I was beyond embarrassed. I wanted to give up show business. I f***ed up. They counted me in wrong; the teleprompter was wrong. I felt like I was having an aneurysm."
Okay, we understand it was the Tony Awards, but that's a bit dramatic. Even host Neil Patrick Harris said it was "worth the wait."
Heidi Klum yodels her multi-million dollar bra into submission
According to Vogue, Heidi Klum first wore the Victoria's Secret Fantasy Bra in the lingerie company's televised 2001 fashion show. Two years later, she made a live appearance on "The Tonight Show" during which she was supposed to model another incarnation of the Fantasy Bra, as well as the matching panties, which were worth a ridiculous $11 million. Of course, that all makes for must-see late night TV, except Klum decided to demonstrate her yodeling ability before the striptease, and the bra broke.
Guest Martin Short and host Jay Leno scrambled to fix it, before finally giving up, at which point Klum then told a three-minute story about swimming with sharks that probably felt like an eternity to those who tuned in for, well, not that. Eventually, they took a commercial break, got the bra fixed, and Klum quickly flashed the goods before musical guests The Barenaked Ladies took the stage. I see what you did there, Leno.
Harry Styles vs. mic stand
The epic showdown between Harry Styles and a mic stand occurred during a July 2015 One Direction show in San Diego. After the mop-top crooner pulled the decidedly rock star move of taking a sip of bottled water, then pouring out the rest of it onto his throng of screaming fans, he attempted to drag a mic stand across the stage. That's when everything went sideways in the live performance.
The mic stand, apparently more of a "5 Seconds of Summer" fan, did not go along with Styles' plan, instead getting somehow stuck on something which resulted in the singing heartthrob tripping and ragdolling himself flat out onto the stage. Admirably, the rest of 1D sang on, leaving Styles to embarrassingly collect himself.
According to TMZ, Styles later directs the crowd, "If anyone had a video of that, just delete it," which, as evidenced above, clearly did not happen. Sorry, Mr. Styles, the internet never forgets. Mic stand – 1 Harry Styles – 0
The Biebs barfs
We recognize that it's not really cool to laugh at someone getting sick to their stomach, but when that someone is Justin Bieber, and his excuse turns out to be that he drank too much milk, we're sorry, but that's hilarious.
According to The Hollywood Reporter, the Canadian wunderkind lost his lunch on the opening night of his Believe tour during a show in Glendale, Arizona. In the video that captured the moment, the canuck crooner seems like something is amiss as he descends some stairs arm-in-arm with a few dancers, but he keeps the live performance going. Unfortunately, his stomach had other plans.
He then doubles over and lets loose a remarkable amount of barf. Then he runs offstage. The Biebs later tweeted, "And …. Milk was a bad choice! Lol," which is, of course, an "Anchorman" reference, and may or may not be the actual reason why he got sick. But we're choosing to believe that his pre-show ritual used to be him sitting in a chair so tall his feet didn't touch the floor and dunking cookies in a huge glass of milk.
Katy Perry learns that icing and shiny stages don't mix
The spectacle of a Katy Perry performance has only evolved over the years, spurring viral sensations like Left Shark at her Super Bowl XLIX Halftime Show, and introducing mainstream audiences to Backpack Kid during her "SNL" rendition of "Swish Swish." But early in her career, the "I Kissed A Girl" singer went viral with a messy live performance moment at Los Premios in 2008, which MTV describes as "basically MTV's Latin American VMAs."
After belting out her star-making hit, Perry dives onto a gigantic, real cake. Covered in icing, she attempts to smear some on her guitarist, only to fall to the slippery stage and not be able to get back up. The clip ends with Perry literally pulling herself offstage, dragging her now useless legs behind her. Did that happen to be a rum cake, by any chance?
Michael Bolton's national anthem cheat sheet
National anthem fails are pretty common, and we've even got several more coming up after this, but in the case of everyone's mom's absolute favorite singer, Michael Bolton, he took it to another level. It's easy to forget the words to the song — what even are "ramparts" anyway? — and lots of singers have done it, but Bolton actually stops singing mid verse to look at the lyrics he apparently wrote on the palm of his hand. (The New York Times sports section even reported on his "long pause" when recapping the game.)
The crowd instantly turns on him, but Bolton, like the golden-throated professional he is, wins them back with a powerful finish. We do, however, have to give a shout-out to the stone-faced honor guardsman behind Bolton who cracks a smile after the singer resorts to his high school exam cheating tactics. We would have also accepted an eye roll, strong side eye, jaw drop, or any combination thereof.
Luke Bryan also takes a peek
Even though Michael Bolton caught flack for doing this almost a decade earlier during his live performance, country star Luke Bryan also decided to scribble lyrical crib notes on his hand for a performance of the national anthem. We're not really sure if these guys thought the dozens of cameras or tens of thousands of fans would somehow miss them pausing, squinting down at their hand, and returning to their seemingly fauxmotional performance, but exactly the opposite happened.
Bryan quickly found himself on the wrong side of Twitter, according to ABC News, who reported that one user called his performance an "epic fail" and said he should "learn respect & remember the lyrics!" Bryan replied by apologizing and copping to the ruse, although he did say that he was also looking down to check his watch "because I knew the stealth bomber would fly over 2 minutes in and I knew a started a little late." Oh, you were also directing fighter plane traffic? My bad, Mr. Bryan, we didn't realize this level of multitasking was going on.
Caroline Marcil attempts to sing 'The Star-Spangled Banner,' does everything wrong
During a 2004 Canada v. USA exhibition game, Canadian singer Caroline Marcil gives what is probably the worst performance of her life on what is likely one of the worst days of her life. She gets exactly two lines into her live performance of the U.S. national anthem before going blank, saying, "Sorry," then doing it again. After stalling on the "What so proudly…" line a second time, Marcil apologizes again and exits the ice. But wait! She quickly returns with a piece of paper in hand, presumably the lyrics, only to step onto the ice and fall flat on her back.
The only way it could have been a more comprehensive blooper would have been if a piece of her clothing had also fallen off, which mercifully did not happen. "Good Morning America" was nice enough to invite Marcil on the show for a shot at redemption, which she reportedly nailed, although strangely that clip did not go viral like her original performance. Go figure.
Michael Bay blows up Samsung demonstration
Director Michael Bay is responsible for unleashing the "Transformers" movies onto the world, so it was only a matter of time before a piece of technology would rise up against him. Okay, that's admittedly a bit of an exaggeration, but it was a teleprompter that derailed the explosion king's live presentation for Samsung during CES in 2014.
Almost as soon Bay walks out on stage, he's immediately distressed. He stammers a bit, wrings his hands, and even admits that they're having technical problems with the prompter before saying, "I'll just wing this." Seconds later, he says, "I'm sorry" and flees the presentation. Bay later addressed the snafu on his blog, writing that he was "embarrassed" and "I guess live shows aren't my thing." It sure seems like Michael Bay discovered that when it comes to public speaking there is … more than meets the eye. Yep, that just happened.
Madonna's cape doesn't cooperate
Madonna is known for staging some of the most elaborate live performances in pop music history. Remember, this is a woman who famously crucified herself on stage, so when her "cape fail" happened during the 2015 Brit Awards, the pop icon took it pretty hard. Discussing the live performance incident on "The Jonathan Ross Show," Madge said she got "a little bit of a whiplash" from smacking the back of her head, and that the unintended stair tumble was "a horrible nightmare" because she likes to be "amazing" and "create magic" for everyone.
Hopefully, the legendary songstress has stopped beating herself up over it, because honestly, if getting yanked off a short flight of stairs by her neck then immediately getting back up and finishing her song isn't a magical enough moment for her fans, they never deserved the Material Girl in the first place.
Mariah Carey's NYE show disaster
Where do we even begin here? On the eve of 2017, Mariah Carey was supposed to perform a medley of her hits for Dick Clark's New Years Rockin' Eve, but what ended up happening was a live performance train wreck of mythic proportions. Between Carey's almost complete lack of effort, awkward talking over the backing track, and later slamming the production team for allegedly supplying her with faulty equipment, the show couldn't have gone more wrong.
In a rare address of the incident, Carey spoke with Rolling Stone and said, "This was out of my control, and had everything not been such a total chaotic mess, then I would have been able to make something happen. Even the dancers should have stopped dancing and helped me off the f***ing stage. I'm sorry. It was a mess, and I blame everybody, and I blame myself for not leaving after rehearsal."
She makes a great point there, because arguably the best thing about this clip is not watching Carey awkwardly try to perform with a supposedly malfunctioning ear monitor, but rather, the way her backup dancers charge right through their choreography as if the show is going exactly as rehearsed. Extra points for the guy who clearly panics after almost dropping her on the dip at the 2:30 mark.
Kristen Stewart fumbles the popcorn
If awkward was a human being, it would be actress Kristen Stewart. From her years of clumsy interviews to her mousy red carpet appearances, the "Twilight" star has seemingly treated her fame as more of a curse than a blessing. Her acceptance of the Best Female Performance Award at the 2009 MTV Movie Awards provides a hilarious example of her socially awkward behavior when she goes to grab her golden popcorn trophy at the end of her acceptance speech, only to accidentally toss it to the floor.
She then goes to grab it, apparently freaks out, returns to the podium without actually grabbing it, and declares, "This was just as awkward as you thought it was going to be. Bye!" Even then-boyfriend Robert Pattinson gives a cringeworthy laugh in the audience as Stewart scampers offstage, still not taking the trophy as one of the presenters tries to hand it to her. Yikes. Imagine if she would have lost.
Joe Jonas' epic goodbye
Have you ever heard the old entertainment adage "Always leave them wanting more?" Joe Jonas apparently has, or so it would seem from the way he exited one memorable Jonas Brothers show. As he and his bro band descend below the stage on a hydraulic lift, Joe plunges out of sight, leaving an arena of screaming tweens wondering if a poster on their bedroom wall just became a collector's item.
Luckily, he was fine. Of course, it wasn't as bad as the 2007 AMAs when he fell onto a pile of shattered prop glass and sliced open his hand during a live performance of the perfectly apropos song, "S.O.S." "Just a little blood, but, whatever, rock and roll," Jonas famously said backstage, according to People. Top that, Axl Rose.
Alexis Normand mumbles the U.S. National Anthem
Apparently taking a page from Caroline Marcil's playbook, Canadian singer Alexis Normand delivered her own embarrassing live rendition of "The Star-Spangled Banner" before a 2013 Memorial Cup game in Saskatoon, Saskatchewan. Normand, who has a fantastic voice, starts out strong, but quickly forgets pretty much everything between "through the perilous fight" and "home of the brave," which is literally half the song. In place of the lyrics, she does a sort of hybrid mumble-humming until the crowd takes over and finishes the song for her. Probably the best part is how she then transitions directly from that trainwreck into "O Canada," effortlessly slips back and forth between English and French, and absolutely nails it.
In a later interview, Normand claims she was called "the morning of" to do the gig, and that she was originally only tapped to perform the bilingual version of Canada's national anthem, which makes total sense in hindsight. The good news is, despite offending a lot of Americans, the "silver lining" to the whole thing was that lots of people started discovering her music online. So, we guess that makes her the Celine Dion of bungled national anthem performances.
Mark Donnelly learns about ice-skating over carpet
In this clip of Canadian singer Mark Donnelly tumbling to the ice during his powerful rendition of "O Canada," the comedy actually isn't in the fall, but more so in the absolute confidence with which he skates directly at a carpet runner that's been laid across the rink. He then slides into another part of the carpet where he almost gets tangled in it as he stands back up — all while continuing to sing.
In a subsequent interview, Donnelly claims he couldn't even see the carpet there — the giant, red carpet laid across white ice — and that it was supposed to have been rolled up already before he started singing. "The great thing is that most people are not taking the fall as the big thing — they're taking the carrying on, not giving up," Donnelly also said, and that's true. It's not as though we found this clip by simply typing "Mark Donnelly" into Google upon which we didn't even have to give any other information before being redirected me to a clip titled "Mark Donnelly Trips Over Carpet at Penticton VEES Game 10-3-14." Oh wait, that's exactly what happened.
The Biebs goes boom boom
This is just a funny clip of Justin Bieber falling through what appears to be a trapdoor in the stage. Sure, it's kind of mean to laugh at someone falling down, but we know that he wasn't hurt, so there's no real harm in it. Plus, he seemed to be adjusting a shirt he had tied around his ripped skinny jeans at the time, so we consider that an additional element to why it's fair game for light mockery. Also, the whole thing presents the question: why do stages have trapdoors? We seriously thought only Bond villains used those.
Attack of the wind machines
One of the hallmarks of almost every Beyoncé live performance is that, at some point in the show, she will appear to be performing in the middle of a tornado. In fact, the "Formation" singer's windblown hair game is so strong that it was one of the most talked about aspects of her 2013 Super Bowl performance, so it was only a matter of time before that which made her great — her ever-present army of wind machines — nearly took her down.
In the above clip, Queen Bey attempts to mingle with the masses when a fan on the edge of the stage snags some of her luscious locks. But like an absolute pro, she almost doesn't miss a beat of "Halo," which she keeps singing as concertgoers and security personnel work to free her. They get her loose after a few seconds, because obviously a simple machine is no match for Beyoncé, but how did she not even freak out for like a second?
50 Cent strikes out
There have been lots of awful first pitches thrown out at baseball games, and we're not even going to try and say that rapper 50 Cent's was the worst, but it has to be close. He actually does a decent wind-up, but then something goes horribly wrong and he throws the ball so wildly askew that the catcher doesn't even attempt to get it. "Just a bit outside," the announcer says, tongue firmly in cheek.
50 was at least a good sport about it, later jokingly explaining during a Reddit AMA, "I have a skeletal muscle injury on my left shoulder from excessive masturbation so take it easy lol." Wait, he was joking about that, right?
Meghan Trainor knows how to end a great performance
After a pretty epic live performance of her song "Me Too," which included her doing a decent amount of choreography in a pair of sky-high platform heels, Meghan Trainor somehow got tripped up on her own feet and took a spill in front of the live studio audience on "The Tonight Show." It happened just as host Jimmy Fallon was walking out to meet her, and as she was putting the mic back on the stand, so her surprised yelp and his uncontrollable laughter only amplified the moment.
Trainor returned to the show on another occasion and explained that they even reshot the entire song, but she chose to let them air the one where she fell anyway, because it was a better performance. "I'm gonna fall eventually one day, so let this be it," she said. That's spoken like a true entertainer right there.
Lady Gaga has no fear
Maybe it's her elaborate costumes or the way that she seems to throw her entire body into her live performances but there probably isn't another singer who falls onstage nearly as much as Lady Gaga. There are multiple compilation videos of her taking a tumble available widely online, so we're singling out the above clip to highlight here, and it's because we can't figure out what she was even trying to achieve.
Straddling the distance above her bench and piano, and clad in what appears to be a pair of spike-heeled boots, the situation is already precarious. Then she makes a move that looks like she's either attempting a split — which is physically impossible at this point — or trying to shove off for a jump. Either way, she bites it, and falls to the floor, somehow not slamming her head on the piano, which is on fire. Did we mention that? The piano is also on fire. It's bananas, but we guess that's kind of Gaga's thing. We're just glad she was okay to live and fall another day.
Ariana Grande takes a tumble on Ellen
Ariana Grande has had her share of triumphant performance moments onstage, but her 2018 appearance on "The Ellen DeGeneres Show" was not among them. During a performance of her hit "Thank U Next," Grande hopped atop a chair and then jumped back down; in the process, the heel of one of her boots became caught on the fabric of her white dress, causing her to stumble on her dismount. "Oh my God!" Grande blurted out as she found her footing, which at least proved her performance was live and not lip-synced.
That was not the only part of Grande's appearance to go south. After completing her song, Grande and her backup singers made their exit by sashaying up a set of stairs — not realizing she was meant to have stuck around. "She's gone. She left," confused host Ellen DeGeneres told the audience, with Grande hustling back for a hasty reappearance. "We were supposed to come down? I thought we were supposed to exit?" Grande asked, admitting it was "my bad" when told otherwise.
While that may not have been Grande's finest moment, it still serves as an important reminder of why it's important to show up for rehearsal.
The epic Oscars blunder
The Academy Awards have been the scene of some pretty memorable moments over the years, ranging from on-stage streaking to Jack Palance offering a spontaneous pushup demonstration. However, for sheer chaos, it's impossible to beat the infamous moment during the 2018 ceremony when Warren Beatty and Faye Dunaway announced the evening's final award for Best Picture. While Beatty held the card, Dunaway announced the winner, "La La Land" — which was followed by several minutes of live-television confusion as it slowly emerged that he'd been given the wrong card. The movie's producer Jordan Horowitz grabbed the microphone, and said, "There's a mistake," as recalled by USA Today. "'Moonlight,' you guys won best picture. This is not a joke."
As viewers will recall, Dunaway appeared ruefully amused, Beatty scowled angrily, and host Jimmy Kimmel strove to milk laughs out of an epic Hollywood screwup. "Personally, I blame Steve Harvey for this," quipped Kimmel, referencing Harvey's hilariously infamous goof when he named the wrong contestant as winner at the culmination of the 2015 Miss Universe pageant.
Kimmel later addressed the gaffe on his late-night talk show, reported The Washington Post, where he jokingly compared the mistake to "one of those Maury Povich paternity test shows," and described the mix-up as "the weirdest TV finale since 'Lost.'"
Foo Fighters' Dave Grohl takes that 'break a leg' thing literally
Dave Grohl is beloved for his onstage spontaneity, which led to an incident both painfully embarrassing and just plain painful. It all went down during a 2019 Foo Fighters show in Sweden. As video from the concert demonstrates, Grohl bolted to the lip of the stage, where he stumbled and fell right off the edge. Ever the trouper, Grohl continued the show, not realizing the extent of his injury. He then talked to the audience as he lay in a stretcher and a team examined his injuries.
"When it happened, I didn't feel a thing. I tried to get up and walk and my ankle collapsed under my weight. I just fell back to the ground and looked up at my road crew and said, 'It's broken. It's gone,'" Grohl subsequently told Entertainment Weekly. As the band kept playing, Grohl recalled glancing at his foot, "and it was just hanging there, because it was dislocated and my leg was broken. But it still didn't hurt … I was just laughing. I couldn't believe it happened."
Rather than cancel dates, Grohl continued the tour while sitting on a custom-made "throne that shoots lights and smoke out of it and looks like a f**king UFO with guitar necks stuck in it." To prevent a similar mishap, Grohl revealed his throne had been equipped with seatbelt "so I don't fall off, that's how hard I'm f**king rocking out!"
U2's The Edge steps off the edge
Inattentiveness to one's position onstage also came into play for U2 guitarist The Edge during a 2015 concert in Vancouver. For the band's Innocence + Experience world tour, a specially designed stage allowed frontman Bono and the other members of the band to walk down a long, narrow strip of stage, with a circular mini-stage positioned in the middle of the audience.
During an extended audience singalong of the band's hit "I Still Haven't Found What I'm Looking For," The Edge is seen casually strolling down that narrow strip while plucking on his guitar, looking out to the audience and not at his footing. As he continues his slow, deliberate walk, he doesn't notice he's been drifting ever closer to the stage's edge until he takes a step into thin air and tumbles onto the floor.
The crowd roars, while Bono — his back turned to his fallen guitarist — keeps on singing. Finally, The Edge is helped to his feet by some members of the crew, pumping his fist triumphantly to indicate he's okay. He later took to Instagram to reveal he hadn't emerged entirely unscathed, sharing a photo of his scraped-up arm. "Didn't see the edge, I'm ok!!" he wrote in the caption.
Kirk Hammett's sweaty hands messed up a Metallica solo
It's no secret that musicians have been known to work up a sweat during particularly energetic performances. While dripping with perspiration is typically seen as a badge of honor in rock star circles, getting sweaty led to one of Metallica guitarist Kirk Hammett's more embarrassing moments.
During a 2013 show in Abu Dhabi, Hammett was playing the delicately intricate intro notes of the band's "Nothing Else Matters" when he riffed off several bum notes and then abruptly stopped playing. "My hands are really sweaty," he told the crowd, apologizing for messing up and promising to try it "one more time." True to his word, Hammett nailed it on his second attempt.
While no musician wants to screw up in front of a stadium full of fans, a review in the Gulf News pointed out that Hammett's "so-called glitch probably received one of the biggest applause of the night, as it demonstrated that, at the end of the day, even one of the greatest guitarists of all time is human."
Howard Stern sidekick Baba Booey repeats the worst opening pitch ever
Any regular listener of Howard Stern's radio show knows the story well: Producer/punching bag Gary "Baba Booey" Dell'Abate threw out the first pitch at a 2009 Mets game, a truly terrible hurl that landed nowhere near the catcher, and went down in baseball history as one of the all-time worst first pitches.
The following year, Dell'Abate visited "Jimmy Kimmel Live!" and was offered an unexpected shot at redemption when host Jimmy Kimmel handed him a baseball and glove, while Kimmel put on a catcher's mitt and offered him a second chance to demonstrate his pitching prowess. Taking his place onstage, Dell'Abate threw the ball, which veered wildly off course, caught by an audience member. Retrieving the ball, Kimmel offered him yet another chance, resulting in Dell'Abate throwing a grounder that bounced on the stage, prompting Kimmel to give him "one more."
His third and final attempt was not the charm, once again swerving into the audience — and this time striking a woman in the head. Walking back to the interview chairs, Dell'Abate forcefully throws the glove back at Kimmel, his chagrined expression serving as an open book replete with the knowledge of the brutal mockery awaiting his return to the "Stern Show" studio.
Method Man's epic fail stage dive
One classic tried-and-true move perfected by rock stars is the stage dive, in which musicians — typically singers — will launch themselves into the crowd, where they're caught by fans, and then passed hand-over-hand until being eventually returned to the stage. While this move has been perfected by the likes of Beyoncé, Method Man trusted his audience a little more than he should have during a performance in London.
As video from the show demonstrates, the Wu-Tang Clan rapper is seen standing at the edge the stage before throwing himself into the crowd. Rather than catch him and hold him aloft, as he had clearly expected, the crowd instead parts like the Red Sea before Charlton Heston, causing the rapper to crumple to the ground. Thankfully, his fans quickly realize their error, helping him to his feet and then lifting him aloft, at least getting the second part of the stage-diving etiquette right.
Meanwhile, Method Man took it all in stride, returning to the stage, dancing around and moving along as if nothing unexpected had taken place.
Thanks for the laughs, famous folks!
Thankfully, the only thing seriously injured in any of these live performance clips was a few celebrity egos, and even in hindsight, most of them were able to laugh off their live gaffes as nothing more than a hazard of the job. Even Mimi herself has probably gotten over that tragic NYE performance.