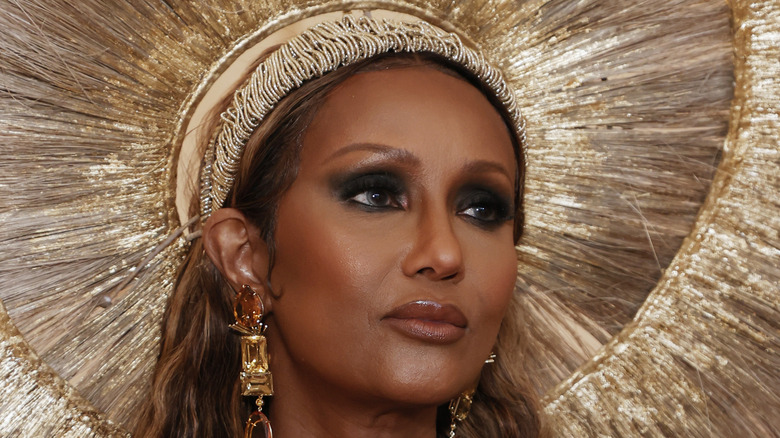 Each and every year, the awards season showcases the best-of-the-best songs, movies, television shows, and stars. While everyone enjoys finding out if their favorites will win, there's something else that comes along with these events: spectacular fashion.
On the red carpet, celebrities are allowed to push the limits and are encouraged to get more dolled up than usual. While each show has its own vibe — ranging from the creative theme of the Met Gala to the street style that can be seen at the Grammys — all of them lead to jaw-dropping, stylish, and memorable ensembles.
We've covered the most stunning red carpet looks each year since 1999 as well as the best-dressed stars at various awards shows in 2020, but what were the best looks of 2021? Scroll down to see six of the most fashionable red carpet looks from this year, all ranked and all worn by six of the most fashionable singers, models, and actors out there.
6. Cynthia Erivo's Golden Globes ensemble wasn't the color purple, but she blew us away in green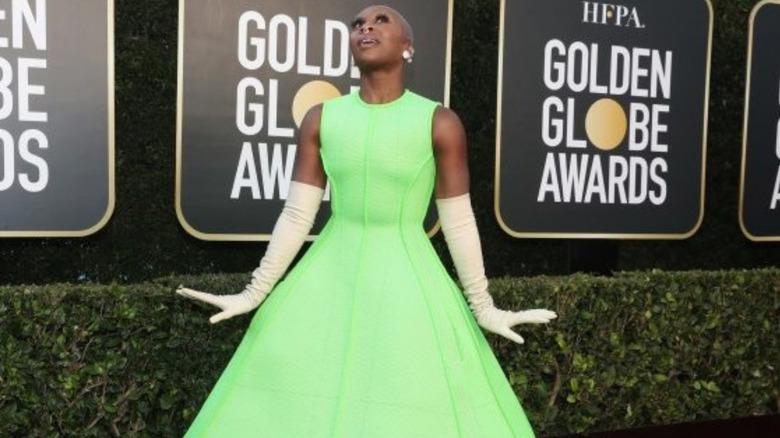 Usually, the Golden Globes take place in January, but due to the ongoing effects of the COVID-19 pandemic, this year's show was pushed back to February 28. Currently in its 78th year, the Golden Globes recognize those who stand out in the film and the television industry (via People).
When it came to the fashion displayed at the event, one person who stood out from the pack was Cynthia Erivo. The actress is known for playing Lisa in "Broad City," Holly Gibney in "The Outsider," and Aretha Franklin in "Genius," and she won the award for Best Actress in a Musical at the Tonys for "The Color Purple" (via IMDb).
Speaking of color, the color and shape of Erivo's Golden Globes green Valentino dress, which was paired with Wempe jewelry, helped make it a stand-out piece. After the show, it was celebrated in publications such as Marie Claire and Glamour, and we would be remiss not to include it in our ranking of the best red carpet looks of the year.
5. Don't go yet: We could stare at Camila Cabello's VMA dress all day long
The MTV Video Music Awards, which recognize outstanding participants of the music industry, took place on September 12. This year, Camila Cabello was nominated for Song of the Summer with her hit "Don't Go Yet." While she did lose to BTS' "Butter," as stated by Billboard, she won in another way.
Look at this gown! It perfectly combines red and pink, it's fitted up top and flows down from the waist to the ground, and it features a huge bow, making Cabello look like a gift from above. Naturally, the Alexis Mabille Couture gown, Giuseppe Zanotti shoes, and Katkim and Melissa Kaye jewels all resulted in this singer, who went solo after being part of the girl group Fifth Harmony, ending up on best-dressed lists in Grazia Magazine, PopSugar, and more.
While not everyone was a fan of the bow (Cosmopolitan, for example, said it didn't work at all), it's easy to see that Cabello took a risk, which many fashion gurus can respect.
4. Dua Lipa's Grammy outfit blew our minds
Next up, there's an outfit to reminisce on and recognize from the Grammy Awards. This was back on March 14, after the event was rescheduled from its date of January 31 due to the pandemic (via People).
The show put an array of over-the-top and awesome outfits on display, but one seemed to stand out more than the rest, and that would be Dua Lipa in Versace. First off, it fit her like a glove and showed off her assets with strap details and a high slit. Secondly, it had this amazing beadwork that was truly magical. Publications like Fashionista and Billboard are just two of many that picked Lipa's outfit as one of the best.
Furthermore, this singer went home a winner. She was nominated for several awards — including Record of the Year, Best Pop Solo Performance, and Song of the Year — and she won Best Pop Vocal Album with "Future Nostalgia" (via CBS News).
3. The bright dress on Zendaya at the Academy Awards brought us euphoria
The Academy Awards, as stated by People, were also postponed this year, moving from February to April. The wait was worth it, though, as all the gorgeous ensembles worn by stars blew us away. Sure, finding out who won what because of acting, costume design, editing, directing, and so on was great, too, but we're all about the fashion worn to said award show by said stars!
Zendaya, in particular, is a star who has gone from appearing on The Disney Channel (as Rocky Blue on "Shake It Up" and K.C. Cooper on "K.C. Undercover," to name a few) to starring in some of the biggest TV shows and films out there, such as "Spider-Man: Homecoming," "The Greatest Showman," "Dune," and "Euphoria" (via Celebrity Net Worth).
At this year's Academy Awards, she wore a yellow, midriff-baring Valentino Couture dress with some major jewels, as seen in InStyle and IndieWire.
2. Anya Taylor-Joy looked like a true queen at the Emmys
At the 73rd Primetime Emmy Awards, which took place on September 19, Anya Taylor-Joy was nominated for Outstanding Lead Actress in a Limited Series or Movie for her role in "The Queen's Gambit." Unfortunately, as reported by Entertainment Weekly, she lost to Kate Winslet in "Mare of Easttown," but she's still a winner in our book. She also was recognized by fashion websites like Glamour and L'Officiel, and it was all because of this Dior Haute Couture dress.
As pointed out by Elle, what really made this outfit complete was the dramatic yellow shawl. At first glance, it was hard to tell what was what, but this oversized piece was worn over the lighter-colored and silky dress worn by the actress. An updo and Tiffany jewelry were like cherries on top, perfectly finishing an outfit fit for a queen (or for the star of "The Queen's Gambit").
1. Iman rocked a custom look at the Met Gala, which was a 'dream come true'
Last but not least, there was the Met Gala. Held this year on September 13, the gala is known as the Oscars of fashion, and this year's theme was "In America: A Lexicon of Fashion" (via Harper's Bazaar).
Once again, there were so many drool-worthy and stand-out pieces, as this is the red carpet where stars from a variety of fields come together in super dramatic looks. The best of them all, though, had to be Iman in custom Harris Reed, which was paired with Fred Leighton and Kwiat jewelry, according to Town & Country.
Completely handmade, the look featured a crinoline and gold leaf gown, a jacquard bustier, and a headpiece that Reed created with Vivienne Lake. As reported by Harper's Bazaar, Iman's stylist described this fashionable red carpet moment as their "biggest dream come true to date."
So, which look was your favorite?