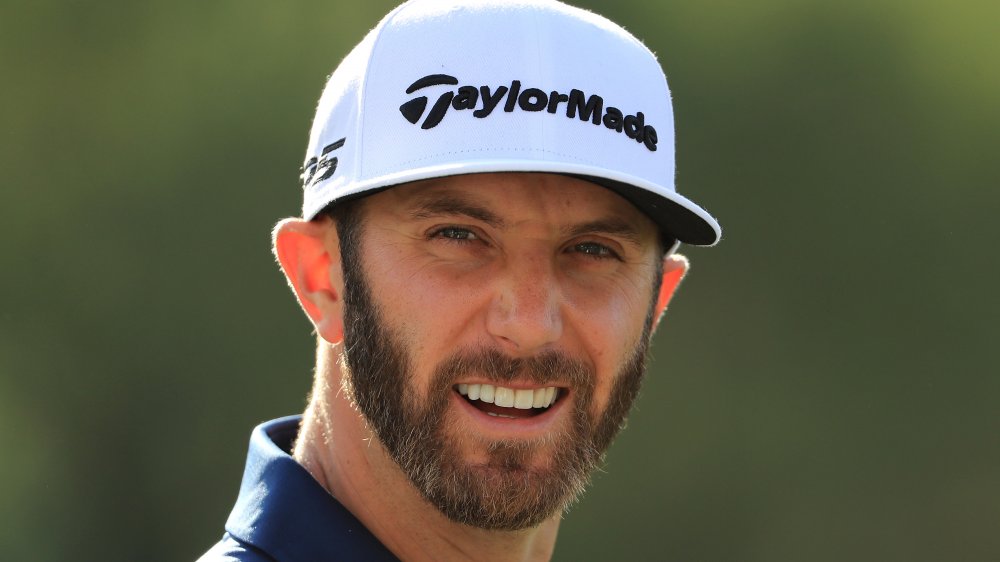 Dustin Johnson should be on top of the world. He's the top-ranked golfer in the Professional Golfers' Association (PGA). He also has a beautiful fiancée in model Paulina Gretzky, and two sons, River and Tatum, with her at the time of this writing. And he even has a great one — make that The Great One — in future father-in-law Wayne Gretzky. But not everything is as it seems when it comes to Dustin Johnson's world.
He's frequently compared to Tiger Woods, and not just in the good way. From a startlingly troubled youth, to rumored tour suspensions due to drug use, to alleged infidelities, Johnson's life hasn't exactly been a hole-in-one. After eventually taking some "time to grow up," Johnson told Reuters (via Eurosport) in 2015, "I try not to get too emotional, whether it's going really well or going really bad. I always try to stay even keel — which is great for golf, but it isn't always great for life."
Without further ado, let's take a look at the times this golf pro's life landed right in the bunker with the shady side of Dustin Johnson.
Someone get Dustin Johnson some slippers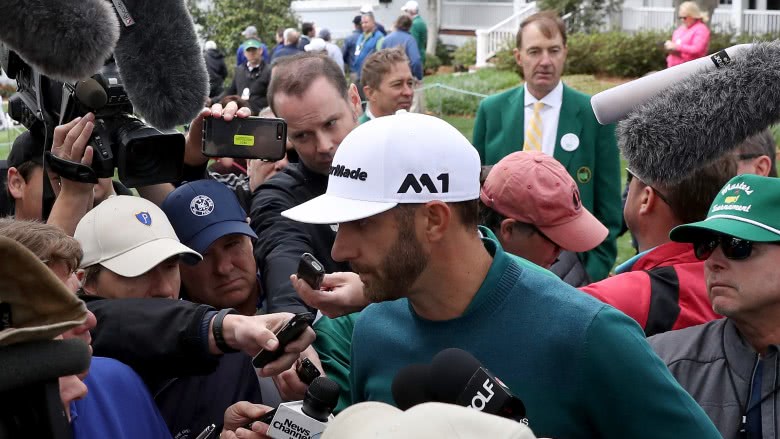 The answer, apparently, as to what can stop Dustin Johnson is a set of stairs. He claimed he hurt his back in a "freak accident" when he slipped and fell on a set of steps in his rental home in Augusta. The fall occurred when he was going to move his car before his son returned from daycare. And it was all because he wasn't wearing shoes.
"I was wearing socks," Johnson explained during a press conference. "So I just slipped as I was going down the stairs." He withdrew from the 81st Masters in April 2017 shortly before the tournament began due to his bad back, but said he thought he would be fine in a couple days.
However, the New York Post's George Willis wondered why he hadn't mentioned undergoing any medical tests or exams, saying such tests "would have validated Johnson's injury, ending any type of subsequent speculation or doubts about his willingness to compete through adversity." Willis also asked, "If there was no structural damage such as a broken tailbone or broken rib, then why didn't Johnson at least give it a try?"
Falling back on the old back excuse
This isn't the first time Dustin Johnson has missed golf due to his back. Like in 2012, when he claimed he hurt his back "from lifting a Jet Ski" and was unable to play, according to The New York Times.
But that may have been untrue. According to Golf.com (via ESPN), Johnson was actually serving a reported PGA suspension for cocaine use. The publication reported this in August 2014, when the golfer was allegedly away from the game again on what he claimed was a "leave of absence." But the publication said he was really serving his third suspension for drug use, this time again for cocaine. Johnson had reportedly been suspended for marijuana use in 2009. It turns out while the PGA does test for recreational drug use, and disciplines their players for positive results, they don't make the news public — which sometimes leaves it up to players to make other excuses for their absences. Regarding the alleged 2012 suspension, Johnson's rep issued a denial.
Golf.com reached out to the PGA for a statement regarding Johnson's 2014 "leave of absence," and they initially refused to comment. Later on, they told the publication, "With regard to media reports that Dustin Johnson has been suspended by the PGA Tour, this is to clarify that Mr. Johnson has taken a voluntary leave of absence and is not under a suspension from the PGA Tour."
Dustin Johnson really shanked his teen years
Dustin Johnson was born June 22, 1984 in Columbia, S.C. and was good at a lot of sports, including golf, as a kid. But after his parents split up when he in his teens, he seemed a bit adrift, giving up golf and missing school. Then the future star was involved with a burglary that ultimately led to a murder. The New York Times reported, "When Johnson was 16, at the behest of a good friend's bullying older brother, he was one of five boys involved in a burglary." One of the items stolen was a gun. Previously, Johnson had pawned watches for Steve Gillian, the bully in question, according to Golf Digest.
The Times wrote that on the day following the home burglary, "Johnson was persuaded by Gillian to use a fake ID to buy ammunition at Wal-Mart," and that "Gillian later used the gun to kill a man named Jason Ward." Johnson was ordered to pay restitution, and later testified against Gillian in his trial. The state of South Carolina later pardoned Johnson for his involvement.
Johnson later told Golf Digest in 2009 that he "never stepped foot in the house" that was burglarized, saying, "Most of the stuff that happened, I was forced into doing." Noting that the arrest was a wake up call to change his life, he added to the publication, "I know I made some serious mistakes and errors of judgment, and I regret them, too."
It doesn't seem like Dustin Johnson learned from his DUI
Dustin Johnson was arrested for drunk driving in his home state of South Carolina in 2009. He was recorded as having a blood alcohol level of .19 at the time of his arrest, which is over twice the legal limit in that state. At the time, he issued a statement, saying (via WMBF News): "I made an error in judgment that I deeply regret. I have let myself down and others who support me." Johnson also said, "I am handling the matter privately and rest assured, I will definitely learn from my mistake."
It remains to be seen whether the pro golfer actually did, given the multiple substance abuse suspensions he reportedly earned after this. Johnson also insinuated after his 2014 leave of absence from the game that drinking too much was his issue — not drug use — but claimed that he once again got that under control. Speaking with Golf.com in 2015, he even cited the fact that he declined to do "shots" at his fiancée's baby shower as an example of his newfound self-control. Um, congrats?
Did Dustin Johnson break up another golfer's marriage?
The same aforementioned Golf.com report (via Deadspin) also claimed Dustin Johnson is "known to have had a sexual indiscretion with at least one wife of a PGA Tour player." Not long after that news broke, there was speculation that the marriage he allegedly broke up on the golf course was that of Alli MacKenzie, who was divorcing golf pro Will MacKenzie. She denied it, but in an odd way.
Corresponding with the blog Busted Coverage, who has since removed screenshots of her messages, Alli claimed, "Will and I were separated before the supposed indiscretion night," but that "it just wasn't made public." Does that mean something happened, but it was during the separation? Alli also said there were rumors about Dustin with "a nanny of a tour player," something that hadn't been publicly mentioned before, but added that she didn't believe it.
Then in 2015, Alli and Dustin were spotted together in a Publix grocery store, and he put his arm around her. R Online published video and stills of them, calling him "the next Tiger Woods" — and they didn't mean about his golfing skills. Alli denied anything happened, telling the publication, "I ran into an old friend buying baby food for his son at Publix." She shared, "I wish Paulina, Tatum and Dustin the very best start in their lives together."
The wedding that was … then wasn't
Dustin Johnson and Paulina Gretzky first announced their engagement in August 2013. They were supposed to get married in the fall of 2014, but postponed it in May that year — allegedly due to Johnson's schedule being too hectic. But Fox 411 (via Fox News) reported the postponement was really because Paulina's famous dad, Wayne Gretzky, didn't approve of Johnson's partying, and warned him to either get his life in order, or the wedding wouldn't happen. Meanwhile, this same report claimed that Paulina had been criticized in the press as being a "distraction" to her fiancé's golf game.
Then, the pair was supposed to get married in 2015. A year later it still hadn't happened, but Johnson they hinted that wedding bells might be chiming "later this year." However, by 2018, they still hadn't taken the marital plunge, despite a fresh round of high-profile PDA, having two children together, and having dated since 2012. A source cited by Hollywood Life in 2019 claimed the wedding planning was back on, but explained that after "rebuilding their relationship" following "a rocky period" that same year (more on that below), "Having a wedding has not been a huge priority for them because they already feel very married."
As of 2020, not much had changed on that front.
Dustin Johnson faced another round of cheating allegations
Dustin Johnson was hit with yet another round of cheating allegations in 2018, with reports claiming that he supposedly had an affair with a woman named Yassie Safai after bumping into each other at a golf course. Though Johnson's longtime fiancée, Paulina Gretzky, reportedly deleted all traces of the pro golfer from her Instagram account at the time, Safai swiftly denied the claims. "I am sure he is a great person but we do not have a close friendship," she told TMZ. "I have never met Paulina Gretzky and do not know the Gretzky family, but again, I am sure they are great people."
For his part, Johnson didn't exactly straight-up deny the infidelity speculation. Instead, he tweeted out: "Every relationship goes through its ups and downs, but most importantly, we love each other very much and are committed to being a family. Thank you for your love and support."
Despite facing multiple cheating rumors over the years and delaying their nuptials, these two still seem to be going strong (they were even spotted sharing a kiss at a match just a couple weeks after this particular scandal hit). "She's a huge part of me, our family and my success," Johnson told Golfweek in September 2020, gushing over Gretzky's parenting skills and continual support of his career. "… She understands everything it takes to get to where you want to be and the sacrifices you have to make … You couldn't ask for a better partner."
Wait, did Dustin Johnson say 'deer antler spray'?
PGA golfer Vijay Singh admitted in a 2013 Sports Illustrated interview (via The Guardian) to using deer antler spray, of all things, as a performance-enhancing substance. The PGA suspended him for this admission, and made this news public. Then the suspension was rescinded.
But Singh still sued, claiming that five other PGA players used deer antler spray but were not punished. Dustin Johnson was one of the people reportedly named, according to a February 2014 Golf Digest article, but attorneys for the PGA referred to what Singh was purporting as a "fishing expedition." By 2018, Singh was still in the process of suing the tour "for breach of the implied covenant of good faith and fair dealing," for the way they handled his "suspension and public discussion of it."
Singh eventually settled prior to going to trial that November. Meanwhile, Johnson's alleged involvement with the case seems to have faded away.
Is Dustin Johnson's fiancee too risque for the fairway?
Paulina Gretzky is a quintessential WAG (the acronym for athletes' wives and girlfriends), best known for posting provocative pictures of herself on Instagram, particularly pictures of herself in her underwear directed to her famous fiancé.
She also caused controversy when she was featured on the cover of Golf Digest in 2014, not for any prowess at golf, but for being beautiful and having a connection to golf through Dustin Johnson. This didn't sit well with women golfers, who wondered why actual LPGA Tour members didn't make the cover, The New York Times reported. The article noted that Inbee Park was the top women's golfer in the world at the time, yet she had never been featured on the magazine's cover. In fact, it had been six years since the magazine had put an actual women's golf tour winner on the cover.
Gretzky is also known for rocking revealing outfits, including wearing a very short dress – not the norm in the staid world of golf — while celebrating with Johnson on the golf course in 2016 after his U.S. Open victory (above). Unfortunately for her, some rather lascivious camera angles exploited what should have been a warm, kind moment of happiness after his victory.
Thankfully, late bloomers are pretty common in golf
For being the top-ranked golfer in the world, it's unusual that Dustin Johnson has only won one major, especially considering he is 36 years old, as of this writing in 2020. For comparison, Tiger Woods had 14 majors by then. For all his success, Johnson has also had a lot of failure, including an epic "choke" in the 2015 U.S. Open, as well as some arguably boneheaded mistakes over the years. This is why him missing the Masters in 2017 was so controversial. Just when it seemed like he was getting it together, he had another setback.
But it takes many golfers time to find their way. For example, Phil Mickelson didn't win his first major until he was nearly 34. Sergio Garcia won his first major at age 37, winning the 2017 Masters in Johnson's absence. For his part, Johnson told Golf Digest in 2015 after winning the WGC-Classic Championship, "I knew I was really good," but added, "I just knew there was something that I was missing that could make me great."
While Johnson's had his share of setbacks, these examples show there's still time to turn his career around and become the great golfer people expect him to be. Indeed, after nabbing the FedEx Cup and being named the 2019-20 PGA Tour Player of the Year, Johnson told Golfweek in September 2020, "I got to celebrate a little with Paulina and the kids … It's been special, [but] now it's time to get back to work."