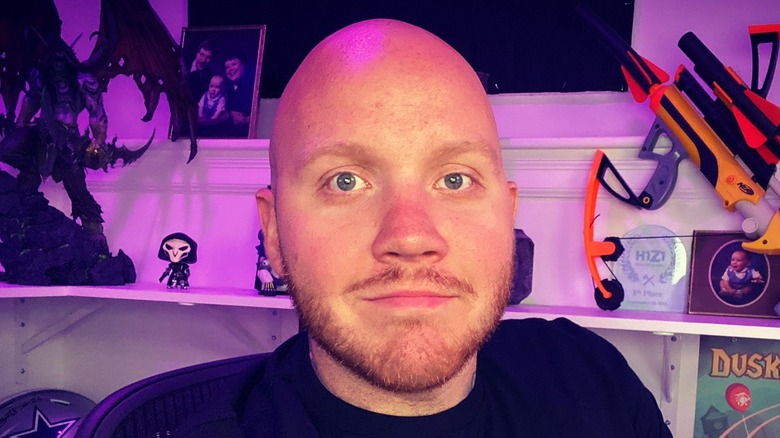 Tim Betar, a.k.a. "TimTheTatman," is one of the biggest names in streaming, known for his love of first-person shooters and battle royale games. In the fall of 2021, he made the internet go wild as he announced that he'd be moving from Twitch to YouTube Gaming, where he'd join the likes of DrLupo and Dr Disrespect. When asked about the reason for his success, the streamer had a theory about why people watch him, and it's that he's extremely relatable. He's not exactly a pro gamer, and it's evident in his streams where he just aims to have fun and do his best. He's also very open with viewers about his life, which makes him even more relatable.
And since he's always been an open book with his fans, TimTheTatman has often shared details of his diet plan and weight loss journey with his fans. The streamer has been working on his overall health and well-being for years, and it's led to a stunning transformation. Here's how TimTheTatman's hard work and positive attitude have paid off.
TimTheTatman has been self-conscious in the past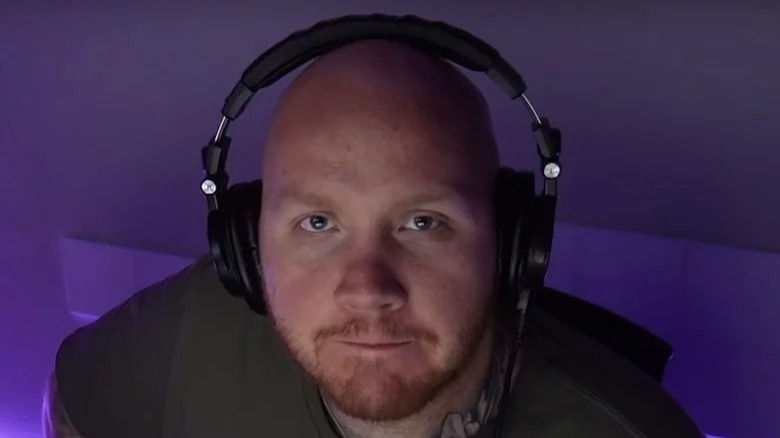 TimTheTatman's tragically struggled with anxiety when he was in high school. As he's explained to viewers in the past, he was especially concerned with his chest, and would therefore layer up on the daily to try and cover for his self-proclaimed "nip anxiety." He would go to extreme measures, at times wearing as many as three layers of clothing. At one point, he was so self-conscious that he would even duct tape his chest.
In an interview with GQ, TimTheTatman mentioned multiple times that his weight in high school was around 225 pounds and that he's always considered himself a "bigger guy."
Unfortunately, being self-conscious with your body is something that a lot of people can relate to, including Tim's viewers, who have offered their support for the streamer over the years. In return, his journey has inspired many viewers and fellow pro gamers.
However, TimTheTatman's anxiety and self-image isn't the only reason why he began the path toward his transformation. and he didn't start it just because of his self-consciousness. In fact, Tim has shared multiple times that he had a completely different reason for wanting to lose weight.
TimTheTatman's wholesome reason for wanting to change his lifestyle
In TimTheTatman's interview with GQ, he explained out that he initially wanted to lose weight because of a "wake-up call" from his doctor. At 28 years old, he was diagnosed with high blood pressure.
In a video discussing his weight loss goals, TimTheTatman told his audience that his mother had passed away at the age of 46 — very early on in his life — due to a number of health issues. He mentioned that he could see himself going in that direction if he didn't make a change.
After the birth of his son, he decided that he wanted to get his body in shape so that he wouldn't have to worry about any potential issues that could take him away from his son. As he's mentioned several times, "it's not about … looking good, it's about health." This mentality and his devotion to his family has continued to be his main motivator.
TimTheTatman at the beginning of his journey
In 2019, TimTheTatman shared a more literal and up-close look at his weight loss journey on Twitter. Showing the difference in side-by-side pictures, he mentioned that he had lost about 45 pounds and was still continuing to make changes to support his new lifestyle.
When asked about his routine at the time, he told his followers that he was eating around 1,500 calories a day and specifically said that he was not working out.
Several months later, TimTheTatman explained a bit more of his plan to GQ. According to him, he has tried out a number of different strategies, including taking CrossFit classes and trying out a variety of diets. While this did lead to him losing a lot of weight, he knew that he needed a more sustainable routine that would work with his day-to-day streaming schedule. Because of this, he made some changes that fit his lifestyle better, despite not seeing the same drastic results he saw in the beginning.
TimTheTatman and sustainable lifestyle changes
TimTheTatman has tried multiple different things to figure out the best way to stay healthy. After realizing that many different diet plans just weren't for him, he turned to intermittent fasting, which he spoke about to GQ. At the time, he was trying intermittent fasting as a way to limit how much he ate per day. He paired that with working out, but ultimately he found something else that worked much better for him.
As he explained to viewers in the spring of 2021, he started counting his calories – and it actually ended up feeling like the right move. Doing this gave him moe freedom to eat what he wanted while also letting him make knowledgeable decisions about what calories he was spending where. At the time, he wasn't working out at all and he was focused on getting down to 230 pounds, explaining that he didn't want to weigh less than he did in high school.
While this method obviously isn't for everyone — and some studies have found it to be an unhelpful exercise — Tim seemed to be happy with the results and the way he was feeling.
TimTheTatman's most recent weight loss method
In August 2021, TimTheTatman updated fans again and said that he was close to being the same weight that he was when he was a freshman in college. He also let fans know that he had decided to add in exercising to his plan, and he now worked out four times a week.
While sending out words of motivation to fans, TimTheTatman pointed out that this wasn't some kind of routine that showed off quick results, and that it wasn't to be taken lightly. He specifically worked on putting this plan together to keep him healthy and happy while still making lifestyle changes. He also reminded viewers that he's still human: He has a cheat meal on Sunday afternoons where he can "go ham" and enjoy himself.
In an effort to stay healthy for his family and still maintain his usual streaming hustle, TimTheTatman has managed to turn his lifestyle completely around. And according to the feedback he's received from viewers, his stunning transformation has led to many fans feeling motivated to do the same.