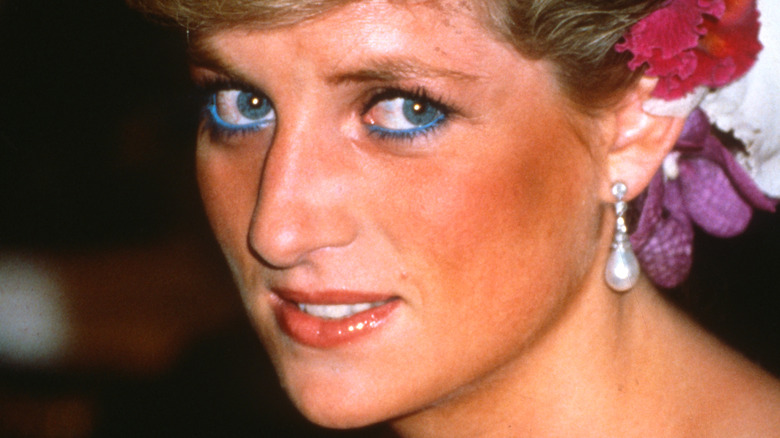 When it comes to talking about the relationship between Princess Diana and Camilla Parker Bowles, it's very nearly impossible to do so without also talking about the man they both loved, Prince Charles. Camilla and Charles first met in the early 1970s and began dating soon thereafter, but they broke up after Charles left to serve military duty for about eight months. As People shared, Camilla ended up getting engaged to Andrew Parker Bowles while Charles was gone.
Princess Diana met Charles in the late 1970s when the future king was dating her sister, Sarah. As Town & Country notes, Charles and Diana began their own relationship in 1980. Tatler has noted that many believe Charles and Camilla continued with their relationship even while the latter was married.
Of course, most of us know how the story went: Charles and Camilla were unable to stay away from one another, putting Diana in an awfully sticky spot. Here's a look at the relationship that Diana and Camilla had — including the good, the bad, and the downright depressing.
Princess Diana and Camilla Parker Bowles started out as friends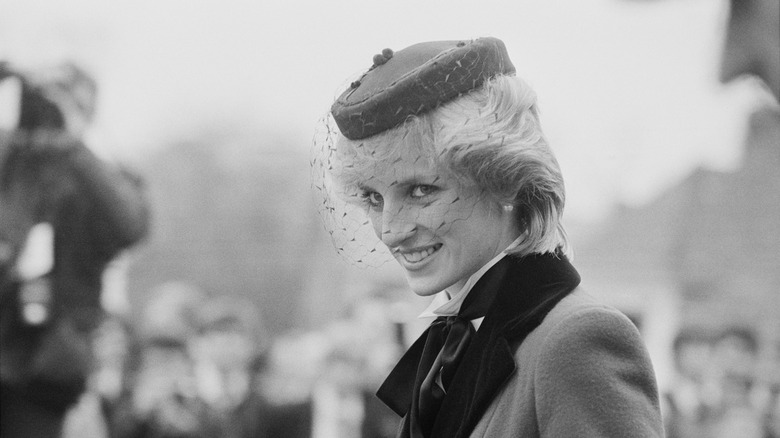 Despite the way things ended up between the women, Princess Diana and Camilla Parker Bowles actually kicked things off more or less on the right foot. In her book "The Duchess: Camilla Parker Bowles and the Love Affair that Rocked the Crown," royal author Penny Junor recounts that Diana actually spent quite a bit of time at the home of Camilla and Andrew Parker Bowles at the beginning of her relationship with Prince Charles. Some reports suggest that Diana even helped out with Camilla and Andrew's children and that Diana reportedly sought life advice from Camilla (per Tatler).
Camilla was even on hand the first time Charles and Diana showed up in public together, an act that was likely deeply appreciated by the then-camera-shy 19-year-old Diana. The two women would continue to operate as friends up until the time of Diana and Charles' engagement, at which point Diana began to grow suspicious of the true nature of the relationship between her friend and the man she was set to marry.
Princess Diana didn't know Prince Charles and Camilla Parker Bowles were exes at first
While it's true that Princess Diana and Camilla Parker Bowles were friendly at first, it's also true that Prince Charles deliberately left out one key detail: Princess Diana didn't know that Camilla and Charles had a relationship before she met her future husband. In her book "The Duchess: Camilla Parker Bowles and the Love Affair That Rocked the Crown," royal authority Penny Junor revealed that Charles reportedly never considered how Diana might feel after she found out the woman she thought she was building a friendship with was a former girlfriend and intimate partner of her husband-to-be.
As relayed by the Daily Mail, "It simply hadn't occurred to him that Diana needed to know the truth before someone else told her. Or that she might feel foolish, embarrassed or humiliated to have chatted openly about her feelings for him to a woman she then found had once been a lover."
Charles elected to tell Diana the truth after their engagement was announced. The Daily Mail shared that a friend of Charles' believes the future king never would have been capable of understanding why hiding this information from Diana was painful for her, saying, "He's very interested in objective things, but not subjective, so he couldn't have understood the complexities of her feelings."
Princess Diana was 'obsessed' with Camilla Parker Bowles ahead of her wedding
It seems like the days and weeks leading up to her wedding to Prince Charles were tough for Princess Diana. Royal author Penny Junor has described Diana as being "obsessed" with Camilla Parker Bowles, explaining, "She became jealous — obsessing about Camilla Parker Bowles — suspicious, turning against people she appeared to like, convinced they were out to get her" (via Good Housekeeping).
Princess Diana later admitted as much in her biography "Diana: Her True Story in Her Own Words." In the book, Diana admitted that she and Prince Charles had terrible fights about Camilla and that, before their wedding, she overheard her husband and his ex-girlfriend having an intimate conversation. She said, "I once heard him on the telephone in his bath on his hand-held set saying: 'Whatever happens, I will always love you'" (via CheatSheet).
Additional palace insiders confirmed Diana's own admission. In the documentary "The Royal Family at War," Ingrid Seward, editor-in-chief of Majesty Magazine, said (via Express), "She became obsessed with Camilla, probably a little more than she should have done."
Camilla Parker Bowles attended Prince Charles and Princess Diana's wedding
Despite the misgivings and questions that Princess Diana had, Camilla and Andrew Parker Bowles were still among those who attended her wedding to Prince Charles. Of course, it's entirely plausible that an invitation was more or less mandatory, as, at the time, Andrew served as the Commanding Officer of the Household Cavalry Mounted Regiment and was in charge of the escort that took Diana and Charles through London on the way to their wedding site, as noted by Good Housekeeping.
In 1991, Diana told biographer Andrew Morton that she could still remember the moment she spotted Camilla at her wedding. As Good Housekeeping shared, she said, "So walking down the aisle, I spotted Camilla, pale gray, veiled pillbox hat, saw it all, her son Tom standing on a chair. To this day you know — vivid memory."
Good Housekeeping also noted that Prince Charles had actually suggested that Tom be part of the wedding party, to serve as a page boy alongside two others. Given that Charles is Tom's godfather, the suggestion wasn't entirely inappropriate, but Diana said no.
Camilla Parker Bowles reportedly resumed her relationship with Prince Charles in 1986
As just about everyone who has the slightest interest in the British royal family knows by now, Prince Charles and Camilla Parker Bowles reportedly began secretly seeing one another in 1986, two years after Prince Harry was born. Camilla was also still married to Andrew Parker Bowles at the time.
Princess Diana later recounted what happened after she found out that Camilla and Charles were sneaking around. During her interviews with biographer Andrew Morton, Diana admitted that she confronted Camilla herself, explaining (via People), "I was terrified of her. I said, 'I know what's going on between you and Charles and I just want you to know that.'" Diana claimed that Camilla pushed back, asking her what more she could want when "all the men in the world" were in love with her. Diana reportedly had a simple reply: "I want my husband."
Eventually, the truth was confirmed by Charles himself. In 1994, Charles came clean and admitted he and Camilla were in an extramarital relationship (per Reader's Digest).
Princess Diana later said she considered herself a 'threat' to Camilla Parker Bowles
While much has been said and written about Princess Diana's feelings of inadequacy and insecurity about Camilla Parker Bowles, it's also true that, at least at one point, Diana saw herself as the threat to Camilla, and not the other way around. In the book "Diana: Her True Story — In Her Own Words," Diana admitted as much when she said, "[I met her] very early on. I was introduced to the circle, but I was a threat. I was a very young girl but I was a threat" (via Insider).
Of course, in light of what was going on between Camilla and Prince Charles, it's not a surprise that Diana found it impossible to keep the other woman in a positive light in her mind. She later admitted that even confronting Camilla about the affair didn't totally dispel the negative feelings she harbored, though it helped. She explained, "Still the old jealousy and the anger swilling around, but it wasn't so deathly as it had been before" (via Reader's Digest).
The release of the 'Camillagate' tapes in 1993 further damaged things between the women
As if the affair itself wasn't enough to bear, Princess Diana was presumably further humiliated when the infamous "Camillagate" tapes were released to the public in 1993. The phone scandal shocked the people of Britain, especially as the contents of the tapes were secretly recorded phone conversations between Prince Charles and Camilla Parker Bowles. Unsurprisingly perhaps for two people engaged in the extramarital affair, the tapes are definitely of a decidedly adult persuasion.
The transcript of the conversations was published widely. The pair discuss their desire to see each other throughout the week, presumably for intimate interactions, and Charles goes so far as to suggest that it would be a dream come true if he could be Camilla's tampon, so that he'd be close to her (via the Mirror).
While much was made of the more outrageous parts of the tapes, the pair also speak freely about how they feel about one another. It became clear that, while Diana and Camilla's friendship was beyond finished by then, Camilla and Charles did have strong feelings for one another.
Diana famously said there were 'three of us in the marriage'
At times, it seems like no one knew how inextricably linked Princess Diana, Prince Charles, and Camilla Parker Bowles really were like Diana herself did. After all, the two women had gone from being friends who had a relationship that bordered on being sisterly to enemies towards the end of Diana's marriage, and the man in the middle was the one they both wanted to be with.
While Princess Diana and Prince Charles had separated in 1992, it's likely that she still felt a sting of animosity toward Camilla in 1994 when Charles admitted that Camilla was very important to him, saying, "She has been a friend for a very long time — and will continue to be a friend for a very long time" (via Town & Country).
When Martin Bashir interviewed Diana on television in 1995, he asked Diana outright if Camilla was a "factor" in the destruction of her marriage. Diana, true to form, had a reply that continues to reverberate throughout royal circles, and that tells you everything you need to know about how she felt about Camilla at that point: "Well, there were three of us in this marriage, so it was a bit crowded."