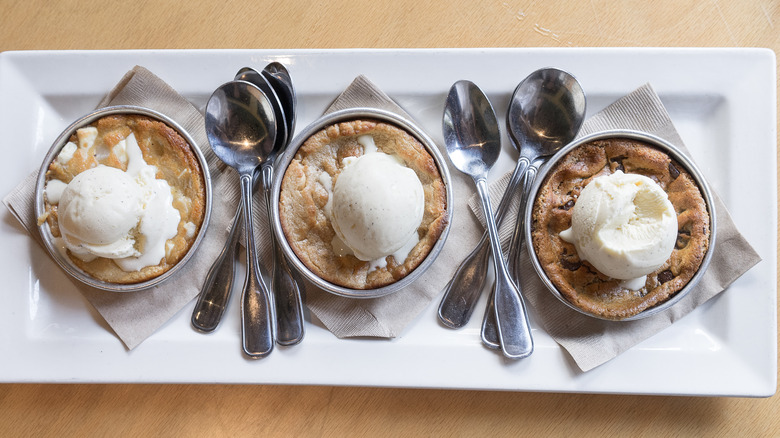 No matter how big of a foodie you might be, there's still no denying the fact that pretty much everyone has that one chain restaurant that they'll always love and always go back to. Chain restaurants are reliable, generally affordable, and honestly, pretty tasty most of the time. Sure, they're nothing fancy, and you can definitely get better food at a local or high-end joint, but there's nothing wrong with chain restaurants.
More than that, chain restaurants tend to have pretty impressive menus with plenty to choose from. Their menus can be so big, in fact, that you might not have considered their dessert sections before. That said, there are plenty of chain restaurant dishes you need to try at least once – and the same goes for dessert. Yes, believe it or not, several chain restaurants actually offer pretty decent dessert options. Some even offer desserts that can seriously sweep you off your feet and make you feel like you're eating at a Michelin Star restaurant (okay maybe that's a stretch) and not your neighborhood Chili's.
1. Chili's Molten Lava Cake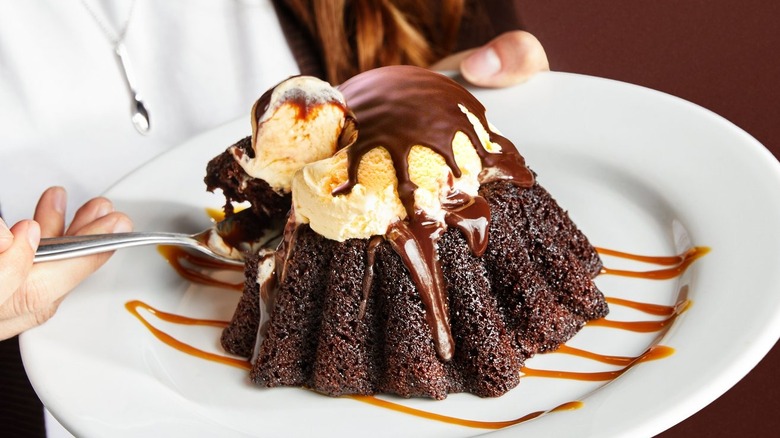 One of the most popular chain restaurants out there is definitely Chili's. There's a Chili's in just about every town in America, it seems, and the chain is known for having pretty great food at pretty great prices. While not everything on the Chili's menu is known to be tasty, their appetizers like the Texas Cheese Fries are pretty popular, and entrees like the Chicken Crispers, fajitas, and burgers are all filling and satisfying. But what about their desserts? While most of Chili's desserts aren't anything very exciting, their molten chocolate cake is seriously impressive.
As any molten cake, it features a warm chocolate-cake exterior filled with a rich and decadent melted chocolate center. But at Chili's, the cake is also topped with a delicious scoop of ice-cold vanilla ice cream topped with a chocolate shell topping and then drizzled with even more chocolate. Basically, this dessert is any chocolate-lovers dream and honestly tastes gourmet despite coming from a Chili's.
2. Buffalo Wild Wings' Loaded Ice Cream
If you've ever been to a Buffalo Wild Wings, then you know that the chain restaurant is pretty casual. It is a wing place, after all, and definitely has a sports bar vibe to it. Despite that, the food there is super tasty, and not just the wings. Yes, the wings and all the many flavors they come in are obviously amazing, but so are the other food items there, like the burgers, sandwiches, and wraps as well as the appetizers.
But one must-have item at Buffalo Wild Wings will probably surprise you. On the dessert menu, their Loaded Ice Cream is seriously inventive. It might sound simple, but the flavor combination works so well, and might even remind you of something you could eat at the county fair. The loaded ice cream features vanilla ice cream, topped with chocolate and caramel sauce, fried tortilla strips, and cinnamon sugar. Again, it might not sound like much, but it's seriously so good.
3. Cracker Barrel's Fruit Cobbler
Listen, Cracker Barrel knows how to make comfort food. It's kind of what they do best. The chain serves meatloaf, chicken and dumplings, fried chicken, fried fish, burgers, and more. But alongside all those savory options, Cracker Barrel also has some desserts, though not all are worth trying. However, if there's one dessert at Cracker Barrel you should give a shot, it's the cobbler. It's as close to homemade as you're going to find at any restaurant, and once you try it you'll see why.
The fresh fruit cobbler at Cracker Barrel is just about the most down-home, decadent, filling dessert out there. And even though Cracker Barrel is a chain restaruant, that shouldn't stop you from giving the peach cobbler a try. The fresh fruit, cooked with sugar and topped with a flaky crust-like topping and then served with a scoop of vanilla ice cream all seriously tastes so amazing. This is one dessert that you don't want to miss out on, that's for sure.
4. Olive Garden's Tiramisu
Olive Garden is known for many things. There's the breadsticks that people have basically formed a cult around, the salad that you can top with parmesan and has an addicting dressing tossed throughout, the array of soups that will seriously satisfy you, and that's not even mentioning all the pasta and appetizer options, too. But what about the dessert at Olive Garden? Well, the chain definitely has a good amount of options, but are any of them worth it?
Well, there's one that's certainly is, which makes sense as it's a traditional Italian dessert. According to the Olive Garden website, the dessert is "A layer of creamy custard set atop espresso-soaked ladyfingers." Obviously, if you're a coffee lover, this dessert will be perfect for you, but even if you aren't the biggest fan of coffee, the Olive Garden tiramisu is still something you might want to try out, as it's a very traditional dessert.
5. BJ's Pizookie
BJ's Brewhouse obviously has a large menu, but the one thing they're most well-known for is actually a dessert, and not just any dessert. BJ's Brewhouse actually invented this dessert — or at least the clever name — so you shouldn't ignore it when you head there. The Pizookie, a pizza-cookie, comes in many different flavors, all of which are sure to entice you. So, next time you head to BJ's Brewhouse, don't fill up too much on the pizza, burgers, pastas, and appetizers, because you'll definitely want to save room for dessert.
The pizookie is basically exactly what it sounds like, a fresh-baked, warm cookie served in a deep dish pizza skillet and topped with ice cream as well as some other toppings depending on the flavor of the cookie and what best compliments it. The flavors of the pizookies are pretty interesting, too. There's classic chocolate chip, cookies and cream, strawberry shortcake, and seasonal flavors like a cinnamon apple for fall. So, definitely try a BJ's Pizookie at least once, although you'll probably want to revisit this dessert once you've tasted them.
6. P.F. Chang's Fire & Ice
As delicious as P.F. Chang's is, you probably don't associate it with decadent desserts. P.F. Chang's is more well-known for its sushi, and other Asian-inspired offerings like pad Thai, orange chicken, and so many more, all of which are seriously tasty. But their Fire & ice dessert is on a whole other level. It's not the kind of dessert you would expect to find just much anywhere, let alone at a chain restaurant.
But the dessert is seriously worth trying out. It features moist and delicious bread pudding and cool vanilla ice cream, covered in a chocolate shell coating, and then, to make it even better, the dessert is then covered in rum and set on fire when it's served. Yeah, it's kind of a big deal. Bread pudding in and of itself is seriously delicious, but add ice cream, chocolate, and literal flames and it becomes one of the best desserts you'll ever have.
7. Red Lobster's Key Lime Pie
If there's one thing people know and love about Red Lobster, it's the free bread that comes to your table before your meal. The Cheddar Bay Biscuits are moist, cheesy, flavorful, flaky, and just about perfect. And that's not even all, because all the shrimp, lobster, and fish on the menu are enough to keep you full for hours and hours. But next time you head to Red Lobster, try not to fill up too much on those free biscuits, because even though the rest of the Red Lobster menu is tempting, there's one dessert you definitely shouldn't skip.
Yes, the Key lime pie at Red Lobster is pretty spectacular, and though it's a simple dessert, it's also incredibly tasty and after a heavy meal at the seafood chain, it's the perfect finishing touch. Like any Key lime pie, the one at Red Lobster features a delicious, crumbly graham cracker crust, a creamy lime filling, and is topped with a sweet and tart raspberry glaze. Again, this dessert is not to be missed.
8. Outback Steakhouse's Salted Caramel Cookie Skillet
Obviously, Outback Steakhouse is known for its steak, as well as a certain appetizer that people can't get enough of — the Bloomin' Onion. Outback Steakhouse also features a ton of delicious entrees and side dishes, as well as drinks that are sure to fill you up. However, that doesn't mean you shouldn't save room for dessert, because there's one sweet option at Outback that you should definitely try, even if you have to split it with a friend. Yes, it's that good.
The Salted Caramel Cookie Skillet might sound relatively simple, almost like a Pizookie from BJ's Brewhouse. But the dessert is a lot more complex than you imagine. The cookie isn't just a plain cookie. According to the Outback website, it's "A warm salted caramel cookie with pieces of white chocolate, almond toffee and pretzels," all that is served in a skillet and then topped with vanilla ice cream. In short, it's totally over the top and completely delicious.
9. Applebee's Sizzilin' Caramel Apple Blondie
But whether you think Applebee's is "Fancy Like" or not, there's no denying the fact that the chain restaurant has some pretty tasty offerings. From their appetizers like nachos, quesadillas, a pretzel with cheese, wings, and all the fried good, to their entrees like burgers, steaks, ribs, and chicken, there's plenty on the Applebee's menu to choose from. However, the dessert menu is often overlooked.
And while several of the items on the restaurant's dessert menu don't seem all that exciting, and you can definitely skip a few, there's one item that deserves your full attention. The Sizzlin' Caramel Apple Blondie is seriously intense. Cinnamon apples cooked in butter, underneath a butter pecan blondie, and then topped with vanilla ice cream and caramel sauce. Yeah, if that doesn't sound like a near-perfect dessert then what does? Caramel and apple go together so well, but adding in a blondie with pecans in it just makes it ten times better!
10. The Cheesecake Factory's Peanut Butter Cup Fudge Ripple Cheesecake
There's no denying the fact tht going to the Cheesecake Factory is an experience, and one that you can't escape without getting seriously full. Obviously, the Cheesecake Factory is known for its cheesecake, but typically when you eat at the chain restaurant, you also get to indulge in some super tasty food like fried macaroni and cheese, avocado egg rolls, pasta, fried chicken, burgers, and more. The menu is a literal book, so there's obviously a ton to choose from, and there are two pages of cheesecake, too!
But there is one cheesecake that reigns supreme, and you should definitely try it out even if you aren't the world's biggest peanut butter fan. The Peanut Butter Cup Fudge Ripple Cheesecake is one that can't be ignored, and probably the best cheesecake on the menu, which is obviously saying something. According to the Cheesecake Factory's menu on the website, the dessert is a "​​Creamy Cheesecake Swirled with Caramel, Peanut Butter, Butterfinger® and Reese's Peanut Butter Cups." Yeah, definitely give this dessert a try!
11. Maggiano's Warm Apple Crostada
If you've ever eaten at a Maggiano's before, then you know the Italian chain restaurant, is a little more upscale than your typical chain restaurant. Basically, Maggiano's is no Olive Garden, and while their entire menu is full of delicious offerings and both traditional and non-traditional Italian foods, there's one thing on the dessert menu you should try at least once. So, don't fill up too much on pasta and bread because this Maggiano's dessert will sweep you off your feet.
Maggiano's Warm Apple Crostada is your standard, traditional crostada, filled with sweet, cinnamon apples wrapped in a flakey, buttery crust, and then it's topped with vanilla bean ice cream and served over a delicious caramel sauce. As if that doesn't sound enticing enough, people really love this dessert, and reviews all agree that it's the best sweet treat on the menu at Maggiano's. So, if you are ever at a Maggiano's, this take on an apple dumpling is where it's at.
12. Cheddar's Legendary Monster Cookie
If you've never eaten at Cheddar's, then you might be surprised to know that the chain restaurant is pretty popular among people who've eaten there. The warm croissants served before your meal definitely make the restaurant beloved, as do the large variety of menu options ranging from chicken fried steak to pasta, salad, and more. But their Legendary Monster Cookie might just be the best thing on the menu, believe it or not.
As the Cheddar's menu describes it online, the dessert is a "Scratch-made chocolate chip cookie, baked to order, with vanilla bean ice cream, homemade hot fudge, whipped cream, chopped nuts and a cherry on top." There's a reason it's called "legendary" because the cookie is seriously one to remember. As if a warm, freshly-baked cookie wasn't good enough, the fact that it's topped with homemade fudge sauce makes it even better. Yes, a warm cookie topped with ice cream and fudge? It doesn't get much better than that.
13. Carrabba's Chocolate Dream
If there's one thing you can expect to get at Carrabba's, it's a delicious order of pasta, a super yummy bread or appetizer, some great steak or seafood, and maybe even a yummy cocktail. But Carrabba's also offers a pretty decadent dessert that any chocolate-lover will seriously go crazy for. The Sogno Di Cioccolata, aka the "Chocolate Dream" at Carrabba's might seem like a relatively simple dessert, but it's sure to impress you, even if you aren't a huge chocolate fan.
The Carrabba's website describes the dessert as a "rich fudge brownie with chocolate mousse, fresh whipped cream and homemade chocolate sauce." Basically, it's a loaded brownie, but the real kicker is the chocolate mousse. Chocolate mousse is definitely one of the better chocolate desserts out there, so combining it with a brownie can only make it better. This dessert truly is a chocolate dream and something that you should try the next time you're at a Carrabba's or just when you get a serious chocolate craving.
14. Logan's Roadhouse's Big Ole Cheesecake
Like most chain restaurant steakhouses, Logan's Roadhouse has an expansive menu, and the focus definitely tends to be on the steaks and other entrees. Still, if you ever find yourself at a Logan's Roadhouse, then save room for dessert, because there's one item on their dessert menu that might shock you it's so good, and deceivingly simple.
Not only is the Big Ole Cheesecake a signature item at Logan's Roadhouse, but it's seriously delicious and pretty popular, too. The website describes the dessert as "A towering slice of classic, velvety New York-style cheesecake on a graham cracker crumb crust served with fresh strawberries and whipped cream." Sure, that might sound simple, but any cheesecake fan knows that there's a significant difference between good cheesecake and great cheesecake. And perhaps surprisingly, the cheesecake at Logan's Roadhouse is a pretty great cheesecake. A simple, yet decadent cheesecake is one of the best desserts out there, that's for sure.