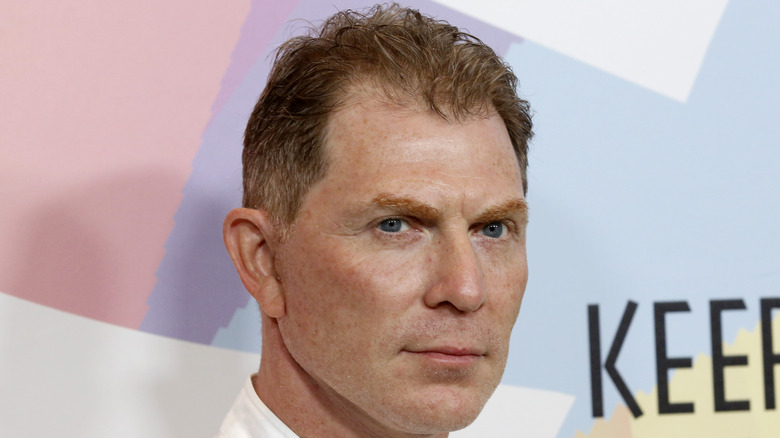 When the news broke that celebrity chef Bobby Flay would be leaving the Food Network after 27 years, per Variety, it came as real a shock. Or did it really? Sure, the dashing chef was one of the channel's most recognizable stars, having appeared in countless series and specials including "Iron Chef" and his own show, "Beat Bobby Flay." But his long-running tenure had not been without hurt feelings, awkward moments, and some serious controversy. Over the years, everything from his diva-like on-camera behavior to his tricky offset relationships with his colleagues seemed to rock his relationship with the Food Network while making plenty of salacious headlines.
Before quitting, Flay had also openly complained about his job to various news outlets, says the Lost Angeles Times. He'd sounded off about how the grueling filming and cooking schedule that was part of his career took a serious toll on his physical and mental health. Discussing "Iron Chef" at the 2018 South Beach Wine & Food Festival, Flay had this to say: "When I do a season, I do between 6 and 8 [battles] in a week and it crushes me because it's 60 minutes of pure energy, creativity and execution."
So whether his upcoming departure is due to exhaustion or a dispute over money, we still don't know for sure. But, in the spirit of getting closer to Flay's complicated relationship with his television career, let's take a look back at some of the biggest Food Network scandals of Bobby Flay.
He split with the Food Network over $100 million dollars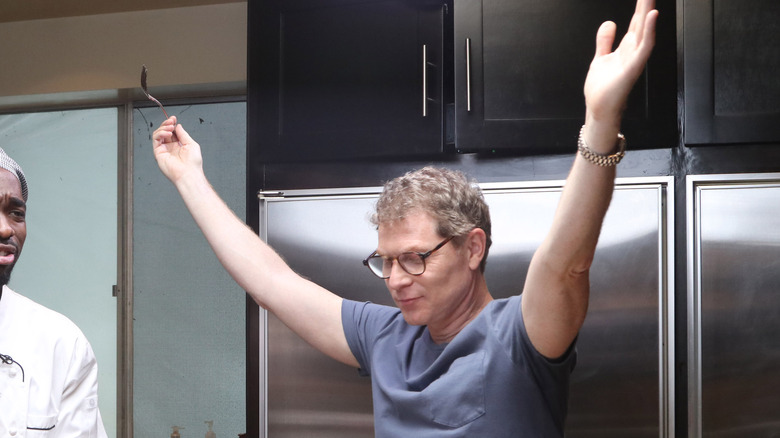 Bobby Flay leaving the Food Network was an announcement that stunned the food and entertainment industries alike. Variety, which broke the story, reported that negotiations over Flay's contract, which had been set to expire at the end of 2021, had simply fallen apart. Neither side commented on the matter and no other details were given.
Days later, the situation was made at least a little clearer. According to People, Flay had demanded $100 million dollars to stay on at the network. Now, that may sound like an outrageous number to the average chef, but it's not all that much more, at least when compared to the recent contract that Flay's fellow Food Network star Guy Fieri secured. At $80 million, that contract currently makes Fieri the highest paid chef on cable television.
That ranking apparently didn't sit well with Flay, who wanted even more dough. At the end of the day, the two sides were just too far apart on the matter. Still, a source insisted the split indicates that it may not be as fiery as it sounds, telling People: "It became clear the two could not and would not be able to come to terms and so the network decided to move forward without him. Regardless, it was really much more amicable than you'd think. It was strictly business."
He quit Iron Chef in front of a live audience
Although it now appears official that Bobby Flay is, indeed, leaving the Food Network, he's bluffed about doing so before, once causing a major scandal by quitting on-air and then not following through (via Variety). During a 2017 taping of "Iron Chef Showdown," Flay ended the competition by dramatically ripping off his chef's coat to reveal a t-shirt that read, "This is my last Iron Chef battle ever." The entire studio audience and production staff were baffled. Was it a bizarre practical joke? A dramatic temper tantrum? If Flay was actually quitting, it was news to Food Network executives, who were reportedly shocked and horrified by the stunt.
Whatever his real motivation for the t-shirt incident, Flay quickly clarified that he wasn't serious, telling People he was simply having "a little fun." He admits his attempt at humor did not go over well. "In hindsight, it was probably not the best decision because it's just creating confusion," he added.
Not to mention, it ticked off his bosses. "The network was not thrilled," he later explained during a panel at the Food & Wine Festival (via Page Six). "I thought it would be good TV. They didn't think of it that way, and that's obviously their prerogative." He went on: "[Food Network] said to me, 'Why didn't you tell us?', and I was like 'I didn't tell anyone. That's the whole point, that it's a surprise!' "
The Food Network was forced to pay for an on-air joke gone wrong
In planning the dramatic t-shirt reveal, Flay apparently did everything he could to ensure the moment would, in fact, air in front of millions of viewers. According to Vanity Fair, worried producers rushed over to Flay as soon as the cameras stopped rolling, reminding him that because "Iron Chef Showdown" is a live show, they probably wouldn't be able to edit his controversial move out of the episode. "I know," Flay reportedly responded. "That's the point." Again, the Food Network did not comment, but sources confirmed Flay absolutely understood that the moment was meant to stick.
Naturally enough, the stunt caused a furor behind closed doors, with network executives scrambling to decide whether to let Flay's move air as he intended, or blur the t-shirt's message out, a post-production choice that came with a high price tag for the editing work necessary. "The entire thing is in flux right now," a source told Vanity Fair at the time. "Nothing has been decided or settled."
Weeks of speculation about Flay's employment status followed until Flay decided he was ready to speak. "Food Network has been part of my family for over 20 years and will absolutely continue to be," he stated via Page Six. "And though there is a talented bench of Iron Chefs to tap, if I were asked, I'd be excited to return to Kitchen Stadium, whenever my schedule allows."
Anthony Bourdain compared Flay's Food Network kitchen to a meth lab
The late chef, TV personality, and writer Anthony Bourdain made no secret of his skepticism about the talent of certain culinary celebrities, Bobby Flay being amongst them. " 'Beat Bobby Flay' actually sounds promising," Bourdain once remarked in a talk shared via Delaware Online, "until you realize it's about cooking." He also made light of what he perceived as Flay's move to sell out to the masses rather than keep his focus on haute cuisine, snarking that the Food Network is "sending this poor guy all over the country, to trailer parks and meth labs," per Observer.
Flay didn't dare to match Bourdain jab for jab, but the two never did seem to get past their differences. Still, when Bourdain died in 2018, Flay spoke of him respectfully. "We were not close friends at all," Flay told Willie Geist during an interview with TODAY. "Obviously, we knew each other a little bit. It's very sad. I was a huge fan of his shows."
His ex-wife sued him over her Food Network episodes
After nearly 10 years of marriage, Bobby Flay and actress Stephanie March underwent a notoriously ugly split that carried on for years. One of the many accusations March threw at Flay – which included infidelity, the stealing of her horse, and cutting off her credit cards — was failing to have the Food Network remove clips of his shows that she had appeared in. By not doing so, her attorneys claimed, Flay violated the terms of their divorce, which barred both Flay and March from profiting off each other's images.
The matter was presented to the Manhattan judge overseeing their case, who, by that point, was apparently fed up with the petty back and forth between the former couple and quickly dismissed the case. "These videos at issue are the flank steak crostini, flank steak guacamole and the grilled sweet potatoes?" judge Matthew Cooper asked, per the NY Daily News. "Sounds like the kind of case that should be in small claims court."
While Flay did prevail in that particular battle, there's little doubt that the Food Network didn't appreciate being dragged into their ongoing, headline-making public war, even if only tangentially.
There were rumors of an affair with Giada De Laurentiis
Bobby Flay and Giada De Laurentiis are obviously both Food Network colleagues and close friends, having appeared together on a number of series and specials including "Beat Bobby Flay," "Iron Chef," and "Bobby and Giada in Italy." While their on-air chemistry was undeniable, the years-long whispers of an off-air romance had also been growing rather loud by that time. At one point, there was even a rather unfiltered Reddit thread devoted to speculation that the two were more than platonic friends. "Absolutely," one commenter remarked. "Their sexual tension is earth-shattering." Many fans of the respective Food Network stars were, to put it mildly, here for it.
The only problem? Giada was still married at the time. Although she and her husband Todd Thomspon did eventually split in 2014, she apparently remained so bothered by the rumors that she had cheated on Thompson with Flay and former "TODAY" anchor Matt Lauer that she finally issued a denial. "My long-time friendships with my co-workers Matt Lauer and Bobby Flay are exactly that — long-time friendships," she said in a statement to Page Six.
Since then, Flay has gone on to romance Broadway actress Helene York, while People reports that De Laurentiis has been happily involved with talk show producer Shane Farley.
Some suspect his competition shows were rigged
A secret romance with De Laurentiis isn't the only thing about Bobby Flay's life and work that has been called into question over the years. Perhaps even more upsetting than some personal ups and downs is the fact that both critics and viewers alike have wondered if Bobby Flay is a cheat. Some allege that his competition shows were fixed in his favor.
TVOvermind pointed out that the judging panels on Flay's series were often suspiciously packed with his buddies in the food world, which may have accounted for his impressive winning streak on "Beat Bobby Flay." Redditors agreed that, in many cases, Flay's victories simply didn't add up. "Somehow," one commenter noted, "he always manages to make a better version of the contestant's signature dish that they have made a hundred times…in 30 minutes…with no advance notice?"
The outcome of "Food Network Star," another Flay vehicle co-starring good pal Giada De Laurentiis, also smelled fishy to some viewers. SheKnows guessed that Food Network likely had its own reasons for influencing the outcome, favoring popular contestants over the more controversial ones, then naming them winners. And while no hard evidence of fraud has ever emerged, the speculation wasn't exactly a good look for the Food Network or Flay. As one Reddit commenter put it: "I feel like I can't even trust the competition with the way it is presented."
He seriously offended a fellow Iron Chef
While Bobby Flay did share the screen with a number of pals over the years, he whipped up an all-new scandal by making a nemesis out of fellow chef and Food Network star Masaharu Morimoto while cameras were rolling. Morimoto, the former executive chef of the acclaimed New York restaurant Nobu, was facing off against Flay on a 2000 episode of "Iron Chef America" titled "New York Battle." During the course of the showdown, Flay's behavior turned a friendly competition into a headline-making embarrassment. Variety reported that before the judges had even reached their verdict, Flay had flippantly declared himself the winner.
Flay then jumped on top of his cutting board, horrifying Morimoto and everyone else. "Bobby Flay is not a chef," a stunned Morimoto declared, joining the ranks of people who apparently can't stand Flay. "In my country, the cutting board is sacred" (via OC Weekly). And, if that weren't enough, it seems that Flay's declaration of victory was pretty premature. Judges, once they actually got a taste of both chefs' dishes, declared Morimoto to be the winner.
"It was like I killed his mother," Flay later explained to the New York Times. "I had apparently disrespected [him]. That's the last thing I wanted." Even so, Flay still didn't seem to comprehend what all the fuss was about, shrugging off his unprofessional behavior. "It was no big deal. I do worse at a Knicks game."
He demanded more money than Guy Fieri
Another Food Network star, Guy Fieri, was apparently a thorn in Bobby Flay's side when it came to the recent negotiations over his new Food Network contract. Not only did Flay want $20 million more than Fieri's reported contract was worth, but he also had a list of demands that a source described as "gravely different than just cash" (via People). Whatever reasons made Flay feel that he deserved a higher salary and better perks than Fieri we still don't know, but it's clear that the Food Network didn't agree with him. Negotiations ceased, resulting in the news that Flay would no longer take part in the television shows that made him famous.
Fans have long suspected that Flay was no fan of Fieri, which does make sense given their vastly opposing styles. Flay plays up his image as a suave culinary ladies man and top restaurateur. Meanwhile, Fieri, with his shock of spiked dyed blonde hair, has made a career out of sampling deep-fried dishes dripping in sauce at hole-in-the-wall joints all over the country on his ever-popular "Diners, Drive-Ins and Dives." Redditors believe that evidence of their icy relationship abounds, with quite a few coming out on Fieri's more down to earth side. "That's a shame," one commenter noted. "Guy is genuinely a super nice guy. Bobby Flay comes off as a bit more pretentious and my dude, Guy Fieri, is a man of the people."
He blew Food Network off to hang with Scarlett Johansson
Getting spotted with a beautiful actress isn't new for Bobby Flay, but it put his employers in a very awkward position when he was notably absent from a major company gathering. That's embarassing enough, but it was made even more so when Flay popped up around the same time with a Hollywood movie star. Flay curiously skipped Food Network's "Iron Chef Showdown" at the 2017 New York City Wine & Food Festival, an event he'd normally be expected to attend. However, Vanity Fair notes that he did make time to have dinner with Scarlet Johansson the same weekend and in the very same city. While Johannson's rep went on the record to make it clear that the actress and Flay were just friends, it was nonetheless a relationship that Flay seemed to prioritize over his one with Food Network.
Johansson's not the only famous blonde Flay's been caught with in an embarrassing scenario. Eyebrows were raised when he arrived on the scene to help January Jones after the "Mad Men" actress crashed her car in 2010. Flay insisted the two were merely acquaintances who had met only hours earlier, but Flay's ex-wife Stephanie March felt differently. She went so far as to name Jones as one of several women Flay had cheated on her with during the course of their marriage. He denied it, but rumors persisted, with Flay widely speculated as one of the possible fathers of Jones' child.