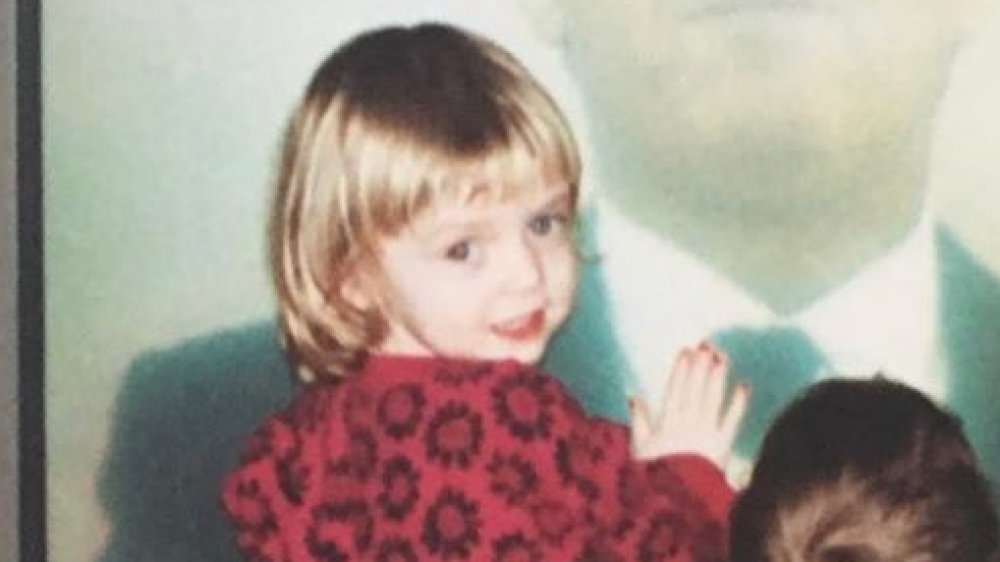 Jack Nicholson's daughter likely knows all too well that being the child of a famous actor isn't easy, from being bombarded with paparazzi from a young age to always being asked about her dad in any interview she gives. And when your father is as highly-respected and well-known as Lorraine Nicholson's father is, then the spotlight on you is even harsher.
However, Lorraine has made a name for herself as an actress, writer, and director outside of her father's shadow. And while she definitely has to answer a ton of questions about being the daughter of the legendary Jack Nicholson, she always handles it with grace.
So what exactly has she been up to since she was a kid? From having bit roles in blockbuster films to having her own movies screened at international film festivals, Lorraine Nicholson has been busy in the film and entertainment world — and she shows no signs of stopping!
Jack Nicholson's daughter Lorraine is just one of his six children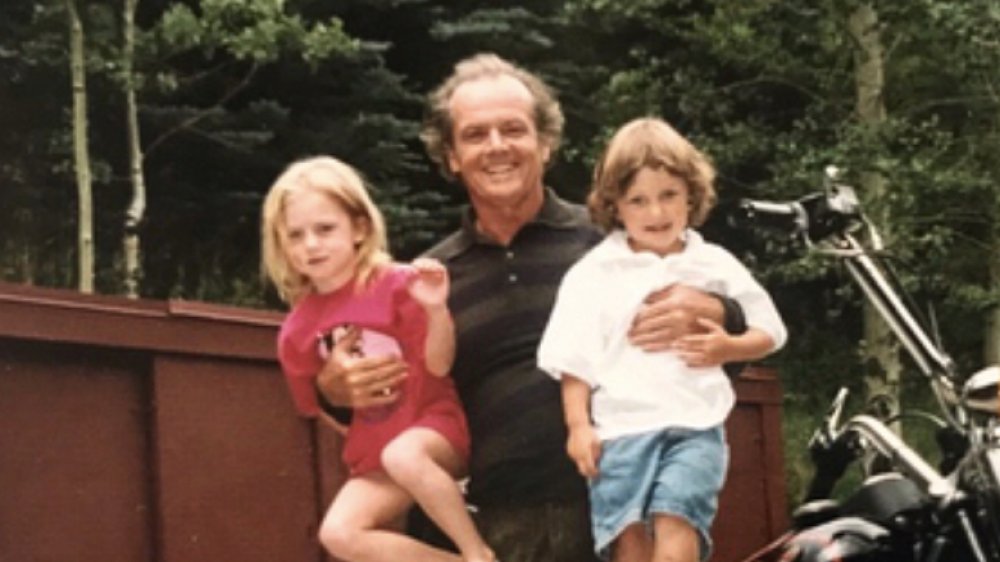 According to her IMDb page, Jack Nicholson's daughter Lorraine Nicholson was born in Los Angeles, California on April 16, 1990, to the famous Hollywood star and actress Rebecca Broussard. Lorraine is one of Jack's six children, and she has four half-siblings: Jennifer Nicholson, Honey Hollman, Caleb Goddard, and Tessa Gourin. Ray Nicholson, Lorraine's only full sibling, has, like his sister, dipped his toes in the film industry, and has worked as an actor, assistant director, and producer (via IMDb).
It's pretty clear that Lorraine has a soft spot for her family, especially for brother Ray and nephew Duke Nicholson. She's constantly sharing throwback photos of her and her brother on social media. Duke is actually also an in-demand actor now, according to The Hollywood Reporter — he had a part in Jordan Peele's "Us" and was featured on the cover of Lana Del Rey's album "Norman F***ing Rockwell." Looks like show business runs in the family!
Despite her parents' rough relationship, Lorraine always had her dad around
Jack Nicholson and Rebecca Broussard had a famously rocky relationship. In a 1994 interview with Vanity Fair, Jack opened up about how their relationship caused "The Addams Family" star Anjelica Huston, his previous partner of 17 years, to finally separate from him. The "Hoffa" star also addressed the rumor that Broussard left him for another actor. "I don't know about him and I never asked," he said. "You shouldn't ask me."
According to the story, Nicholson and Broussard had always kept separate houses, a result of his "war on fidelity." And because the former couple share two children, Ray and Lorraine, the two still had to see each other post-breakup. "We have a relationship," he said, "because of the children, but we have no other relationship."
However, even though Jack Nicholson and Rebecca Broussard weren't together, it still seems that he was a present and involved father. He read to them as children, he took them to work with him, and he even took Lorraine to tour colleges when she was a teenager. "I took them to things I knew they might not love — opera, ballet," he told People. Sounds like Jack Nicholson's daughter enjoyed a happy childhood.
Jack Nicholson's daughter landed her first acting role in a major film
Some actors wait years before landing a part in a movie, but not Jack Nicholson's daughter. Young Lorraine Nicholson had a bit part in the 2003 film "Something's Gotta Give" alongside her father (via IMDb). Her part was super minor — she's credited only as "Young Girl in Market."
"I was actually more of an extra," she told Zimbio in 2011. "I was on the 'Tonight Show' last night and they made this joke: They found the one frame that I'm in where I whizzed across the screen for like a nanosecond." However, she went on to tell the outlet that it was still a really cool experience, and working with her father, even for a short scene, was "incredible."
"I watched him work my entire life," she continued. "And that's obviously a lot of the reason why I wanted to go into acting — just seeing his artistic process and watching him on set, and what you're capable of creating as an actor has really inspired me."
She had bit parts in these movies
Before hitting her stride, Lorraine Nicholson landed bit parts in the 2006 film "Click" and the 2009 movie "World's Greatest Dad."
"Click" followed the story of hardworking architect Michael Newman (played by Adam Sandler) who finds a universal remote that allows him to control time. However, the remote ends up actually ruining his and his family's lives. Lorraine Nicholson played the 14-year-old Samantha Newman, the moody teenage version of Sandler's daughter in the movie.
"World's Greatest Dad," a smaller indie film which starred the late Robin Williams and Daryl Sabara, followed single father and high school English teacher Lance Clayton as he tries to play off his son's tragic death by accident as a suicide. In order to save his son and himself from embarrassment, he also publishes false suicide notes and prose that he actually penned himself, which catches the attention of the school's faculty and students. Lorraine Nicholson had a small part as one of the students at the school.
Jack Nicholson's daughter was Miss Golden Globe in 2007
In 2007, Jack Nicholson's daughter Lorraine Nicholson was named Miss Golden Globe, following her roles in "Something's Gotta Give," "Click," and "The Princess Diaries 2: Royal Engagement" – in which her character was named Princess Lorraine. The honor is traditionally awarded to the child of one of the film industry's most prominent actors, directors, and producers during the Golden Globes, according to the award ceremony's official website.
The tradition started in the 1950s, with Peggy Dow being recognized as the first Miss Golden Globe in 1951. Other famous second and third generation actors besides Lorraine who have been recognized include actress Melanie Griffith, Griffith's daughter Dakota Johnson, Demi Moore's daughter Rumer Willis, and "Big Little Lies" star Laura Dern.
The organization changed the name from Mr. or Miss Golden Globe to Golden Globe Ambassador in 2017 to "better reflect the role and express the inclusiveness" that the Hollywood Foreign Press Association aims for, according to their website.
She had a breakout role in Soul Surfer
Following small parts in acting projects, Lorraine Nicholson got her first big break in the 2011 film "Soul Surfer." The movie covered the true story of 13-year-old surfer Bethany Hamilton as she returns to the sport after losing her left arm in a shark attack. "Soul Surfer" also starred huge actors Dennis Quaid, AnnaSophia Robb, and Helen Hunt, along with country singer Carrie Underwood. Nicholson portrayed Alana Blanchard, fellow surfer and best friend to Robb's character, Bethany. In the movie, the pair's characters are inseparable best friends who grew up surfing together, even though Bethany's accident causes some strain in the relationship.
Nicholson told Zimbio that preparing for her role as Alana was aided by the fact that Alana was around when they were shooting. "We did get to spend some time together," she told the publication. "That was really important to me because I really wanted to try to capture who she was in playing her."
Lorraine had to train hard for her role in Soul Surfer
In order to act like a surfer, Lorraine Nicholson and AnnaSophia Robb had to train like surfers. The two actresses went out to Hawaii roughly a month before shooting began and trained together. "I was surfing every day and then training for two hours afterwards, so I was getting very buff and athletic," she told Access Hollywood. "It was a great change of pace from my usually quite lazy lifestyle."
Lorraine went on to say that, even though the movie is about a shark attack in Hawaii, she wasn't afraid of getting in the water. "I didn't really think about it to be honest. Bethany's attack was a case of mistaken identity. The shark was mentally ill, they found out later," she said.
However, even though she did train to surf in the film, she admitted that it wasn't always her viewers saw in the film — her character's surfing was actually done by the real-life person her character was based on. "Alana does my surfing in the movie and we look alike, so that's very lucky," Jack Nicholson's daughter told Zimbio. "It makes me look very good, even though, sadly for me, it's not me surfing in the movie."
Jack Nicholson's daughter went to a prestigious college
Lorraine Nicholson has brains and beauty! While filming "Soul Surfer" in Hawaii, Jack Nicholson's daughter was also attending Brown University, according to Zimbio. However, she was forced to take a semester sabbatical in order to participate in filming, as noted by Interview. While a student at Brown, Lorraine studied literary arts, focusing on a combination of creative writing and literary theory.
She graduated from Brown in 2012, according to her website. As a student, even before attending the university, she labeled herself as a bookworm who tended to shy away from typical California activities like going to the beach and surfing (via Interview), so it's easy to see how she could fit right in at the school.
So, was her famous father involved in her choice of schools? The answer is a resounding yes! Not only did he go with her to check out schools when his daughter was still deciding (via People), but he also sent her off with his blessing on her first day. "He dropped me off, and he was like, 'Go! Live your life. I'm very proud of you,'" Lorraine told Access Hollywood.
Lorraine Nicholson has showed off her stylish side
Jack Nicholson's daughter Lorraine Nicholson was not afraid of letting her fashion-savvy side show during the press tour for "Soul Surfer." During that time, she sat down with Seventeen to go through some of her favorite pieces from her closet. During the interview, she revealed that one of her friends dubbed her favorite pair of shoes "turtle shoes," although the reason wasn't clear why. "A few years ago, my roommate started calling these 'turtle' shoes. Not exactly sure why, but alas, it's now tradition!" she told the magazine.
She told Zimbio that her personal style is a mix of Grace Kelly, one of the most beautiful royals in history, and music icon Elvis. When asked to elaborate, she said that she enjoyed mixing classic silhouettes with more rock 'n roll pieces, but she did admit that what she wore heavily depended on her mood. She also noted that her "most treasured item" in her closet is a vintage Indian necklace that her father gave her. She described it as having pearls and green stones on it, and said that she wore it often.
Jack Nicholson's daughter started dipping her toes into directing in 2013
Lorraine Nicholson has confirmed she's interested in venturing into directing and creating her own projects. In 2013, she made her directorial debut with "The Instant Message," a "15-minute coming-of-age drama" that filmed in Reading, Pennsylvania. The short movie followed Rosie, a high school student dealing with feeling left out by her peers and preyed upon by her mother's boyfriend — and Lorraine's brother Ray played the part of the creepy boyfriend. Ray told Reading Eagle, "It's kind of a story about premature sexuality and young exposure to a lot of things like the Internet."
It was one of the first films Lorraine directed, and she told Reading Eagle that she would be entering it into national contests and film festivals. After "The Instant Message," Lorraine also started directing music videos for artists including Tommy Trash (via The Fader) and Metric (via Rolling Stone).
Life Boat cemented her status as a budding Hollywood director
After shooting a handful of music videos, Jack Nicholson's daughter really burst onto the directing scene with her 2017 short film "Life Boat." The film follows a group of troubled teens who are assembled by a guidance counselor to work out their issues in an unconventional way.
The film stars Elizabeth Gilpin, whose stories of attending a boarding school similar to the one in the movie actually sparked the inspiration for the script. "We had worked together on a short film and she read some of my previous writing, so she came to me [with] an idea for this particular story and I thought it was really interesting," Lorraine Nicholson told MoveableFest. "I didn't really know that much about this world, but … what I saw was a really Machiavellian picture of these abusive facilities, a lot of which by now are shut down."
The short film ended up winning an award at the Napa Valley Film Festival and was shown at the Tribeca Film Festival in 2017.
Lorraine said she's drawn to dark themes in her work
When asked about her responsibility as an artist when it came to choosing subject matter, Lorraine Nicholson said that she's surprised herself with her decision to take on dark stories like "Life Boat," which dealt with suicide and systemic abuse. "In real life, I self-identify as a people pleaser," she told Flaunt, "so I am always surprised to find that I gravitate towards divisive material. Ultimately, my goal is to make films that leave the audience questioning their own preconceived notions. This can be uncomfortable for some."
Following "Life Boat," Lorraine dug deep into themes of violence and consequences with 2018's "On Killer Robots," a short that follows a community as they wrestle with the idea of robotic technology being involved in the confrontation and apprehension of police suspects. The movie starred several small actors, but also featured "Hannah Montana" alum Moises Arias.
In 2017, Jack Nicholson's daughter was accepted into the AFI Directing Lab for Women
Lorraine Nicholson's hard work as a director paid off! In 2017, following the success of her short film "Life Boat," it was announced that Jack Nicholson's daughter was chosen for the 2017-2018 class of the American Film Institute (AFI) Conservatory DIrecting Workshop for Women to be overseen by filmmaker Paul Feig, as reported by Deadline. Her class also featured directors Beth de Araújo, Georgia Fu, Milena Govich, Tiffany Johnson, Katrelle Kindred, Nancy Mejía, and Gandja Monteiro.
The workshop, which acts as a fellowship and a training program for up-and-coming female and gender non-binary filmmakers, started in 1974 as a way to bring more women into directing roles in Hollywood, according to the organization's official website. During her time in the workshop, Lorraine participated in this free program and took classes in screen directing, professional industry development, and more while also being mentored by Feig, who's directed projects like "Freaks and Geeks," "The Office," "Bridesmaids," and "Last Christmas." It's an incredibly exclusive program, so it's definitely amazing that Lorraine got to participate!
Lorraine Nicholson cites her father as a mentor
Luckily for director Lorraine Nicholson, having a father like Jack Nicholson around means having someone who understands the ins and outs of the entertainment industry completely on your side. It seems that Jack Nicholson has had a huge influence on his daughter's life, acting as an inspiration to her and offering general life advice. "My dad told me, 'The only goal you should have when you start out is to get people to want to work with you again,'" she told Town & Country about the best career advice her father gave her. "Because if you get the opportunities to try, you'll get better."
Jack made sure he encouraged his children to be sure about what they want to do before pursuing fame. "My dad has always told my brother and [me] we should never try to be famous for no reason," Jack Nicholson's daughter told Zimbio. "It's not something I shy away from, but I hope people are more interested in my work as an actress or writer than who I'm dating or my social life."