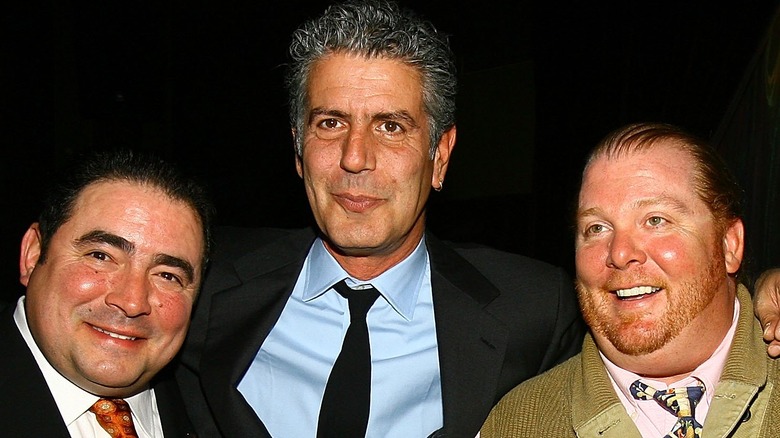 While certain Food Network shows may not air anymore, that doesn't mean they're gone for good. They may have been placed on the back burner, flat out canceled, or moved to the network's sister programming Cooking Channel or Discovery+. Whatever the case — transitions to other networks, poor ratings, divorce, scandal — we wanted to know the real reason these food network shows were canceled.
When Food Network debuted in 1993, many were skeptical a 24-hour cooking network would even work. But beginning with shows like "Taste," with chef and author David Rosengarten, and "In Food Today," with Donna Hanover — journalist, actress, and TV and radio host-producer — the network rose from fledgling wait-and-see to reaching almost 100 million U.S. households today.
During a slump around 2004, network president Brooke Johnson was hired to get to the bottom of the issues. Incoming competition from reality and on-the-road style shows from Travel Channel and TLC wasn't helping. And after data from an independent study determined that viewers were growing bored, Food Network was forced to rethink programming and rebrand its image. Thus began its shift from a standard teaching platform to reality-style entertainment. What followed was the cancellation of some popular Food Network shows.
Emeril Live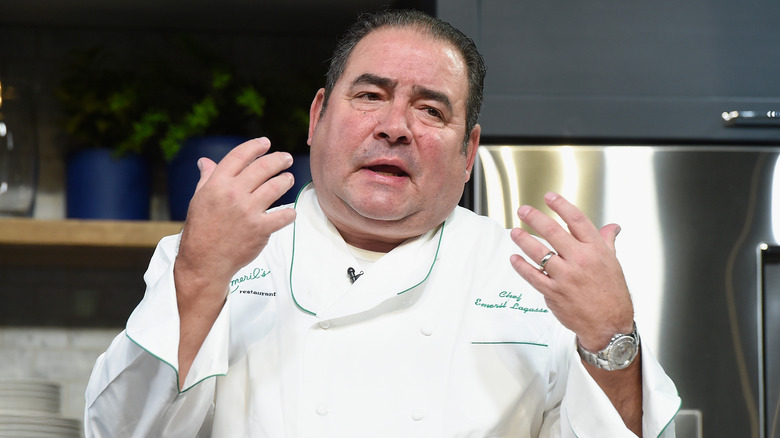 In 1993, Massachusetts-born, New Orleans-adopted Emeril Lagasse had already made a name for himself in the Crescent City. Food Network executives had definitely noticed his talent and flair and hired him as one of their original channel personalities. The chef and network struck gold with "Emeril Live." The cooking show wowed audiences with its enthusiastic energy, receiving a CableACE Award for "best informational show" in 1997, its first year. Featuring a live audience and band, the percussionist chef could often be seen swapping drumsticks for drumsticks during commercial breaks. BAM! fans were hooked.
But by 2004, ratings had fallen. When confronted by Brooke Johnson about his dip in viewership, Lagasse reacted (by Allen Salkin via NPR) with, "You're full of it." He thought things were going great. Johnson and head of marketing Susie Fogelson tried everything they could to keep their superstar chef on board, including enticing him to appear on "Iron Chef America." But Lagasse wasn't interested in the new style. He wanted to teach people how to cook. The cost was too high, and demand for fresher faces and reality TV-style programming won out.
As then Food Network executives Johnson and publicist Carrie Welch stated, "All good things come to an end." The decade-long "Emeril Live" filmed its last show in 2007. But Chef Lagasse wasn't the only one to feel the burn.
Molto Mario
Chef and restaurateur Mario Batali stepped onto the Food Network stage in 1996 as the dynamic orange Crocs-wearing chef of "Molto Mario". Chef Batali had an applause-worthy knack for balancing the creation of robust and innovative Italian dishes while regaling viewers and guest diners with a cultural and culinary tour of Italy. Batali would receive James Beard awards for best chef of New York City in 2002 and outstanding chef of the year in 2005.
Alas, in 2004, "Molto Mario" reached a plateau and ended up on the chopping block with other original Food Network veterans. After a move to PBS in 2008 took Batali from Italy to "Spain … On the Road Again," he told New York Magazine, "The Food Network … was tired of me and couldn't find a way to use my information."
But he wasn't gone just yet. Still a part of the Food Network family, he continued to appear regularly on "Iron Chef America." In 2018, Food Network had plans to reboot "Molto Mario" but nixed the idea in 2017 following accusations of sexual misconduct by former female employees of Batali. Although in 2019, no charges had been filed and the investigation was dropped.