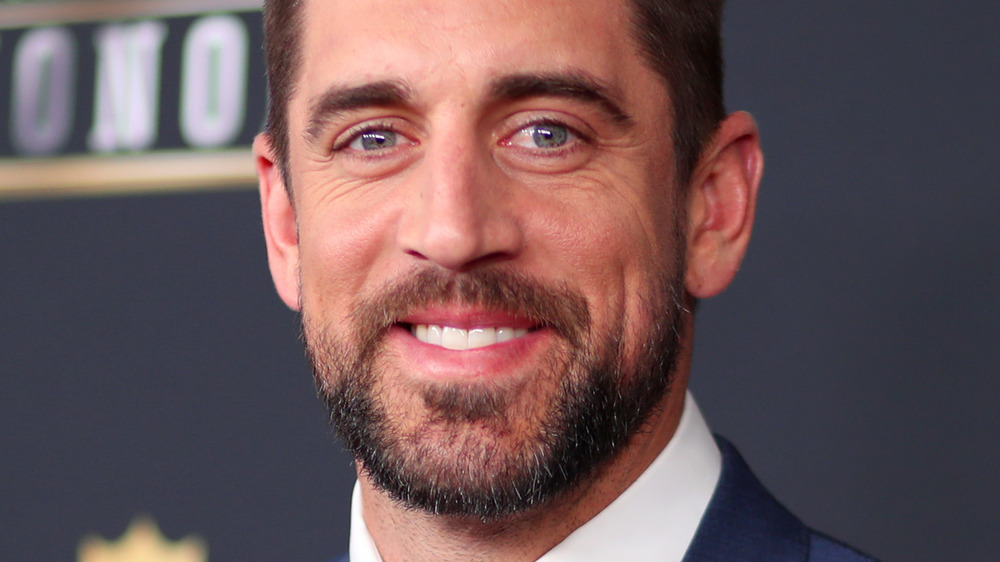 Football fans know who Green Bay Packers quarterback Aaron Rodgers is and what he's accomplished. For the layperson, Rodgers has enjoyed the kind of career that many athletes only dream of experiencing. Per Biography, he has "maintained his spot among football's top performers," which has included "put[ting] up elite numbers," winning the Super Bowl, and "earn[ing] MVP honors."
As if that wasn't impressive enough, the Packers also noted that along with holding multiple records and playing his way to various accomplishments, he "ranks No. 1 in NFL history (min. 1,500 attempts) in career passer rating (102.4), interception percentage (1.39) and TD/INT ratio (4.33, 364/84)." Even when things aren't looking good, Rodgers manages to come out on top. For instance, his team's website noted that "Rodgers and the Packers navigated an uncertain 2020 NFL season to turn in one of the most decorated quarterback seasons in league history."
If it's not already beyond obvious, Rodgers is the kind of player who becomes more than just another star of the sport. He's also someone who captures fans' attention and makes them want to know more about him. Let's take a quick time-out from the action and see if we can get a fair call on the untold truth of Aaron Rodgers.
Aaron Rodgers' ongoing family feud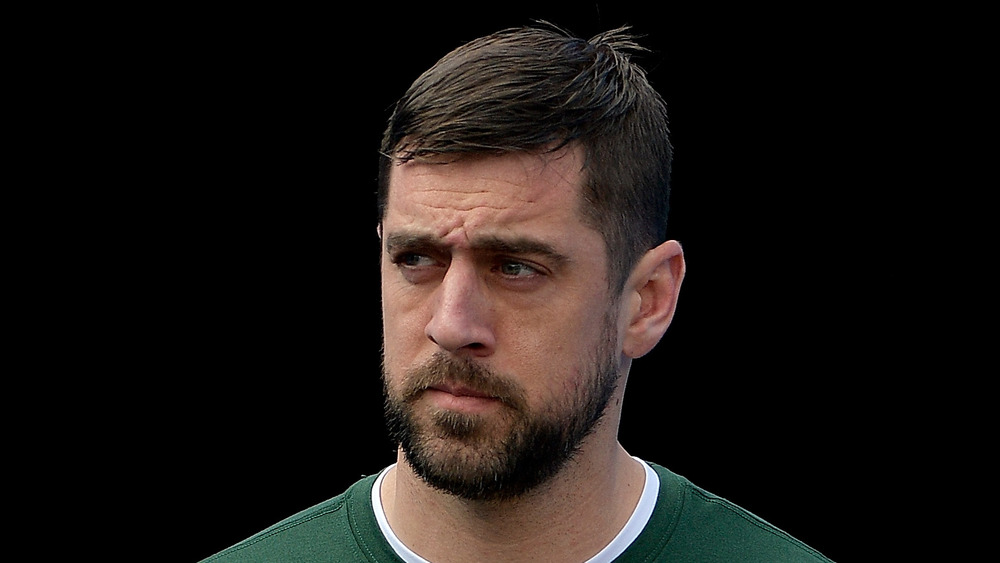 A feud with family is not uncommon, but not everyone's relative-related dirty laundry makes it onto television. That's what happened to Aaron Rodgers when his brother, Jordan Rodgers, appeared on ABC's popular and sometimes cringe-worthy show The Bachelorette. Jordan, a former quarterback, who, according to Sports Casting, "never made it into an NFL game," opened up the can of worms on Season 12 of the reality show. "While romancing the show's star, JoJo Fletcher, Jordan told her that she probably would not meet Aaron on a coming visit to Chico, [Calif.], because the quarterback had distanced himself from his kin," per The New York Times.
But what about the rest of the family? "Ed Rodgers confirmed that he hasn't been on speaking terms with his son following the NFL star's rise in popularity," according to People. The reason? "Fame can change things," the Rodgers patriarch told The New York Times.
As for Aaron, he tends to keep things private, however, another Rodgers family rift supposedly arose when he opened up on then-girlfriend Danica Patrick's podcast about finding a spiritual path that deviated from his religious upbringing. In response, a source told People that his family was "dismayed," saying, "The family is very dedicated to their Christian faith. To them, his comments are basically a slap in the face to the fundamentals of who they are. It's basically him turning his back on everything they have taught him."
Aaron Rodgers tends to date famous women
Star NFL quarterback Aaron Rodgers is also known to play the field with some high-profile women. According to Us Weekly, he was connected to "Gossip Girl alum" Jessica Szohr, with whom he had an on-again-off-again relationship in 2011 and 2014. He was also "briefly linked to" Sports Illustrated swimsuit model Kelly Rohrbach in 2017.
In between, from 2014 to 2017, Rodgers dated actor Olivia Munn, who is known for her roles in X-Men: Apocalypse, Six, and The Rook. However, an insider told Us Weekly that the pair broke up because "Olivia [didn't] get along with his family. They think she's controlling." On top of that, there were supposedly "issues [that had] been going on forever."
After Rodgers' break-up with Munn, retired NASCAR driver Danica Patrick confirmed a relationship with Rodgers in a 2018 interview with Associated Press. Rodgers and Patrick dated for two years, and while many thought they'd end up engaged, they split in July 2020. By February 2021, news broke that Rodgers was engaged to actor Shailene Woodley. He revealed the news, sort of, during his NFL MVP acceptance speech on CBS, thanking his "fiancee," without identifying Woodley. She later confirmed the news on an episode of The Tonight Show Starring Jimmy Fallon.
This quarterback's training involves potato chips
Aaron Rodgers trains hard, which is why Men's Journal pointed out that he is "one of the most skilled — and fittest — quarterbacks in the league." He apparently "keep[s] himself in shape with a rock-solid core workout … as well as weightlifting, squats, TRX moves, and yoga." However, when it comes to the kind of football-related training that pro players do to keep their skills sharp, it turns out that they are too easy for Rodgers.
Whole Body Fitness' Angelo Poli told Sports Illustrated that Rodgers needs to be challenged "like nobody [he's] ever worked with," which is why he took Rodgers' routine to the next level. "The trainer taped potato chips to the quarterback's heels, forcing him to remain on his toes during drills. He had Rodgers throw at a net affixed to a moving motorcycle in order to improve timing. He had him hurl footballs while running on a treadmill or perform footwork drills while tossing at a laser beam that Poli moved around. 'Most athletes have good coordination." Frankly, Poli noted, "Aaron can manage, calculate and strategize multiple things at once."
The routine changed the career plans of the star who once eyeballed hanging up his cleats "in his mid-30s." Instead, Rodgers feels that "nutrition and flexibility are things that will keep [him] playing at a high level into [his] 40s," which is something that fans are surely looking forward to.
Aaron Rodgers has a champion fitness regimen
When Aaron Rodgers wanted to improve his nutrition, he didn't just start eating a few more fruits and veggies. Instead, he "underwent testing for his metabolic profile, a breakdown of how he ate and ran and sat, and how all that impacted his performance," according to Sports Illustrated. He explained, "That was the first time I really thought about how nutrition affected my workouts. I knew it affected my energy and the way I looked in the mirror. But it also affects how you play." To get him on track, Angelo Poli from Whole Body Fitness "put together a nutrition plan: six meals a day, all lean proteins (chicken, fish) and slow-burning carbohydrates (brown rice, sweet potatoes) and quality fats (olive oil, avocados)." On top of that, "Rodgers started taking multivitamins. He stopped eating steaks and starches the night before games [and] tried to contain his sweet tooth."
ESPN also reported in 2016 that Rodgers ditched dairy from his diet and sticks with "more of a vegan diet with some red meat at times and some chicken." In 2021, Rodgers also revealed on The Pat McAfee Show that based on his blood type, he also eliminated gluten, noting that it "has really made a difference in … the way [his] joints … skin and body respond." He also claimed the diet fights inflammation and "bloat[ing]," and relieves him of feeling "kind of slow and foggy."
The NFL icon almost quit football
Aaron Rodgers may be a famous athlete, however, CNBC's Make It explained "there was once a time when the idea of Rodgers having any career in professional football — much less finding his place among the NFL's all-time great players — seemed like a far-fetched dream." That's why, "in 2002, Rodgers nearly quit football."
In high school in Chico, Calif., Rodgers had the skills needed to catch the eye of potential football scouts, but there was another issue. According to Make It, Rodgers, who stands at 6'2" and weighs 225 pounds, was "a late-bloomer, physically, who measured at just 5′10″ and 165 pounds — several inches and at least 20 pounds below most of the top quarterbacks who get recruited by major college football programs."
Rodgers ended up weighing possibilities other than football, including baseball. He revealed during an In Depth with Graham Bensinger interview that some MLB scouts even eyed him "after [his] spring baseball year, which went pretty well." But football was always Rodgers "first love." Make It reports that after he didn't get any interest from big schools, he cut his teeth on the Butte Community College football team before bulking up and impressing University of California, Berkeley head coach Jeff Tedford, who recruited him. Rodgers flourished as a Golden Bear, "throwing for over 5,400 yards in his two years at the school," which paved the way for him to become one of the NFL's "top recruits" in the 2005 draft.
Aaron Rodgers' Celebrity Jeopardy! appearance went viral for the wrong reason
Aaron Rodgers showed off some serious knowledge in 2015 when he appeared on Celebrity Jeopardy! "to raise money for Midwest Athletes Against Childhood Cancer," according to Entertainment Weekly. The QB earned the charity the $50,000 top prize, but that's not what had the internet abuzz. Apparently, "after the QB confused IBM and Apple on a Daily Double question about Steve Wozniak, it sounded like Rodgers said 'f**k.'"
Rodgers was obviously feeling pretty intense while competing against Shark Tank's Kevin O'Leary and United States Senator and former astronaut Mark Kelly, which is why the football star apparently showed no mercy. Kelly told Sports Illustrated that even in a practice round "Rodgers … needed to win." That makes sense since he admits that he is "obsessively competitive" and there are plenty of examples of his competitive behavior to prove it.
Fortunately for Rodgers, his supposed foul mouth didn't seem to get him into too much trouble with the producers and he was asked to return in 2021, but not to play. "They're doing some guest hosting spots … but I have the opportunity to be one of those," Rodgers said while chatting on The Pat McAfee Show. He also added why this is so special, saying, "One of my idols growing up was Alex Trebek." That would surely make the now-late Trebek proud.
Did you spot Aaron Rodgers on Game of Thrones?
In 2019, Aaron Rodgers took a brief break from football in order to flex his acting muscles. While he has popped up in State Farm commercials in the past, he also joined other notable celebrities, including singer Ed Sheeran, New York Mets pitcher Noah Syndergaard, and rock band Sigur Rós, when he "appeared in [an] episode of Game of Thrones, the second-to-last episode in the series," per Bleacher Report.
While the athlete-turned-actor "didn't have much screen time," he "appeared briefly as an archer for the Lannister army." Pat McFee shared an image that showed Rodgers in a line with other archers and extras, while the NFL U.K.'s Twitter account posted a pic and message about the episode, writing, "There was a special NFL cameo on this week's @GameOfThrones. We see you @AaronRodgers12."
The star himself opened up about the onscreen opportunity, saying, "It was just for a few seconds, but I'll always be thankful to have been on the penultimate episode of [Game of Thrones]." While that may not have been the biggest role, Rodgers hinted at a Hollywood future in a 2016 chat on The HawkCast, saying that he finds the role of producer "very interesting," and could see himself getting involved with "trying to make impactful films." Maybe he could convince his (maybe) fiancee, Shailene Woodley, to help him land a breakthrough role?
Aaron Rodgers' troubled partnership with the MLB's Ryan Braun
While a partnership between two sports stars seems like a recipe for success, things turned sour when Aaron Rodgers teamed up with the MLB's Ryan Braun. The Milwaukee-Wisconsin Journal Sentinel explained that Rodgers and Braun "lent their name to 8-Twelve," a restaurant "operated by SURG Restaurant group" that had "a licensing agreement" with the two athletes. Eater noted that "the '8' refers to Braun's Milwaukee Brewers' number, the 'twelve' to Green Bay Packers quarterback Aaron Rodgers."
However, the foray into food service left a bad taste in Rodgers' mouth when Braun got in trouble for taking performance-enhancing drugs, aka PEDs. According to CBS Sports, "Rodgers initially defended Braun and then later offered to bet his entire yearly salary that Braun was innocent of any wrongdoing." When the truth came out, Rodgers said (via the Milwaukee Wisconsin Journal Sentinel), "I was shocked, I really was, just like many of you were. I was backing up a friend. He looked me in the eye on multiple occasions and repeatedly denied these allegations and said they were not true." He continued, "It doesn't feel great being lied to like that and I'm disappointed in the way it all went down. … I trusted him. That's the thing that probably hurts the most."
Eater reported that the restaurant's name was later changed to Hom (pronounced Home) Wood Fired Grill and "claimed that Rodgers remained a partner in the project," however, he was no longer on the website.
This NFL player is an owner of an NBA team
Aaron Rodgers' Milwaukee restaurant with Ryan Braun may not have worked out, but that isn't the only endeavor he's gotten involved with when it comes to the city. In April 2018, he bought a "minority stake" in the NBA's Milwaukee Bucks, making him "a limited partner in the Bucks' ownership group," according to ESPN. The outlet also noted that "[a]t least two NBA players — one of them retired — have ownership stakes in pro sports teams in other leagues, but Rodgers is the first active NFL player to own a piece of a major sports franchise in the market in which he plays."
In a statement released by the Milwaukee Bucks (via the NFL), Rodgers explained the reason behind his investment in the Bucks, saying, "I have proudly called Wisconsin my home for the past 13 years, and I am thankful for the friendships and the opportunities I have been given to live and play here." He added, "As a huge fan of the NBA and the sport of basketball, this is a dream come true for me, and I look forward to furthering my affinity for Wisconsin sports as a minority owner in a team I love and support."
You're probably wondering how much the investment set him back, right? According to Sports Casting, "While numbers have never officially been revealed, at the initial valuation amount of $550 million and Rodgers reported one percent stake, he invested around $5.5 million."
Aaron Rodgers lives large
Aaron Rodgers has some pretty fabulous homes. "In November 2019, … Rodgers and [his girlfriend at the time] Danica Patrick plopped down a whopping $28 MILLION for a new home in Malibu," according to Velvet Ropes. At 3,592 square feet, the three-bedroom, three-bathroom house (above) "is Italian inspired but also uber-modern with a [priceless] view of the Pacific Ocean." On top of that, there's also a pool, a spa, and "a generously sized guest house" for any famous overnight guests.
While it's unclear who lives in the Malibu house now, since Rodgers and Patrick split in 2020, he apparently also has a home in Del Mar, Calif. "Reportedly valued at over $10 mill[ion], this 5,771 square foot offseason getaway back in his home state of California is loaded with perks." What does that mean? Well, along with four bedrooms and five bathrooms, Rodgers can enjoy his "swimming pool, and jacuzzi…, home theater, putting green, gym, batting cage, football field, basketball court, spa, salon, and a sauna." The home also boasts "Spanish tile, glamorously-high ceilings, and a picturesque fountain you can overlook from the indoor balconies on either side of it." To top things off, if you look up to the "wood-paneled vaulted ceiling," you'll see "a chandelier worthy of a royal."
If you're interested in becoming Rodgers' neighbor, you might not have to pay quite as much as he did. Patch reported in 2020 that the house next door went up for $6.9 million.
Playing football pays, uh, well for Aaron Rodgers
In January 2021, CBS Sports reported that Aaron Rodgers, "who [at the time, was] under contract through the 2023 season," had inked "a four-year, $134 million contract … in 2018 when he had two years remaining on his existing contract." Apparently, the "extension, which [was] worth up to $138 million through salary escalators and incentives, made Rodgers the league's highest-paid player at $33.5 million per year." If you're curious about the nitty-gritty, he was set up for "$98.2 million in guarantees, including a then-NFL record $57.5 million signing bonus."
That same month, NBC Sports noted that Rodgers was "due to make $22.35 million in 2021, $25.5 million in 2022, and $25.5 million in 2023." NBC 26 Green Bay also revealed a few numbers related to what Rodgers brings in, noting that he "makes about $146K for every minute he's on the field." All in all, he's built up an estimated fortune of $120 million.
Despite the money, Rodgers still feels like a "regular guy," according to USA Today. He explained, "I think some people forget sometimes I do have to go to the grocery store, I do enjoy going out to dinner, I have to get my oil changed from time to time." He added that he feels like "people kind of forget that normal part that we do a lot of the stuff that everybody else does but we all have our talents, and [his] is in football." True enough!