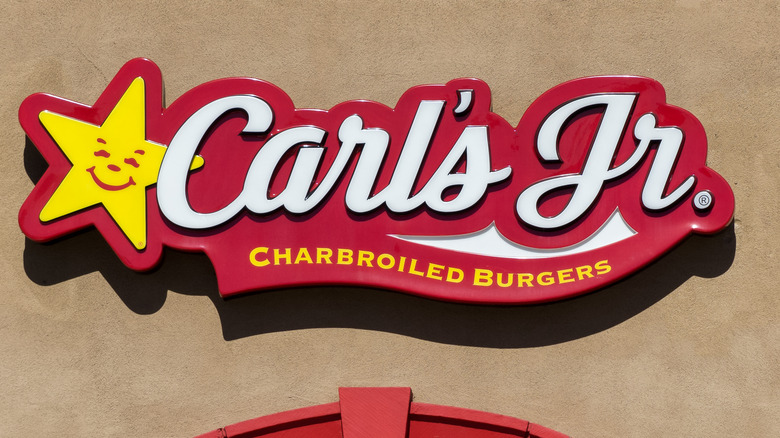 Since opening in Orange County, California, in the 1950s and aggressively expanding into the rest of the United States in the following decades, Carl's Jr. made an impact with a menu similar to but better than its burgers-and-fries counterparts. While McDonald's had small, simple burgers and Burger King had the flame-broiled medium-sized Whopper, Carl's Jr. has made a game out of making impossibly large burgers, one-of-a-kind food monsters consisting of a large beef patty and topped with at least three things, be it cheese, bacon, another portion of a different meat, onion rings, giant spicy peppers, and a heaping ladle of a creamy sauce. All that, not so much its line of progressive fast food options like chicken sandwiches and turkey burgers, is what gave the chain its edgy slogan "If it doesn't get all over the place, it doesn't belong in your face."
There are almost as many big yellow star-labeled Carl's Jr. outlets on freeway overpasses and street corners as there are other quick-serve places, and the company continues to grow, all the while adding on to its rollicking history. Here's everything there is to know about Carl's Jr.
Before Carl's Jr., there were hot dog stands and Carl's Drive-In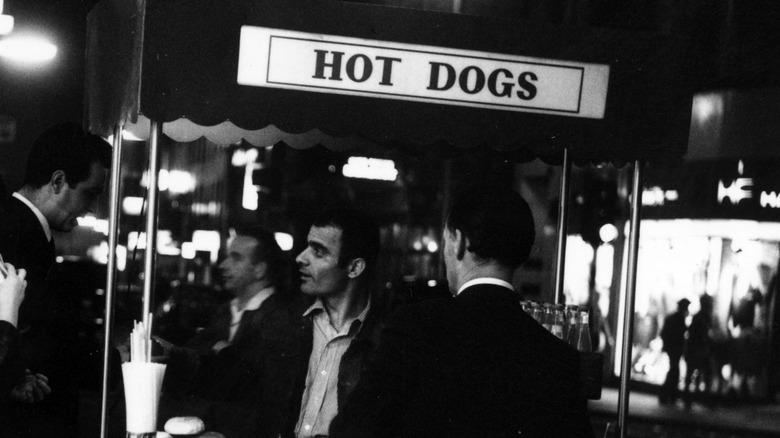 In 1941, per USA Today, Carl Karcher was working as a bread truck driver in Los Angeles, and he noticed that hot dog stands were opening around town. So, Karcher and his wife, Margaret, decided to get in on the burgeoning business of selling quick meals cheap and on the go, and bought their own hot dog stand. It cost them $326 — according to the OC Register, $15 came from the Karchers' savings, and $311 was raised by mortgaging their Plymouth Super Deluxe. They made about $15 in profit on day one at their stand on the corner of Central and Florence in Los Angeles with a simple menu of hot dogs, chili dogs, and tamales costing 10 cents each.
By 1945, after successfully opening four hot dog kiosks, the Karchers moved to Anaheim and debuted Carl's Drive-In Barbecue, a full-on, sit-down restaurant with an expanded menu that featured the fast-food item of the future: hamburgers, charbroiled over flames. In 1956, by which time Southern California was home to numerous quick-serve burger joints, Karcher opened two restaurants he called Carl's Jr., because they were a shrunk down, simplified version of the charbroiled hamburger restaurant, just served much faster. By 1960, four Carl's Jr. restaurants had opened in Southern California. In 1975, when the company expanded geographically for the first time, into Northern California, the chain numbered more than 100 locations.
Carl's Jr. is responsible for many fast food firsts
While Carl's Jr. wasn't one of the first national hamburger chains — it wouldn't expand out of California until the late 1970s, more than 20 years after its creation — it is responsible for introducing some fast food menu items that would become almost universal and others that remain on the cutting-edge or experimental side.
In 1977, Carl's Jr. installed serve-yourself salad bars in all 200 of its California outlets, the first fast food chain to attempt that (predating Wendy's and Burger King's veggie stations) and helping to kick off the salad bar fad of the 1980s. According to BusinessWire, Carl's Jr. was the first national brand to sell turkey burgers in 2011, and in 2015, originated all-natural, antibiotic-free turkey burgers, charbroiled in the signature Carl's Jr. style. That arrived a year after the All-Natural Burger, the first beef burger produced free of steroids, antibiotics, and hormones on a national fast food restaurant's menu, according to Grub Street. Carl's Jr. was on the forefront of ditching meat altogether in 2019, adding Beyond Meat patties to its selections.
Carl's Jr. has a crowded product graveyard
Even though Carl's Jr. has consistently successfully expanded its menu beyond burgers and fries, not every new item has found an audience. The restaurant's history is littered with bizarre products that came and went, or never even got past the test-marketing phase. A mahi-mahi sandwich didn't catch on in 1992, and in 2010, 100 locations in California and Indiana tried out a foot-long cheeseburger, which included all the fixings of a traditional burger but served on a baguette. Another item that stretched the definition of hamburger was the 2012 dessert called the "Brrrger," an ice cream sandwich with cookies for buns, chocolate ice cream resembling beef, and red and yellow icings to look like ketchup and mustard. A single Carl's Jr. in Denver sold the possibly illegal "Rocky Mountain High: CheeseBurger Delight" for just one day in 2019. That day happened to be April 20, or 4/20, the marijuana-smoking "holiday," and the burger came with a Santa Fe Sauce that contained hemp-derived CBD oil.
Carl's Jr. led to two failed spinoff chains
By the mid-1970s, Carl's Jr. had 100 locations in Southern California, also home to growing Mexican-style taco chains including Taco Bell, Naugles, and Pup 'n' Taco. And so, in addition to expanding Carl's Jr. in the 1970s, company chief Carl Karcher moved into the burgeoning Mexican fast food sector, opening a string of restaurants called Taco de Carlos. "Carlos" was a reference to the "Carl" of "Carl's Jr.," and if patrons needed more clues that the chains were related, many Taco de Carlos outlets were situated next door to Carl's Jr. restaurants, and the company logo was the Carl's Jr. star wearing a sombrero and holding a taco. Their signature item: the "California burrito," which was actually a chimichanga, consisting of taco meat, a cheese blend, and green chilis encased in a flour tortilla and deep fried. Taco de Carlos didn't catch on — it couldn't compete with the many more popular and authentic Mexican food options in Southern California — and Karcher sold off all 17 branches in the early 1980s.
But that was a success relative to Karcher's other restaurant concepts. According to "Fast Food Nation," from 1966 to 1969 he opened (and closed) three Carl's Whistle Stops, where servers dressed as railroad workers served "Hobo Burgers" and sent their orders to the kitchen on model trains. And then there was Scot's, a string of diners with a Scottish theme, meaning the female servers wore plaid skirts.
Red and white wines both pair well with Carl's Jr.
Fast food hamburgers and chicken sandwiches aren't generally thought of as the kind of food that's formal or nuanced enough to serve with wine, but the growth of the American vino industry has shown that a quality glass can taste reasonably well with red meat or white meat — even if that beef or poultry is served between bun halves and slathered in mayonnaise.
According to QSR Magazine, in 2006 Carl's Jr. teamed up with the Palms Casino Resort, a luxurious Las Vegas-adjacent destination hotel and entertainment complex, to offer "The $6,000 Combo Meal." Available for a time on the Palms' room service menu, the deal really did cost $6,000 but it wasn't just one meal. Seven options were available, with each including a Carl's Jr. sandwich in addition to a recommended bottle of wine, as selected by Steve Wallace and Christian Navarro of Wally's Wine & Spirits of Los Angeles.
For example, Moet & Chandon White Star Champagne apparently went very well with the Jalapeño Six Dollar Burger, a Newton Red Label Chardonnay tasted great after a bite of the Charbroiled Chicken Club, and a Greenpoint Cabernet/Shiraz made for the perfect pairing with the Philly Cheesesteak Six Dollar Burger.
Dennis Rodman isn't welcome at Carl's Jr.
Dennis Rodman was one of the NBA's biggest stars in the 1990s, and also one of its most controversial. In January 1997, per the Washington Post, Rodman earned his third suspension in 11 months. He was banned from 11 games and stood to lose $1 million after kicking a TV cameraman working court-side at a game in Minneapolis. A few days later, it put his sponsorship deal with Carl's Jr. — he starred in ads for the burger chain — in jeopardy. "I'm not sure if it's permanent or temporary, but we have pulled that commercial from our rotation," Carl's Jr. spokesperson Suzi Brown said (via the Los Angeles Times).
The ads returned to the airwaves, but less than six months later (per the L.A. Times), Carl's Jr. pulled the ads again. Rodman's Bulls were set to play the Utah Jazz in the NBA Finals that year, and before they began, Rodman made some public, profane comments about Utah's Mormon community. Those ads eventually resumed airing, only for Carl's Jr. to take them off the air for good in 1999. Rodman briefly played for the Los Angeles Lakers, but once they dumped him, L.A.-based Carl's Jr. did, too.
The political leanings of Carl's Jr.'s founder made headlines
While California has long been a Democratic-leaning state, it used to lean heavily Republican, according to SFGate, with Orange County in the southern part of the state a conservative stronghold. Carl's Jr. was founded there, and according to the Los Angeles Times, boss Carl Karcher donated hefty portions of his fast food fortune to the Orange County Republican Party.
In 1978, according to The Advocate, Californians voted on Proposition 6, a measure that would have banned LGBTQ individuals from working in the state's public school system. The measure failed, with both prominent Republicans (former governor Ronald Reagan and ex-President Gerald Ford) and Democrats (President Jimmy Carter) opposing it. According to ATI, the chief financial backer of the yes-on-Proposition 6 movement: Karcher, who donated $1 million and per LA Weekly, earned the opposition of several LGBTQ organizations.
Karcher was also staunchly pro-life, and allegedly donated substantial amounts of money to political candidates and organizations that shared his stance. In 1989, and initiated by a local chapter of the National Organization for Women, pro-choice protestors physically protested at several Carl's Jr. locations in Southern California. The political enemies Karcher made would ultimately affect Carl's Jr.'s business. In 1991, when the restaurant chain sought to open outlets on campus at Cal State Northridge and U.C. Irvine, opposition from pro-choice and LGBTQ rights groups was so strong that the colleges decided to not let Carl's Jr. come on campus after all.
Carl's Jr. executives were accused of insider trading
In April 1988, according to the Los Angeles Times, the Securities and Exchange Commission accused Carl Karcher, the founder of Carl's Jr. and the chairman of Carl Karcher Enterprises, along with 14 relatives and one employee, of insider trading. The SEC alleged that in 1984, Karcher and his brother, company president Donald Karcher, received word that the company had experienced a 50% profit loss. Before that news was publicly revealed, the Karchers and their wives illegally told several family members who owned big amounts of CKE stock to sell it off before it plummeted in value. Indeed, not long after the sell-off, CKE's market value fell hard upon news of the bad financial reports; by doing what they did, the Karcher clan avoided personal losses of $310,000.
Carl Karcher released a statement decrying the allegations. "These charges are totally false," he said. "My wife and I did not sell any of our stock, nor did we tell anyone else to do so. To suggest that any of us would intentionally violate the securities laws is highly offensive." Nevertheless, about a year later (per the Los Angeles Times), Carl Karcher and six relatives reached a settlement with the SEC. Altogether, they paid a punitive fee (the amount was not publicly disclosed) and would not have to admit any wrongdoing so long as they agreed to lifetime court orders to never engage in such insider financial shenanigans again.
Carl's Jr. got slammed for using CGI burgers in a commercial
In 2016, the NFL's St. Louis Rams moved to Los Angeles, bringing along star running back Todd Gurley. Carl's Jr. hired the athlete to appear in a TV ad to promote its newest item, the California Classic Double Cheeseburger, a clone (according to FoodBeast) of the Double Double, the flagship burger served by Southern California rival burger chain In-N-Out. Cribbing from a competitor wasn't taken as controversial; food companies rip each other off all the time. Instead, Carl's Jr. caused a major stir when it insisted that the commercial featured Gurley taking a bite of an actual, physical cheeseburger — when it's doubtful or debatable that he did.
According to USA Today, Gurley digs into what's apparently a CGI burger, or "terrible, 'Sharknado-level CGI." (Nothing about the sandwich moves or changes when Gurley bites into it, and there's no food traces on his face after.) Twitter users roasted Carl's Jr. and its ad agency on Twitter, according to First We Feast. The company's social media team doubled down, however, insisting that everything was real. "Hey, a lot of things in SoCal are enhanced," the chain tweeted (via Vice, because the tweet was later deleted), "but Todd really did eat A LOT of Cali Classics. Available at Carl's Jr." Then they posted a new clip of Gurley actually eating an actual burger, with real mayonnaise left on his real mouth.
Only Carl's Jr. can sell a Western Bacon Cheeseburger
According to CNBC, the first major fast food chain to offer a bacon-topped cheeseburger was A&W, in 1963. Carl's Jr. was still one of the first to combine beef, cheese, and pork when it added the Western Bacon Cheeseburger to its menu in 1984, per USA Today. Arguably Carl's Jr.'s signature sandwich, it combined beef, cheese, and fatty pork along with onion rings and barbecue sauce, establishing the restaurant as the place to go for massive sandwiches piled high with toppings, including the Philly Cheesecake Six Dollar Burger, Bacon Swiss Crispy Chicken Sandwich, and a Breakfast Burger which added hash browns and eggs to the bacon burger concept.
But it all started with that Western Bacon Cheeseburger, for which Carl's Jr. filed a trademark in 1982. The company made such an impression with that sandwich that other, smaller fast food outlets must tread carefully. According to the Salt Lake Tribune, Carl's Jr. filed a federal suit against Utah-centered Apollo Burger in 2016 for selling a very similar sandwich that also called the Western Bacon Cheeseburger. The filing called for Apollo to hand over all profits it received from the burger and to immediately rename its Western Bacon Cheeseburger and change its restaurant signage (which it did immediately).
How Carl's Jr. married Hardee's
Carl's Jr. made several big, aggressive business gestures in the 1990s. In October 1993, Carl Karcher was relieved of his position as chairman of CKE Enterprises, effectively tossed from Carl's Jr., the company he founded and ran for more than 50 years. According to a statement from the board (via the Los Angeles Times), the board felt that Karcher's "personal financial difficulties" adversely impacted the way he did business at Carl's Jr., including issuing a press release publicly criticizing the company's marketing plans.
Under new management, Carl's Jr. expanded its empire, buying the burger chain Rally's, buying (and selling) Taco Bueno, and biggest of all, acquiring Hardee's for $327 million in 1997, according to WRAL. That move instantly allowed Carl's Jr. to expand from 676 locations to 3,828 (per Consumer Reports) and into the Midwest and eastern part of the United States. Over time, the restaurants evolved into each other, sharing the same menu and same branding and advertising (with "Carl's Jr." references subbed out in favor of "Hardee's"). By 2018, the companies split — in marketing only., according to USA Today. Carl's Jr., known for its provocative ads featuring scantily clad women, kept that approach, while Hardee's looked to take on a more food-centered campaign.