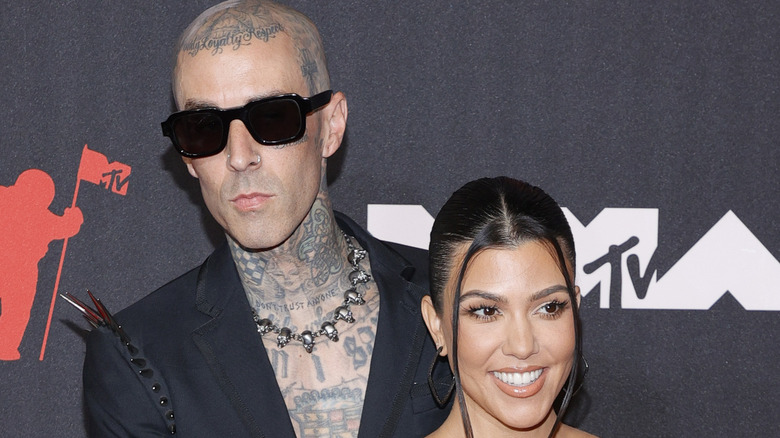 In case you somehow missed it, Kourtney Kardashian and Travis Barker have been tearing up 2021 with their romance, which has included trips around the world and culminated in their engagement in October 2021. In addition to being a couple in love, both Kardashian and Barker are parents — and they're even hoping to have a child together after they get married.
Kardashian is mom to three kids with her ex-boyfriend, Scott Disick. Over the years she's been open about how important her three children, Mason, Penelope, and Reign, are to her. She told Harper's Bazaar that one of her favorite parts of being a mom is getting to share things she loves with her kids, explaining, "Watching your kids grow every day — watching all the little moments. I actually think my favorite part is that you relive your own childhood — going to Disneyland and watching all the movies I watched when I was a kid."
Barker also shares three children with his ex, Shanna Moakler. Barker has always been just as outspoken about how much he loves parenthood, once writing on Twitter, "I love being a Dad more than anything, best thing to have ever happened in my entire life." Here's a look at Kardashian's and Barker's kids, and what we're hearing about whether or not they'll try to have one of their own.
Mason Disick made waves on social media in 2020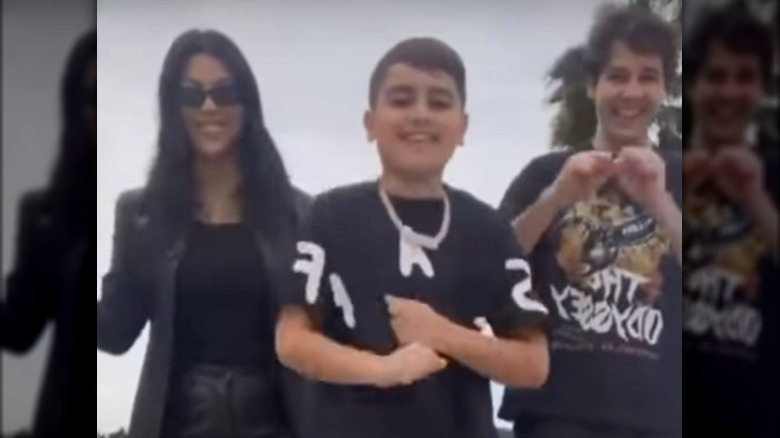 Kourtney Kardashian's oldest son Mason Disick was born on December 14, 2009. Mason was a mainstay on the family show "Keeping Up With The Kardashians" for years, though his participation seemed to wane as the show neared its final season. In 2020, Mason made waves when he showed up in a big way on both Instagram and TikTok.
In March 2020, a 10-year-old Mason surprised fans by going live on Instagram. On top of the act, he chose to answer questions that fans had about the family — and he seemed more than happy to talk about things that the rest of the family might have preferred to keep private, including whether or not Kylie Jenner and Travis Scott were back together.
The next day, Kardashian announced that she had closed Mason's account, largely because he was so young. Per the Mirror, she explained, "He started an Instagram yesterday and didn't ask us. I did delete it because Scott and I just felt like … He's 10! I think there's an age limit with Instagram. I think it's … 13."
Penelope Disick is best friends with her cousin North West
Kourtney Kardashian's daughter Penelope Disick was born on July 8, 2012. The 9-year-old has a special relationship with her cousin, North West, which many say mirrors the relationship that Kourtney shares with her younger sister, Kim Kardashian. The pair are only one year apart in age, reportedly always have a joint birthday party, and a source told Life & Style Magazine that, "North and Penelope call each other sisters, that's how close they are."
The source continued that the two girls really seem to thrive when they are together, explaining, "They call each other on the phone, they beg for playdates most days and they'll have sleepovers on the weekend."
Penelope was also the inspiration for her mom's clean beauty and lifestyle company, Poosh — Kourtney told Vogue that the name for the site is also her daughter's nickname. Interestingly, Kourtney reportedly planned to name Penelope something entirely different, but changed her mind. As shared by Us Weekly, Kourtney and her ex-boyfriend were seriously considering the name Mila before making a last-minute change.
Reign Disick seems to be very into his hairstyles
Kourtney Kardashian's youngest son, Reign Disick, actually shares his birthday with his big brother Mason, though he was born several years later on December 14, 2014. As the youngest member of the family, not as much is known about Reign except for when he pops up on the Instagram accounts of his mom or his dad, Scott Disick.
One thing that is clear about Reign is that he is very into his hairstyles, and seems happy to rock different looks. In fact, he made huge waves in August 2020 when Kardashian shared that Reign had decided to cut his long locks and opt for a buzz cut. Reign's long hair had been a recurrent source of annoyance for some fans of the reality star and her kids, with Hello! Magazine noting that the issue even spilled over to Kardashian's social media in April 2020 when a fan commented, "Cut your son's hair" on an Easter photo of Reign.
In October 2020, Reign showed off yet another new look: A mohawk! Allure notes that his dad shared a video of the hairstyle coming together, and Reign appears to have loved it.
Atiana De La Hoya is technically Travis Barker's stepdaughter
When Travis Barker met his ex-wife Shanna Moakler, she was already a mom to one: Atiana De La Hoya, whose dad is Oscar De La Hoya. However, Barker quickly dove into stepdad duties, often referring to Atiana as his own daughter from the jump. Atiana was regularly featured on the pair's former reality show, "Meet The Barkers," alongside her siblings Alabama and Landon Barker.
While Atiana hasn't commented publicly on her dad's relationship with Kourtney Kardashian, sources have shared that she supports it. One family friend told Life & Style Magazine that Kardashian isn't exactly a new face in Atiana's life, especially since the 22-year-old grew up watching "Keeping Up With The Kardashians."
That has likely been nice for the Blink-182 drummer, especially as he has always been close to Atiana. In March 2020, he celebrated her 21st birthday with a cute series of photos on Instagram, and even shared the nickname that Atiana used to have for him. He wrote, "I've helped raise you since you were 2 yrs old and you used to call me Slavis. You have grown into such a beautiful and talented woman. Love you to the moon and back!!!"
Alabama Barker is a big fan of Kourtney Kardashian
Unlike her big sister, Alabama Barker has been only too happy to share how much she loves and supports her dad Travis Barkers' relationship with Kourtney Kardashian. In July 2021, Alabama was reportedly already calling Kardashian "stepmom," even though she and Travis were months away from getting engaged. As People shares, it's clear that Kardashian loves and supports her right back, and the pair are often commenting on one another's Instagram photos and photographed attending events and spending time together.
A source also told People that Kardashian has known Alabama for years, which has likely made their relationship easier to build. They explained, "Kourtney and Travis have a long, long history and years of friendship. They've felt like family for years, and she's really close with Alabama, who's just a cool rock star kid."
In fact, things between Alabama and Kardashian are reportedly so solid that it seems Alabama even took Kardashian's side over her own mother. In May 2021, Page Six reported that the 15-year-old had cut her mother off following an admission that her mother "has never completely been in my life."
Landon Barker is a musician, too
Alabama Barker's big brother, Landon Barker, is hoping to follow in their dad's musical footsteps. In 2019, Alternative Press shared that Travis Barker himself teased a musical collaboration with his son that he said was "coming soon," and shared a video of the two in the studio together. Life & Style Magazine has also shared that Landon released a single titled "Holiday" in November 2020, and was even in Machine Gun Kelly's movie "Downfalls High," so it's clear that the creative gene has definitely worked its way into him.
Meaww notes that Landon got his start on YouTube, like a lot of kids of his generation. He shared a video called "NYC: Getting My Nose Pierced" that has been viewed millions of times and that reportedly put him on the map as his own creative individual. Landon explained to the publication that he has a few plans for future creative work, sharing that, "I think I'm gonna do a couple of EPs with friends first. I just did a song with my friend Jesus Honcho."
Kourtney Kardashian and Travis Barker want to have a baby of their own
It is super clear that Kourtney Kardashian and Travis Barker are madly in love, they both love being parents, and they want to have a child together. Following their engagement in October 2021, several publications outright claimed that the pair had all but confirmed that last bit of news.
A source told People that their engagement was a "complete surprise" for Kardashian, noting that Barker chose the Rosewood Hotel as the site of the engagement because it is special to the couple. The source also added that the two are definitely planning to have a baby, saying, "Kourtney is of course ecstatic. She can't wait to marry Travis. She would also love to have a baby with him."
Another source close to the couple told Us Weekly that a baby is happening, but the twosome just have to find out what their options are. As the source put it, "Ideally, Kourtney would like a natural birth. She's confident it won't be a problem because she's always been lucky to conceive naturally and has taken great care of herself physically."