The name Colin Kaepernick has made a lot of waves in the sports world, but especially since 2016 — largely due to the quarterback's non-verbal show of protest during the traditional pre-game national anthem (via NFL). This was a non-violent act of protest over the treatment of Black people in America — and of racial oppression in general. Later, Kaepernick also began kneeling ahead of every game during the anthem, which ignited a national conversation that moved beyond the sports world (via The New York Times) and all the way to the White House, per CNN. His protest was met with a mixed reaction, with some seeing him as brave and others calling the act disrespectful.
Nevertheless, it wasn't long before other players joined in his protest. Players on other teams began protesting by way of kneeling, and it didn't take long for other leagues to see similar actions from their players. Kneeling came to become larger than something that happened in the NFL and even started taking place beyond America's borders too, per BBC. So what's become of the man who started it all?
On January 1, 2017, Kaepernick would play his final NFL game (at least, as of now). He hasn't been picked up by a team since and has seemingly been blackballed by the league, per The Guardian.
A famous adoptee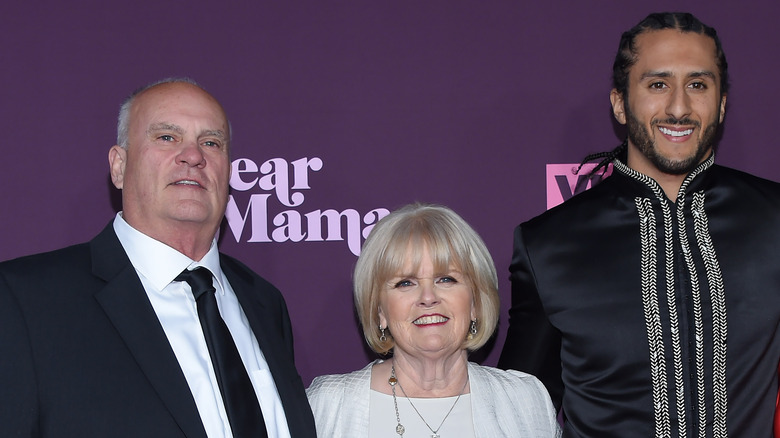 Born on November 3, 1987, in Milwaukee, Wisconsin, Kaepernick's birth mother is a woman named Heidi Russo (via Biography). She was 19 years old when she gave birth to the future football player. All that is known of his biological father is that he apparently left before his son was born and that he was of African-American descent.
At 5-weeks old, his mother gave him to a couple named Rick and Teresa Kaepernick (pictured above). While they already had two children, experiencing the loss of other children moved them to adopt the baby boy, whom they named Colin Rand Kaepernick. The family moved to California where Kaepernick excelled in sports and later played football in college. By 2011, he was drafted by the San Francisco 49ers, and of course, found fame as a rising NFL star. Though his birth mother has reportedly attempted to connect with him (via ESPN) but thus far, Kaepernick has not been particularly receptive to this (at least as of this article's publication).
Has never shown interest in ever meeting his biological mother
In 2013, Heidi Russo made a public plea to meet the son she gave birth to decades earlier. Coincidentally, it was the same year that Kaepernick took part in his first Super Bowl — and a lot of people saw her sudden request as tactical, not genuine (via Good).
Kaepernick told a reporter that year that although he didn't feel it would be disrespectful to his family to try and meet Russo, he was also just not curious about her (via ESPN). "It's not really a respect thing. It's just — that's my family. That's it," said Kaepernick to the media.
Russo is a married mother, who had three other children after Kaepernick. When Kaepernick began kneeling, she also took to social media to publicly critique and blast his choice, via Sports Casting. Meanwhile, his adoptive parents have come out to support him (via The Undefeated).
Kaepernick can also play baseball
Before the 49ers snagged him to play quarterback, Kaepernick could've had a career with the MLB. In high school, Colin Kaepernick played football, along with basketball and baseball. But he was apparently very good at the latter sport. So much so that despite not choosing to even play baseball in college, his memorable moments as a teen player were enough to still attract a baseball scout who came looking for him in 2009 when he was playing football at the University of Nevada Reno, per MLB.
A recruiter for the Chicago Cubs was interested because Kaepernick was a standout pitcher — even going so far as to select him in the 2009 draft. Kaepernick declined and eventually got drafted into the NFL shortly after winning a championship with his school.
Still, his baseball roots were apparent when he threw out the first pitch during a 2013 San Francisco Giants game (pictured).
Still attempting to revive his football career
Despite not playing football professionally in more than four years, Colin Kaepernick hasn't given up on his football dreams. In November 2019, he performed a scheduled workout in agreement with the NFL but things didn't turn out as Kaepernick expected. The NFL wanted a private session, whereas he wanted a public one with media invited. After a last-minute venue change, the league said that he was a no-show in the mix-up, per NBC News, highlighting the issues between the player and organization. Earlier that year, Kaepernick pursued a lawsuit against the NFL, which was eventually settled (via The Wall Street Journal). The lawsuit claimed that the league colluded to blackball him from playing when he started protesting and kneeling during the national anthem.
As of this month, Kaepernick is still trying to revive his football career. In a recent interview, the former 49ers quarterback said that he still trains weekly in hopes of finding a team to take the Super Bowl (via CBS).
A well-known activist
Activism and sports has always been a controversial combination but many athletes have both quietly and defiantly pursued their own activism. It's something that's been going on for more than half a century. Boxer Muhammad Ali was one of the most vocal proponents of racial equality, while Olympians Tommie Smith and John Carlos famously did a non-verbal show of protest during the 1968 Mexico Olympics, when they displayed the Black Power fist (via History), for example. Their protest earned them a lot of criticism, but they had effectively gotten their point across and their statement is still remembered to this day.
When Kaepernick kneeled, he joined a long line of athletes who used their position as sport stars to bring awareness to issues plaguing the country. He also turned a new page for protest and American sports. His move would start a trend in other sports leagues — nationally and internationally — and solidarity with his form of protest was showcased from professional athletes to high schoolers. Even some football cheerleaders joined in, per Teen Vogue. Kaepernick has been a committed philanthropist and vocalized his continued support for various issues. In a fitting, full-circle moment, he even accepted the Sports Illustrated Muhammad Ali Legacy Award for his work (via Bleacher Report).
A new Netflix series, "Colin in Black & White," documents Kaepernick's life and premieres on October 29.