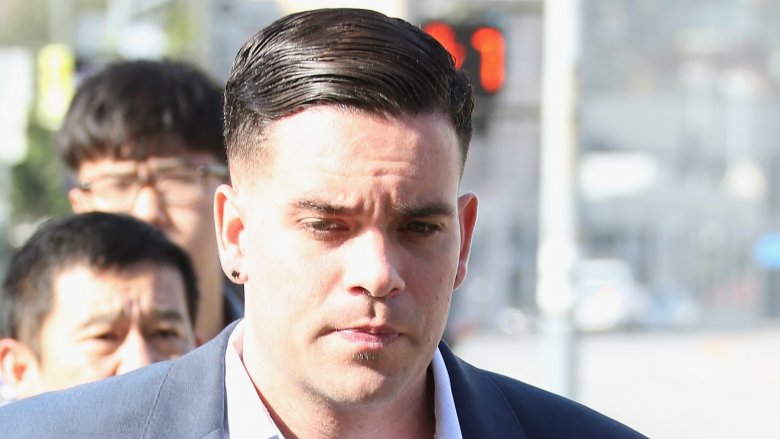 Former Glee star Mark Salling's life came to an untimely end on Jan. 30, 2018, following a dark sequence of events that included disturbing criminal charges and pending jail time for the disgraced actor.
Salling played football jock Noah "Puck" Puckerman on the hit Fox show from 2009 to 2015.
Here's what we know so far about the 35-year-old's shocking death, the events leading up to it, and his loved ones reactions.
He committed suicide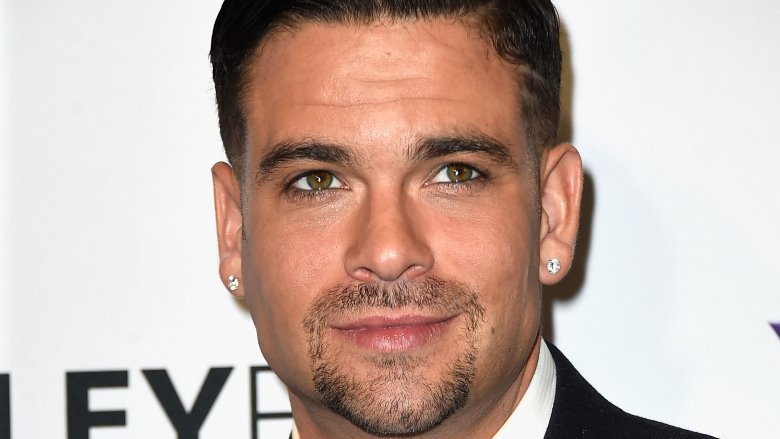 TMZ reported that Salling appears to have killed himself by hanging. Perhaps most disturbingly, Salling's body was reportedly found near a little league field; sources claimed he had been dead for "some time."
Salling's attorney confirmed the news, telling People, "Mark was a gentle and loving person, a person of great creativity, who was doing his best to atone for some serious mistakes and errors of judgment. He is survived by his mother and father, and his brother. The Salling family appreciates the support they have been receiving and asks for their privacy to be respected."
Law enforcement told The Blast that Salling's body was found after a family member filed a missing persons report early in the morning on Jan. 30, 2018, but that it wasn't the LAPD who found his body.
It may not have been his first attempt
In October 2017, TMZ reported that Salling cut his wrists in a likely suicide attempt that August. However, after cutting himself, Salling "freaked out," a source claimed, and called his roommate, who then called 911. Salling was taken to a hospital via ambulance and reportedly kept on a psychiatric hold temporarily, followed by a stay in a rehabilitation center to help cope with his psychological issues. The report claimed that Salling's arms were scarred from the alleged suicide attempt, leading him to wear long sleeves even in blistering Los Angeles heat.
However, Salling's attorney told TMZ that story was "inaccurate," though he wouldn't go into detail except to add, "Mark is physically fine and Mark is spending his time atoning and working on himself."
He was charged with possession of child pornography
According to TMZ, Salling was arrested for possession of child pornography in December 2015. HIs family reportedly posted $2,000 of his $20,000 bail.
Court documents obtained by People revealed that an ex-girlfriend tipped police off to Salling's alleged crimes. Police reportedly entered his home using a battering ram and seized a flash drive, a hard drive, and a laptop.
According to USA Today, he "admitted to possessing pornographic images of prepubescent children" in a plea agreement in October 2017. "The agreement stated that a search warrant found more than 50,000 images of child porn on Salling's computer and a thumb drive."
He was about to be sentenced
According to Deadline, Salling was scheduled to be sentenced on March 7, 2018 and "expected to spend 4 to 7 years in prison, followed by 20 years of supervised release and registry as a sex offender."
As a registered sex offender, Salling was barred from any and all communication with anyone under the age of 18 unless in the presence of a parent or legal guardian. He was prohibited from being within 100 feet of schools, parks, public swimming pools, video arcades, and playgrounds, reported The Blast.
He initially pleaded not guilty
Before pleading guilty to possession of child pornography involving a prepubescent minor in October 2017, Salling initially pleaded not guilty in June 2016, reported TMZ. While out on bail, Salling was not allowed to be in the presence of any minors without a parent or guardian present and had to wear a GPS monitor. Salling also was forced to surrender his passport and avoid any and all drugs, including medicinal marijuana.
He lost work after the allegations went public
After being indicted for child pornography charges, Salling was axed from the movie Adi Shankar's Gods and Secrets (2018), in which Salling played a villain, reported TMZ. The film was already partially shot and produced when the indictment came down. Director Adi Shankar footed the bill for recasting and reshooting Salling's role and pledged to donate a percentage of the film's proceeds to children's charities.
In May 2016, Shankar issued a statement that said, in part: "Child abuse is a cultural cancer whose tentacles penetrate far deeper than a single celebrity caught with illicit images on his computer … Child abuse is a democratic disease existing across socioeconomic lines affecting every walk of life. It affects all of us, and more importantly, its existence needs to cece [sic] to exist. Period."
He was accused of rape
In October 2016, Salling was accused of sexually assaulting a then-22-year-old woman four years prior, reported TMZ. The woman claimed she and Salling, who she'd been dating for several months at the time, were about to engage in sexual activity for the first time when she changed her mind and told him, "No, I can't do this." She alleged that Salling forced himself on her. She also accused Salling of plying her with alcohol until she blacked out.
The Los Angeles County District Attorney declined to prosecute Salling, citing the woman's delay in reporting the alleged incident as well as a lack of evidence. The woman also alleged that she knew of Salling's child pornography possession.
He was accused of sexual battery
In January 2013, model Roxanne Gorzela accused Salling of forcing her to have sex with him without a condom, reported TMZ. She claimed that when she went to his house to confront him about allegedly giving her an STD, she found him in bed with another woman. Gorzela said in court documents that she demanded Salling prove he was "clean," at which point she accused him of slamming her to the ground.
Salling's rep told TMZ at the time, "There is no truth to this. It's the textbook case of a disgruntled girl looking to cash in on a TV star's success." Salling countersued Gorzela, accusing her of scratching his car and breaking into his home.
Salling and Gorzela eventually settled, with his insurance company agreeing to pay Gorzela $64,155 for past medical bills, $666,000 for future medical bills, $180,000 in non-economic damages, and $1.8 million for pain and suffering — that's a grand total of $2.7 million, according to TMZ.
His mom stuck by him
Salling's mother, Condy Sue Salling, was his rock throughout his troubles.
"His mom was his biggest defender. She didn't want to believe any of it," a former friend of the actor told Us Weekly. "When she saw the evidence, her heart was broken. She didn't turn her back on him. None of his family did … They didn't believe it at first. I don't know how often he went home or saw them but I know he was very close to his mom."
He may have had substance abuse issues
A source told Entertainment Tonight that Salling suffered from alcohol addiction and confided in friends following a stay in rehab. The source claimed Salling was working hard to understand and fix his "demons," adding that he was trying hard to stay mentally and emotionally healthy and stable leading up to what would have been his March 2018 sentencing.
He was in a 'dark place'
A source told Us Weekly that Salling was "in a dark place" leading up to his alleged suicide.
"He was very lonely. He was very depressed. He was going to prison soon. Whoever was in his life pretty much cut him off," the insider said. "After the scandal, a lot of people cut him out. There were certain people he would talk to here and there but he lost all his true friendships. He moved away from Los Angeles after the news broke because he wanted to just get out … There's really no words in this sort of situation. His closest friends are just in shock — from everything over the past couple of years."
Those closest to him had no idea about his problems until it was too late
Insiders said Salling's family members are understandably devastated by his death also weren't aware of his myriad issues until they became a matter of public record.
"He grew up in a really loving and supportive home with incredible parents," a source close to the Salling family told People. "He had a great relationship with them but was also particularly close with his grandmother, whom he loved dearly. They wanted the best for him and wanted to make sure he was pursuing his dreams and being responsible."
The source added, "His loved ones — actual loved ones — were absolutely shocked [at the child pornography case]. In the last few years, we had very little contact. When you're living against your own morals or what you know to be right, you tend to avoid people who will hold up mirrors. … The problem doesn't live in the existence of demons or pain or sexual appetites that began to skew as time went on. The inherent problem is that he did not seek help or have someone close enough to him willing to call it out."
There was more to him than 'Glee' and scandals
Salling was reportedly a member of the Echo Park Ornithology Club in Los Angeles. The president and founder of the club, Stephi Duckula, told People she had no idea Salling had issues — or that he was a star.
"He really enjoyed birdwatching a lot, and he really cared about birds. He had a lot of animals at his house and he worked at an animal rescue when I knew him. We went birdwatching together," Duckula said. "I didn't even know he was an actor when I met him. I just knew he really enjoyed playing music. I went to see his band play a few times, and he just genuinely enjoyed playing music and playing with birds. I knew he was a very devout Christian when I met him, and he also liked playing frisbee golf. He liked being in the outdoors and doing things like that."
He never got over Cory Monteith's death
Sources told Us Weekly that Salling took Glee co-star Cory Monteith's untimely death from an accidental drug and alcohol overdose in 2013 very hard. "He was so heartbroken and hurt by Cory's death," an insider said.
Monteith was 31 years old at the time of his death. According to Us Weekly, he had sought treatment for his substance abuse at a rehab facility just months before he was found dead in a hotel room in Vancouver.
He struggled with fame
An insider told People that Salling had trouble adjusting to the pressures and trappings of celebrity life that emerged following his breakout role on Glee.
"He literally went from having very little success to suddenly getting stopped by fans everywhere he went," the source said. "That's a drastic and tough transition for anyone to make." The insider added, "I don't believe he ever intended harm … but I do believe he was really sick and it severely clouded his judgement, which kept him living in an alternate reality."
He dated one of Ed Westwick's alleged assault victims
Aurélie Wynn, who accused Gossip Girl star Ed Westwick of sexual assaulting her, said that when the alleged incident with Westwick happened in July 2014, she was in a relationship with Salling.
"I told the guy I was seeing that I got raped, Mark Salling, and when he found out by who he pretended not to know him, then blamed me for it and broke it off with me," Wynn wrote on Facebook (via Page Six). "My other friends and people around me told me it was best not to say anything, to not be 'that girl' and that no one would believe me and think I was just out trying to get my 10 seconds of fame."
Westwick denied the allegations; Salling never commented.
His victims may never get restitution
In Salling's plea agreement for his child pornography charges, he agreed to pay each victim $50,000 in restitution, reported TMZ. However, his victims may never see that money. Salling's sentencing was scheduled to take place in March 2018, and until then, the judge in his case would not have been able to legally sign off on the actor's punishment.
However, there may be recourse for the victims if they sue Salling's estate for the damages. TMZ reported that Salling had about $2 million to his name.
A source told Us Weekly, "Restitution would be a part of his sentence. The amount of the restitution is determined by the sentencing judge … He will not be sentenced. Therefore there will be no restitution order. Therefore I doubt that there is anything to take to civil court."
The Glee family is heartbroken
The Glee family is devastated by Salling's death. Star Jane Lynch told TMZ that his passing was "sad and very tragic," adding that she would remember Salling "as the guy who made that really sweet video in the beginning of Glee when he was so happy to be a part of this group. It's tragic and I'm brokenhearted over it."
Matthew Morrison posted a snapshot on Instagram with Salling and Monteith, which he captioned with two angel emojis and a sad emoji.
Glee director Paris Barclay tweeted a photo of Monteith and Salling on the set of the show, writing, "It's a painful loss, again. Two young actors, lost too soon."
Iqbal Theba, who played Principal Figgins on the series, tweeted, "Oh Mark."
Glee Producer Tim Davis shared his thoughts on Twitter (via Page Six): "Yes he committed crimes against children. But #MarkSalling was a broken man, no doubt an abuse victim himself. I loved Mark, and am sad when I consider the devastation of his parents. PLEASE withhold your cruel comments." Davis added, "Let me be clear. Having compassion for #MarkSalling in no way minimizes his crimes, nor does it minimize the pain and devastation of the victims of those crimes. I'm just saying stop adding to his family's pain. This was their son. If you're without sin, feel free to cast stones."
He felt like his life was already over
A source told Us Weekly that Salling felt like he had nothing left to live for once he went to prison. "Mark knew he would have nothing to come back to after he went to prison," the source said. "His acting career was beyond over."
Not everyone was so sympathetic. A woman who lived in his neighborhood told Us Weekly that his sex offender status "made for not the most pleasant living experience considering there are kids who live nearby."