If you've never eaten at a Brazillian steakhouse, then you might not know just how decadent of an experience it truly is. A Brazillian steakhouse isn't just like any other restaurant or steakhouse out there, and while it's not for everyone, it's definitely something worth trying if you're a food lover. One of the biggest Brazillian steakhouse chains, Texas de Brazil, is also your best bet for an authentic, delicious, and impressive dinner out.
Texas de Brazil is pretty popular among restaurant-goers, and for good reason. The food is top-notch, the ambiance is a one-of-a-kind vibe, and it's really the best kind of night out you could hope for. Still, the untold truth of Texas de Brazil is pretty interesting. Even if you've never been lucky enough to eat at the chain restaurant, knowing all that went into the development of Texas de Brazil and its food might just entice you to head to your nearest location.
The founder of Texas de Brazil isn't from Texas or Brazil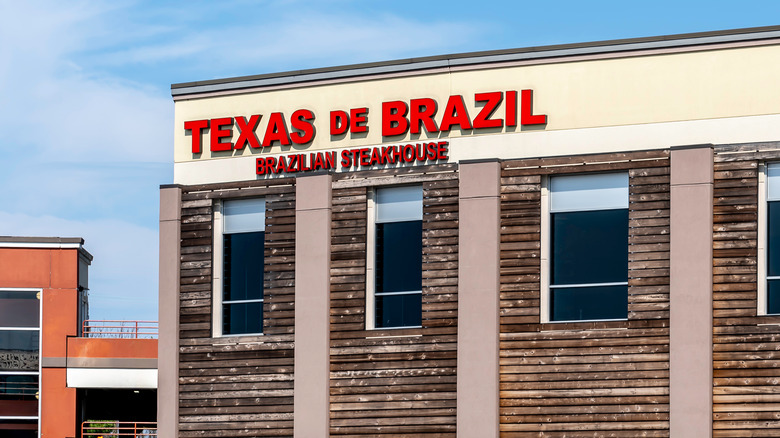 Obviously, when you think of a Brazilian steakhouse like Texas de Brazil, you might assume that it was founded by someone from either Texas or Brazil. But in actuality, the founder of the chain restaurant, Salim Asrawi, is from neither of those two places, though he was, in fact, an immigrant. As it turns out, Asrawi actually immigrated to the United States from Lebanon, and his story is pretty inspiring.
According to D Magazine, Salim came to the United States in 1981, along with 1 million others, as war raged on in his home country of Lebanon. The war lasted from 1975 to 1990, and as he told D Magazine, "War became part of my life." Salim added that he remembered his day-to-day life being impacted by the war before his family fled the country. In fact, Salim would have to duck for cover while out and about any time he heard gunshots, and eventually started to entertain himself indoors, even playing soccer in his apartment hallway to stay safe. Obviously, Salim's story is heartbreaking, but the fact that he was able to go from that to launching a successful chain restaurant in the United States is seriously amazing.
Texas de Brazil is based on traditional Brazilian fare
If you've never eaten at a Brazillian steakhouse, then you might be a little confused as to what makes it so different from other steakhouses. And honestly, the answer is everything. Eating at a Brazillian steakhouse allows you to experience a true Brazillian dinner, something Texas de Brazil is definitely proud of.
Specifically, Texas de Brazil was inspired by a tradition from southern Brazil called, "churrasco," in which local cowboys would cook large meals with slow-roasted meats cooked over the fire and a large array of seasonal vegetables as well as regional specialties. The meats were the main star of the show, though, and are brought to the table to be hand-carved in front of diners. And that's basically what happens when you dine-in at a Texas de Brazil. You are served a large array of meats right at your table, as well as a large salad bar with seemingly endless toppings. It truly is an authentic Brazillian steakhouse experience.
Finding the right chef was key for launching Texas de Brazil
Along with Salim Asrawi, another founding partner of Texas de Brazil was Salah Izzedin who served as the CEO while Asrawi was the COO. The two worked hard to bring an authentic Brazillian steakhouse to the United States, and that meant hiring the best, most authentic chef they could find. Fortunately, that's what they did when they hired Evandro Caregnato.
In 1997, Izzedin and Asrawi visited Brazil and went to Caregnato's restaurant there. They were obviously impressed with his skills and the fact that he was an actual gaucho was also appealing. Because of that, the three worked together to open Texas de Brazil in the Dallas Metroplex area, and the three promised each other they wouldn't change the traditional preparation and serving of the Churrasco dinner. And as you know by now, that's exactly what they accomplished in opening Texas de Brazil. With Caregnato heading up the kitchen, the chain was immediately set up for success.
The first Texas de Brazil location was a huge undertaking
After years of hard work, planning, and a strong desire to create an authentic Brazillian experience in Texas, Salim Asrawi, Salah Izzedin, and Evandro Caregnato opened the first location of Texas de Brazil in 1998 in Addison, Texas. As Asrawi told D Magain, it wasn't an easy process, and it definitely took a lot out of him to make it happen.
However, according to Asrawi, it was all worth it in the end. "If you put in the time and effort, you will succeed one way or another," he told D Magazine. However, Asrawi was also honest about the fact that growing Texas de Brazil over the years was also an intense struggle. "It required me to dig as deep as I've ever dug. As of today, we have 67 restaurants," he said. Opening a new restaurant is never an easy endeavor, but from their first location onward, Asrawi never gave up. And with such an original concept and great team behind his back, it's no wonder it became such a success.
Dining at Texas de Brazil ​​is all about a unique experience
Obviously, eating at Texas de Brazil is different than eating at just about any other restaurant. Not only is the food different, but the entire experience is unlike anything you've ever experienced before. First, the dine-in menu isn't your typical menu where you decide on a single entree. Texas de Brazil has a fixed-price menu that gives you access to a ton of food.
First, you'll get your fill of the huge salad bar that's a step above your typical salad bar. At Texas de Brazil, there are fresh vegetables, charcuterie items, and even smoked salmon and homemade lobster bisque. You can go back to the salad bar as many times as you want, too, so don't stress if you aren't able to try everything at once. Then, you'll be greeted by "gauchos" serving a variety of table-side meats. The gauchos will walk around the restaurant with different meats for you to choose from, and you have a two-sided disk on your table to indicate whether you want more meat or not. Obviously, the meat is the real star of the show, so try not to fill up on the salad bar, as hard as that might be.
Texas de Brazil has weathered a struggling economy
Typically, when the economy struggles, so do restaurants. People stop eating out as much, so it makes sense that restaurants would suffer the consequences. But for Texas de Brazil, a bad economy can't stop them from expanding and opening even more locations.
According to Nation's Restaurant News, while many chain establishments struggled in 2013 and the years prior, Texas de Brazil wasn't one of them. And as director of operations, Anil Sekhri told the publication, the success of Texas de Brazil was due in large part to the chain being strategic and smart in how they expand. "In this economy there are a lot of good deals to be had," he explained. "People are willing to negotiate and provide better terms for businesses. At the same time, a lot of restaurants are folding, and there are spaces available. It's all a matter of taking advantage of the good deals."
Additionally, during the COVID-19 pandemic of 2020, Texas de Brazil responded by offering more to-go options and taking reservations to keep indoor dining safe and responsible. That said, the chain has had to close at least one location because of the pandemic, but it seems other locations have remained open, which is pretty impressive. A struggling economy can't stop Texas de Brazil.
Texas de Brazil is pretty expensive
If you're looking for an economically friendly meal, then Texas de Brazil probably isn't for you. Yes, it's a lot of food, but since your dine-in options are mostly eating from the price-fixed menu, you'll be paying a premium price for all that food. Specifically, depending on the location of the restaurant, one meal will cost anywhere from $42.99 to $48.99.
So, while Texas de Brazil is certainly a unique dining experience, it's also by no means a cheap night out. And because of that, you won't find a Texas de Brazil in just any neighborhood. Malcolm Knapp, president of Malcolm M. Knapp Inc., a restaurant consulting firm told Nation's Restaurant News that "[Texas de Brazil is] an upscale brand, so it can't go everywhere. It needs the right location." Yes, the Brazillian steakhouse is a lot nicer than your standard Applebee's or Chili's, so prepare to pay more than you might expect.
On the plus side, children at Texas de Brazil get a discount
Because Texas de Brazil is an upscale dining experience, and there's no real kid's menu, it's understandable that you might assume it's not really a kid-friendly restaurant. And while a lot of children might not be interested in eating a ton of meat and perusing a salad bar, there is a perk to bringing your kids as you don't have to pay full price for them.
Specifically, as long as you have one full-priced adult meal, your kids can get a pretty great discount on their own Brazillian steakhouse experience. If your child is 2 or younger, they can eat for free, while children up to 5 years old are only $5.00 for the authentic Brazillian meal, and kids up to 12 are half-off your regular full-price dinner cost. So don't be afraid to bring your kids along to Texas de Brazil, as they won't cost a ton and they'll definitely get full and have plenty to choose from.
Don't plan on taking home leftovers from Texas de Brazil
Another huge thing that sets Texas de Brazil apart from other chain restaurants is that you don't get to take any food home with you. Well, at least not in the form of leftovers. As delicious as the food at Texas de Brazil is, and even as expensive as it is, don't count on bringing home any leftover meat or salad bar goodness.
It's the policy at Texas de Brazil to not allow customers to take home to-go bags after dining in. According to the chain's website, they believe that restaurant-goers pretty much already get their fair share of food while in the restaurant. "Our continuous dining concept does not allow for to-go containers or bags for uneaten portions of food from the salad area, meats and specialty or side items," they state. But, if you find yourself hungry for dessert, you can order that separately and take those home. It makes sense that Texas de Brazil wouldn't allow leftovers, as the chain is basically an upscale all-you-can-eat buffet. But still, don't be surprised when you don't get a to-go box at the end of your meal.
Texas de Brazil does offer to-go options
While Texas de Brazil may be pretty stringent about taking home leftovers after a delicious meal, there is one way you can enjoy traditional Brazillian churrasco at home: ordering Texas de Brazil to-go! Yes, it won't be the same as getting to eat at the actual restaurant, but it's a pretty great deal if you want to stay home in your sweatpants and even save some cash.
As it turns out, Texas de Brazil's to-go family packs are a pretty good deal. As of November 2020, the meal comes with two different types of meat, enough for four people, for only $69. The meal also comes with three sides that are super tasty, too: a green salad, fried plantains, and potatoes au gratin. According to the OC Register, the takeout from Texas de Brazil is pretty exceptional because the meats were sliced nice and thick and when they were delivered they still held up and had plenty of flavors. So, if you want to try Texas de Brazil with some friends or family, their to-go options might be your best bet.
Don't skip the salad bar at Texas de Brazil
Obviously, the delicious slow-roasted meats at Texas de Brazil are a big reason people eat there. But the restaurant is also well-known for providing plenty of vegetables and side dishes to accompany those meats.
Yes, if you've ever been there, then you know that Texas de Brazil's salad bar is seriously impressive. The salad bar at Texas de Brazil includes tomatoes, capers, steamed asparagus, spring mix, hearts of palm, cipollini onions, tabouleh, hearts of palm, bacon, onion ceviche, couscous, smoked salmon, goat cheese, roasted peppers and jalapenos, potato salad, green beans, and so much more. Additionally, there are hot items at the salad bar you can choose from including black beans, rice, lobster bisque, potatoes au gratin, and more. So, if you were worried that Texas de Brazil only serves meats and there aren't enough vegetables or side options, don't. There is seriously so much to choose from at the chain you'll probably end up a little overwhelmed and need to go back a second (or third!) time just to try everything.
Ordering from the bar is a little bit cheaper
Because Texas de Brazil isn't your typical restaurant, it's not exactly the type of place you randomly decide to go to on a Tuesday night. We mentioned that it's more expensive than most chain restaurants, and on top of that, it's a lot of food that you might not always be hungry for. Fortunately, if you're craving some Texas de Brazil but don't want the full experience, you can actually order from the bar menu for cheaper.
From the bar menu, you can actually order quite a lot of food. There's lobster bisque, an antipasto platter, chicken breast, garlic sirloin, sausage, and even filet with bacon. It's not an endless array of roasted meats, but you can certainly get a full meal just at the bar at Texas de Brazil. So if you aren't super hungry, don't care for the salad bar, or just want to save some money, then it might be a smart idea to order from the bar menu so you can pick and choose what you want and pay less.
Texas de Brazil is an interactive restaurant
Texas de Brazil isn't just a full-on Brazillian churrasco experience, it's also an interactive restaurant where you really get to be pretty hands-on with your meal. Obviously, you get to plate your own salad from the salad bar and pick and choose what you want to eat, but that's not all. When you decide you're ready for meat to be brought to your table, you'll flip over a disc on your table from red to green to indicate you're waiting for the parade of meats to be brought to you. Then, when the servers, or gauchos, bring the meat, you'll actually use your own tongs to grab the meat as they slice it and place it on your plate.
Basically, when you eat at Texas de Brazil, expect to do a little work yourself, though it's all pretty fun and entertaining. Again, this is an authentic experience, so definitely enjoy it and remember that it's not every day you get to grab meat being served to you tableside.
Texas de Brazil offers a wide variety of meats
So, even if you've never been to Texas de Brazil you know by now that the chain restaurant is mainly known for its churrasco-style dining experience which focuses on a variety of different meats. But just how many meats, exactly, can you expect to eat at Texas de Brazil, and what are they?
Well, it's important to note that not everything will be available at every Texas de Brazil, but for the most part, here's what cuts of meat you can expect: pork loin, Brazilian sausage, leg of lamb, bacon-wrapped chicken breast, lamb chops, bacon-wrapped filet mignon, braised beef ribs, barbecued pork ribs, parmesan drumettes, flank steak, and more. If you don't see the meat you want to eat being served, you can definitely ask when it will be available and they'll do their best to get it to you. Between all that meat and the salad bar, you're probably thinking you'd be pretty full. But there's more! Texas de Brazil also serves table-side Brazillian cheese bread and garlic mashed potatoes. So if you head in anytime soon, be sure to bring your appetite.
The chain is charitable
Clearly, Texas de Brazil knows a thing or two about running a successful business. The chain restaurant has survived over 30 years in the industry, and has continued to expand and open up new locations all over, despite so many other restaurants shutting down or stopping their expansion. But even though Texas de Brazil brings in a lot of money, they're also very charitable.
For instance, in August 2021, Texas de Brazil announced that they had raised $33,000 for the American Red Cross to help members of the military and their families deal with all the challenges that come with military service. "We proudly support the American Red Cross programs serving our military veterans and families and feel fortunate to have the ability to craft a campaign that provides our guests with an opportunity to raise funds that go directly to those who protect our freedoms," Salim Asrawi, president and one of the founders of Texas de Brazil, said. Texas de Brazil is also involved in other charities like St. Jude's Children's Research Hospital and the Freedom Alliance. Clearly, giving back is just as important to them as succeeding in business.