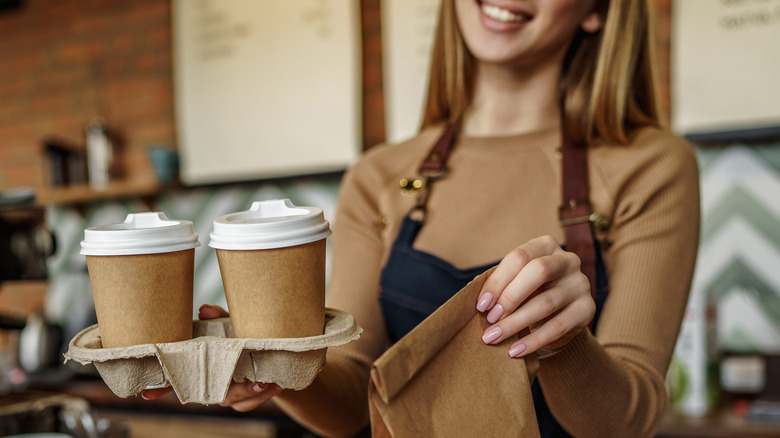 Do you frequent coffee shops? When you do, what's your preferred order — is it something straightforward, like a coffee with cream, or do you love a sweet indulgence with all the bells and whistles?
Nearly two-thirds of American adults say they drink coffee daily, with coffee drinkers averaging 2.7 cups a day. It's as American a habit as baseball and apple pie. While many people drink their daily coffee at home, more and more people drink at least one cup of coffee outside the home. In the United States, there are a whopping 37,189 coffee shops. That encompasses the little mom and pop coffee shops in your town and the seven different Starbucks, also in your town. Coffee shops have grown exponentially in recent decades; their number rose by 40% between 1999 and 2005 alone.
There are many coffee chains, and with each chain come many new iterations of coffee drinks. You can get your straight cup of black coffee at any coffee chain, but each shop sets out to differentiate itself with unique flavored offerings, frothy drinks, and blended concoctions. We know that not all of these coffee shop concoctions are created equally, though. Paying special attention to the quality of the coffee, creativity of the offerings, and reputation for service at these shops, we've ranked the nation's most popular coffee chains from worst to best.
12. McDonalds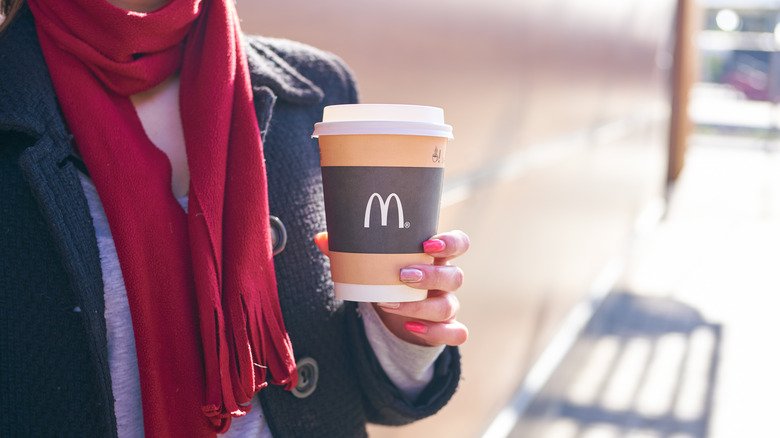 McDonalds was one of the first fast food chains to focus on offering a barista-crafted lineup of coffee drinks. Their McCafé experience was first launched in Melbourne, Australia in 1993, and came stateside in 2009. On the McCafé menu, you'll find drinks like flavored iced coffees, lattes, syrupy caramel macchiatos, mochas, and blended ice frappés. Come holiday season, you'll also spot intensely sweet takes on the pumpkin spice latte or peppermint mocha.
There are two perks to the McDonald's McCafé experience: It's super affordable compared to other coffee shops on this list, and you can order a wide variety of food alongside your coffee beverage. The pros end there. McDonald's affordable coffee is mediocre at best, with an underlying burnt bean flavor in their brewed coffee, and a pay-a-visit-to-the-dentist level of sweetness in their iced and blended concoctions.
Plus, who can forget that infamous scalding hot coffee incident in 1992, where McDonalds served 79 year old Stella Liebeck coffee so hot she sustained third-degree burns after spilling some on her thighs? Stella and McDonald's went on to reach a confidential settlement, but McDonald's was recently served with two more lawsuits about injuries sustained from their hot coffee.
11. Biggby Coffee
If you're from Michigan, you might be familiar with this Midwestern coffee chain. It's known for its "less pretentious" offerings like the "Teddy Bear," a latte that blends caramel, white chocolate, and blackberry flavorings. Another popular drink includes the "Carmel Marvel," which is a sugary caramel flavored coffee. Biggby coffee certainly has a "big" menu. Their menu boasts 64 coffee-based lattes alone, to say nothing of the many, many other coffee drinks available. If you love variety, you may appreciate this.
Our chief complaint is this: In their aim to be less pretentious, Biggby coffee has created a menu of intensely sweet drinks that some would argue don't really resemble coffee anymore. When you've bogged down your coffee with white chocolate, caramel, and blackberry flavorings, then topped it with a cloud of whipped cream, it's hard to see the coffee shine through. Of course, that's all a matter of preference.
Still, Yelp reviews at one of Biggby Coffee's first locations in East Lansing, Michigan trend negative. One reviewer complains, "I swear they put extra foam in their drinks and do a SLOPPY A** job making the drinks, never hot enough and barely get any drink because of half the foam they put in there."
10. Gloria Jean's Coffees
Gloria Jean's Coffees boasts over 1,000 outlets in 39 countries. They specialize in sugary sweet coffee-based drinks, like their white chocolate caramel cookie chiller. This blended drink features a cappuccino base, white chocolate powder, caramel syrup, Oreo cookies, whipped cream, and caramel sauce. If you've noticed that doesn't sound very much like a cup of coffee, you're right.
Like Biggby Coffee, Gloria Jean's could be accused of packing their menu with sugary beverages that no longer resemble coffee. Other menu examples include the chocolate caramel turtle, made with Madagascar vanilla powder, dark chocolate powder, caramel pecan syrup, whipped cream, and caramel sauce. Of course, those drinks exist because there's a market for them. Some people really enjoy sugary coffee beverages.
Coffee reviewer Nathan, author of the blog The Darkest Roast, notes that Gloria Jean's Coffees gets a truly mixed bag of reviews. He highlights some common complaints, such as long wait times for drinks with people often waiting around 10 minutes. He also notes that drinks at Gloria Jean's Coffees outlets have a tendency to not always match the order.
9. Tim Hortons
This chain may be Canada's go-to for donuts and coffee, but Tim Hortons has made a big expansion into the Northeastern United States. While its coffee boasts a dedicated fan base in Canada, we don't think it's much better than other options on this list.
The coffee menu at Tim Hortons is pretty straightforward, with hot brewed coffee, lattes, cappuccinos, mochas, and a few iced offerings. They have a popular preparation called a "Double Double," which is a "Canadian favorite of two shots of cream and two shots of sugar with the original brewed coffee giving the right creaminess and sweetness to your coffee."
While Tim Hortons may be a beloved to-go spot in Canada, we'd argue there are a lot better coffee options here stateside. The taste and quality of the coffee just don't beat out other coffee purveyors on this list.One Yelp reviewer writes of a Tim Hortons in Clarkston, Michigan, "Here's the thing about Tim Horton's coffee… Everyone seems to rave about it so I keep giving it chance after chance and ALWAYS regret it! DD [Dunkin' Donuts] has much better coffee for sure."
8. Dunkin'
Once an East Coast-only staple, Dunkin' has now spread throughout the United States as a fast stop for passable coffee and donuts. They boast over 9,800 locations. Here, you'll find a straightforward coffee menu, with brewed coffee, iced coffee, cold brew, lattes, macchiatos, and more. They're known for their inventive coffee flavorings, like butter pecan swirl and peanut butter cup swirl.
If you order any kind of flavored drink at Dunkin', you'd better like things sweet, because these drinks tend toward cloying. While most coffee shops on this list will offer sweet coffee beverages, something about the flavored concoctions at Dunkin' tastes so artificially sweet they hurt our teeth.
Meanwhile, the donuts that made Dunkin' famous taste fine, but we find the savory food offerings on the Dunkin' menu to be lacking. Their egg sandwiches and wraps are rubbery and lack freshness, while the hash browns taste stale. We'll stick to the donuts.
7. Dunn Brothers Coffee
Minnesota-based coffee chain Dunn Brothers was founded by two former Portland-dwelling brothers who brought their roastery experience to the Twin Cities. You can find outlets spread throughout the Midwest.
Their menu boasts the things you'd expect from a coffee shop, like lattes, cappuccinos, and Americanos. You'll also find inventive specialty drinks like a raspberry white mocha latte, a mint mocha latte, and a caramelized almond latte. Their cold brew is slow-brewed for 24 hours, with flavoring options like coconut and half and half.
While reviews trend positive, this coffee purveyor doesn't usurp other options on this list. One Yelp reviewer writes of their Minneapolis location, "We order one iced chai, one iced coffee, and a pistachio muffin. The muffin was that almond extract/green food coloring variety with a few pistachios thrown in that we find unpleasant — also, it really stuck to the wrapping paper. The drinks were both pretty good. Our daughter was content with her chocolate muffin."
They add, "So nothing special here. Thank you next."
6. Starbucks
Oh, Starbucks. What could we tell you about the world's largest coffee shop chain that you don't already know? You probably already know what kind of drinks you can order at Starbucks, along with the middle-of-the-road quality you can expect.
If you need a quick refresher, Starbucks offers a range of hot coffees, iced coffees, lattes, macchiatos, and blended beverages called Frappuccinos. There's also a large selection of teas and tea-based drinks. Unicorn Frappuccino, anyone? The menu switches up with the seasons, with pumpkin-based creations popular during the fall and a full lineup of holiday beverages starting in November, like an eggnog latte, peppermint mocha, and more.
If you love Starbucks, you might appreciate its never-ending opportunities for customization. In fact, Starbucks has reported that it offers an almost unfathomable number of different drink combinations. "If you take all of our core beverages, multiply them by the modifiers and the customization options, you get more than 87,000 combinations," Starbucks spokesperson Lisa Passe told the Wall Street Journal in 2008.
5. The Coffee Bean & Tea Leaf
This Southern California-born chain is a big competitor against Starbucks in many parts of the country. With over 1,000 stores worldwide, The Coffee Bean & Tea Leaf offers standard chain coffee fare and a pretty robust tea menu when compared to other options on this list.
We especially love some of their unique offerings that can be hard to find at other coffee shops, like their hazelnut iced coffee (made by mixing a hazelnut powder into iced coffee) and their Winter Dream Tea latte, a spiced tea-based latte that tastes like Christmas in a cup. Unlike some of the shops on this list, The Coffee Bean's drinks don't tend to be too sweet. You can always adjust the amount of flavoring to reduce the sweetness in drinks if you prefer (that's true at most coffee shops, by the way!)
Yelp reviews for a Coffee Bean location in Redlands, California trend positive. One reviewer writes, "I come here almost every day during the workweek. I love their teas and their Mango Cold Brew is the best menu item I've tried so far. Their Midnight Mocha Cookies & Cream is so good and addicting but I try to order that as a treat since it's so high in calories. Customer service is always great. Everyone there is nice and friendly."
4. Dutch Bros
Dutch Bros Coffee is a cult favorite drive-thru coffee purveyor spread throughout the Western United States. The chain got its start in Grants Pass, Oregon in 1992 by two brothers, Dane and Travis Boersma. The brothers left the dairy business to sell espresso out of a pushcart, their favorite music rocking in the background. Now, the chain has grown to have franchises in 11 states.
Dutch Bros enthusiasts love their creative drinks, like the Cocomo, a coconut mocha coffee beverage, and their Annihilator, a blend of espresso, half and half, and chocolate macadamia nut syrup. We love their unique menu, though a few of the drinks are a touch sweet. Still, drinks like their iced Kicker — a cool and creamy meld of espresso, half and half, and Irish cream syrup over ice—can't be beaten on a hot day.
Dutch Bros is known especially for its top-notch service. One reviewer on Yelp writes of a location in Davis, California, "Firstly, the nicest service ever here! Since it's a long line, they walk up to your car to take your order. Good tip to look at the menu online ahead of time although they're so nice and excited to share their faves with you!"
3. Caribou Coffee
With locations in 18 states and more globally, Caribou Coffee is a favorite coffee chain among many. You'll find the most locations in Minnesota, where it was founded, and the most local love there too.
Their menu features a line-up with lots of warm, comforting beverages, like the breve (an espresso with steamed half and half), hot crafted press (cold-crafted coffee steamed with a splash of milk and real sugar), and a rotating coffee of the day, brewed every hour for freshness. There are lots of sweet lattes, like a vanilla white mocha and berry white mocha, too. Plus, they have a solid tea selection and a fun range of caffeinated apple cider drinks. The food selection at Caribou Coffee is pretty great for a coffee shop, too. There are satiating options like a maple waffle sandwich made with chicken gouda sausage, or the breakfast mouthful that is the "Ham, Bacon, Two Eggs & Cheddar," which is all of the listed, with peppered cream cheese on a hash brown-crusted bagel.
One Canadian reviewer on Tripadvisor calls Caribou Coffee "our favorite USA coffee shop."
2. Blue Bottle Coffee Company
A growing craft coffee purveyor, Blue Bottle Coffee Company now has over 90 locations throughout the United States and Asia. This brand differentiates itself from most of the coffee shops you'll find on this list, with coffee that exceeds specialty-grade standards. What does that mean? Well, specialty coffee "must register 80 points or above on a 100-point scale" to meet the definition set by the Specialty Coffee Association. Blue Bottle uses coffee that registers at 84 or above. While most of the coffee shops on this list sell conventional quality coffee, you can consider the stuff from Blue Bottle as akin to fine wine. It's not your everyday coffee beans.
Plus, every member of the Blue Bottle Coffee Company sourcing team is a certified Q grader, which is the highest possible certification for a professional coffee taster. For every coffee, Blue Bottle Coffee Company creates a custom roast to best bring out the flavor of those beans.
The menu at a Blue Bottle Coffee Company shop will look a lot different than other options on this list. You'll find specialty coffee where you're meant to enjoy complex and unique flavor profiles, rather than milky and sweet creations. There are a few cold brew options, along with a rich chocolatey mocha, and an affogato (espresso and ice cream) for something dessert-like.
If you don't live near a Blue Bottle Coffee Company, they offer a great coffee subscription service so you can enjoy top-notch coffee at home.
1. Peet's Coffee
Peet's Coffee is known as "the original craft coffee," and they live up to the hype. Alfred Peet, a coffee industry veteran, opened the first location in Berkeley, California in 1966 after discovering "that the richest country in the world drinks the lousiest coffee."
Peet's Coffee takes our number one spot because their offerings are solid, with coffee that tastes fresh and beautifully roasted. Their barista creations include delicious, just-sweet-enough lattes, iced drinks, blended drinks, and more. Some of our favorites at Peet's Coffee include the Havana cappuccino, a gently sweet, milky cappuccino with bold espresso and the perfect hint of cinnamon. A simple vanilla latte from Peet's Coffee tastes of real vanilla, while "The Black Tie" channels Vietnamese iced coffee, with cold brew brewed with chicory, sweetened condensed milk, and a hit of half and half.
"My boyfriend and I go to Peet's religiously on the weekends. It's our morning treat. The coffee is roasted daily on-site and is delicious. The staff is always very attentive and efficient," one reviewer writes of Peet's on Influenster.
Peet's is available in 11 states, but if you can't find one near you, they sell their incredible coffee beans in major retailers around the country.