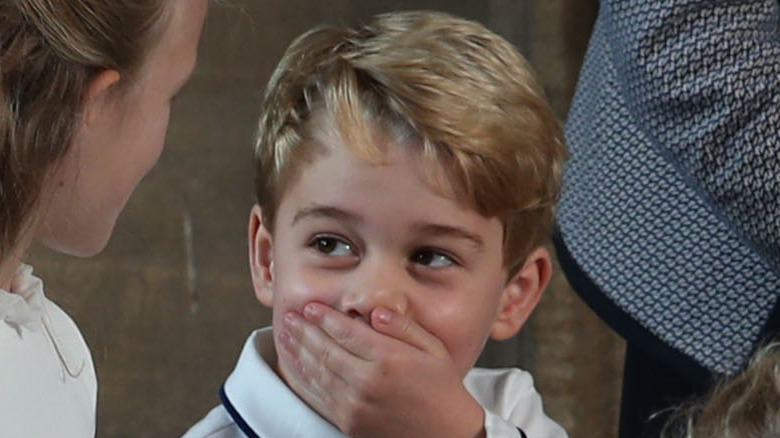 Chances are you come from a family that set at least a few household rules when you were young. In the United Kingdom, 2,000 adults were surveyed about their house rules. Express reported that nearly half of those polled said they felt that setting rules made for "a better family home and a smoother daily routine." From putting the toilet seat down to no running in the house, there's any number of rules parents can implement in their homes.
Not unlike other families in the U.K., the British royal family has their own set of "household rules," so to speak. Unfortunately for royal children, though, many of the rules imposed upon them must still be followed well into adulthood — and even when they are no longer under the same roof. While many commoner families use rules to help their children develop manners or protect them from injury, royal rules don't always make quite as much sense. Here are some of the most insane rules royal children are expected to follow.
They must accept gifts, but not keep them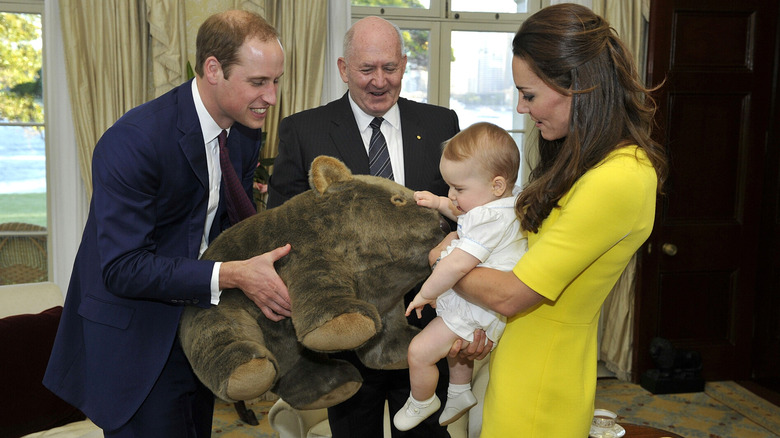 Being a young royal garners a whole lot of public attention — and presents. When Prince George was just 18 months old, he received a remarkable amount of gifts — seven times more than the Queen, in fact. Kensington Palace (via CNBC) released a report in 2014 listing the 774 presents he received over the course of the year. But here's the catch: he doesn't get to keep most of them.
The royal family has strict rules about what can, and cannot, be retained. According to the royals' official website, if a gift is from an "individual not personally known" to the royal family, they may only accept consumable items within reason (e.g. flowers), books presented by the author with noncontroversial subject matter, and other small items with a price tag of less than £150 (about $196). "The fundamental principle" of this rule, the royal family says, is so the members are not, or do not appear to be, "under any obligation to the donor."
They'll need to speak a foreign language
While there is no official rule that states royal children must learn a foreign language, history tells us that this has been a procedure followed for some time. The Queen speaks French fluently, and it is thought that she was taught the language as a child. According to Express, all of the Queen's children also speak the language. The Queen's grandson, Prince William, was even heard conversing in French while in Quebec in 2011. Although he may not be fluent, the prince can also speak a little bit of Welsh and Swahili. Prince Harry was also heard speaking a foreign language while at a fundraiser in Dubai back in 2013.
While attending a charity event, Middleton revealed that both George and the littlest princess, Charlotte, began learning Spanish at three and two years old respectively, according to Reader's Digest. No doubt Prince Louis and his soon-to-be cousin will also take up a foreign language at a young age.
They have to learn and perform this formal greeting
Princess Charlotte's little "Windsor wave" is undeniably adorable. It's also something that she may have picked up naturally by seeing mom and dad wave to members of the public. By the time Charlotte is school-age, however, she will be expected to perform another style of greeting — one that she will be taught.
Historian and royal expert Marlene Koenig told Hello! Magazine that royal children are expected to "curtsy or bow" to the Queen "certainly by age five." Contrary to what you may have heard, the expert explained that the royal children will only perform this formal greeting for the monarch. "A royal highness does not curtsy to another royal highness. Yes, there are articles that state this, but it is not true," Koenig elaborated. As George celebrated his fifth birthday in the summer of 2018, it is probable that the young heir has already begun bowing when seeing the Queen in private.
They can only wear a limited wardrobe
Being a member of the royal family includes some wardrobe restrictions for adults and children alike. While you'll likely never see William out and about in a pair of shorts, that's what you'll almost always see George wearing. Etiquette expert William Hanson explained why when speaking with Harper's Bazaar. "Trousers are for older boys and men, whereas shorts on young boys is one of those silent class markers that we have in England," he revealed, "Although times are (slowly) changing, a pair of trousers on a young boy is considered quite middle class — quite suburban." Well they can't have that, now can they?
Hanson revealed that, per the custom, a royal boy "graduates to trousers" around the age of eight. At Harry and Meghan Markle's wedding and Princess Eugenie and Jack Brooksbank's wedding, viewers were able to get their first glimpses at the young prince in trousers — but the etiquette expert said in 2018 that it'll likely be "a few more years" before pants are a wardrobe staple for George.
They must get baptized
In 2013, BBC reported that the number of infant baptisms were in a state of decline. In the '80s, one in three children were christened by the Church of England, but by 2011, just one in ten infants were sprinkled with water. Adult baptisms likewise declined. However, christenings are still very much a part of the royal family. You may recall reading reports of Meghan Markle's baptism into the Church of England just a couple months before her wedding to Harry. Each of William and Middleton's children — George, Charlotte, and Louis — have also been baptized.
The royal family's relationship with the Church of England dates as far back as the 16th century, according to the royals' official website. More recently, upon being crowned, Queen Elizabeth took an oath to "maintain and preserve inviolably the settlement of the Church of England, and the doctrine, worship, discipline, and government thereof, as by law established in England." In other words, you can expect all those born into the royal family to be christened by the Church of England.
They're not supposed to travel with other heirs
Imagine going on a family vacation, but instead of boarding one plane together, you split up and each fly on separate planes. It sounds crazy, but that's what heirs of the British throne are supposed to do when traveling. According to BBC, members of the royal family in the past had been prohibited from traveling together. The reason for this is quite morbid: if anything tragic were to happen, multiple heirs would not be lost.
As pictures and reports have proven, however, William and Middleton's children do travel with their parents. That's not to say the guideline has changed. Rather, William's travel arrangements are an exception to this guideline. While the royal press office told BBC that there's "no official rule" on the matter, William and Middleton did have to "ask the Queen for permission but she said yes." The spokesperson added that it's "something that the Queen has the final say on."
They have to take etiquette training
In 2015, Express revealed research that showed what lessons British parents deemed the most important to teach their children. Manners including "always saying please and thank you," respecting your elders, and having good table manners reigned supreme. Even so, you can imagine that most of those parents wouldn't send their children to etiquette training. Royal children, however, begin this sort of formal training "as soon as they're old enough to sit at a table," etiquette expert Myka Meier told People. "They are raised having formal meals, going to formal events and practicing everything from voice levels to dressing appropriately to even, of course, how to curtsy and bow," Meier revealed.
With two royal weddings having taken place in 2018 alone, the royal kiddos had to receive even more training than usual. According to the expert, they practiced at rehearsals and "even learned wedding specific behavior and protocol."
They must have baby passports
You may think that because literally everyone can recognize the key members of the royal family that there'd be no reason for them to use passports. Well, there is one person of the royal family who is indeed exempt from having a passport. The Queen does not need the document because, as the royal family's official website states, the "British passport is issued in the name of Her Majesty." Therefore, "it is unnecessary for The Queen to possess one." The site further clarifies that "all other members of the Royal Family, including The Duke of Edinburgh and The Prince of Wales, have passports."
No one — not even the littlest royals — are exempt from following this travel procedure. Both young Prince George and his sister Charlotte have their own baby passports as they've already done some extensive traveling to Australia and New Zealand. Since little Louis joined his family on a trip in summer 2018 to Mustique, it's reasonable to assume that the young prince already has a passport, too.
They can't eat packaged foods
When William and Middleton were expecting their first child, the organic baby food brand Plum gifted the Duchess of Cornwall, Camilla, a crate of ready-to-eat purees. Although Camilla graciously accepted the swag (as those royals do), the Queen's former chef Darren McGrady told Today that it's not likely to be consumed. "I've certainly never seen packaged food with any of the royal babies," he explained, "Why would they buy packaged food when the queen has 20 personal chefs?" Hmm, he has a point.
Having prepared food for both William and Harry, McGrady said their first meals were puréed steamed apples and pears and were strained twice to eliminate all lumps. "As they got older," the chef revealed, "you'd have one chef in the kitchen doing the chicken, one doing the veg, and then it would all be blended together; it was a major operation cooking for them." Can you imagine how they feel about store-bought baby food? The horror!