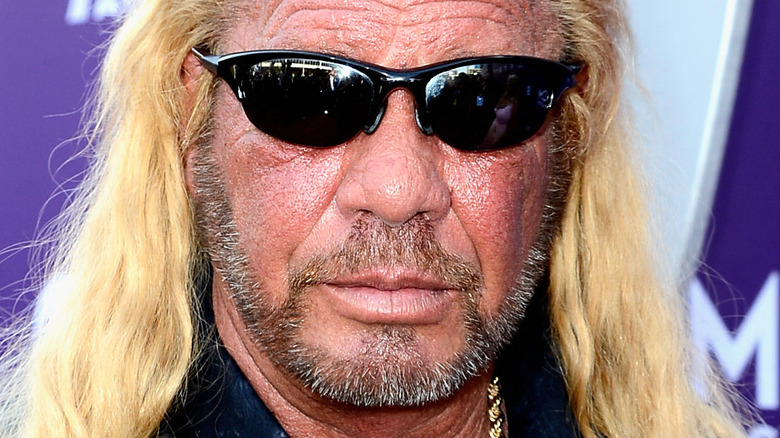 If someone called Duane Chapman the most famous bounty hunter on the planet, they probably wouldn't get a lot of argument because he seems to be recognized everywhere he goes. That could have to do with his distinct look, which includes his long bleached blond locks, a scruffy beard, and signature sunglasses. But Duane's popularity has way more to do with his series "Dog the Bounty Hunter," which aired from 2004 to 2012 on A&E. On the show, he chased down fugitives, mostly in Hawaii and Colorado, alongside his wife, Beth Chapman, his children, and others.
The series was canceled after eight seasons, but Duane remained on TV in similarly themed shows, including "Dog and Beth: On the Hunt" on the CMT network. But seven years after "Dog the Bounty Hunter" was over, Duane's world was completely shaken when Beth died of cancer in 2019. Two years later, however, Duane married a woman named Francie Frane, a "rancher from Colorado," per The Sun. The nuptials sparked plenty of outside opinions, as the reality TV star has plenty of fans out there who still follow his every move.
To satisfy those rabid Dog fans, we're turning the tables on the famous tracker to reveal what else he and his famous family and friends have all been up to since "Dog the Bounty Hunter" ended.
Duane Chapman got himself into hot water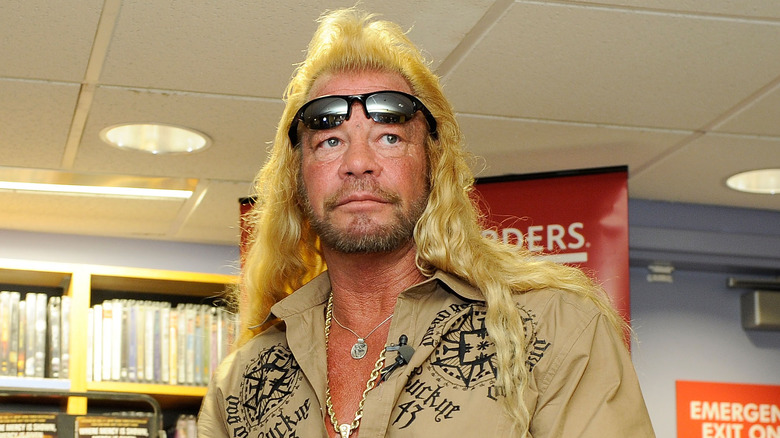 Being the "Dog" himself, as well as the face of "Dog the Bounty Hunter," it's probably no surprise that Duane Chapman continued starring in shows that were connected to being a bounty hunter and bail bondsman. Following his stint on CMT's "Dog and Beth: On the Hunt," Duane starred alongside his wife, Beth Chapman, in WGN's "Dog's Most Wanted," which ran for 10 episodes. In that series, viewers saw the couple and its bounty hunter crew chase down some of the United States' top fugitives. It also showed the Colorado native and his family dealing with Beth's cancer diagnosis.
In September 2021, Deadline reported that Duane would star in a new bounty hunter series, "Dog Unleashed," but it was canceled before airing. Duane then lashed out, tweeting various vague accusations of wrongdoing by the production team, according to Taste of Country. Unleashed Entertainment, the streaming service behind the show, claimed that it discovered through an internal investigation that Duane had made "racist and homophobic comments," and that's what tanked the show. But he later denied using such language in an interview on "Entertainment Tonight."
Duane also began looking for Brian Laundrie in late 2021. Laundrie died while police were looking for him in the wake of the disappearance and subsequent death of his 22-year-old fiancée, Gabby Petito. After suffering an ankle injury, Duane personally left the search for Laundrie prior to Laundrie's remains being found.
Beth Chapman died in 2019
Thanks to her bold personality, Beth Chapman was arguably just as big a star of "Dog the Bounty Hunter" as Duane Chapman himself. Fans of the breakout reality TV star mourned her death in June 2019, which followed her initial cancer diagnosis in 2017. At that time, Beth was diagnosed with Stage 2 throat cancer, which was treated with the removal of a tumor. In 2018, Entertainment Tonight reported that Beth had to have emergency surgery to remove another mass in her throat.
"Another bend in the road yet not the End of the Road," she captioned a November 2018 Instagram photo of herself and Duane lying in a hospital bed. And despite the reality star admitting to things looking "grim" for her at that point, she stayed optimistic and continued to work. She even chronicled her illness for A&E's special "Dog and Beth: Fight of Their Lives."
"I'm going to fight this as vigorously as it's fighting me," Beth told the Star-Advertiser in January 2019. She died, age 51, six months later at Queen's Medical Center in Honolulu, Hawaii, from Stage 4 lung cancer. "It's 5:32 (a.m.) in Hawaii, this is the time she would wake up to go hike Koko Head mountain," tweeted Duane after her death. "Only today, she hiked the stairway to heaven. We all love you, Beth. See you on the other side."
Duane Lee Chapman Jr. basically disappeared
A disagreement over money eventually led Duane Lee Chapman Jr. to dissociate himself from his father's shows after "Dog the Bounty Hunter" went off the air. Duane Jr. got into a tiff with his dad and stepmom, Beth Chapman, in the last season of the series, saying that he was underpaid and overworked. Since then, Duane Lee has basically vanished from public life.
One unconfirmed report from CelebLiveUpdate stated that after the blowout, Duane Lee had relocated to Florida "to become a financial advisor." However, if that was true, it would appear as though he started wearing multiple hats. In his last tweet, as of this writing, Duane Lee clearly seemed like he was still passionate about bounty hunting and was working hard at it. "Late night tips that turns into a chase and a fugitive getting arrested? I'll take it," he tweeted from Colorado in January 2016.
As far as Duane Lee's dad goes, he hasn't publicly mentioned his son much in the years after their tiff, either. But in April 2013, he did send what appeared to be an open-ended invite for Duane Lee to return to the family. "CMT would love to do The Prodigals Son Comes Home Son Of Dog," Duane tweeted, adding, "The Door is Always Open Duane Lee Love You."
Leland Chapman's marriage has been making headlines
After "Dog the Bounty Hunter" went into reruns, Leland Chapman moved to Alabama in 2015, something that many interpreted as a sign that he was separating himself from his family. But he later responded to the chatter by tweeting, "I moved to Alabama. I am not leaving my family or the show," referencing the CMT series "Dog and Beth: On the Hunt," on which he also starred with his dad, Duane Chapman, and his stepmom, Beth Chapman, from 2013 to 2015.
In 2016, Leland tied the knot with Jamie Worley, but it wouldn't be long before divorce rumors hounded the couple. According to PopCulture, Leland's social media followers started noticing several relationship red flags in July 2021, not to mention the fact that "Leland recently moved to Hawaii, but Jamie is working in Alabama."
But it seemed that Leland's move was mostly about work, because he started his own bail bondsman business, Kama'aina Bail Bonds, in the town of Kailua-Kona, according to The U.S. Sun. He also runs his dad's business, Da Kine Bail Bonds, in Oahu. And as for those breakup rumors, it appears that Leland and Jaimie are still going strong — at least according to a September 2021 Instagram photo (above) that shows them together, and in which Leland sweetly described Jamie as his "partner, best friend, ride or die and the love of [his] life."
Tim Chapman retired
Tim Chapman (above, second from left) was one of the bounty hunters on "Dog the Bounty Hunter" who wasn't related to Duane Chapman, despite both of them having the same last name. In fact, Tim helped Duane bring in convicted rapist Andrew Luster in 2006 when they tracked him down in western Mexico after he skipped bail, per ABC News. Since "Dog the Bounty Hunter" ended, Tim appeared on "Dog and Beth: On the Hunt," and after that ended, he kept away from social media, photo ops, and interviews altogether. Plus, he retired from being a bounty hunter, as The U.S. Sun reports, so it seems he's living a completely different life these days compared to his television years. In fact, one of his only public appearances — if you can even really call it that — has been in a 2019 Instagram photo shared by Duane's personal security guard, Kaleo Padilla, shown above.
We do know, however, that Tim was married to a woman named Davina Chapman, and he has three children — Storm Hunter Chapman, Thunder Cloud Chapman, and Tim Chapman Jr. — according to that same report from The U.S. Sun. It was also stated that Davina was accused of cheating on Tim and having a child with someone else. But even though he had those alleged marital issues and is no longer on TV, he seems to be doing okay since Celebrity Net Worth says he's worth $3 million.
Lyssa Chapman became a business owner
Lyssa Chapman is the ninth of Duane Chapman's 12 children, per The U.S. Sun. She was also seen hunting down bad guys with her dad, siblings, and others on "Dog the Bounty Hunter" and two episodes of "Dog and Beth: On the Hunt." From there, she opened her own tanning salon in Hawaii in 2013 but sold the business in 2018.
The same year that Lyssa opened her tanning salon, she released a book titled "Walking on Eggshells: Discovering Strength and Courage Amid Chaos," detailing how she overcame her tough upbringing. She also launched a clothing line, Baby by Lyssa Chapman, which she describes on the brand's website as "a for-everyone, everyday line consisting of simple 'mix and match' pieces that Lyssa herself wears daily." Lyssa promotes the line heavily on Instagram, and remains active on a verified Facebook account.
But life hasn't been all business for the former A&E star. Lyssa found love after her "Dog the Bounty Hunter" days. In 2017, she got engaged to a woman named Leiana Evenson, and in April 2021, they celebrated five years together. On a less positive note, Lyssa also had a very public Twitter beef with Beth Chapman in 2019. Lyssa's Twitter account connected to the spat is no longer active, but fortunately, it seems the pair patched things up before Beth's death, as Lyssa later used her Facebook page in October 2021 to wish her late stepmom a "Happy Heavenly Birthday," adding, "You are missed beyond measure."
Bonnie Jo Chapman had beef with her dad
Duane Chapman and Beth Chapman's daughter, Bonnie Jo Chapman, appeared on "Dog The Bounty Hunter" for the entire run of the series. She also appeared on "Dog and Beth: On the Hunt." Of course, she suffered a major blow after losing her mother in June 2019. "I never imagined a life without her," the then-20-year-old lamented at her mom's memorial. She also spoke openly on the "Savage Words" Podcast in October 2020, saying she had a "love, hate relationship with being in a famous family."
That complicated relationship came to light in Bonnie's May 2021 interview with the Daily Beast. The piece profiled Bonnie's activism work with Black Lives Matter and LGBTQ rights movements, but it also included her accusation that Duane had used racist and homophobic language (which he later denied). Bonnie's relationship with her dad, though strained as of this writing, has been up and down. She defended her father's decision to start a relationship with Francie Frane in 2020 after Beth died, writing on Instagram (via the Daily Mail), "My mother would've wanted him to be happy." And yet, by the time Duane and Francie's wedding rolled around in August 2021, both Bonnie and her sister, Cecily Chapman, claimed they were not invited, per TMZ.
On the professional front, Bonnie seems to be a budding influencer, and in October 2021, it was revealed that Bonnie joined TV Unleashed's "The System," a show that focuses on social justice.
Garry Chapman had a close call
Duane Chapman and Beth Chapman's youngest son, Garry Chapman, appeared in 28 episodes of "Dog the Bounty Hunter" and two episodes of "Dog and Beth: On the Hunt." Like his older sister, Bonnie Chapman, Garry's world changed forever with the death of his mother, who he often mourns on social media. "Some days I'm up. Some days I'm down … Some days I turn and look for you with thoughts I'd like to share," he wrote in an October 2021 birthday remembrance for Beth on Instagram. Based on some of Garry's posts, it seems that he's been writing as a form of expression, since some of his captions have a poetic flair.
But sharing his thoughts isn't all that Garry has been up to. He is "a certified scuba instructor," according to The U.S. Sun, and was a cheerleader for his Colorado high school, per CountryLiving, so no one can call him a one-dimensional kind of guy. But Garry's active lifestyle was abruptly halted after he got into a four-wheeler accident in 2020, suffering a concussion and fractured tailbone. During an interview with The U.S. Sun, Garry's stepmom, Francie Frane, said the injury actually helped the blended family bond even further. Apparently, Francie's son from a previous relationship, Greg, has a solid relationship with Garry; Greg was even the one to take Garry to the hospital after the accident.
Justin Bihag wrestled with some challenges
Justin Bihag is another past cast member of "Dog the Bounty Hunter" who isn't related to Duane Chapman, although he calls himself the TV star's nephew on his Instagram page. Per the New York Daily News, Bihag — who appeared on the show for six seasons — sued A&E and "Dog the Bounty Hunter" cast members in 2014 in a Manhattan Federal Court for low pay and unpaid appearances. He also accused Duane and Beth Chapman of exploiting a 2007 car accident that he had by using it as a "promotional tool for the show," according to court documents. In the same documents, Bihag explained that he suffered from depression from the ordeal, became addicted to drugs, and lost custody of his child.
Then in July of 2019, he mourned Beth's death on Twitter, but later that year, Lyssa Chapman, Beth's daughter, accused him of using her death for financial gain. On Twitter, she even accused him of trying to steal her mother's ashes to sell them on eBay, which he denied in a series of now-deleted tweets, as shared by Yahoo!. But Bihag also seemed to be on much better terms with Duane by the time 2019 came, because he shared a photo on Instagram of himself having a meal with him and wrote in the caption, "Just a dinner and talk can help the soul, and our futures." Unfortunately for Bihag, his problems continued in 2020, and he was arrested for violating probation, per People. That arrest reportedly came from a previous domestic violence charge.
Bobby Brown opened a weed dispensary
"No Love Still," "Inside Out," and "Rocky Mountain Roundup" are just some of the "Dog the Bounty Hunter" episodes that Bobby Brown was on during his five years on the show. Then in 2011, one year before the series ended, he sued A&E Television Networks, Hybrid Films, and D&D Television Productions for allegedly breaching an agreement. Per The Hollywood Reporter, Brown said he was paid $6,000 for being on the series despite it making over $400 million in seven seasons. He also claimed that Duane Chapman and Beth Chapman promised that he'd become a full-time cast member, but it never happened. As of 2021, there's no word on the result of the suit or how Brown made out.
Then after ending his time on the show, he continued with his bail bondsman work, running Bobby Brown Bail Bonds in Colorado Springs, Colorado, which he's been running for almost 30 years, according to its website. He's also gotten into the legal cannabis business and opened a dispensary called Bobby Brown Best Buds in Colorado Springs, which he advertises on his Instagram page. And despite his lawsuit, it seems like the former reality star didn't hold a grudge against Duane because he's promoted his "Dog Unleashed" show and posted photos of him since Beth's death. He also wished him well with his new marriage, writing in one Instagram photo, "God Bless you and @franciefrane always & forever."
Cecily Chapman continues to honor her mom
Duane Chapman and Beth Chapman's daughter, Cecily Chapman, certainly wasn't left out of the family business because she was on "Dog the Bounty Hunter" from 2003-2007, per IMDb, appearing in 21 episodes. She appeared on "Dog and Beth: On the Hunt" and "Dog's Most Wanted" as well. Then several years after "Dog the Bounty Hunter" ended, Cecily faced most likely her biggest challenge yet: her mom dying of cancer. Afterward, she spent much of her time keeping Beth's memory alive by posting Instagram photos of her. She also started an etsy shop called Cecily4Beth to honor her mother. The company sells items like t-shirts and hats that say "For Beth" on them.
But the Colorado native faced some legal drama in August of 2021. That's when TMZ reported that she was arrested in Hawaii for domestic violence after her ex said she punched him in the face. In the end, however, prosecutors decided not to press charges, and Cecily said she was just defending her mother's honor after it was disrespected. She also had a beef with her dad in 2021 and blasted him for trying to find Brian Laundrie, the man associated with Gabby Petito's death. Also in 2021, the reality star spoke on Instagram about having her own show on Unleashed.tv called "The Truth Unleashed with Cecily." She said the first few episodes will be about "domestic violence, rape, and bullying," and she wants victims to share their stories with her.