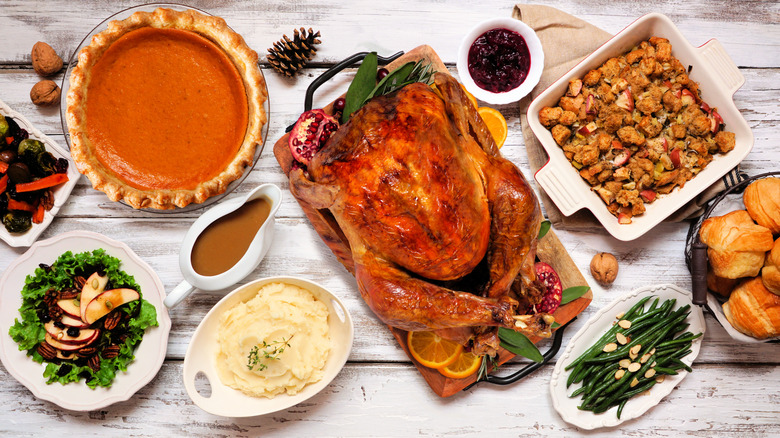 Now that the calendar has gracefully turned over to November, the holiday season will naturally fill the air. Halloween is officially over so it's time to, whether people like it or not, queue the Mariah Carey Christmas music. And it's also the season to start planning Thanksgiving meals. Yet, if you rather skip the cooking this year, then you're in luck, as we'll be uncovering the best places to buy your pre-cooked Thanksgiving dinner.
Let's face it: Concocting a Thanksgiving feast takes a lot of time, work, and energy, from the shopping to the actual cooking to the cleaning up process. And this festive holiday is supposed to be a time when mindfulness takes over. Yet it's hard to be grateful when you're spending countless hours on one meal. It's okay to let someone take over the cooking duties this year. 'Tis the season to be jolly and merry, and, if you prefer, let one of these places make your pre-cooked Thanksgiving dinner.
Note: To ensure a successful order, it's best to check to see if these places deliver to your address –– if you're not picking them up from the store, though some companies only provide delivery. You'll also want to order early as not every store has an unlimited amount of turkey dinner supplies.
1. Albertsons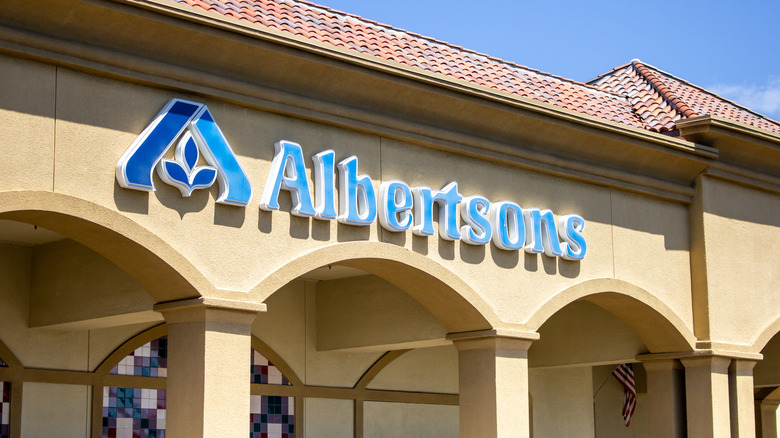 Though many grocery stores very well could have Thanksgiving options, Albertsons has full-fledged holiday meals at its disposal –– and these options will be available for pick-up on or after November 17. The best part about Albertsons' Thanksgiving lineups? Customers have choices, from the smoked turkey holiday dinner (serves eight to 10 people) to the turkey breast holiday dinner (serves six to eight), and its spiral cut ham dinner (serves eight to 10) to its baked turkey holiday dinner (serves eight to 10). Yet Albertsons is also providing a side-dish option –– if you only need to purchase the fixings. The best part? Albertsons' turkey dinner lineups range from $29.99 (the fixing package) to $67.99 (the entrée, sides, dressings, and condiments).
Though Albertsons provides fully-precooked meals, it's important to note that you'll need to heat the food before serving –– because no one deserves a cold turkey meal. And although holiday meals will be available for pickup on or after November 17, holiday dinner orders will be accepted while supplies last starting on November 1 to November 22.
2. Bob Evans
Although Bob Evans is known for its sirloin steak, farm fresh eggs, home fries, sausage gravy and biscuits, and other diner-like classics, it has quite the Thanksgiving holiday dinner spread. The restaurant's Farmhouse Feasts serve up to 10 people. All you'll need to do is warm up the meal, serve, and dive in.
Just to give readers an idea of what to expect, the Premium Farmhouse Feast comes with slow-roasted turkey and hickory-smoked ham. The sides consist of bread and celery dressing, corn, Bob Evans' famous mashed potatoes with gravy, baked rolls, green beans with ham, cranberry relish, and macaroni and cheese. That alone is a massive feast, yet pumpkin bread, pumpkin pie, and double-crust apple pie are also included. Naturally, this feast serves up to 10 hungry appetites. Yet if that sounds like too much food, then dinners serving up to four and eight people are also on the menu.
The Farmhouse Feasts are available online for delivery, takeout, or curbside pickup. Bob Evans also states that, since Farmhouse Feasts are packed cold, they'll take a few hours to heat.
3. Boston Market
Boston Market is virtually a holiday feast on a seasonal basis, yet they take it up a notch during this time of year. Boston Market features three Thanksgiving options: heat and serve, catering, and à la carte –– and inside those choices, there are countless others. So you can serve a few people, an entire party, or fill out your own meal with à la carte options. Though Boston Market does the prepping and cooking, you'll need to heat the food, unless you go the catering route.
The heat and serve option can serve six to 12 people, depending on which of the two meals you choose from. If you pick the smaller one, then you'll receive a boneless roasted turkey breast, while the 12-person dinner consists of a whole roasted turkey meal. Yet, there are also ham and prime rib meals available, as well as a turkey-ham combo in the 12-serving option. The sides are included, just in case you're wondering.
The dinner catering features premium buffet, deluxe buffet, and create your own buffet options, with the price per person fluctuating depending on the buffet type. And, of course, the à la carte menu allows you to pick single items, whether you fancy entrées, sides, appetizers, or desserts.
4. Bravo Italian Kitchen
Bravo Italian Kitchen, as the name suggests, is an Italian restaurant –– but don't let that fool you, the Italian chain prepares Thanksgiving dinner, and they prepare it right. For non-cooks (or those who just want to take it easy this holiday), Bravo Italian Kitchen provides the entire Thanksgiving meal, which is now accepting orders for curbside, pick-up, or delivery. Best of all? The to-go meals are prepared cold and ready to heat, or hot and ready to serve.
Bravo has a small option, which serves three people at $78.99 total, a large option, which feeds six at $148 total, a half pan option that serves 10 at $229, and a full pan option that serves 20 at $419 total. Its Thanksgiving feast menu consists of a traditional turkey dinner with a bit of an Italian twist: sliced white meat turkey, homestyle gravy, spicy Italian sausage stuffing, roasted garlic mashed potatoes, green beans, cranberry sauce, and pumpkin pie.
Bravo's website states that pre-orders must be placed by November 23 at 8 a.m. ET.
5. Brio Italian Grille
Brio Italian Grille has a similar *chef's kiss* pre-cooked Thanksgiving feast to Bravo Italian Kitchen. Like Bravo, Brio is accepting pre-orders for curbside, pick-up, and delivery, as well as offering cold and heat and hot and ready-to-serve options.
Brio is also preparing four Thanksgiving orders: two to-go options and two catering. Likewise, the small portion serves three people at $78.99 total, the large option feeds six at $148 total, the half pan option serves 10 at $229, and the full pan option serves 20 at $419 total. That said, the menu is a bit different. Brio is serving roasted sliced white meat turkey that's topped with herbed pan gravy, pancetta stuffing, pan-seared broccolini, roasted garlic mashed potatoes, orange cranberry sauce, and pumpkin-spiced bread pudding for dessert.
Depending on your location and food preferences, Bravo or Brio might make more sense, yet you can't go wrong with either restaurant's feast.
6. Buca di Beppo
There's something about an Italian-esque Thanksgiving dinner that makes the holiday even more special. If you agree with that sentiment, then Buca di Beppo is a natural choice for turkey dinner. Buca offers hot or cold options, yet both are, of course, pre-cooked.
So what does a Buca Thanksgiving feast look like? As most traditional turkey day feasts will have, Buca's comes with sliced white meat turkey, homestyle gravy, and roasted garlic mashed potatoes. However, the Buca spin comes into play with spicy Italian sausage stuffing. Rounding out this magnificent feast are green beans, cranberry sauce, and pumpkin pie. Buca has two to-go options, a small feast that feeds three at $78.99 and a large option that feeds six at $148. Yet catering options –– a half pan that feeds 10 at $229.99 and a full pan that feeds 20 at $399.99 –– are also available.
If you want to add Buca Italian favorites to your order, then more power to you –– and enjoy! Just keep in mind that pre-orders are due by November 23 at 8 a.m. ET.
7. Burgers' Smokehouse
Burgers' Smokehouse prides itself on cured and smoked meats, and they have quite the meat selection for Thanksgiving. Not only can you order a pre-cooked and complete holiday feast, but you can also purchase individual hams and turkeys. And, to be frank, there are a plethora of ham and turkey options to choose from, allowing feasters to choose the exact type of meat they want to dive into on Thanksgiving. It only makes sense to get your turkey dinner from a place that specializes in meat.
Starting at $63 for a sliced, boneless, gourmet turkey breast, Burgers' Smokehouse's prices go all the way up to $179.99 for a smoke turkey meal, which includes broccoli and cheese casserole, sweet potato casserole (because one casserole sometimes isn't enough), Southern pecan pie, and smoked turkey. Whether you need a whole turkey or the entire Thanksgiving meal, Burgers' Smokehouse has a perfectly splendid option of heat and serve meals.
8. Costco
At this point, what does Costco not offer? The wholesale store is a one-stop shop for virtually everything, including Thanksgiving dinner. Costco has partnered with Schwan's to deliver an American turkey meal to your table. Though you will have to technically cook the items, the Schwan's Thanksgiving meal is pre-cooked and just needs to be warmed up.
Inside this Thanksgiving box is (get ready for your taste buds to dance): ready-to-roast turkey breast, roasted baby bakers (baby potatoes), roasted sweet potatoes, whole green beans, sweet corn, and Southern-style biscuits. Yet a Thanksgiving meal isn't quite complete without dessert, and this meal totally brings the thunder in the sweet department as it comes with traditional pumpkin pie, old-fashioned apple pie, and classic vanilla ice cream.
At the time of this writing, you can order this glorious feast for $99.99 at Costco. Did we mention this holiday dinner serves eight people?
9. Cracker Barrel
Cracker Barrel can, without a doubt, satisfy all your turkey dinner needs. The Southern country-themed restaurant is returning holiday favorites as well as bringing new additions to its Thanksgiving dinner lineup.
Coming in at $149.99, Cracker Barrel's Thanksgiving Heat N' Serve Feast is ideal for parties of eight to 10. It's chilled and just waiting to be heated in your cozy home. And, needless to say, it comes with a whole lot of food: not one but two turkey breasts, dressing, and gravy, as well as cranberry relish, sweet potato casserole, two additional sides, rolls, and pumpkin and pecan pies. If that's too much food, then the Thanksgiving Heat N' Serve Family Dinner, which serves four to six people, is a natural choice. From there, a plethora of heat and serve items are available, as well as desserts (the cinnamon roll pie is new), and you even have the option to purchase just the turkey breast, which serves four to six lucky people.
10. Denny's
Denny's might be a diner that serves breakfast, lunch, and dinner classics, but in previous years, it has been many people's go-to Thanksgiving meal spot. Though Denny's has yet to release its holiday menu, in 2020, its Turkey & Dressing Dinner Pack was all the rage, featuring a classic Thanksgiving dinner of turkey breast, stuffing, mashed potatoes, gravy, cranberry sauce, and a choice of broccoli or corn. The classics remain the classics for a reason: each dish complements the next, and together they make one epic meal.
It remains to be seen if that exact Thanksgiving dinner will hit Denny's again in 2021. Now until the holiday meal is *fingers crossed* released, the contents of Denny's turkey dinner remain a mystery. Yet, if last year was any indication, turkey lovers should be able to get all their Thanksgiving needs met by the diner-turned-Thanksgiving-meal savior. Now more than ever, that's something to be grateful for.
11. FreshDirect
Though FreshDirect has yet to make its turkey dinner official in terms of release date, right now a Thanksgiving turkey dinner is featured on its website. And turkey dinner traditionalists should be satisfied as the meal consists of turkey breast, cornbread and sausage stuffing, green beans, mashed potatoes, and gravy. This is also the ideal meal for people who are on a budget as the turkey dinner is $8.99 a plate. It's virtually impossible to beat that price, though you might not mind paying more for one of the biggest meals of the year –– and you might also need to serve an entire party.
Though the product might be showing up as temporarily unavailable (at the time of this writing), be sure to monitor FreshDirect to see when the turkey meal is officially ready for purchase. After all, this is one of the hungriest holidays of the year, and food tends to fly off the shelves fast.
12. Goldbelly
Goldbelly provides, to say the least, a unique yet special Thanksgiving dinner option as it partners with restaurants across the nation to deliver turkey meals right to your door. And the options are limitless, from the highly-regarded yet hard-to-make turducken to the always pleasant cajun turkey. To see what Goldbelly has to offer and what can be delivered to your location, it's best to type in your address and go from there.
Surely, you won't be disappointed and you'll have an endless variety of Thanksgiving dinner meals to choose from, whether you need an entire meal or simply a hearty yet sweet dessert. Though we recommend planning your Thanksgiving dinner as early as possible, it's best to take your time searching Goldbelly as you want the perfect meal and enough food for everyone involved. Pre-cooked meals are incredibly popular in 2021 because they take all the stress out of cooking, and your premade turkey dinner is only a few short clicks away.
13. Harry & David
Pumpkin cheesecake, deep-dish pumpkin pie, and sundried tomato truffle mac and cheese are just some of the delightfully delicious Thanksgiving items you'll come across at Harry & David. Yet, if you plan on having your entire feast premade, then you're also in luck. Case in point: the Gourmet Turkey Feast. What does it come with? We're glad you asked. Try oven-roasted turkey, apple sausage stuffing, creamy brussels sprouts with bacon, brown sugar sweet potatoes, pumpkin cheesecake, turkey gravy, and spiced cranberry chutney –– all for the price of $229.99.
Don't fancy turkey? Then you can purchase the Gourmet Ham Dinner, which also comes with mouth-watering sides. On top of the spiral-sliced ham with honey glaze, you'll receive creamy snap peas with bacon, three-cheese scalloped potatoes, artichoke, mushroom, and bacon frittata, and New York-style original cheesecake for $219.99. Needless to say, Harry & David doesn't mess around when it comes to Thanksgiving feasts –– and on top of the meals placed out above, there are plenty of other options to choose from.
14. The HoneyBaked Ham Co.
The HoneyBaked Ham Co. is selling a $144.99 turkey dinner that is, quite frankly, hard to pass up –– especially if you're like so many people who don't want to deal with the inconvenience that's shopping in the madness and cooking in a home flooded with hungry people this year. Getting down to the nitty and gritty, this turkey meal comes with Honey Baked Ham, a whole roasted turkey, green bean casserole (consisting of mushrooms and red peppers, and tossed in a cream sauce, as well as topped with crispy fried onions), creamy russet mashed potatoes, and roasted turkey gravy. This meal serves 14 to 18 people, so we hope you, your family, friends, and loved ones bring their appetites.
At the time of this writing, The HoneyBaked Ham Co. turkey page says, "Check back soon! We are preparing more!," as well as "Estimated First Available Delivery Date: 11/05/2021." The turkey is coming, people.
15. Logan's Roadhouse
Fans of Logan's Roadhouse can rejoice: The casual steakhouse chain has your Thanksgiving dinner plans covered with its Holiday Roadhouse Feasts –– and these meals serve six to eight people, starting at $89.99. What's inside? You'll have options as you can choose from Logan's premium prime rib, which is slow-roasted and hand-cut to order. Or you can opt for the brand-new Smokehouse Roasted Turkey Breast. Accompanying these savory meats will be a family-sized house salad, a choice of two sides, 12 rolls, and a Mississippi Brownie. You'll also be able to choose from seven of Logan's sides, such as macaroni and cheese, cinnamon apples, steamed broccoli, rice pilaf, sweet potatoes, baked potatoes, and corn.
"The holidays are a special time for loved ones to celebrate with one another," said Logan's Roadhouse Marketing Director Kristen Hohl in a press release provided to Mashed. "That's why we're taking the added stress out and handling the cooking for our guests to enjoy an easy and high-quality holiday spread for the whole family. We look forward to sharing joy in the coming months by bringing Logan's convenient and affordable Roadhouse Feasts to our guests' holiday tables."
You can pick up your pre-ordered Roadhouse Feast on Thanksgiving from 11 a.m. to 4 p.m.
16. Magic Kitchen
Variety is the gift that keeps on giving, and Magic Kitchen appears to agree. On top of traditional Thanksgiving meals that feed two to eight people –– depending on the dinner you choose –– Magic Kitchen also has some non-traditional options. Such as, say, an Italian holiday dinner or a Tex-Mex holiday meal. The company even serves items à la carte, if you need a couple of fixings to round out your home-cooked meal.
When celebrated properly, Thanksgiving is a time that should be cherished, while sharing meals with people we care about, and being grateful as opposed to envious. Though the big dinner is a small portion of what this holiday truly stands for, we still think it should be executed to perfection –– and Magic Kitchen will surely help you achieve this grateful feat. It's hard not to be satisfied when you have a belly flooded with Thanksgiving dinner.
17. Maggiano's
Though Italian food isn't in a typical American Thanksgiving dinner, it ought to be. Italian restaurant Maggiano's Little Italy is known for cooking up a classic Thanksgiving-themed meal every year. Though, at the time of this writing, the company has yet to announce if it's going to partake in the festivities this year –– if 2020 is any indication, its Thanksgiving meal will be back in 2021. Suffice to say, we hope Maggiano's brings back its holiday menu and we know we're not alone.
In the meantime, Maggiano's Little Italy lovers can hover around its website and try to hold in the excitement. They could also safely travel to Maggiano's and enjoy an Italian meal –– you know, to hold themselves over now until Thanksgiving. Whether the Thanksgiving meal comes back or not, Maggiano's has a menu that has "feast" written all over it and said feast should be enjoyed for any meal of the year.
18. Marie Callender's
You might recognize Marie Callender's because of its frozen food presence, but the restaurant franchise also puts on quite the show during the holiday season, so consider yourself lucky if you live near a restaurant that's partaking this year.
At Marie Callender's Riverside, there are a whopping 10 holiday feasts to choose from, as well as à la carte options. The Turkey Breast Feast with Pumpkin Pie, a natural choice if we've ever seen one, consists of turkey breast, apple-sage stuffing, fire-roasted yams, cranberry sauce, mashed potatoes, turkey gravy, vegetables, cornbread, and a whole pumpkin pie. All that food for just $129.99. There is a bit of a catch, however, as all feasts require 3 hours of reheating time –– yet reheating food is, undeniably, an easier task than prepping and cooking from scratch. Nevertheless, if you prefer ham over turkey, there are ham feasts available, and there are also feasts that feature both entrées. Still not convinced? Marie Callender's also offers holiday pre-ordered whole pies.
19. Metro Diner
Heat-and-serve Thanksgiving dinners are all the rave nowadays, and Metro Diner has gracefully added its services to the mix. The reason these feasts are so revered is that, to put it simply, they help to take the pressure off as all the shopping, prepping, and cooking is done for customers –– and, let's face it, we could all use some relief right about now.
Nevertheless, Metro Diner's heat-and-serve Holiday At Home Feast serves one ($15.99), four ($59.99), or even eight people ($115.49). Yet you'll need to pre-order by Monday, November 22 at 7 p.m. to lock in your meal. If you plan on picking up your feast, the Metro Diner website states you can do so on Tuesday and Wednesday from 8 a.m. to 8 p.m. or on Thanksgiving Day from 8 a.m. to 2 p.m. In terms of the actual food, which is what we're all interested in, the Home Feasts come with a choice of roasted turkey or baked ham, and they're accompanied by mashed potatoes and gravy or sweet potato mash, steamed green beans or green bean casserole, cornbread stuffing or macaroni and cheese, cranberry sauce, and Hawaiian dinner rolls.
Pumpkin and apple pies, extra sides, and beverages are also available.
20. Omaha Steaks
Omaha Steaks is known for its meat, yet it also puts on one heck of a Thanksgiving dinner feast. Though you can choose from Thanksgiving dinner assortments, Omaha Steaks gives customers the option to build their own turkey or ham day feast. The butcher company also has dinners for four, six, or eight people –– so, yeah, the more, the merrier.
Known for its red meat, Omaha Steaks' Thanksgiving feasts, depending on which one you opt for, come with a whole smoked turkey, spiral-sliced ham, a whole basted turkey, or a fully cooked turkey breast. Suffice to say, Omaha Steaks does Thanksgiving dinner right, and if you like what it has to offer, we recommend ordering your turkey/ham day feast as soon as possible –– you know, to ensure you get exactly what you want and so you can spend the rest of November knowing you already have one of the biggest meals of the year taken care of.
21. Popeyes
Popeyes, which is known for its fried chicken –– and in recent memory, its super popular Chicken Sandwich –– is an ideal spot for, believe it or not, a pre-cooked turkey. Though Popeyes doesn't technically have a full turkey dinner for purchase, it's bringing back its fully cooked Cajun-Style Turkey. You can opt to have it complete your own turkey meal, or you could, of course, add on some of Popeyes' sides, which were, let's be honest, made for a Thanksgiving dinner feast.
If you're planning on having Popeyes cater your entire meal, we recommend adding mashed potatoes with gravy, coleslaw, and biscuits. Heck, you might as well go for it and also purchase red beans and rice and cajun fries. Let's just put it this way: You're not going to go hungry if you land on a Popeyes Thanksgiving. (Side note: a Popeyes Thanksgiving just wouldn't be complete those chicken sandwiches on the table, but now we might be overdoing it …)
22. Schwan's
Though Costco and Schwan's are teaming up for a holiday feast, you can go straight to the source and purchase your bird, and all the sides, with Schwan's. Surely, you could go the more traditional route and purchase a fully cooked spiral-sliced bone-in ham or a ready-to-roast turkey breast, or you could put a spin on your Thanksgiving feast with king crab legs and claws, Alaskan salmon fillets, or one of the site's other entrée options.
In terms of sides, there are countless vegetable, potato, and bread options, as well as holiday appetizers to choose from. Schwan's also has you covered in the dessert department –– you could order classic apple pie, traditional pumpkin pie, or even Crumble Crunch Apple Blossoms. Though many of Schwan's products are typically fully cooked, you'll still want to check the packaging to see how much heating time is required, as well as delivery options to ensure Schwan's delivers to your location.
23. ShopRite
ShopRite's turkey page currently states, "GOBBLE 'TIL YOU WOBBLE,' which is a fine holiday-themed catchphrase if we've ever heard one. Its holiday turkey dinner? It checks all the boxes as it comes with fully cooked Butterball turkey, mashed potatoes, sweet potatoes, stuffing, green bean casserole, turkey gravy, and it serves eight to 10 people. If that many people aren't invited to that party, then say hello to some delicious leftovers.
Although this feast is fully cooked and can be purchased as soon as your Thanksgiving heart desires, ShopRite states that a 72-hour notice is required for purchasing, and the meal needs to be defrosted in the refrigerator for 48 hours. So if you're going to have ShopRite cater your turkey dinner, it's best to prepare ahead of the festivities. While other establishments offer pre-cooked options that are ready to go and require no cooking whatsoever, ShopRite's Thanksgiving feast will surely do the trick for many shoppers this season.
24. Sprouts
Sprouts Farmers Market specializes in natural and organic foods, so for the more health-conscious minds, it's a natural option this Thanksgiving –– though, it's best to see if the store can deliver to your location ahead of time, assuming there's not one in your neighborhood.
What does a natural turkey meal look like? Sprouts' natural turkey dinner consists of homestyle stuffing, creamy mashed potatoes, homestyle gravy, creamed kale and spinach, cranberry sauce, authentic French brioche petite roles, and turkey –– and it serves six to eight people. Yet Sprouts also has a spiral-sliced ham meal, boneless beef rib roast meal, roasted boneless turkey breast meal, and a field roast hazelnut and cranberry vegan roast meal. The hardest part will seemingly be actually deciding which dinner you go with. Perhaps two different ones?
Sprouts Farmers Market brings a healthier option to the table this holiday season, whether you opt for a traditional meal or not.
25. Whole Foods
Yes, Whole Foods does Thanksgiving dinner, and it has, to say the least, many wonderful meals to choose from. Though, it's important to note the Whole Foods website states that "Orders must be made a minimum of 24 hours ahead of pickup date and time for Holiday Selections and 48 hours for Everyday Selections."
While there are 15 Thanksgiving dinners at your disposal, let's focus on what's inside the Thanksgiving Feast for 12. For $299.99, you'll get a roast whole turkey, spiral-sliced ham, green beans and roasted shallots, creamed spinach and kale, roasted butternut squash with cranberries and sage, and creamy mashed potatoes. But that's not all as this meal is also accompanied by traditional herb stuffing, turkey gravy, spiced brown sugar ham glaze, cranberry orange sauce, brioche rolls, apple pie, and pumpkin pie. Need we say more?
Whole Foods also offers paleo-friendly and vegan Thanksgiving dinner options, and it's clearly the place to purchase your holiday meal if you want something a bit different this year, though traditional options are available.
Above all else, we hope you find the perfect pre-cooked Thanksgiving dinner for your holiday feast –– and we hope you can share this holiday with the people closest and dearest to your hearts. Happy feasting!