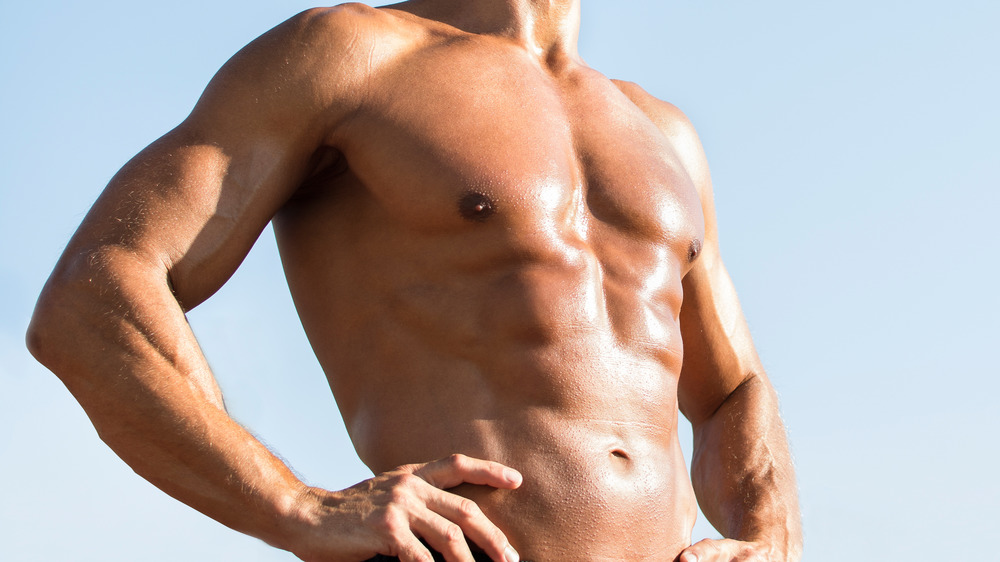 The standard for the "perfect male body" has transformed greatly over the years, but especially in the last decade. Just as women have found themselves concerned with their weight, many men have also been busy trying to conform to society's expectations of the "perfect" body type. Even from year to year, though, this image morphs into something else, making it that much harder to chase.
Not so surprisingly, social media has had a massive influence on self image. Many men even know that the silhouettes they're striving after aren't realistic but even still, many have gone to drastic lengths in order to obtain them. Yes, achieving this "perfect" body has become a problematic trend.
"Now more than ever, men are pressured to be the ideal man and body image is obviously attached to it," Abe Oloko, a bodybuilder and Instagrammer, remarked to Michigan State University School of Journalism's Spartan Newsroom in late 2017. From chiseled abs to the dad bod, here's a look at how the "perfect" male body has transformed over the past decade.
The "perfect male body" was thin in 2010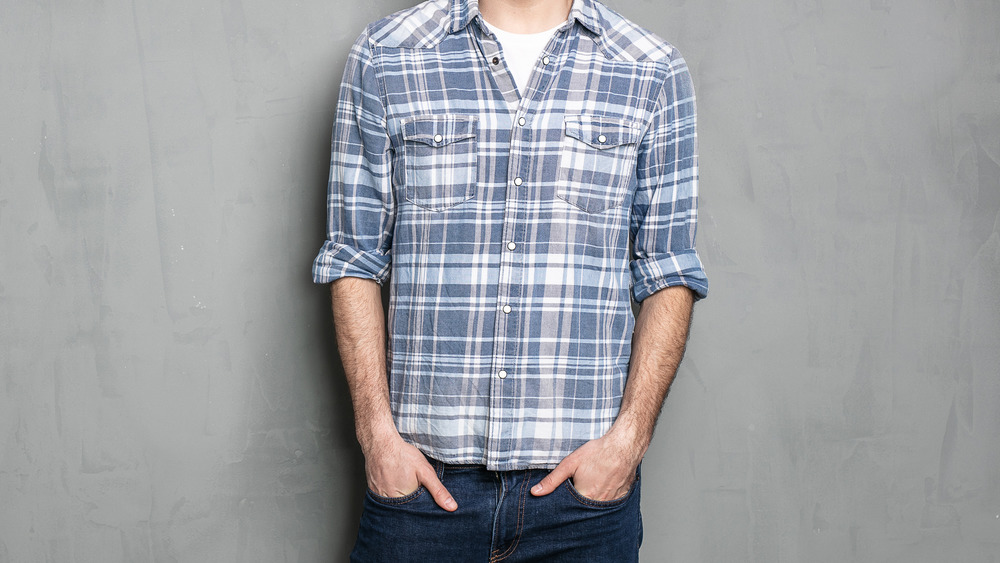 As if women weren't putting enough pressure on themselves to maintain a slender figure, men were placed in pretty much the same situation in 2010. Yes, thin was very much in at the beginning of the decade. Many magazine covers at the time were plastered with images of skinny actors and actresses, and the media had a big influence on how young men were looking at themselves in the mirror.
According to The Guardian, an estimated 25 percent of men were suffering from an eating disorder that year compared to 10 percent of men in 1990. On top of that, a study published in JAMA Pediatrics even stated that "rates of eating- and weight-related disorders are probably underestimated among males."
David Gandy, a successful muscular model, admitted that he was having trouble getting gigs around the outset of the decade. "No one wanted the big guys. It was all the skinny, androgynous look," he told The Guardian. "People would look at me very, very strangely when I went to castings." However, this trend didn't last long into the new decade.
If you are struggling with an eating disorder, or know someone who is, help is available. Visit the National Eating Disorders Association (NEDA) website or contact NEDA's Live Helpline at 1-800-931-2237. You can also receive 24/7 Crisis Support via text (text NEDA to 741741).
In 2011, men wanted just the right amount of muscle to make the "perfect male body"
In 2011, the "perfect male body" morphed into something ladies lusted over and men wanted even more of: muscles. However, it was important to have just the right amount of definition.
According to a survey conducted by Foxhound that year, women were into men who didn't look like bodybuilders. The men they thought had a fine physique had only a bit of muscle, with ladies citing Brad Pitt's thin-fit bod from Fight Club as the most desirable.
However, skinny male bodies weren't admired as much as those that had just a bit of extra weight on their bones, and extremely muscular, bodybuilder bods were last on the list. To really get a feel for what the "perfect" body type was in 2011, we can look to who was named People's Sexiest Man Alive that year: Bradley Cooper. "I think it's really cool that a guy who doesn't look like a model can have this [title]," he was even cited as saying. However, we think women everywhere can agree that this movie star is very model-esque.
Men paired stubble with lean bodies in 2011
A clean shaven face had long been popular to compliment the "perfect male body." And we can thank Mad Men star Jon Hamm for keeping the clean cut look alive in the mid aughts. However, in 2011, the actor debuted a bit of stubble at the annual Emmy Awards — and more men began following suit (pun intended).
Not only was the 5 o'clock shadow beginning to become a popular look for men, but there was some practicality to it too. "Stubble is always in fashion, especially now going into the colder months," senior stylist Garrett Bryant from the Antonio Prieto Salon in Manhattan told The New York Times that year.
Women everywhere seemed to agree that a man looked best with some scruff. A later study published in the Journal of Evolutionary Biology found that stubble was considered much more attractive than both beards and clean shaven faces.
In 2012, manscaping became a part of the "perfect male body"
In 2012, ladies were flooding into movie theaters everywhere to catch the newest flick, Magic Mike. A clean shaven Channing Tatum taking center stage caused quite a stir. He was one of the many reasons men were wanting to remove their own body hair in order to create the "perfect" body. "Men are seeing grooming not as an extra, but an essential," senior fashion and grooming editor of Men's Health Sandra Nygaard told CNN that year.
While seeing many movie stars without chest hair had a lot to do with the trend, the struggling economy also played a big part in it. To cope, many men were taking more control over their bodies. "Men can't control how much money they make or their employment situation, but they can control how they look," the senior health editor of Men's Journal, Sarah Toland, explained to CNN.
Additionally, women seem to be more biologically drawn to a hairless bod. A 2012 study published in Archives of Sexual Behavior found that 80 percent of ladies were more attracted to a man without chest hair.
The "superhero effect" had a huge influence on the "perfect male body" in 2012
Hollywood, it seems, has a lot to do with how we view ourselves. In and around 2013, many superhero films were starting to hit theaters. Man of Steel featured actor Henry Cavill, who was named Glamour's Sexiest Man Alive that year. Chris Hemsworth also premiered as the star of 2013's Thor: The Dark World. At the same time, Chris Pratt was busy getting ripped for his role in 2014's Guardians of the Galaxy. In addition to their superpowers, these superstars had something else in common: They were all super muscular.
The year started what Healthline referred to as the "superhero effect." Men began trying to achieve a chiseled body similar to that of their favorite crime-fighting hero. Before long, big and bulky was what practically every man wanted. However, it was incredibly hard to achieve.
"These bodies are attainable for a small number of people — maybe half a percent of the male community," registered dietitian nutritionist Aaron Flores told Healthline. Basically, men had about as much of a chance of carving their bodies into superhero form as they did gaining actual superpowers.
In 2014, men were wanting to bulk up even more to achieve the "perfect male body"
By 2014, it was clear that a bulky bod was now considered the "perfect male body" — a far departure from the lean look many men wanted a few years prior. As superheroes were inspiring men to try to get muscular, many were hoping to put on weight weight. It was their best bet to build muscle.
Unfortunately, this unrealistic ideal was influencing young boys. Many grew up watching their favorite superheroes on screen and playing with their action figures that were flaunting six packs. A study published in JAMA Pediatrics that year found that nearly 18 percent of boys aged 12 to 18 were concerned about their physique.
"We're presenting men in a way that's unnatural," Arizona-based clinical psychologist Raymond Lemberg warned in an interview with The Atlantic. With a majority of men becoming super stressed over their favorite superheroes' body standards, a change regarding the "perfect male body" would soon be coming.
A muscular build wasn't the only marker of the "perfect male body" in 2014
While many men were looking to grow their muscles, plenty of others were also looking to grow their hair. Yes, 2014 was the year of the man bun. The popular 'do, referred to by Vice as "this generation's mullet," had people talking. While men were usually known for having shorter cuts, quite a few were taking it upon themselves to rock longer locks. Chris Hemsworth, who was already leading the superhero bod trend, was also dubbed "the inventor of the man bun" by Women's Health.
"For men buns are generally more a matter of commodity, a way of keeping hair out of your face," London barber Carmelo Guastella explained to GQ. "If you look at Jared Leto, you can see that this kind of style can make guys look quite macho." While a hair tie may seem more feminine than manly at first glance, there are historical roots to this twist on the classic top knot.
Samurai, who have always been known for their strength and agility, sported buns quite often way back when. "Who doesn't love the samurai?" Season nine Top Chef contestant Chris Jones remarked in defense of his own man bun when speaking with The New York Times.
In 2015, men were becoming more self-conscious while attempting to achieve the "perfect male body"
As men were busy trying to obtain an unrealistic muscular image, they were increasingly becoming more and more self-conscious about it. By 2015, many were trying to pack on muscle to have the "perfect male body" that they were seeing sprawled out all across the media. In order to do so, many begun to turn to steroids.
That year, it was reported that steroid use in the U.K. alone was up 600 percent. "The vast majority of people we see use steroids for image reasons," Gary Beeny, who works at a steroid clinic in Manchester, told The Guardian. He continued, saying, "It used to be much more limited; only the really big, muscular guys went anywhere near steroids."
With a buff body being shown to boys at such a young age, this muscular image was clearly influencing a younger generation too. Clinics were seeing boys as young as 13 years old using steroids to create the "perfect" physique." A negative self-image begins to develop around five years old, so aisles lined with muscular action figures that year certainly weren't helping the cause (via Nature).
In 2016, the "perfect male body" became more inclusive
In 2016, Dwayne "The Rock" Johnson dominated the movie screens when he was deemed the Sexiest Man Alive by People. His muscles were something to be admired by men and women alike. However, many men seemed to have forgotten that this muscular man had been a WWE star years prior, and The Rock's rock-hard body was hardly attainable by the majority of men in the world.
Luckily for them all, men were just beginning to be more upfront with how they felt about having to have the "perfect male body." Early on that year, political commentator Steven Crowder tweeted an image that had some people wild. "This is the ideal [male] body," he wrote alongside a photo of a famous Russian MMA fighter. "You may not like it, but this is what peak performance looks like."
Men commented back, posting pictures of all sorts of shapes and sizes of men that they said were "perfect." Men, it seemed, were finally moving on from muscles. All bodies were beginning to be classified as the "perfect male body."
In 2017, "the perfect male body" took a realistic turn
In 2017, a survey conducted by Forza Industries set out to see exactly what men looked like. It turns out, four out of every ten men that year had bodies that were classified as "rectangles." Like heartthrobs Harry Styles and David Beckham, these men had a very flat and straight-lined silhouette. With a majority of men already flaunting this "perfect male body," the look was a much easier one to achieve.
The second most popular body type was what the survey called "ovals." About a quarter of men were categorized as an "oval" for having an even amount of fat throughout their torsos. "The explosion in obesity levels suggests that increasing numbers of men will become Ovals over the next decade," the survey surmised.
Women no longer believed you needed a six pack to be sexy either. That year, People's Sexiest Man Alive was country star Blake Shelton, who admitted to the publication that he was surprised to even be nominated. "Y'all must be running out of people," he said. "Like, Wow, we're down to somebody who is somewhat symmetrical."
The "dad bod" became the "perfect male body" by the end of 2017
As many men had begun embracing their figures, the "dad bod" was born. This not-so technical term was first used in 2015 by college student Mackenzie Pearson who wrote an article titled "Why Girls Love The Dad Bod." Pearson later told GQ, "I think that it puts forward an idea of an 'unhealthy healthy.' Working to get abs all the time instead of just enjoying life." She continued, saying, "What the dad bod was set to do was to be that standard of normalcy." And that trend quickly took off.
By summer 2017, even more men and women began admiring the "dad bod." A survey conducted by Planet Fitness that year found that a majority of women found extra weight on a man extremely attractive. Some 78 percent said that men with "dad bods" just seemed more confident overall, and almost half of the women surveyed said the "dad bod" was the "new six-pack." Planet Fitness' senior vice president Jessica Correa said of the results, "The majority of people think positively about dad bods, and men who identify as having them are proud of who they are."
In 2018, men found it important to get fit and flaunt their "perfect male body"
In 2018, movies were still influencing what it meant to have the "perfect male body." Superhero films like Aquaman and Avengers: Infinity War had just hit theaters. Even though many men weren't able to develop the same six packs they saw on screen, they still chose to hit the gym. Many then began showing off their bodies on social media.
The number of likes were beginning to influence how men felt about their looks too. One survey found that 43 percent took photos or videos of themselves working out in a gym in 2018 (via Health). Over a quarter of those pictures were selfies. A separate survey conducted by FitRated found that those who took selfies had the highest self-esteem, which makes sense.
While many of these men were proud to flaunt their fit figures, there were many more who felt self-conscious as they scrolled through their social media feeds. A study published that year in Health Communication found that many who saw others working out on social media felt worse about their own bodies.
In 2019, the "perfect male body" became taller and heavier
With the selfie craze being a very real thing by 2019, faces were becoming the most important feature that both men and women were attracted to. According to a survey conducted by Treadmill Reviews, the "perfect male body" in 2019 was not complete without dark brown hair and blue or brown eyes.
As for the preferred body type? The "perfect" man was just a hair over 6 feet tall and weighed around 187 pounds. This means he has a body mass index (BMI) of 26 — which is considered overweight.
The survey also revealed that different generations held different views on what it meant to have the "perfect male body." The older the person, the more they preferred a man with a couple extra pounds. It seemed that the public was finally becoming more accepting of what a realistic person looked like at every age. Even more so, "perhaps this indicates that being overweight has become a new normal in America," the survey concluded.
In 2020, many men have now decided to leave the idea of the "perfect male body" behind
By 2020, many began to put body image on the backburner. As stay-at-home orders were put into place, there weren't many men headed to the movies to see the "perfect male body" on screen and, with gyms closed, working out became more difficult. However, people were still turning to their televisions — not just for the latest news, but for an escape.
Streaming services became even more successful than before. People searching the net for Netflix went up 123 percent. One popular docuseries people began binging was Down to Earth with Zac Efron.
When the show premiered, everyone was shocked to see Efron's figure. Instead of the chiseled six pack he had flaunted in Baywatch, he now appeared less defined and a bit bulkier. "I don't ever want to be in that good of shape again," he said of his Baywatch bod on Hot Ones. "Really. It was so hard." He continued, saying, "It's just not real." We're sure men everywhere shared a collective sigh of relief.