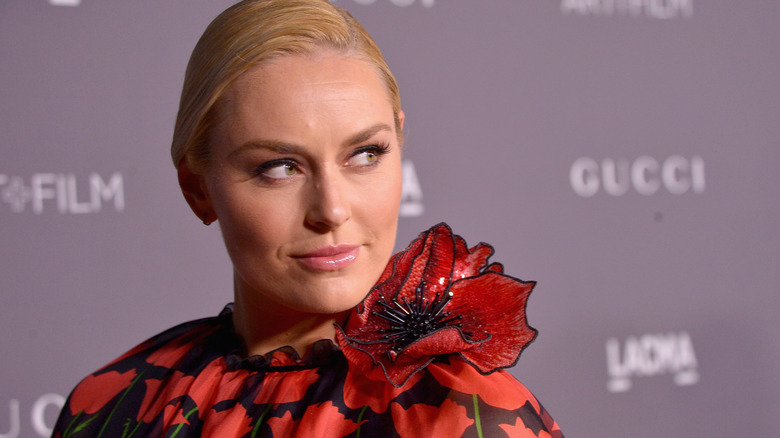 Lindsey Vonn carved a place for herself in the hearts of Americans everywhere during the 2002 Winter Olympics in Salt Lake City, Utah — her debut performance. Since then, the bold and beautiful world champion has carved out her place in ski racing history. However, Rome wasn't built in a day — and neither was the unstoppable force that is Vonn. Here's a look at how Vonn became the most decorated female skier of all time.
She's the daughter of a former ski champion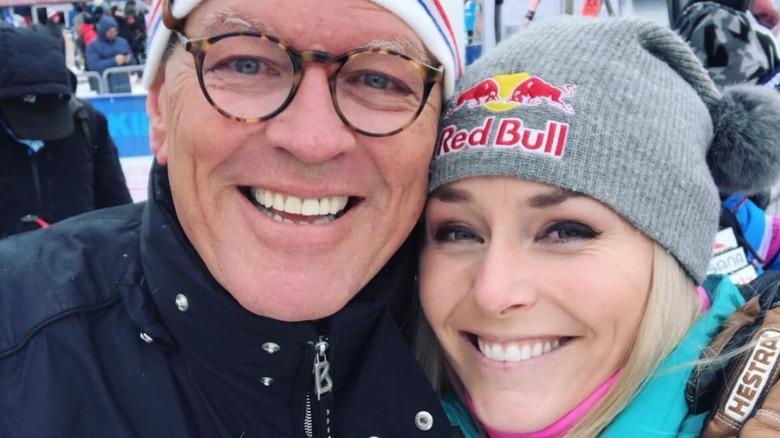 Lindsey Vonn, widely regarded as the most successful female ski racer in the world, was born as Lindsey Kildow on October 18, 1984 to parents Linda Krohn and Alan Kildow. Her father was a ski champion in his youth, winning a junior national championship before suffering from what he calls a career-ending injury when he was 18. Kildow was deeply invested in his daughter's skiing career.
Though Kildow and Vonn have had their share of ups and downs over the years, including a much-publicized period of estrangement, the father and daughter seem to have reconciled. In December of 2017, Vonn shared a sweet selfie with her Dad, captioned, "I just did what my dad told me to do, 'never, never give up!' Love you dad." Judging by his smile in the photo, there's no doubt Kildow is a proud papa.
"All the 14-year-olds were crying because a 10-year-old had beaten them"
Vonn's dad passed his love of the sport on to his daughter as soon as possible — Vonn was only three years old when her father put her in skis for the first time. Only a few years later, Kildow was entering his daughter into ski races — though, Vonn rarely competed with kids her own age. She told the New York Times, "I would finish a race and all the 14-year-olds at the bottom would be crying because a 10-year-old had beaten them. … That was not the greatest way to make new friends."
Childhood hero becomes a friend and mentor
Many people aren't lucky enough to meet their childhood idols. For ten-year-old Vonn, meeting her hero, Picabo Street, wasn't a matter of luck. Street, a world-famous alpine skier and gold medalist, remembers that moment well. She told NBC that she was signing autographs and taking pictures at a ski shop outside of Minneapolis when she noticed the young Vonn, who refused to peel her eyes away from her hero.
Years later, both Vonn and Street made the 2002 U.S. Olympic team. From there, the two built both a friendship and a mentorship that lasted through Vonn's development into a world champion. When Vonn had a skiing accident in 2006 that nearly ended her career, Street visited her in the hospital to offer a shoulder to cry on and words of advice.
Street's kindness and mentorship has clearly impacted Vonn in a major way; she told NBC that her idol was the inspiration behind The Lindsey Vonn Foundation, which offers scholarships, as well as educational and athletic opportunities to young girls. "I want to give the girls of the next generation someone to look up to, just like I looked up to Picabo Street."
Her late grandfather is her biggest inspiration
"If it weren't for my grandfather, I wouldn't be racing," a teary-eyed Vonn told CNN in an interview about the 2018 Winter Olympics in PyeongChang, South Korea. "I feel closer to him when I'm skiing." Don Kildow, Vonn's beloved grandfather, passed away suddenly in November, 2017 — only months before Vonn's supposed final Olympics competition. In a touching tribute to her grandfather, Vonn wrote his initials on the front of her helmet for the 2018 Winter Olympics.
The world-famous skier visited her grandparents as much as she could at their home in Milton, Wisconsin. In one of her last visits with her grandfather before he passed away, the two spoke with NBC about her journey to PyeongChang. Kildow, formerly a competitive ski jumper, said that he used the skills he'd learned working as an engineer during the Korean war to build his town's first ski slope. And, so, the family tradition began.
On February 16th, Vonn posted a picture to her Instagram from PyeongChang, captioning it with a dedication to her grandfather: "This time I have a more important mission; win for my late Grandpa." During their sit down with NBC, Kildow was asked what it felt like to see Vonn race. He got choked up as he patted his hand over his chest and simply said, "The heart don't stop." Does anyone have a tissue?
She made her Olympic debut at age 17 — and outranked her hero
Most teenagers are preoccupied with prom-posals and planning graduation trips. In 2002, 17-year-old Lindsey Vonn had a different set of priorities. The first item on her to-do list? Make Olympic history, of course.
She was known as Lindsey Kildow when she made her Olympic debut in Salt Lake City. She was not quite the Olympic world champion we know today, however, as she proved with her earnest performance on the slopes that she was well on her way to Olympic gold. At the tender age of 17, Vonn became the only American woman to place among the top ten at the 2002 Olympic Games, placing sixth in her combined event. While this is certainly an accomplishment at any age, it was particularly special for Vonn — Street, her childhood hero, had also competed in the Games.
In fact, Street presented Vonn with a hair wrap the night before her Olympic debut. Vonn credits both Street and that hair wrap for her impressive debut performance, telling NBC , "It really made me feel faster. I think that it worked!" Whether it was the magic of the hair wrap or the many years of rigorous training on the slopes, the 2002 Winter Olympics were a game changer for Vonn.
A friendly rivalry paved the way for her success
Behind every Olympic gold medalist lies the story of rivalry, competition, and glory — at least, this was the case for Vonn. Her journey to her first Olympic gold medal reads like the plot of a Disney Channel Original Movie.
The New York Times reported that Vonn and Julia Mancuso were friends as teens, when they were both top-ranked junior skiers. Yahoo! Sports reported that at the time, Mancuso was dominating the slopes. Vonn, on the other hand, was polishing her own style — she was far more rugged and out of control.
According to Yahoo! Sports, the competitive tension that existed between the two friends was palpable. One day, while on a bike ride together through the mountainside in California, Mancuso left Vonn in her dust — an experience Vonn said left her feeling like "a fool." The biking incident proved to Vonn that her training regimen wasn't up to par. Instead of wallowing in envy of her frenemy, she immediately began working to improve her own training process — a move that ultimately earned her the gold medal during the downhill skiing portion of the 2010 Winter Olympics. Mancuso won silver.
During an interview upon accepting her medal, Mancuso commented on Vonn's "perfectionist" training regimen — perhaps not realizing she was the one who inspired it all. Sometimes all the motivation you need lies within a little healthy competition.
Her career almost came crashing down in 2006
After her debut Olympic performance in 2002, all eyes were on Vonn. She had carved a name for herself as a young skier to watch, and was expected to bring home gold from the 2006 Winter Olympics in Turin, Italy. Vonn was 21, quite literally on top of the world, and about to have it all come crashing down.
During a practice run before the opening ceremony, Vonn crashed while speeding down a slope at 60 miles-per-hour. She was immediately rushed to the hospital via helicopter, where she remembers the doctors telling her she had probably broken her back. Vonn was devastated, certain this injury would be the one to end her short-lived career. Luckily for Vonn, she was only badly bruised. Despite her injury, she refused to give up her spot on the slopes — she competed in the downhill competition only two days after the crash, finishing in eighth place. Fellow Alpine skier, Alexandra Meissnitzer, told the Washington Post at the time: "She was really one of the girls I would have said would win a medal."
Despite the setback, Vonn remained thankful for the experience, calling it a "mental resetting." As she told The New York Times in 2010, "It was important I got out there. I was starting a new chapter in my ski career right there." You go, girl.
She married a fellow Olympic skier at age 23
In 2007, 23-year-old Vonn took home a different kind of gold — this time, on her finger. Vonn, then known as Kildow, started dating Thomas Vonn in 2005. Though he was nine years her senior, the two wasted no time entering into a relationship that was both romantic and professional. A fellow Olympian himself, Thomas carved out a place as a mentor for his future bride, much to her father's chagrin. Vonn has cited this tension as one of the causes of the strained relationship she had with her father, Alan Kildow, for years.
The two married in September 2007. Vonn recalled experiencing major jitters on the day of her wedding, telling People, "I was hyperventilating. It was like a panic attack." The couple called it quits in 2011 after four years of marriage, though Vonn opted to keep her married name. In a 2013 interview with Vogue, Vonn revealed that she and her ex-husband "don't talk."
Is a second marriage in the cards for this ski racing powerhouse? Don't count on it. "I am definitely not getting married," she told Vogue. "To anyone." The only time you'll catch Vonn wearing all white is on the slopes.
Her workout regimen is insane
Becoming a gold medalist world champion doesn't happen overnight. If anyone knows this to be true, it's Vonn. Her many injuries throughout her years of competing in and training for the Olympics have left her body with more wear and tear than one might consider average, but Vonn would never let any of that hold her back. While training for the 2018 Winter Olympics in South Korea, Vonn knew a rigorous workout regimen was key to ensuring her safety on the slopes.
Vonn's trainer, Alex Bunt, told Women's Health in January 2018, "I am in the gym with her five to six days a week, year round." If anyone ever doubts that Vonn makes her physical fitness top priority, a quick glance at the gold medalist's Instagram will put those doubts to rest. Vonn also spoke to Women's Health, revealing that her favorite workouts involve her legs and core muscles, saying, "Having a strong core and legs makes me feel really confident." Confidence is key, folks — even for Olympians!
She has a unique relationship with Tiger Woods
In March 2013, just over a year after her first marriage ended, Vonn announced her new relationship with world famous golfing champion, Tiger Woods. In a now-deleted statement posted to her Facebook page, Vonn told fans, "Our relationship evolved from a friendship into something more over these past few months and it has made me very happy." Woods also took the relationship to social media by linking to photos with his new girlfriend on Twitter.
The couple parted ways three years later. While Vonn told The New York Times that she has no regrets, she cited her lack of dating experience before marrying her first husband, and added that "jumping into a relationship right away after getting a divorce was probably not the smartest move on my part."
Still, Vonn and Woods are on good terms. In a January 2018 interview with Sports Illustrated, Vonn said, "I loved him and we're still friends. … I hope this latest comeback sticks." She continued, "I hope he goes back to winning tournaments." While her support of her ex is certainly admirable, it's hard not to detect just a hint of shade in Vonn's comment. Isn't that what exes are for?
Her last medal ever broke records, and was "a bronze that felt like gold"
In a February 2018 interview in PyeongChang with Savannah Guthrie for Today, Vonn seemed optimistic about what she says is the final race of her career. Ultimately, she earned the bronze medal in her final downhill race on February 21st, 2018.
Though she didn't take home gold, Vonn broke a world record — at 33, she's the oldest woman to ever win a Winter Games Alpine medal. She had hoped to win gold in her late grandfather's memory, but Vonn seemed grateful for the medal in a tweet she issued after the race. "Today I won a bronze medal that felt like gold," she wrote. "It was an amazing day that I will never forget."
She's got Hollywood on her mind
While another Olympic gold may be out of the question for Vonn as she brings her ski racing career to a close, another type of gold could be hers for the winning in the future — and his name is Oscar. Speaking with Savannah Guthrie for Today, Vonn said she'd be interested in making the move to movies.
She's got the bombshell looks, the undeniable charisma, and has already scored a super famous mentor. Vonn told Guthrie that Dwayne "The Rock" Johnson offered to show her around Tinseltown, letting her "follow him around a little bit" to get a feel for the ropes. Hollywood will certainly be quite the change for Vonn, but her Olympic career has proven she can dominate pretty much anything she puts her mind to. In her own words: "Failure is not in my dictionary."