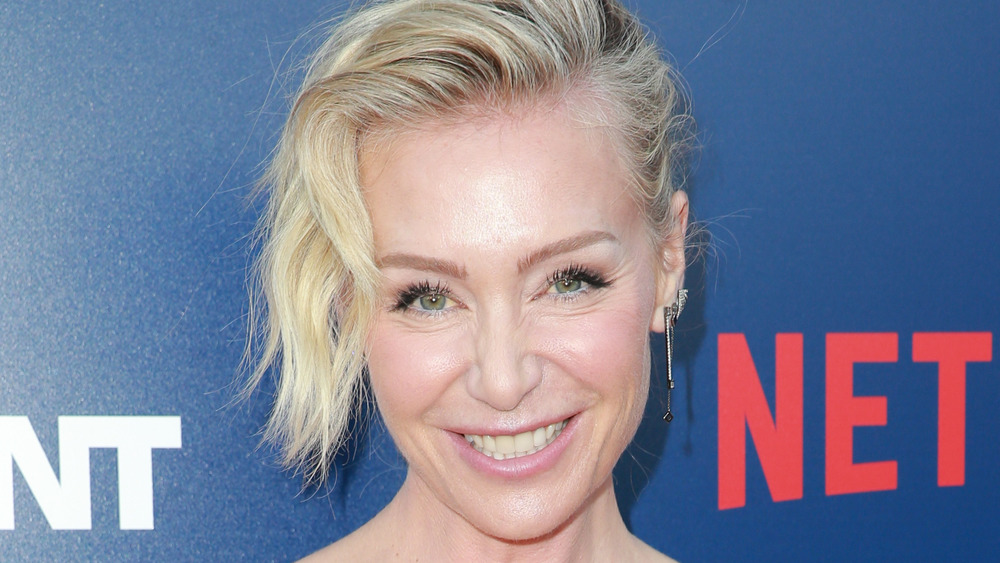 From the late 1990s and all the way into the 2010s, Portia de Rossi was a mainstay of series television. A potential lawyer and stage actor born in Australia under the name Amanda Rogers, she reinvented herself as a glamorous American TV star with a name of her own choosing, looking like a classic Hollywood movie icon but specializing in using her well-honed, bone-dry comedy skills to play cold and enigmatic individuals on progressive TV shows. De Rossi is likely best known as lawyer Nelle Porter on Ally McBeal, the spoiled and odious Lindsay Bluth on Arrested Development, and Elizabeth North on Scandal. The actor also broke down doors as one of the first openly gay women in Hollywood who now comprises half of a celebrity power couple with her wife of more than a decade, talk show host Ellen DeGeneres.
Only a few years ago, it seemed like de Rossi was almost always on TV, starring in a new show or briefly joining the cast of an existing one to lend some laughs or gravitas. She doesn't appear on the small screen like she used to, however. Here's why Portia de Rossi disappeared from television.
Not all of Portia de Rossi's TV shows were hits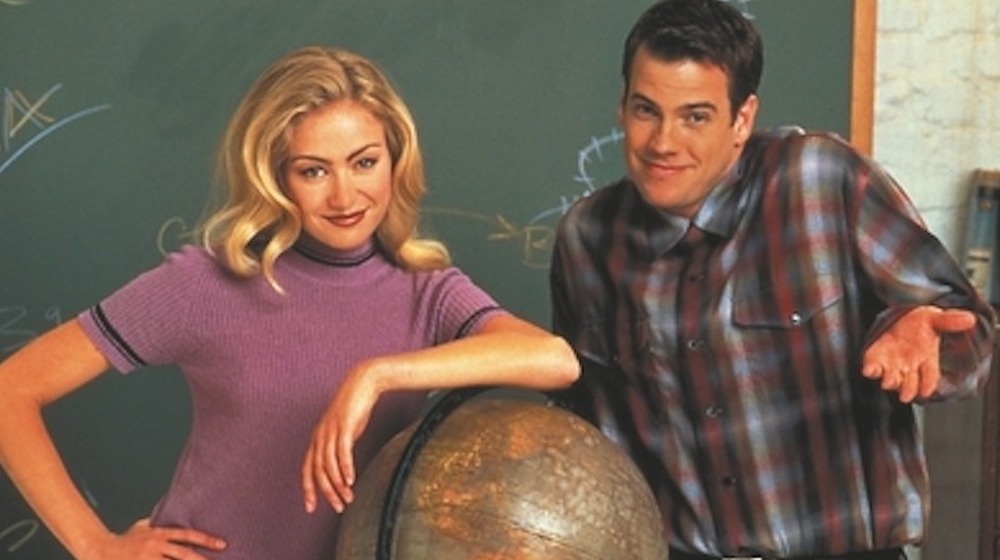 There's a lot of overlap in today's Hollywood, but there are still some people from previous generations that can still be categorized as "movie actors" and "TV stars." Those who came up in one world or the other and had their most success in that environment are forever linked with it. Portia de Rossi is very much an actor associated with television. She got her big break on American television when she joined the cast of the white-hot legal dramedy Ally McBeal in 1998, playing inscrutable lawyer Nelle Porter until the series wrapped in 2002. With 89 episodes completed, that's the longest and most successful TV gig in de Rossi's career. She also was on three seasons of Scandal, Shonda Rhimes' acclaimed political drama, which Nielsen listed as one of the most tweeted-about series of 2014.
On the flip side, she's been part of the cast of numerous short-lived shows and all-out bombs. Among de Rossi's misfires are the Josh Brolin 10-episode wonder Mister Sterling, the slacker sitcom New York Daze, and the negligibly watched classroom comedy Nick Freno: Licensed Teacher. Hollywood casting agents may think twice about giving a major role to de Rossi, as she doesn't have a proven track record as someone who will instantly or necessarily deliver big audiences.
One of Portia de Rossi's shows won awards, not ratings
If there's one thing that Portia de Rossi's better known television projects have in common, it's that they were all critically acclaimed and masterminded by unique, visionary creators. In 2003, de Rossi joined the cast of Arrested Development, playing Lindsay Bluth, an extraordinarily self-absorbed daughter of a corrupt housing magnate. One of the first single-camera comedies on American television, the layered, lightning-fast, joke-and-reference-filled Fox comedy became a hit amongst comedy nerds, TV critics, and awards voters. Its first season scored 100 percent on Rotten Tomatoes and won the Emmy for Outstanding Comedy Series. The show hung on at Fox for two more shortened seasons, despite abysmal ratings, and was revived on Netflix years later. In the meantime, de Rossi found another role on another edgy TV series: as soulless executive Veronica Palmer on ABC's surreal, low-rated, quickly cancelled corporate satire Better Off Ted. (It was created by Victor Fresco, also responsible for cult hits Andy Richter Controls the Universe and Santa Clarita Diet).
Unfortunately, de Rossi's shows were so fresh, so original, and such outliers in relation to pretty much everything else on TV at the time that they didn't find a big audience and were quickly cancelled. That's probably going to make the producers of new, more commercial shows reluctant to cast de Rossi, as she's thought of as an actor who makes prestigious — and ultimately poorly-viewed — programs.
A potential Portia de Rossi TV comeback show fell apart
Portia de Rossi has a knack for working with TV show creators who have a specific and original idea of how they want their series to go forth. In addition to working with David E. Kelly on Ally McBeal, Mitchell Hurwitz on Arrested Development, Ryan Murphy on Nip/Tuck, and Shonda Rhimes on Scandal, de Rossi teamed up with Bryan Fuller for Mockingbird Lane. Fuller brought some of the most innovative, beloved, and also short-lived shows to TV in the 2000s, including Dead Like Me, Wonderfalls, Pushing Daisies, and Hannibal. In 2012, just before the TV reboot and revival craze would grip the small-screen industry, Fuller got the go-ahead from NBC to develop a modern-day retelling of the 1960s sitcom The Munsters. While that comedy was a silly and goofy high-concept family comedy in which the family members were monsters, Fuller's Mockingbird Lane was dark, bloody, and twisted. Opposite Jerry O'Connell as Herman Munster, de Rossi played Lily Munster. Despite the star power, pedigree, familiar material, and a pilot episode budget of around $10 million, Fuller announced NBC was "not moving forward with #MockingbirdLane."
The expensive disappointment may not have reflected well on de Rossi. Being associated with a high-profile and costly flop may have made producers reluctant to cast the actor in their shows and films.
A career in movies didn't quite take off for Portia de Rossi
While Portia de Rossi possesses the dynamic and unbeatable combination of striking good looks and excellent comic chops, her brand just didn't seem transferrable to the big screen. Try as she might, this star of multiple TV shows couldn't seem to get her movie career off the ground.
De Rossi landed small parts in indie movies before Ally McBeal made her a known entity, but after, she could only find work in a small string of ignored, forgettable, and mostly independently produced movies. Films like Who is Cletis Tout?, I Witness, Two Girls from Lemoore, Dead & Breakfast, Cursed, and Now Add Honey probably don't sound familiar because they weren't blockbuster hits and none rated very highly with critics either. Subsequently, filmmakers looking to cast their film with a bankable actor who has a proven track record as a movie star will probably look beyond de Rossi.
Portia de Rossi is linked to her much-maligned spouse
According to Us Weekly, Portia de Rossi met comedian and daytime talk show host Ellen DeGeneres in 2000, but they connected romantically for the first time in 2004, just after VH1's Big in '04 awards ceremony. De Rossi credits the solid relationship and DeGeneres' support with helping her publicly come out as a gay woman, something that was not terribly common in the early 2000s. De Rossi and DeGeneres wed in 2008, and ever since, they've been viewed as one of showbiz's most rock solid marriages. She stood by and supported DeGeneres when stories began to leak in the late 2010s that backstage at her talk show, the "Queen of Nice" was actually temperamental, petty, mean, rude, and an all-around difficult boss. The backlash kicked up in 2020, when according to Variety, sources said employees were mistreated and underpaid amidst the coronavirus pandemic and a production shutdown. There was an internal investigation, DeGeneres issued an apology, and de Rossi has been, as DeGeneres told People, "a rock" throughout the scandal.
While de Rossi and DeGeneres share and enjoy what seems to be a lovely, committed, and strong marriage, that personal victory may have hurt de Rossi professionally. DeGeneres suddenly became a vilified Hollywood figure, and de Rossi could be perceived as guilty by association.
Portia de Rossi retired from acting
But even if Hollywood casting agents, prominent television series creators, or movie studio executives do want to cast Portia de Rossi in their next big project, they probably aren't too likely to secure her acting services. The reason: She was done with acting. During a May 2018 appearance on her wife's daytime talk show, The Ellen DeGeneres Show, de Rossi revealed that she'd quietly but effectively retired about 18 months earlier during a recurring stint on Scandal and between seasons of the revived Arrested Development.
"Shonda Rhimes wrote me off Scandal. It was fine," she recalled. "I called Mitch Hurwitz, who created Arrested Development, and I said, 'If there is a season five, I won't be doing it because I quit acting.'" Hurwitz supported de Rossi's decision but still put her character in five episodes of their show's fifth and last season. True to her word — and stated intent — those few Arrested Development episodes are the final acting projects on de Rossi's resume.
Even without acting gigs, Portia de Rossi stays busy
Portia de Rossi may have walked away from the Hollywood game in 2018, and while she will no longer play pretend on television anymore, she didn't retire from all work. "So I was approaching 45 … and I just kind of was wondering, is there something that I could tackle now that I've never done before that would be really challenging and different," de Rossi said on The Ellen DeGeneres Show in 2018. "So I decided to quit and start a business." De Rossi, an art student many years ago, teamed up with tech and photography company Fujifilm to create a 3-D technology called Synograph, which is then used to print recreations of paintings through a company (and online art gallery) called General Public.
In addition to a high-end art printing business, de Rossi spends a lot of time pursuing charitable causes. According to Look to the Stars, the former actor favors animal welfare organizations including Best Friends Animal Society, the Humane Society, and (with her wife), The Ellen DeGeneres Wildlife Fund. In 2019, de Rossi trekked to the African nation of Rwanda to break ground on The Ellen DeGeneres Campus of the Dian Fossey Gorilla Fund, a massive complex dedicated to animal research and conservation.