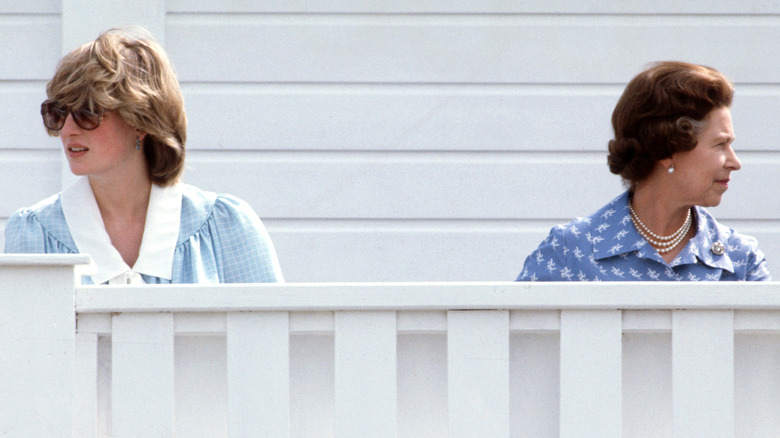 For Princess Diana, also known as Lady Diana Spencer, being a part of the royal family was an ordeal that she wasn't quite prepared for. According to Elle, she was fairly isolated and lonesome after she tied the knot with Prince Charles in 1981, something that wasn't expected. In fact, the Queen had believed that Diana would easily fit into the family and even expressed confidence in one of her letters after the couple got engaged. She wrote, "I trust that Diana will find living here less of a burden than is expected."
However, things didn't go as planned and Diana struggled to feel at ease as a member of the royal family. Additionally, the relationship between the Queen and Diana was pretty complicated and underwent many changes over the years. Their relationship had its share of highs and lows, like any, and was ultimately cut short by Diana's tragic death. Here's a look at the relationship between the Queen and Princess Diana.
Princess Diana knew the Queen since childhood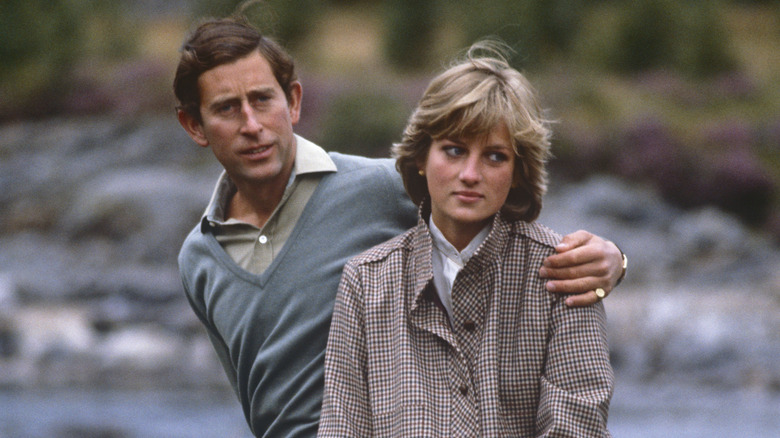 Princess Diana was not totally unfamiliar with the royal family before her relationship with Prince Charles. Tatler reports that she was raised in a comfortable setting, including some time living on the Sandringham estate, and that she was around the royals on a regular basis. In fact, her father was an equerry to the Queen while her grandmothers worked as ladies-in-waiting to Queen Elizabeth's mother. Diana had even spent time around Prince Andrew and Prince Edward as a kid, and played with them on several occasions. The Spencer family was prominent, and one of Diana's sisters even courted Charles for a while before she introduced him to Diana.
It would be fair to say that Diana knew what the royal family was like from a young age, and that she had seen how things worked. She had also interacted directly with Queen Elizabeth, who seemed to like her. Per Oprah Daily, Queen Elizabeth was godmother to Diana's brother, Charles Spencer.
Queen Elizabeth approved of Princess Diana
According to Reader's Digest, Diana maintained that her match with Prince Charles was something that was finalized by Charles and her. She said firmly in an interview, "It was Charles and I who decided on the marriage. Not the Queen. Us. No one else." But Queen Elizabeth believed that Diana Spencer was a good fit for Prince Charles. In any case, it was known that if the Queen didn't actually feel comfortable about the relationship, Charles would probably not have proposed to Diana, and the Queen legally had to give them permission to marry. As reported by Vogue, "under the Succession to the Crown Act, every royal up to the sixth in line to the throne needs her explicit permission before marrying in order for the person, and the person's descendants, to not be disqualified from succeeding to the Crown."
While the Queen didn't try to be a direct influence as far as the relationship was concerned, it was obvious that she did like Diana as her son's future wife. In February 1981, the couple made it official by declaring their engagement to the public. Queen Elizabeth was reportedly of the opinion that Diana would know what her responsibilities would be like after marrying Charles because she had interacted with the royal family so often. However, Charles was more concerned. "I'm terrified sometimes of making a promise and then perhaps living to regret it," he reportedly said (via Reader's Digest).
The Queen tried to support Princess Diana
Queen Elizabeth understood that being a part of the royal family could be a daunting prospect for Princess Diana. According to Reader's Digest, before Diana tied the knot with Charles, she spent her days at Buckingham Palace in a miserable state. She would exercise, swim, and try to plan for the wedding, but was bored and lonesome. It was also around this time that she started to struggle with bulimia.
Diana was reportedly upset with Charles because she believed that he simply wasn't around for her. Meanwhile, the Queen tried to be empathetic and told herself that Diana would take a little time to fit in. She believed that Diana would get used to life within the palace. However, Diana was so distraught that she briefly left the palace and went home, almost cancelling the wedding. Her father convinced her to reconsider and she returned to the palace.
According to Biography, the Queen is a stoic person who for the most part isn't vulnerable around her loved ones. This meant that she couldn't be there for Diana in the way that the young princess may have liked, although she was reportedly sympathetic to Diana's frustration both before and after the wedding.
If you are struggling with an eating disorder, or know someone who is, help is available. Visit the National Eating Disorders Association website or contact NEDA's Live Helpline at 1-800-931-2237. You can also receive 24/7 Crisis Support via text (send NEDA to 741-741).
Princess Diana was initially nervous around the Queen
Despite having met the royal as a child, it wasn't exactly easy for Princess Diana to be in regular close proximity to Queen Elizabeth when she married Prince Charles and became a part of the royal family. As per "Diana: Her True Story," (via Elle) Diana did get along with the Queen, but "it [the relationship] was governed by the fact that she was married to her older son and a future Monarch." The same source describes Diana as "quite simply terrified of her mother-in-law" in the early days.
In the beginning, Diana was nervous around the Queen, and reportedly kept to the formal behaviors appropriate to interacting with the monarch. She would "drop a deep curtsy each time they met — but otherwise kept her distance." Contrary to popular belief, there is no obligation to curtsy to the Queen, but it's a well-established custom. The Royal Family website explains, "There are no obligatory codes of behaviour when meeting The Queen or a member of the Royal Family, but many people wish to observe the traditional forms. For men this is a neck bow (from the head only) whilst women do a small curtsy. Other people prefer simply to shake hands in the usual way." Having grown up around gentry, Diana would have been familiar with the correct etiquette. However, even this formal interaction with the Queen was reportedly warmer than the relationship Diana had with the Queen Mother, who kept the princess "at arm's length" according to "Diana: Her True Story," (via Elle).
The Queen trusted Princess Diana
Queen Elizabeth showed that she was willing to trust Princess Diana quite early on. As reported by Elle, in the early 1980s, she agreed to let Diana represent the royal family at an important event. Grace Kelly, the Princess of Monaco, passed away in 1982 and Diana attended the event on behalf of the Queen.
As per "Diana: Her True Story," (via Elle), Diana said that many didn't think that she'd be permitted to go to the funeral. She told author Andrew Morton about the incident and explained, "I went to the queen and I said, 'You know, I'd like to do this,' and she said 'I don't see why not. If you want to do this, you can.'" She was only 21 years old at the time, but the Queen allowed Diana to travel alone on her first trip abroad as a member of the royal family. Morton says that those who saw her were impressed by her "dignified manner at the highly charged and at times mawkish funeral service."
The Queen tried to listen to Princess Diana
For Princess Diana, marriage to Prince Charles was tough from the start. According to Reader's Digest, the Queen tried helping in little ways. Unfortunately, Charles and Diana were two very different people and it was difficult for them to overcome their differences. Charles was known to have been somewhat of a playboy before he got married to Diana, while his wife had never dated and didn't know what to expect from her relationship.
Queen Elizabeth reportedly wished to see things improve between the two and believed that the couple's children, Princes Harry and William, would help them grow closer together. However, this didn't happen, and the royal couple's conflict grew bigger. Diana found it hard to cope and started relying on the Queen for help. She would visit her and speak to her about her problems. The Queen tried to listen to her and provide assistance. A staff member at the royal palace said that the visits were helpful for the princess. They recalled, "Diana was usually in a lot better mood when she left than she was when she arrived."
However, the sessions got a bit too much for Queen Elizabeth, who couldn't handle them after a point. A source who was with the royal family back then told the Queen that Diana once teared up thrice while she waited for the Queen. She said that her daughter-in-law cried throughout their meeting.
The Queen didn't help Princess Diana
Ultimately, Queen Elizabeth couldn't do much for Princess Diana in terms of offering her emotional support. As per Cheatsheet, things got worse for Diana when she realized that her husband was involved in an extra-marital relationship with his former girlfriend, Camilla Parker Bowles. Charles reportedly said, "I refuse to be the only Prince of Wales who never had a mistress."
Apparently, the Queen wasn't supportive when Diana turned to her for help. Diana reportedly approached her with tears in her eyes, hoping for advice. She asked her what her next steps should be. The Queen simply said, "I don't know what you should do. Charles is hopeless." Diana described the encounter as, "and that was it, and that was help." However, when the news of Charles' infidelity became widespread, the Queen was upset because she wasn't someone who supported extra-marital affairs. She made sure that her son's mistress was prevented from entering the palace and reportedly described Parker Bowles as a "wicked" woman.
Their relationship suffered later
As per Good Housekeeping, the relationship between Princess Diana and Queen Elizabeth got messy as time went by. Diana had always been a bit different from others in the royal family and she didn't try to hide it. For example, she chose an engagement ring from a catalog rather than having one custom made, as is tradition. Also, when she married Prince Charles, she made it clear that she wouldn't say that she would "obey" him as his wife.
Things soured further between Diana and her mother-in-law after the former spoke to her biographer, Andrew Morton, in the early 1990s. Some of Diana's friends and family members also collaborated on the book. This didn't go down well with the Queen, who was reportedly "stunned" that the princess would contribute to the biography in any way. As far as Diana was concerned, she didn't know what else to do and was "at the end of her tether." In 1995, she told the BBC that she hadn't met Morton but chose to allow her friends and family members to do so because she was tired of being "seen as someone who was a basket-case."
Their relationship was complex
Queen Elizabeth genuinely believed that her daughter-in-law had a lot of potential. As per Reader's Digest, the Queen was quite empathetic towards Diana when she got sick while honeymooning with Charles. Diana was grateful for the support she received from the Queen in those early days and even praised her. She once commented, "I have the best mother-in-law in the world."
When Diana and Charles were struggling with their relationship after the book, "Diana: Her True Story" was published in the early 1990s, Queen Elizabeth suggested that both of them should take a break for six months to reflect. They agreed with this suggestion and spent some time away from each other. Around this time, Diana became heavily involved with humanitarian work. Members of the public admired the princess and the Queen knew that she could shine as a member of the royal family. However, it proved to be impossible to stop Diana from carving her own path. Ultimately, the Queen could never quite understand how to assist Diana. Diana was reportedly someone who didn't take criticism well at all, which meant that it was tricky for the Queen to talk honestly with her.
The Queen wasn't kind to Princess Diana at times
Queen Elizabeth wasn't a constant source of comfort for Diana. In the book, "Diana: Her True Story," the princess revealed that she looked up to the Queen and genuinely respected her. However, she told her mother-in-law, "I'll never let you down but I cannot say the same for your son."
As per the same source, Queen Elizabeth was candid with Diana at times and even said to her that she believed that her son could never come to terms with the princess' battle with bulimia. Diana said, "she saw it [bulimia] as the cause of the marriage problems and not a symptom." She also added that she mostly had a good relationship with her in-laws but didn't try to work extra hard to please them. She said, "I get on very well with them… but I don't go out of my way to go and have tea with them."
If you are struggling with an eating disorder, or know someone who is, help is available. Visit the National Eating Disorders Association website or contact NEDA's Live Helpline at 1-800-931-2237. You can also receive 24/7 Crisis Support via text (send NEDA to 741-741).
Princess Diana's death was a huge blow to the royal family
August 31, 1997 was a terrible day for the royal family. Princess Diana and her partner, Dodi Al Fayed, died in a tragic car crash on the streets of Paris while being pursued by paparazzi. When Queen Elizabeth learned of Diana's accident, she reportedly remarked that there was foul play involved, according to "An Intimate Portrait of the Queen in Her Own Words" by Ingrid Seward (via The Telegraph). Her exact words are said to have been, "someone must have greased the brakes."
When it was announced that the princess had died, many grieved publicly. They also lashed out at the Queen for not flying from Balmoral to London as soon as possible and for not honoring Diana by hoisting the Royal Standard flag at Buckingham Palace (via E!Online).
Meanwhile, it was believed that the Queen chose to stay at Balmoral in order to take care of her grandchildren, Princes Harry and William. She wanted the boys to "absorb the shock of their mother's death" on their own. Ingrid Seward writes, "her first priority was to protect them." As for the flag, the Queen's explanation was that it was simply protocol to not use it when she wasn't in residence at the palace.
The Queen spoke positively about Princess Diana after her death
According to ABC News, Queen Elizabeth wrote about Princess Diana in a letter to a friend, saying that the princess' death was a massive loss for the country. She added that it brought people together "in a rather inspiring way" as people across the globe collectively mourned. She also said that she was filled with admiration for the way Diana had looked after Princes Harry and William. The Queen offered some perspective into what was happening in Balmoral and said that she had been occupied with her grandchildren. She wrote, "this week at Balmoral, we have all been trying to help William and Harry come to terms with the devastating loss that they and the rest of us have suffered."
The Queen also spoke about her late daughter-in-law in public. She was stoic but somewhat affectionate. While addressing the country in a speech before Diana's funeral, the Queen said, "[Diana] was an exceptional and gifted human being. In good times and bad, she never lost her capacity to smile and laugh, nor to inspire others with her warmth and kindness."