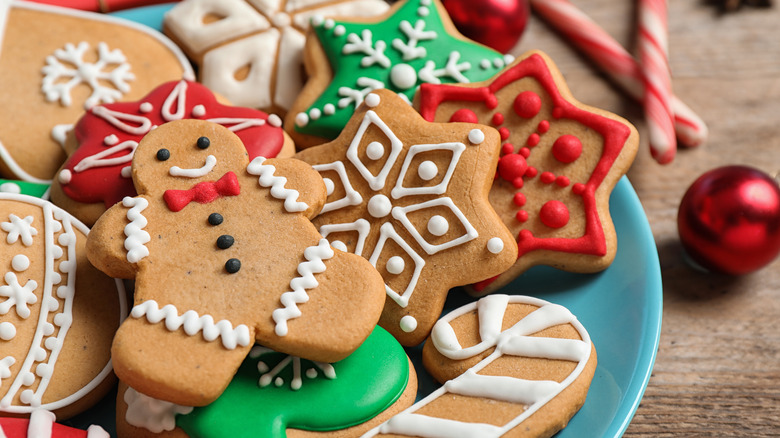 Some might say that November is even better than December because there's nothing quite like feeling the onset of winter on your skin, experiencing the first dusting of snow, smelling hot cocoa and apple cider, and gradually replacing all things pumpkin while seeing the first Christmas lights and décor go up everywhere around you.
Plus, you have so many weeks of holiday activities to do leading up to Christmas — like decorating the tree and baking up so many treats, and of course all the eating. What's Christmas if you haven't enjoyed one too many shabbily decorated gingerbread houses, right? If this happens to be your favorite holiday activity, Target has a sweet surprise for you.
The retail giant has already started stocking tons of holiday cookie kits, and it's not just the good ol' gingerbread house this year: There are entire villages, mansions, and barns that you can turn your gingerbread cookies into — masterpieces so stunning that even Scrooge would turn into a jolly fella.
Holiday Beach House Sugar Cookie Kit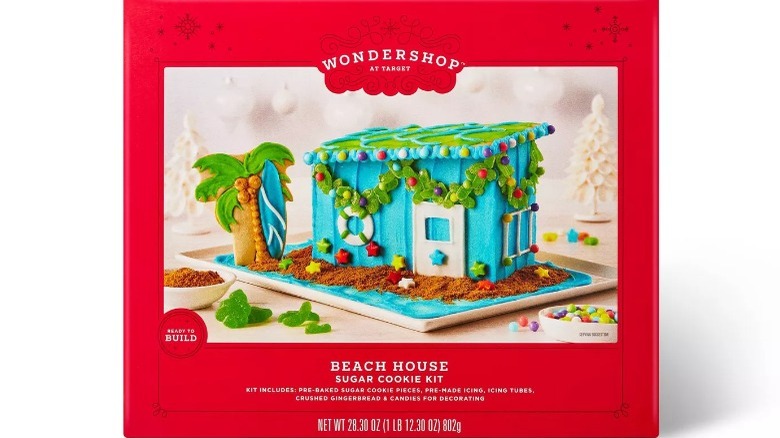 Gingerbread is a Christmas classic, of course, but if that spiced flavor is not your thing, Target has a kit made entirely out of sugar cookies. With a beach house theme, the kit comes with blue, green, and white icing for breezy coastal vibes, as well as gummy trees, multi-colored beads, and star candies for decor. Plus, there's crushed gingerbread for the sand, and a little coconut tree cookie to add a finishing tropical touch to the sugar house. It retails for $9.99 and is available now.
Holiday Classic House Gingerbread Cookie Kit
Sometimes, Christmas cookies are best enjoyed in the form of gingerbread cookie pieces stuck together into a makeshift house with runny icing, sloppily placed gummies, and peppermint candies that add a sweet touch. And, it's best enjoyed when toppled over into a big pile of yumminess. You can find this classic gingerbread house cookie kit at Target now for just $9.99.
Holiday Mini Village Gingerbread House Kit
You could say that gingerbread cookie kits are meant more for kids, but it's an undeniable fact that adults equally like to roll up their sleeves and show off their icing skills too. If you're a true decorating pro, Target's mini village gingerbread kit is going to make you shine. Featuring Santa's house, a candy shop, a chalet, and a sweet shop — including vintage signs and all — you can buy an entire cookie village for just $9.99 at Target now.
Holiday Mansion Gingerbread Kit
Ever wondered what a mansion would look like if it was made entirely out of sugar — with gingerbread for walls, windows made out of fondant, peppermint candy for doorknobs, gummy candies for trees, and snowflakes made out of the sweet stuff? With Target's gingerbread mansion kit, for just $19.99 a box, you can create the mansion of your wildest dreams using just cookies, icing, and sugar.
Holiday Barn Gingerbread House Kit
Target's gingerbread barn kit is bound to make both adults and kids flip with its incredible cuteness. Selling for $11.99 and in stores and online now, the kit comes with red icing to give your barn a real-life rustic look, plus Christmas-colored candy corn, and other candies to decorate it. But here's the best part: There are three pre-decorated animal cookies including a cow, a sheep, and an adorable little pig all dressed up in a Santa hat that make this an unforgettable holiday treat.