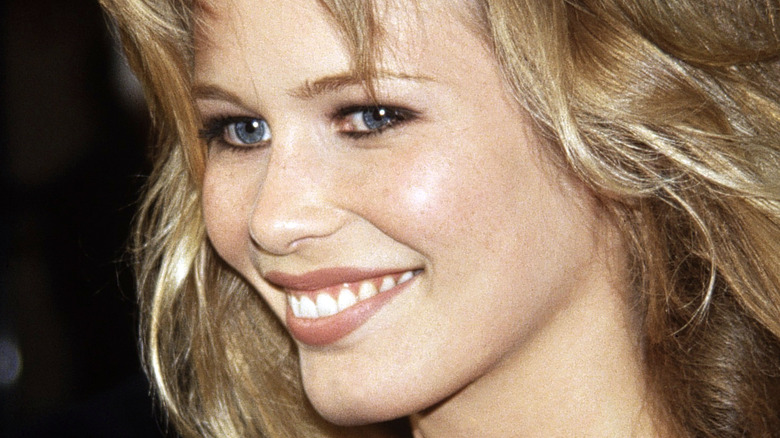 Supermodel Linda Evangelista, one of the original supermodels, was once quoted in a 1990 interview as saying that she would not "wake up for less than $10,000 a day," as noted by CR Fashion Book. The supermodels of the '80s and '90s have amassed fortunes for their runway involvement and editorial shoots. Some like Stephanie Seymour, Miranda Kerr, and Elle MacPherson married billionaires, securing their financial futures beyond modeling. Life after modeling is not often accompanied by the 9-to-5 workday for these fashion icons.
A handful of supermodels, however, do pursue more typical jobs once they leave the runway. These supermodels have gone on to pursue jobs that involve entrepreneurship, craftsmanship, and philanthropy that may be considered more "normal" than doing runway shows and editorials. From former Victoria's Secret Angels to Vogue cover girls, these women have continued to lead busy lives filled with meaningful work and passion projects. While a few have come out of retirement for the occasional runway or editorial shoot, most of these supermodels have instead elected to focus on their new endeavors.
Supermodel Helena Christensen is a photographer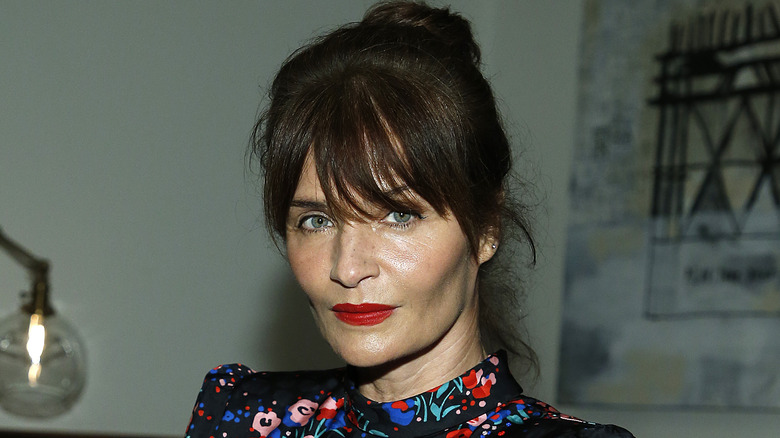 Helena Christensen was named one of the "Magnificent Seven" supermodels by The New York Times in 1996. In her 50s, Christensen is still modeling, and in 2018, she appeared alongside Carla Bruni, Claudia Schiffer, Naomi Campbell, and Cindy Crawford to close out the Versace runway at the Milan Fashion Week (via Vogue Paris). While Christensen continues to grace fashion magazine covers, she has also taken a role in the fashion industry as a photographer. In 2019, Helena Christensen told Whitewall, "I decided to give modeling a go so I could pursue a photography career."
Traveling was a major part of Christensen's passion for the fashion industry, as she told The Sydney Morning Herald, "Wanting to explore the world was one of the main reasons I even found modelling interesting at all from the beginning." In her travels, Christensen has been able to pursue photography in tandem with her modeling career. In 2015, Christensen began working with the United Nations High Commissioner for Refugees, using her photography skills to advocate for the rights of refugees, and she was later appointed as a goodwill ambassador for the UNHCR in 2019 (via UNHCR).
Since taking more time to focus on her photography career, Christensen has used her talents and fame to raise awareness for sustainability, AIDS, and breast cancer. "I love the way the fashion business is active in raising awareness about all kinds of issues. Any time I can be a part of that, I am," she told Harper's Bazaar Arabia.
Christy Turlington founded a non-profit
Supermodel Christy Turlington was also one of the "Magnificent Seven" from the '90s, best known for her consistent work with Calvin Klein. Turlington began working with Calvin Klein as the face of their Eternity campaign in the late '80s, and she continues to front the campaign today — nearly four decades later (via Harper's Bazaar).
Despite her continued work in the modeling industry, Turlington founded Every Mother Counts in 2010, a charity designed to ensure "quality, respectful, and equitable maternity care for all." In an interview with Marie Claire, Turlington explained that she began her work to establish the charity after experiencing postpartum complications following the birth of her daughter. Turlington earned her master's degree in public health from Columbia University before launching her non-profit. In 2020, Turlington was asked to join a COVID-19 maternity task force for the state of New York to address the complications involved for mothers during lockdown (via Vogue).
Founding and running a non-profit organization is a full-time job. "There's a lot of advocacy work that's involved," Turlington told Marie Claire. "We try to work with legislators and policy makers here in the United States to improve policies, improve coverage and lengthen the period of time where women are insured postpartum," she continued.
Kim Stolz works for the Bank of America
Kim Stolz entered the modeling industry after she "was dared by a friend" to audition for Cycle 5 of "America's Next Top Model." Stolz, who was a government and international politics student at Wesleyan University at the time of the audition, is the daughter of model Carol Brandt, who had modeled for Givenchy and Ralph Lauren in the '70s, as The New York Times reported. "I was never interested in modeling," Stolz said in an interview with 104.3 Hit FM.
Fast-forward to her time on the show, and Stolz made it to the top five before being eliminated. Stolz is remembered for being the first contestant to openly identify as a lesbian while on "ANTM," as noted by Insider. When she spoke to a reporter from The Advocate, Stolz said that she hoped that she "made the queer community proud" by being out on the show.
Since her time on the show, Stolz was a host for MTV and opened and closed a lesbian bar, among other endeavors. In 2014, she began working for Bank of America as the director for equity-derivative sales. By 2018, Stolz was made the head of Bank of America's U.S. prime brokerage sales team (via NewNowNext).
Rachel Hunter is a master yoga teacher
The New Zealand supermodel began her career at 17. When Rachel Hunter moved to New York to begin modeling, she quickly booked shoots with Vogue, Elle, Harper's Bazaar, and Sports Illustrated (via RachelHunter.com). In an interview with Beautiful Humans, Hunter explained, "My true love is for animals and the earth … I never wanted to be a model; I did not think highly of it."
While filming in New Zealand, Hunter met with a producer to discuss working on a show with spirituality as a major focus. "We got together, and she said, 'Oh, you will get back on TV. Spirituality is all very well but you are in the world of beauty and modeling so let's merge the two,'" Hunter explained. From this meeting, "Rachel Hunter's Tour of Beauty" was born. The travel show explored beauty practices and spirituality throughout the world by focusing on food, medicine, and lifestyles.
After her mother passed in 2017, Hunter went to India to study yoga. There, she surpassed over 500 hours of yoga-teaching experience, earning her Master Training Certification. "I never went to India to teach, but here I am," she wrote on her personal website. As a yoga teacher, Hunter told Beautiful Humans, "I don't teach anything unless I spend a lot of time with different prayers or different breath work so I can really express what I went through."
Kathy Ireland is a successful entrepreneur
Kathy Ireland gained her supermodel status by getting featured in the Sports Illustrated annual Swimsuit issue for 13 consecutive years. In 1989, she landed the cover, which ended up being the best-selling issue for the magazine of all time, according to Success.
In an interview with Fox News, Ireland said, "Modeling was not part of my plan," explaining, "It was offered to me and I thought it would be an opportunity to save money to either go to college or start a business." Ireland founded her business, Kathy Ireland Worldwide (kiWW), in 1993, after a sock company reached out to her for a modeling job. She took the opportunity to offer the business a partnership with her brand, thereby launching her career as an entrepreneur (via Success).
Ireland's brand began by focusing on women's clothing. Her brand sold exclusively through Kmart, and when Kmart filed for bankruptcy in 2002, kiWW began selling home furnishings and pulled through the setback. Today, kiWW sells over 17,000 products, as reported by Forbes. The company also runs luxury resorts, a talent agency, and licensing, amongst other services. In 2015, the entrepreneur joined Forbes' list of America's top 50 most successful women. Today Kathy Ireland's net worth is estimated to be at $500 million. Not bad for a supermodel working a normal job — normal compared to her successful modeling career, at least!
Gisele Bündchen works in fantasy sports now
Brazilian supermodel Gisele Bündchen began her career with the 1998 Alexander McQueen runway (via Elle). In her memoir, "Lessons: My Path to a Meaningful Life" (via the Daily Mail), Bündchen wrote that she almost ended her career then, when she realized that she was being asked to walk completely topless. But, of course, we know Bündchen, who would walk that runway with body paint covering her chest, would go on to have a super successful modeling career.
In 2020, Bündchen officially retired from the runway. "Automatically my body tells me if what I do is worth it, and it asked to stop," she told reporters for a Brazilian newspaper (via Yahoo! News). While the supermodel continues to model for editorials and ad campaigns, she is also pursuing a new line of work — Fantasy Sports.
Following her retirement from runway walking, Bündchen, who married football star Tom Brady in 2009, became a "special adviser to the Board of Directors" for "environmental, social, and governance initiatives" for the fantasy sports platform DraftKings in 2021 (via Twitter). Jason Robins, the co-founder and CEO of DraftKings, sought Bündchen for her expertise in environmental advocacy. "I look forward to working with the DraftKings board of directors in continuing to find ways to make the most positive impacts through meaningful social and environmental initiatives," she said in the announcement on DraftKings' website.
Supermodel Adrianne Curry is working a normal job selling Avon makeup
Adrianne Curry was the first winner of "America's Next Top Model," taking home the crown in Cycle 1 of the show. Curry discussed the lackluster opportunities offered to her after her win on "ANTM" in a now-deleted Instagram post, where she said, "We were led to believe daily the winner would be instantly rich and a huge Revlon cover girl. This was a lie" (via ET Canada). After winning the first season, however, Curry did go on to model for two covers of Playboy magazine and snagged some other modeling gigs, including runway shows for Ed Hardy and Von Dutch.
Curry went on to work in reality TV, starring in "The Surreal Life" and "My Fair Brady." In her blog, Curry describes how she left the Hollywood lifestyle to move to Montana with her husband, Matthew Rhode, where the supermodel now works a normal job and sells Avon makeup products. "I've been happily living a pretty low profile life outside of being an online Avon Lady and I quite enjoy it," she wrote in an Instagram post in 2020.
Stephanie Seymour started a lingerie line
Stephanie Seymour, another iconic supermodel from the '80s and '90s, was one of five original Victoria's Secret Angels. In 1995, Seymour married billionaire Peter Brant, which undoubtedly secured a financially sound lifestyle for the supermodel. Despite this, Seymour has continued working into her 50s, and came out of her retirement in modeling in 2019 to walk the fall Versace show in Milan (via Vogue).
In 2017, Seymour launched the lingerie line she co-founded with designer Casey Paul. In an interview with Business of Fashion, Seymour explained why she decided to launch the company, saying, "I love the fashion industry and it's a business I wanted to stay in, and as you get older you don't work as much." Seymour's line, Raven & Sparrow, was born from a need for more inclusivity in lingerie. She told The Telegraph, "I think so much of today's lingerie is made for men." So, her collection is designed with women's comfort in mind, and as a mother, Seymour wanted her line to make all women feel beautiful. "I think, for me, what is really sexy is modesty," she shared with Business of Fashion.
Seymour chose the name for the brand very specifically. She told Business of Fashion that she didn't want the brand to be named after her: "It's not about me trying to use my name or take all the credit. I feel like the product will speak for itself."
Claudia Schiffer has focused on collaborations and fashion photography
Claudia Schiffer was another member of the "Magnificent Seven" during her reign in the '90s. Her career bloomed when she became the face for Guess Jeans and then Chanel, and she continued to dominate magazine covers and runways for decades (via W).
While Schiffer hasn't retired from modeling, she has pursued other interests in recent years. One such endeavor is glassware and ceramics design; Schiffer created a whimsical line of ceramics with the Brazilian glassware company Bordallo Pinheiro. She's also collaborated with clothing designers to create a fashion line with European brand Réalisation Par, as noted by Vogue. In 2021, Schiffer is curating an exhibition on 1990s fashion photography in Düsseldorf.
This exhibit is something that Schiffer is especially passionate about. It is largely based off of the book "Captivate!" that Schiffer put together, which is set to be published in November 2021 (via W). Claudia told Vogue in an interview that the exhibit has been curated from her personal photographs that she has been collecting since the beginning of her career. To W Magazine, Schiffer said, "The 1990s was a watershed moment that upturned ideals of beauty and fashion … Above all, there was innovation and experimentation," explaining why she picked this era to represent in her exhibit. She noted, "During the turbulent days of lockdown, I was so grateful to have this project to immerse myself in" (via Vogue). To curate the exhibit, Schiffer worked with curators at Kunstpalast, the art museum where Captivate! will be featured.
Whitney Thompson Forrester runs a vegan restaurant
Whitney Thompson Forrester was the first plus-sized model to compete in "America's Next Top Model," and ended up as the winner for Cycle 10 (view NewsWire). Forrester modeled for Italian Vogue, CoverGirl, and Seventeen after her victory (via Smokey Barn News). In 2010, Forrester became an ambassador for the National Eating Disorders Association, using her status as the winner of "ANTM" to promote body positivity (via NewsWire).
While Forrester still models from time to time, she mostly focuses on her restaurant Craft 850 in Panama City Beach. Before opening Craft 850 in Panama City, Forrester also owned The Copper Vault, a restaurant in Springfield, Tennessee that catered to vegans and non-vegans alike. Forrester discussed the conflict she felt as a vegan with meat items on her restaurant's menu on her blog, writing, "As a vegan, that can still weigh heavily on me."
On top of the supermodel working her normal job and working the occasional modeling shoot, Forrester is also the mother of a baby boy with her husband and business partner, Ian Forrester.
Rosie Huntington-Whiteley started a beauty line
Supermodel Rosie Huntington-Whiteley is best known for her work with Victoria's Secret, Burberry, and Levi's (via Us Weekly), but she left Victoria's Secret in 2010 to focus on building a more stable financial future for herself. "I've always been so aware that modeling is perhaps going to have a very short shelf life," she said in an interview with Girlboss Radio.
Whiteley launched her beauty line, Rose Inc., in 2018, as noted by The Hollywood Reporter. In an interview with E! News, Whiteley explained, "After being in the makeup chair for over 20 years, I have definitely seen and experienced the best (and sometimes the not so great) when it comes to beauty products." Whiteley used her experience in the modeling industry to develop "100% non-comedogenic" formulas. In her interview, she described her brand as "Transparent. Effective. Sustainable." Whiteley also explained that she had partnered with Amyris, a company that specializes in sustainable and clean beauty products, to ensure that Rose Inc. products would match her sustainability and ethical goals.