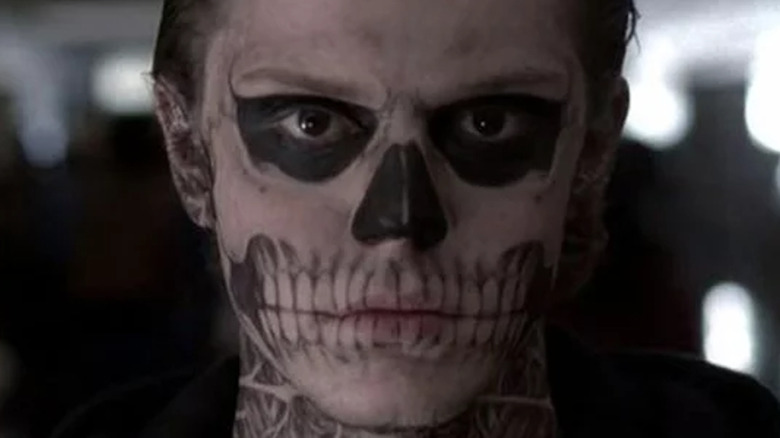 "American Horror Story" has been a fan favorite since it first aired in 2011. The anthology series followed hot on the heels of Ryan Murphy and Brad Fulchuk's smash hit "Glee." However, "American Horror Story" is the polar opposite of the feel-good but angst-ridden teen-centric musical comedy — and that was apparent from the get-go of Season 1, "Murder House."
Murphy and Fulchuk retained the super-stylized, kitch, and camp aspects that made "Glee" a runaway success. But when it came to "American Horror Story," they took a decidedly darker turn. The show's faced controversy due to its gruesome and bloody subject matter. After Season 8, aka "Apocolypse," finished airing, Variety called for the series' end, insisting it had run its course: "This series has long been both overplotted and feebly structured, throwing tons of ideas into a season and letting them, eventually, wither." However, as per The Hollywood Reporter, FX announced it was renewing "American Horror Story" for another three seasons in January 2020. The 10th installment, "Double Feature," ran from August to October 2021 before reaching its (inevitably) gory climax (via Harpers Bazaar). Love it or hate it, the show must go on — for at least two more seasons, anyway.
Sometimes, it's worth watching purely for the on-screen snafus that occur at a startlingly high rate, given the production value and budget. Often, though, blink and you'll miss them. So, grab the popcorn, as we're breaking down the biggest "American Horror Story" mistakes you never noticed.
American Horror Story's accidental equipment appearances
"American Horror Story" has consistently scored big at awards shows. At the time of this writing, the anthology series has won a whopping 16 Emmys, four Critics Choice Awards, two Golden Globes, and a SAG award, among several others. However, despite its glittering array of trophies, the show still manages to make some film school student-level errors during shooting.
In Episode 2 of Season 3, "Coven," Zoe Benson (Taissa Farmiga) and Madison Montgomery (Emma Roberts) are fighting over Kyle Spencer (Evan Peters) in a bedroom. Montgomery sits Spencer down on the bed, thinking they're going to get it on. As Benson turns to walk out of the room, you can see a crew member's arm reflected in the mirror on the wall. Then, at the end of the same scene, after Spencer chooses Benson over her rival, Montgomery struts out of the room following a fight with Frances Conroy's Myrtle Snow. Spencer sits on the floor cradling Benson in his arms, and in a blink-and-you'll-miss-it moment, you can again see part of a crewmember's body reflected in the lefthand side of the mirror that's positioned directly behind them.
Similarly, during Episode 4 of Season 2, "Asylum," Lana Winters (Sarah Paulson) experiences a drug-induced dream scene. In the dream, she's accepting an award for the memoir she wrote about her terrifying ordeal inside the mental institution. Winters takes to the stage to give her acceptance speech, and you can see a microphone pack that's attached to her back, just below the waistline, that later disappears. Oops!
Richard Ramirez's death dates dilemma
The fictional depiction of the real-life serial killer, Richard Ramirez, appeared as a recurring character in "American Horror Story." As per Entertainment Weekly, Ramirez — nicknamed the "Nightstalker" by the media — was primarily played by Zach Villa following another actor's previous portrayal: Ramirez first appeared briefly in Season 5, "Hotel," but played a starring role in Season 9, "1984."
In "Hotel," Ramirez's ghost attends a "Devils Night" event at the Cortez. Ramirez sits around a table with other notorious serial killers, including Aileen Wuornos (Lily Rabe) and every kid's favorite clown, John Wayne Gacy (John Carroll Lynch). Ramirez pops up again in the first scene of "1984." The fictional Ramirez does what he did best in real life throughout the season — terrorize, assault, and murder (via Yahoo! Entertainment).
As The Sun reports, Ramirez eventually meets a grisly end in "American Horror Story" in 1989. He's then forced to endure a cycle of death and reincarnation, trapped in Camp Redwood for the next 30 years. This causes a significant plotline death date dilemma, however. The "Devils Night" scene in "Hotel" was set in 2015, and Ramirez announced he'd died two years earlier in 2013. So yeah, the math doesn't quite add up. And in case sadistic serial killers are your "thing," the real-life Ramirez was "convicted of 13 murders, five attempted murders, 11 sexual assaults, and 14 burglaries" in 1989. He was sentenced to death, but escaped execution after dying in a hospital in 2013 (via CNN).
Musical time travel on American Horror Story
"American Horror Story" often draws from real-life events. According to ScreenRant, Season 4's "Freak Show" included several depictions of actual historical figures from the circus world. Evan Peters' character, Jimmy Darling, was based on Grady "Lobster Boy" Stiles Jr., while Paul "the Illustrated Seal" (played by Mat Fraser) was inspired by Stanislaus "Stanley" Berent. Bette and Dot Tattler, portrayed by Sarah Paulson, were based on real-life conjoined twins Chang and Eng. Meanwhile, Erika Ervin's Amazon Eve was an homage to Anna Haining Swan, who was believed to be over 8-feet tall.
However, there was still a lot of poetic license involved, which is just as well when you consider the gruesome goings-on. "Freak Show" is supposed to be set in 1952, but there's a tad bit of time travel involved when it comes to the musical performances. Elsa Mars, who's played by Jessica Lange, sings two David Bowie songs, for example. As any music aficionado knows, Bowie was born in January 1947, and his musical career didn't start in earnest until 1969 (via Biography).
Mars sings a cover of "Life on Mars" in addition to a rendition of "Heroes." According to Song Facts, the singles weren't released until 1971 and 1977, respectively. Mars also performs "Gods and Monsters" by Lana Del Rey — born in 1985, per Biography. Mars isn't the only musical visionary, though. The Tattler twins take to the stage to sing a(n amazing) version of "Criminal" by Fiona Apple, who was born in 1977.
Those disappearing blood blunders
Season 3 of "American Horror Story" was all about the supernatural, voodoo, and witchcraft. "'Coven' is a bubbling cauldron of lurid visuals, screaming rows, and high-camp horror," a review by the Independent reads. And they weren't kidding. The furious fights result in bloody endings right from the start — but then, just as quickly as the blood appears, it miraculously disappears.
In the first episode of "Coven," self-proclaimed "human voodoo doll" Queenie — played by the ever-awesome Gabourey Sidibe — uses her supernatural powers to hurt Emma Roberts' character, Madison Montgomery. Queenie violently stabs a fork into the top of her hand but transfers the resulting injury onto Montgomery. Following her screams of pain, a close-up shot of Montgomery's hand shows all the signs of being stabbed — with blood aplenty. However, by the time the camera pans back to Montgomery again, she's cradling her hand in pain, but there's not a wound to be seen, let alone even a drop of blood.
The disappearing blood blunders continue through to Season 10. In Episode 13 of "Double Feature," Danny Mott, played by Finn Wittrock, gets punched in the face following a heated argument with the "Freak Show" cast. Mott is knocked backward onto the floor, and a close-up shot of his face shows his left nostril covered in blood. However, by the time Mott manages to get back up onto his feet again, the blood has mysteriously evaporated, leaving not even a trace.
American Horror Story's continuity confusion
You'd think "American Horror Story" would be shot and edited flawlessly, considering its budget. Variety claims FX allocates "about $3.5 million – $4 million per hour" for each drama. However, Ryan Murphy's budget runs closer to $6 million, making for a potential $60 million per season. Obviously, the actors' contracts eat up a massive chunk, but there should still be enough to pay for a decent continuity team. The amount of onscreen "American Horror Story" mistakes seem to prove otherwise, though.
There are two glaring snafus during Episode 12 of Season 1, "Murder House." Frances Conroy's character, Moira O'Hara, and her deceased boss, Vivien Harmon (played by Connie Britton), are talking in the kitchen. O'Hara's coffee mug appears to have a life of its own, moving from her lips to the tabletop without missing a beat. Later, the new homeowners, Stacey and Miguel Ramos (Lisa Vidal and Anthony Ruivivar), engage in a steamy make-out involving a slew of wardrobe mishaps. Miguel unbuttons Stacey's shirt and slips it off. They continue locking lips, and he's unbuttoning her shirt and slipping it off again. Next shot? The shirt's buttoned-up again.
The continuity confusions persist through to Season 7. During Episode 10 of "Cult," Kai Anderson — played by Evan Peters — undergoes his final transformation. Anderson buzzes his hair, then slathers shaving cream all over the bottom half of his face, including the top lip and mouth. However, Anderson's top lip is totally bare in the next scene, so he begins brushing it on (again).
This FX hit's chargeless cellphones
Season 6 of "American Horror Story," titled "Roanoke," left critics strictly divided. However, what matters most is the numbers. According to Variety, the "Roanoke" premiere was the "third most-watched episode in [the FX] franchise's history." An impressive 8.3 million viewers tuned in to watch — but, well, critics gonna critic, anyway.
"It's just another crappy true crime story, but with a few Oscar nominees and a much larger budget," The Guardian sniped. Meanwhile, MTV News raved, "Between the tensions among the trio and the potential resurrection of the documentary presentation, consider us teased and tempted back into the haunted house." The outlet added that the anthology had gone "Full Blair Witch" in its latest installment. However, The Verge fell firmly into the detractors' camp. Claiming that the absence of the show's "pillar," Jessica Lange, left it "flailing," they noted that "Roanoke" called into question why "American Horror Story" was still running. What they failed to question, though, was why the cast's cellphones were still running, too.
Audrey Tindall, Lee Harris, and Monet Tumusiime's characters' phones were permanently in use during Episodes 7 and 8 — which, as IMDb points out, "would wear down the battery within a few hours, even without using other apps." They recorded, videoed, and used the phones as flashlights for days on end as they hunted for Sidney Aaron James (Cheyenne Jackson). Perhaps they'd stumbled upon that mythical tech unicorn — the never-draining battery — during their search. Because Sidney may have died, but their cellphones didn't, despite never being recharged.
American Horror Story and the breathing dead
"American Horror Story's" Season 5 was packed with guts, gore, drugs, and death. "Hotel" also included more than its fair share of sexual deviancy, and Lady Gaga was at the heart of it. The singer made her acting debut in the season's first episode, playing The Countess — a bloodthirsty, group sex-loving, homicidal maniac and owner of the Hotel Cortez.
As per Billboard, in one particularly gruesome scene, The Countess and her boy toy, Donovan (played by Matt Bomer), engage in a foursome with a couple he met at a cemetery. It doesn't result in a happy ending — for the couple, anyway. The Countess and Donovan slash their throats and feast on them like an all-you-can-eat HomeTown buffet. And that's just a smidgen of the grisly murders during The Cortez's history. Add a serial killing cop, a psychopathic rapist, and the hotel's founder, Evan Peters' James Patrick March (aka JPM) — a Howard Hughes-style billionaire with a penchant for torture and mutilation — and the corpse count skyrockets.
March had despatched his victims to a dumpsite strewn with masses of maimed bodies. During Episode 2, Iris — played by Kathy Bates — tells Wes Bentley's character, Detective Lowe, about JPM's history. During a flashback scene, police examine March's decaying dumpsite. However, it seems as though acting dead is a lot harder than you'd imagine. When a cop picks up a handkerchief from one of the supposed corpses, you can see the man's stomach moving up and down as he breathes.
The series' timeline trip-ups
One of the most controversial plotlines in "American Horror Story" history occurred in Season 1, "Murder House." It depicts a 1994 school shooting during Episode 6, "Piggy Piggy." Evan Peters' character, Tate Langdon, is the perpetrator, and he kills 15 victims before a SWAT team shoots him dead. In one disturbing scene, five students flee to the library to hide, but Langdon hunts them down, killing all the kids and the librarian. It's impossible to watch without thinking of the 1999 Columbine school massacre due to the similarities (via ResearchGate).
The storyline is eerily realistic, but once again, "American Horror Story" trips up on the details. According to IMDb, there's a copy of "The Children's Blizzard" amongst the library books, a staple of all school libraries ever since it was published in 2004 — 10 years after the scene was set.
There are also two timeline mess-ups in "Freak Show." One occurs in the Bette and Dot Tattler dream-nightmare scene. An Easymatic 300 x-ray machine is wheeled into the room as the surgeon prepares to separate them. X-ray equipment was invented in 1896 (via Wired), but Easymatic didn't start distribution until 1979, as per BRH Bulletin, and the show's set in 1952. The other error involves the bright overhead lighting that's used to illuminate the performance stage. According to IMDb, the lighting fixtures are ETC's Source Four LDIs. However, the company didn't launch that brand of fixtures until 1992 (via City Theatrical).
Those apocalyptic date discrepancies
Season 8 of "American Horror Story" had fans flocking to social media to point out a significant timeline plot error. The mess-up involves the supposed date of the end of the world and stems from two separate chapters of the show — Season 5's "Hotel" and Season 8's "Apocalypse."
During the last episode of "Hotel," paranormal TV reporter Billie Dean Howard, played by Sarah Paulson, is lured to the Cortez with the promise of filming the "Devil's Night" dead serial killer dinner that's being held on October 30, 2020. Howard had already aired three primetime specials on the hotel's creepy goings-on, focusing specifically on the "Ten Commandments" serial killer, John Lowe (Wes Bentley). Howard planned to air the footage on her hit Lifetime show. However, she ends up fleeing empty-handed after Lowe threatens her with death if she publicly mentions the hotel again.
Skip forward three seasons to "Apocalypse," where the world had ended 18 months previously following a nuclear explosion. As per PopBuzz, the only survivors are forced to live in an underground bunker. One of them, Michael Langdon (played by Cody Fern) had managed to grab his laptop before fleeing to safety. During one episode, a closeup shot of the computer shows a recent email dated October 2021 — meaning the world had supposedly ended in April 2020. That's six months before the Cortez "Devils Night" occurred, where the diners may have been long dead, but the outside world was still fully alive and intact.
American Horror Story's shaky scriptwriting
It's fair to say "Hotel" — aka Season 5 of "American Horror Story" — is far from a documentary. Bloodthirsty, murderous vampires, and serial killer ghosts are all fictional, hopefully. The lack of realism is what makes for great horror, right? That aside, on a show as huge as "American Horror Story," you'd at least expect the scripting to be solid — and not riddled with errors.
However, the mistakes kept on coming. During Episode 2 of "Hotel," fashion mogul Will Drake, played by Cheyenne Jackson, decides to throw a party to celebrate becoming the new owner of the Cortez — hello, Naomi Campbell! In the hospitality business, anybody worth their salt has a knack for remembering customers' names; but Drake manages to recall names he's never been told before.
In one scene, Drake introduces himself to John Lowe (Wes Bentley) when the detective asks for his room key, and Lowe explains he's waiting for his daughter. When the little girl arrives, she's overwhelmed by the hotel's opulence, and she's super excited to learn there's a party happening. She begs her dad to let them go, but Lowe tells her it's only for grown-ups. However, Drake quickly intervenes and insists she can sit with his young son. Drake introduces her, "Lachlan, this is Scarlett," he says, despite having just met Lowe and having never met his daughter before or been told her name.
What's with those time warps?
Each "American Horror Story" season features many of the same actors, playing other characters with different storylines and historical settings. But ultimately, they're all connected. "There's definitely a rhyme or a reason and a connectedness to all of these seasons, but in the same way, they're standalones, which is the fun of it," Ryan Murphy told Entertainment Weekly. "But it is a puzzle."
It's definitely puzzling, and with so many factors involved, it's no surprise the writers and editors might occasionally struggle with the finer details. Some of the biggest "American Horror Story" mistakes stem from time and date disparities. As per ScreenRant, during Episode 5 of Season 7, "Cult," there's a telephone timelapse that occurs. Sarah Paulson's character, Ally Mayfair-Richards, calls her wife, Ivy, played by Alison Pill. Mayfair-Richards is in utter panic, terrified that somebody is stalking them, and the couple talks at length. However, after the conversation ends, a close-up of her cellphone displays a call length of just 13 seconds.
According to IMDb, during Episode 2 of Season 5, "Hotel," Detective John Lowe (Wes Bentley) explains that James Patrick March (Evan Peters) became rich after making "a killing in the Depression," which began in 1929 (via History). However, Ivy had previously told Lowe that JPM was a self-made millionaire who earned his fortune from oil and coal. A flashback scene while they're talking shows that March was already incredibly wealthy when he built the hotel in 1925.
American Horror Story's medical mishaps and mysteries
Other regular "American Horror Story" mistakes involve medical mishaps and mysteries, which is probably inevitable given the anthology's alarming number of surgeries and murders. You'd think that Ryan Murphy would know his way around an operating theater, given the fact he created the aughties plastic surgery drama "Nip/Tuck."
But in the premiere episode of Season 2, "Asylum," super creepy Dr. Arthur Arden, played by James Cromwell, straps Evan Peters' character, Kit Walker, to a table in a dank cell. After explaining that "the devil doesn't reside in hell," Arden points to the front top part of Walkers' head and says "he lives here" in the "occipital lobes." Then he slices Walker's skull open — without anesthetic, no less. However, the occipital lobe (singular) is located at the back bottom of the brain (via MedicalNewsToday).
In Episode 3 of Season 8, "Apocalypse," Ms. Venables (played by frequent Ryan Murphy collaborator Sarah Paulson) and Ms. Mead (played by Kathy Bates) hatch a plan to murder the other survivors hunkered down in the nuclear bunker. They agree to "poison" everybody by giving them apples injected with snake venom to eat. But according to WhatIfShow, venom and poison aren't the same things. Humans don't die from ingesting venom; it doesn't react in the same way as poison. Venom needs to be injected directly under the skin and enter the bloodstream to prove fatal (except for people suffering from stomach ulcers).
From the left to the right and back again
Forget the time lapses, medical mishaps, date jumps, and continuity snafus; some of the most common "America Horror Story" mistakes involve mixing up left and right. It happens so frequently that somebody on set should think about tying a ribbon around their wrist.
In Season 1, "Murder House," the "old lady" maid, Moira O'Hara, has a clouded blind right eye. However, as per IMDb, O'Hara focuses on things with her blind right eye instead of her "good" left one in multiple scenes. Meanwhile, in Episode 10 of "Coven," Fiona Goode (played by Jessica Lange) smacks her daughter's face, and she strikes her right cheek so hard that Cordelia (Sarah Paulson) falls to the floor. However, in the next shot, she's seen nursing the left side of her face.
In the Season 4 "Freak Show" finale, Dandy Mott (Finn Wittrock) is punched in the face and knocked to the floor. Mat Fraser's Paul — aka "the Illustrated Seal" — spits on the left side of his face. But when Mott stands up, he wipes the spit off of the right side. In Episode 2 of the "Hotel" season, Detective John Lowe's (Wes Bentley) daughter gets into a fight with him over her dead brother, Holden. Scarlett ends up shoving her cellphone into her dad's stomach, which he grabs with his left hand. But in the next shot, the phone's in his right hand. It's back in his left hand again, though, as he leans against the wall. However, when he looks at the phone, it's now miraculously back in his right hand.