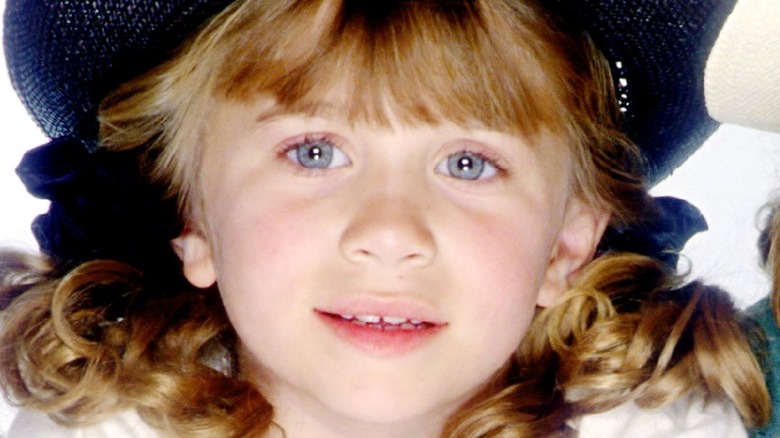 Mary-Kate Olsen is one half of what is arguably the most famous twin sister duo of our time. Mary-Kate and Ashley Olsen were megastars of the '90s and early 2000s. After capturing the hearts of TV viewers as the tiny Michelle on "Full House" at just 6 months old, the pair went on to star in numerous films as children and teens. In fact, the "Mary-Kate and Ashley" movies basically became their own genre. You probably remember them from movies like "It Takes Two," "Holiday in the Sun," "When in Rome," or "New York Minute." Mary-Kate, as fans will recall, tended to play the sporty, tom-boy roles, while her sister took on the girly roles.
While Mary-Kate and Ashley were undoubtedly two of the biggest stars of their generation, as adults, they've retreated away from the public eye and from the entertainment industry. Now fashion designers, the pair lead quiet, busy lives and avoid publicity about anything other than their fashion business The Row.
Want to find out more about the journey that brought Mary-Kate to where she is today? Here is the stunning transformation of Mary-Kate Olsen.
Mary-Kate Olsen started acting at just 6 months old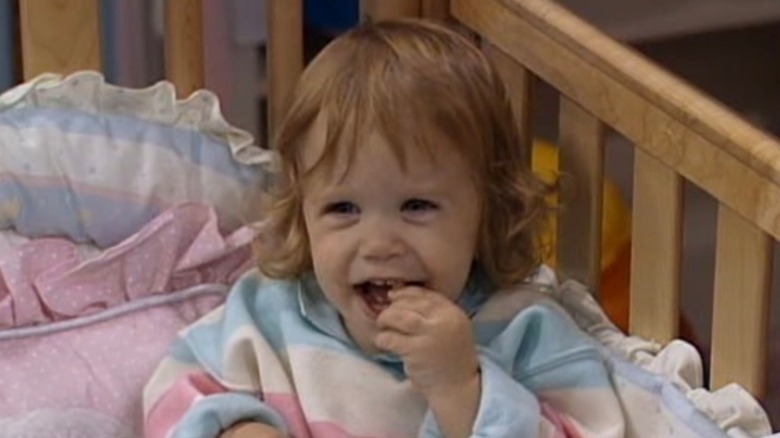 Mary-Kate Olsen was born moments after her twin, Ashley Olsen, and she got her start as an actor almost as soon as she was born. As she told David Letterman in 2008, she and her twin sister were hired at just 6 months old. "My mom brought us in and we didn't cry," she explained. Apparently, auditions are a little simpler when you can't walk or talk! The sisters played the role until they were 9 years old. As Jeff Franklin, the show's creator, said on a VH1 documentary about the sisters, "All of their firsts managed to show up on that show — their first words, their first steps." It seems that the twins were natural performers. As their co-star Bob Saget once told BUILD Series, the pair would help him with his lines when they were just 3 years old.
Of course, Mary-Kate didn't choose to become a famous actress. "I look at old pictures of me, and I don't feel connected to them at all," she told Marie Claire. However, she added, she wouldn't change it "for the world."
Mary-Kate and Ashley Olsen became two of the most famous kids in Hollywood
As adorable toddlers on "Full House," Mary-Kate and Ashley Olsen soon skyrocketed to fame. Their family began the company Dualstar when they were 6 years old, according to a VH1 documentary, and by the end of their time on "Full House," they were earning $80,000 an episode (via Cosmopolitan). Pretty soon, they were starring in other projects, too. In 1992, they starred in the TV movie "To Grandmother's House We Go." Then, in 1993, came the film "Double, Double Toil and Trouble," and in 1994, they starred in "How the West Was Fun." The list goes on (via IMDb). The twins developed a reputation for adorable movies about twins or lookalikes, with Mary-Kate often taking on the more outgoing, tomboy role. According to The Telegraph, they were the youngest self-made millionaires in America by the time they were just 10 years old.
Of course, their growing fame meant that there were certain pressures on their family. Allegedly, their parents, who divorced in 1996, were driven apart by disagreements about managing the girls' lives as superstars. Plus, the pressures of being celebrities came with challenges. In 2000, Mary-Kate and her sister complained about having 12 interviews scheduled the day before a school paper (via Life & Style).
Mary-Kate Olsen started attending meetings for her and her sister's company at age 10
After Mary-Kate Olsen and her sister, Ashley Olsen, were made founding members of their own company at just 6 years old, their parents tried to encourage them to develop a sense of business. The contract listed the pair as producers and owners — even though they didn't really understand what that meant, as a VH1 documentary showed. Apparently, this ultimately meant they would never be "manipulated" or "exploited."
As Mary-Kate explained on "The Ellen DeGeneres Show," they were involved in the business meetings for Dualstar from the age of 10. "I think we knew what was going on, but I think it was just about listening and understanding and learning the process," she said. Her sister added that these meetings helped them begin to "understand the language of the business." Eventually, understanding the concepts of business from such a young age helped them to create their successful fashion lines that they run today.
Her parents tried to give her and her sister a somewhat normal childhood
Mary-Kate and Ashley Olsen never had a normal childhood — they were millionaires and business owners by the age of 10, after all. However, the Olsen twins' entire childhoods weren't spent on set and in board rooms. As Mary-Kate explained to Elle, their parents did try to give them time and space to grow up and just be kids. "I grew up going to regular school and still have friends from that time in my life," she said. She even had time off to pursue her hobby of horseback riding. "So I was surrounded by all my horseback riding friends, too," she said.
In a 2004 interview with Oprah Winfrey, the twins explained that they had been to prom every single year of high school. However, as Ashley said, the pair had to choose between going to their senior prom and hosting "Saturday Night Live." "Every girl thinks about designing their senior dress," Mary-Kate said. Even though they ultimately chose "Saturday Night Live," it's clear that Mary-Kate valued having some normalcy in her childhood.
Mary-Kate Olsen's love of fashion began as a child
These days, Mary-Kate Olsen isn't known as an actress — she's known for her fashion line that she shares with her twin, Ashley Olsen. As Mary-Kate explained in an interview for Net-a-Porter, "I think our love of fashion really started when we were younger," explaining, "We were surrounded by so many chic women. I think it was just sort of ingrained in us."
Not only were the twins surrounded by fashion, but they also got a chance to create their own styles when they were as young as 10. The pair created a fashion line, as Ashley told Ellen DeGeneres, saying, "It was for mass and it was for kids. And that was extremely successful." Mary-Kate added that when they were younger, they had taken adult clothing and cut it to fit them as kids. "So, we sort of understood fit and quality," she said. It sounds like Mary-Kate was practically destined to end up in fashion.
She reportedly spent time in rehab after developing an eating disorder
Shortly after graduating from high school, Mary-Kate Olsen was reportedly admitted to a rehab facility for an eating disorder. She remained quiet about the ordeal at the time, but later she explained in an interview with Elle, "Look, I think it's important that what anybody goes through — and I'm not saying that it's true or not true — you realize it's part of growing up." For Mary-Kate, the hardest thing was finding the courage to reach out and ask for help. "I think at some point I had to say that I deserve to be happy," she said. Clearly, Mary-Kate did what was right for her, and she got the help she needed.
In late July 2004, she reportedly came home from the facility. As her spokesman told CBS News at the time, "She is feeling very well and is looking forward to rejoining her family and friends and preparing for her freshman year at New York University." Apparently, her sister, Ashley Olsen, was extremely supportive of her and continued attending events in her place while she was away.
If you are struggling with an eating disorder, or know someone who is, help is available. Visit the National Eating Disorders Association website or contact NEDA's Live Helpline at 1-800-931-2237. You can also receive 24/7 Crisis Support via text (send NEDA to 741-741).
Mary-Kate Olsen studied at NYU
It's clear that getting a good education was important for Mary-Kate Olsen and her twin, Ashley Olsen. The pair studied at NYU, moving away from their family home in California. Before they set off to begin their studies, they told Oprah Winfrey they still hadn't decided exactly what they were interested in studying. Ashley mentioned psychology, and Mary-Kate added they were interested in "film, maybe culinary school." She even suggested she might want to "open up a restaurant."
Studying at NYU wasn't easy for the ultra famous twins. As Mary-Kate told Elle, some of their classmates sold details about their lives to the press, so they gave up on their college ambitions and went into business. Mary-Kate dropped out after a year and a half, according to Distractify.
While the pair didn't get degrees, they did learn a few things from their time at NYU. As Ashley told Marie Claire, they were "shocked" by how much interest the tabloids took in their style. "I think that was the first time we were aware of the power of our personal style. … Between the big sunglasses and the Starbucks cup and the big sweaters, the hobo-chic thing," she said. It's no wonder their next move was towards fashion.
At 18, Mary-Kate Olsen and her sister took control of their own company
After becoming the owners of their own company when they were children, Mary-Kate and Ashley Olsen assumed full control of Dualstar when they came of age at 18. As Reuters reported at the time (via Entertainment Weekly), the pair bought out their longtime attorney, Robert Thorne, so that they could become full owners.
Throne explained, "The decision was to respect their desire to take the helm perhaps a few years earlier than I had anticipated." It sounds like becoming full owners of the company had been the plan from the beginning. Of course, it did mean that the teens had even more responsibility — but they handled it like pros. As Mary-Kate said, "We are very thankful that we are able to enjoy our college experience, run a business, and live our lives." Clearly, those business meetings at age 10 more than paid off for Mary-Kate.
The Full House star developed a passion for art
As Elle noted, when it comes to Mary-Kate and Ashley Olsen, Mary-Kate is "considered the artsier of the two sisters" thanks to her bold, unusual looks (though both Olsen twins have changed their looks throughout the years). It turns out, a lot of her fashion sense comes from her taste in fine art. Apparently, she has a collection of art that includes pieces by Andy Warhol, Thomas Ruff, and Nobuyoshi Araki. "All I really need is my bed and my art around me," she said. In fact, when she worked with the actor Ben Kingsley, they spent most of their time on set discussing her art.
This passion presumably led to Mary-Kate's sophisticated ability to design clothing. She begins her clothing designs with "an object, a color, an era, a place, history," she said. Then, she incorporates a silhouette. One thing's for certain — the actress-turned-designer really knows her stuff when it comes to visual art.
Mary-Kate and Ashley Olson created a fashion brand called The Row
Mary-Kate Olsen, along with her sister Ashley Olsen, began the fashion brand The Row in 2006. As she explained to i-D, the idea for it began as a side project while they were still at NYU. The pair had the idea to create the "perfect" white tee that had the ideal fit and was made with the best fabric. "It had to be comfortable on all bodies. It really had to have all the elements that we continue to put into our projects and design. The fabrics had to be luxurious and perfect and, hopefully, have longevity," Mary-Kate said. Soon, they had expanded their line to include seven simple items that were staples in any wardrobe.
The pair rejected the idea of plastering logos all over their clothes. As Ashley explained, "We really didn't want to be in front of it. We didn't necessarily even want to let people know it was us, in a way."
Soon enough, the brand had taken off and they were showing their clothes in intimate, low-key shows. Eventually, they started two other clothing lines: Elizabeth and James and Olsenboye. Finally, it seemed that Mary-Kate had found her calling.
Mary-Kate Olsen continued acting, but put her focus on her fashion brand
Even though Mary-Kate Olsen was dedicated to fashion, it took her a few years to leave the acting world behind. In fact, she continued appearing in projects by herself after "New York Minute," her last film with her twin sister, Ashley Olsen, was released in 2004. As she told Marie Claire in 2010, "I still read scripts, and if something comes [along], that's great. But [The Row] is my day job."
This was the first time she had worked as an actress without her sister — and it turns out, she had quite a talent for it, as several of her colleagues explained to Elle. In the 2008 film "The Wackness," for instance, her co-star Ben Kingsley said she was "an utter professional," adding, "There was a liquidlike quality to her character that Mary-Kate innately has as well." She also appeared in the show "Weeds." Creator Jenji Kohan said, "This was not stunt casting. … Mary-Kate was simply the best person for the role."
However, after appearing in "Beastly" in 2011, Mary-Kate gave up acting for good. As she explained to Allure, she was too much of a perfectionist and hated "not being able to control the end product."
The designer married Olivier Sarkozy in 2015
According to pictures posted in OK! magazine, Mary-Kate Olsen met her future husband, Olivier Sarkozy. in 2012. Apparently they met at a party. The pair secretly tied the knot in New York in 2015. According to Page Six, the event was incredibly under wraps, with guests being asked to hand over their phones upon arrival. One source described the evening, saying there were "bowls and bowls filled with cigarettes, and everyone smoked the whole night." According to StyleCaster, Sarkozy splurged on a very pricey vintage Cartier engagement ring worth $81,000.
We don't know much about Olsen's marriage to Sarkozy, although she did describe how it made her routine change in a 2017 interview with The Edit. "I have a husband, two step-kids and a life; I have to go home and cook dinner," she said (via Entertainment Tonight). Apparently, she took up running on the weekends to help her remain grounded in her very busy schedule.
Mary-Kate Olsen got divorced in 2021
Mary-Kate Olsen's marriage hit the rocks in 2021 and she filed for divorce. According to People (via The Sun), Olivier Sarkozy and Olsen weren't well-suited. Reportedly, he wanted someone who was more "available." One source said, "She's super career-focused and he's very French and wanted her to be more available." As Tatler noted, their almost 20-year age gap probably also had something to do with their divorce.
Another report in Page Six suggested that things became frosty between the pair during the pandemic when Sarkozy moved his ex-wife into one of their homes. As one source explained, "It was simply erosion … growing apart. No cheating or betrayals … sometimes couples just run their course. The plan to move in his family was his way of moving on, and the final straw for Mary-Kate." While only Mary-Kate Olsen and her husband know the real reason they divorced, we're all for them doing what was right for them.
Mary-Kate Olsen is focused on her career and on living discreetly
These days, Mary-Kate Olsen is fiercely focused on her work and on maintaining her privacy. Her clothing has been described as "discreet" and "modest." It follows that Mary-Kate and her sister Ashley would be discreet not just in their fashion sense but also in their lives. As Mary-Kate put it to i-D, "We were raised to be discreet people." Mary-Kate rarely gives interviews, and when she does, she focuses on discussing her business rather than her personal life. Neither she nor Ashley has any public social media accounts.
In an interview with The Edit, they explained that they preferred to connect with fans through their designs rather than through exposing their personal lives (via Entertainment Tonight). And, in an interview with Vogue Australia, they shared that all of their energy goes into the business. Luckily, they'll always have each other to lean on. "There is a lot of pressure we put on ourselves," Mary-Kate said. "I feel like we're really lucky that we have a great partnership and that we can rely on each other for support, because I can imagine it can be so lonely." Mary-Kate has definitely been through a lot and is clearly just as busy as ever — at least she'll always have Ashley with her every step of the way.