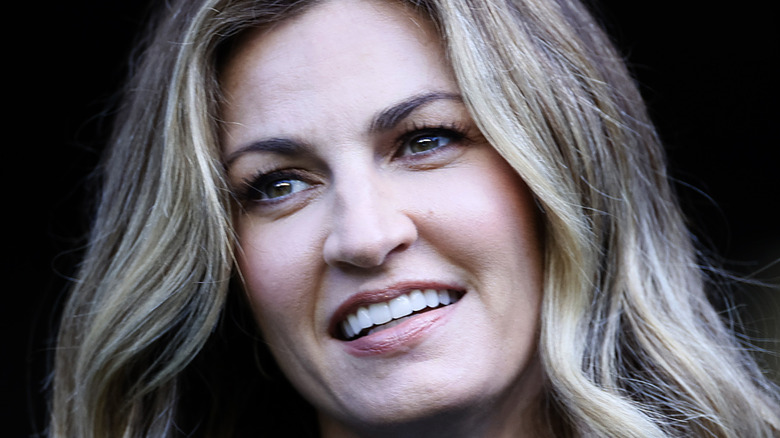 It's safe to say that Erin Andrews is a woman who wants to be in the room where things are happening. The storied sports journalist, host, and anchor has made it clear throughout her 20-year-long career that she is worth watching, not only because of her skilled reporting chops, but because of her dynamic and authoritative persona. Of course, many of us outside of the sports world know Andrews as the former co-host of "Dancing With the Stars," but before she joined Tom Bergeron in the ballroom, Andrews had solidified her reputation as a sports newscaster on networks such as FOX Sports and ESPN. Sports journalism is hard enough to break into, let alone as a woman, so to say that Andrews is an inspiration is an understatement.
But of course, there are some things about Andrews that not many of us know about. Did you know journalism is practically in her blood? What about the horrific lawsuit that had Andrews all over the headlines? How does she feel about being ousted from her "Dancing With the Stars" hosting gig? If you've had all these questions, don't worry: We have all the answers. Here's what you never knew about Erin Andrews.
Erin Andrews is the child of an Emmy-winning journalist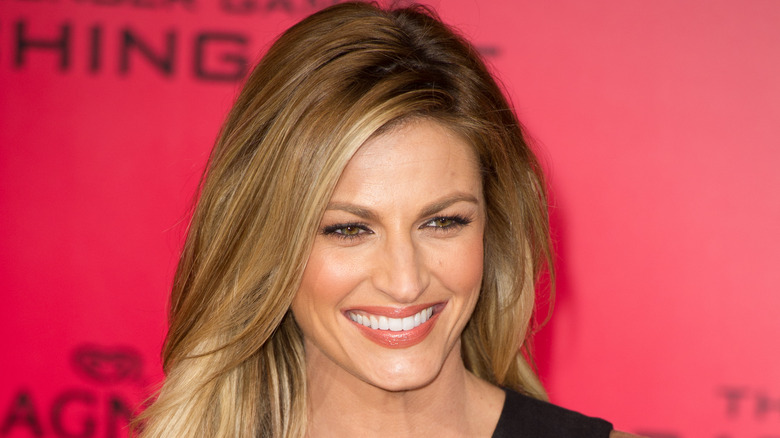 Breaking into the world of journalism is difficult — the hours are grueling and the topics can be difficult to cover — but the fact that her father was an award-winning journalist may have helped Erin Andrews see a fruitful career in the industry herself. As noted by Tampa Bay Online, Erin's dad, Steve Andrews, worked as an investigative reporter for WFLA, Channel 8 News, Tampa Bay's NBC-affiliate station, and won a couple of Emmys for his work along the way. He retired from his position in 2020, as noted by WFLA, but his impact on Erin was surely inspiring.
The father-daughter duo shared with Tampa Bay Online that when she was a kid, Steve would take Erin through spelling bee drills — if she got a word wrong, she would have to write it 10 times over, just to make the correct spelling stick — it was that kind of dedication to the job that was instilled in her from an early age. As for Erin and Steve's bond, Erin shared that when she's home in Tampa with her dad, people will come up to them on the street — not because of her street cred, but because of her dad's.
The ESPN star started her sports career in college, but not in the way you might think
While Erin Andrews certainly paid attention to her journalistic pursuits while at the University of Florida, she also explored the sports world in a really fun, celebratory way. As noted by ESPN Media Zone, Andrews got her degree in telecommunications from the University of Florida. She graduated in 2000, and not only used her time in college to advance her career and education, but she made a name for herself on the university's basketball dance team. Yes, the future (and now former) host of "Dancing With the Stars" had a bit of a dance background herself, and as a team member of the Florida Gators Dazzlers, Andrews certainly sparkled.
As noted by Sports Casting, Andrews was on the team from 1997 until her graduating year of 2000, and the dance team performed at pretty much every sports event — from football to basketball — and sometimes they even performed at non-sporting events. As far as the dance team is concerned, they are certainly proud of their alumna. On Andrews' birthday, they took to Twitter to share an old video of Andrews performing back in the day, alongside a sweet birthday message.
Erin Andrews worked her way up the professional ladder in sports journalism
After Erin Andrews graduated from the University of Florida in 2000, she hit the ground running. As noted by FOX Sports and ESPN Media Zone, she started her career as a freelance journalist for FOX Sports Florida South, and then went on to work as a Tampa Bay Lightning reporter for the Sunshine Network in 2001. She stayed in that job for just about a year though, as she was able to turn her attention to Turner Sports. From 2002 until 2004, Andrews worked for Turner as a sports reporter and as a studio host, and covered teams such as the Atlanta Braves, Atlanta Thrashers, Atlanta Hawks, and college football both in the studio and in person.
The hard work and undoubtedly late nights in the newsroom certainly paid off for Andrews, because in 2004, she officially joined ESPN as a reporter for the storied sports channel's NHL beat. From there, she transitioned into covering college football (more on that later) and the Big Ten college basketball beat. Andrews' star at ESPN continued to rise, and by 2005 she was a sideline reporter for ESPN's "College Football Thursday Primetime" show and for the MLB "Monday Night Baseball" telecast.
The host covered her first college football game in 2004
Any first day on a new job can be pretty terrifying, but what if your first day on the job just happened to be in a stadium full of people and was on-camera? That was Erin Andrews' experience when she fulfilled the role of a sideline reporter during her first college football game in 2004. As noted by Barrett Sports Media, the game in question was between the University of Southern California (which was in the No. 1 spot that year) and Virginia Tech.
Andrews was with ESPN at the time, and the network wanted to take viewers behind the scenes during the game. It was all up to Andrews, and she later recalled that she didn't feel "ready for" the experience. But in the same breath, she admitted that being thrown in the deep end was the best thing ESPN could've done for her. Andrews was with ESPN until 2012, and when she moved on from the network, she admitted that she had essentially accomplished everything that ESPN was offering her at the time. "I felt like I had done everything I was going to be allowed to do there," she said.
After her stint with ESPN, Erin Andrews turned her attention to FOX Sports
Erin Andrews certainly seemed to have her eye on the prize, and after a good chunk of time with ESPN, she set her sights on bigger and better things. "I just knew if I was going to have a shot at the NFL, it was going to be at FOX," Andrews said of her career at the time, as noted by Barrett Sports Media. And she did just that — instead of waiting around for a bigger break at ESPN, Andrews made the jump to FOX Sports and hasn't looked back since.
She currently works with Joe Buck (a play-by-play announcer), Troy Aikman (a sports analyst), Mike Pereira (described as a "rules expert"), and reporter Kristina Pink — the foursome creates FOX NFL's Thursday Night Football panel, arguably one of the most important nights for football throughout the week (even us non-sports inclined people have heard of Thursday night football). The panel also works on "America's Game of the Week" (and for those sports fans reading this, we hope you know what that means). With FOX Sports, Andrews has covered a number of Super Bowls, baseball World Series, NFC Championships, and more.
Some of her interviews have put Erin Andrews in the hot seat
Erin Andrews has had a number of exciting career firsts. By the time she was with FOX Sports in 2013, Andrews had some career highlights that have absolutely helped define her reporting style, and she spoke about some of the standout interviews she's had throughout her professional life. First and foremost, in 2013, Andrews was the journalist who interviewed the Seattle Seahawks' Robert Griffin III after the 2013 playoff game where he tore both his ACL and LCL — ouch for him, but what a memorable experience for her.
An interview with Richard Sherman in 2013 also put Andrews in the hot seat, as noted by Barrett Sports Media. Sherman had a storied feud with Michael Crabtree at the time, and in an interview with Sherman, she asked about the "bad blood." She knew at that very moment that the snippet would go viral, and though things didn't go great during the interview, it still stands out as a career-defining moment. "It wasn't my best moment, but I thought it was awesome what happened with him," she said.
Erin Andrews opened up about the sexism she experienced in sports journalism in 2013
It isn't that surprising to find out that throughout Erin Andrews' time as a sports journalist, she has experienced sexism in the male-dominated field. In 2013, Andrews joined other female sports journalists for a sit-down with The Hollywood Reporter, and well before #MeToo or Time's Up, Andrews shared the realities of being a female in sports coverage. She told The Hollywood Reporter that given the timing of her career — as many sports blogs were getting off the ground — she was cruelly identified by wannabe sports writers as the "Sideline Barbie" or the "Sideline Princess."
The viewers and writers, largely, didn't care about what she was reporting on or how authoritative she was at her job, but rather were focused on what she was wearing. They would even critique how she would spend time on the sidelines when she got a quick food break. "The sidelines aren't as glamorous as everyone thinks," she said. "I'm having a hot dog on the sideline, and people are taking photos and submitting them to the sports blogs. And it's like, 'How does she look eating a hot dog?' It wasn't about my reporting."
A terrifying stalking incident projected Erin Andrews into national headlines
While many of us know Erin Andrews as a confident, dynamic on-screen personality, some might not know that Andrews went through a horrific legal battle over a stalking incident. As noted by Deadline, Andrews traveled to Nashville, Tennessee, in 2008 while working for ESPN, as she was set to cover a college football game. She checked into the Nashville Marriott hotel, and shortly after she did so, a man by the name of Michael David Barrett requested the room next to hers. He proceeded to remove the peephole from Andrews' hotel room, and he took an almost five-minute-long video on his phone of her changing.
To make matters even worse, Andrews was made aware of the situation only after Barrett had posted the footage, and it had been viewed by millions of people in a short period of time. It wasn't until 2016 that Andrews got some justice — a two-week-long trial back in Nashville awarded her a $55 million payout from both Barrett and the Nashville Marriott, as the jury found both entities responsible for the horrific situation.
Erin Andrews took her talents to the ballroom floor during Season 10 of Dancing With the Stars
Shortly after the invasive video of her went public, Erin Andrews competed on "Dancing With the Stars." To say that it was a difficult situation is an understatement, and as noted by People, Andrews opened up about her time on the show and what it was like being in the public eye. "I had been embarrassed nationally for something that I didn't do," Andrews said. "And then this show, I had to walk out there in front of how many millions of people and kind of eat it up and do well because my hot Russian partner was going to kill me if I didn't."
Of course, Andrews was referring to her dance partner, Maksim Chmerkovskiy, who was known in the "Dancing With the Stars" world as a bit of a bad boy — but the two certainly seemed to bond in a special way, and Andrews shared that he helped her gain back some courage. "He was not only a big brother, he was really helping me with my confidence again," she said. Andrews and Chmerkovskiy made it to the Season 10 finale, and ended up taking the third place spot, as noted by FOX Sports.
Erin Andrews had some missteps when she first began co-hosting Dancing With the Stars
As noted by "Today," Erin Andrews took over the co-hosting gig alongside Tom Bergeron in 2014, after the likes of Samantha Harris and Brooke Burke-Charvet had filled the role. Both Harris and Burke-Charvet had received negative feedback during their time on the show, and the beginning of her co-hosting tenure was a little rocky for Andrews. Specifically, Andrews admitted that she crossed a line early on with actor James Maslow and his professional dance partner, Peta Murgatroyd.
During the interview segment of the show, Andrews asked the couple about their relationship status, as it was rumored that the two were romantically involved. "From a sports broadcaster perspective, it was bad on me," Andrews admitted to "Today" about the interaction with Maslow and Murgatroyd. For his part, Maslow admitted that he liked Andrews "on a personal level," but professionally, the question missed the mark. However, Andrews definitely settled into her role well and became a fan favorite host — a quick scroll through the "Dancing With the Stars" social media will show you just how much she is missed as the co-host of the show these days.
The host was shocked that she wouldn't be returning to Dancing With the Stars
A lot of us were stunned when it was announced that Erin Andrews and Tom Bergeron had been fired from "Dancing With the Stars." But do you know what Andrews herself thought of that decision? The announcement certainly took us by surprise, but Andrews appeared to handle it with a lot of grace. In an interview with "Extra," Andrews shared that she was stunned by the decision, and knew just by the phone call that things were going downhill.
"It was a surprise," she said. "I got a phone call and I answered the phone. I was like, 'This isn't good.'" Despite the bad news, Andrews had nothing but nice things to say about her "Dancing With the Stars" family. She shared that she texts Bergeron "once a week" and keeps in touch with the professional dancers as well. "I always call it a 'Dancing with the Stars Mafia' — once you're in, it's really hard to break away," she said. "I've gotten lovely messages from the dancers and so forth." As for her thoughts on new host Tyra Banks? Andrews said, "She can nail the smizing and the walking in gowns and heels, so good for her."
Erin Andrews has a lot of admiration for Tom Bergeron
We all saw that Erin Andrews and Tom Bergeron had a great on-screen relationship, but did you know that the two were just as close when the cameras weren't rolling? In an interview with "Entertainment Tonight," Andrews shared that Bergeron was the heartbeat of "Dancing With the Stars," and that while she appreciated the kind words that newly-minted host, Tyra Banks, said about filling Andrews' shoes, it was Bergeron who really deserved the credit.
"I think that Tom's shoes are a little harder to fill. He's the guy, he's the quarterback of the ballroom," Andrews said. "So, that's nice of her, but he's the man, and he was the man on that show." As for Banks saying that Andrews' role would be difficult to fill herself, the FOX Sports journalist and on-screen personality shared that she'd be a little bummed if Banks sailed through the hosting gig without a care. "That's better than her saying, 'It's gonna be easy taking over for this broad!' So I guess that's great?" Andrews told "Entertainment Tonight" with a laugh. "I don't know." As for Bergeron, he shared on Bob Saget's "Here for You" podcast, "I think Erin and I had more fun being fired than virtually anybody."
Erin Andrews has been very open about her journey with IVF
In a move that was surprising to a lot of us out there, Erin Andrews shared in August 2021 that she'd been going through the in vitro fertilization (IVF) process for the last eight years, something that not many of us knew. In a Facebook bulletin essay, Andrews shared that in amongst her coverage of the NFL and her 14-hour work days, she'd been going through IVF — something she's been doing since she was 35, and a process that she's endured despite having been treated for cervical cancer in 2016 (via USA Today).
"I'm now 43, so my body is kind of stacked against me," she wrote. "I have been trying to do IVF treatment for a while now, but sometimes it doesn't go the way you want it." Andrews shared that her August 2021 IVF process was her seventh attempt, and that despite the difficulties surrounding it, she wanted to share her experiences given that she works primarily in a male-dominated work field. "I work in an industry where I think women feel the need to keep things like this quiet," she wrote. "I decided that this time around, I would be open with my show producers."
The host still faces blatant sexism within the sports journalism industry
Way back in 2013, Erin Andrews opened up about the sexism that she's faced within the sports journalism field. Since then, movements like Times Up, #MeToo, and the Women's March have grown exponentially, but Andrews still faces on-air sexism for the world to see. Most recently, Andrews was subjected to sexist behavior on the part of FOX Sports broadcaster Terry Bradshaw, who commented on Andrews' outfit choice rather than her interview with Tampa Bay Buccaneers linebacker Devin White.
As noted by the New York Post, Bradshaw commented on Andrews' country-inspired outfit choice, "You got your cowboy boots on and your shirt. You're lookin' good. That was nice. I enjoyed that interview." Not a mention of Andrews' interview chops or the content of the conversation with White — just comments on her clothes. Social media was quick to rush to Andrews' defense, with one viewer writing on Twitter, "You can hear Terry Bradshaw mentally reading the HR email in real time." As of publication, Bradshaw has yet to address his on-air comments.