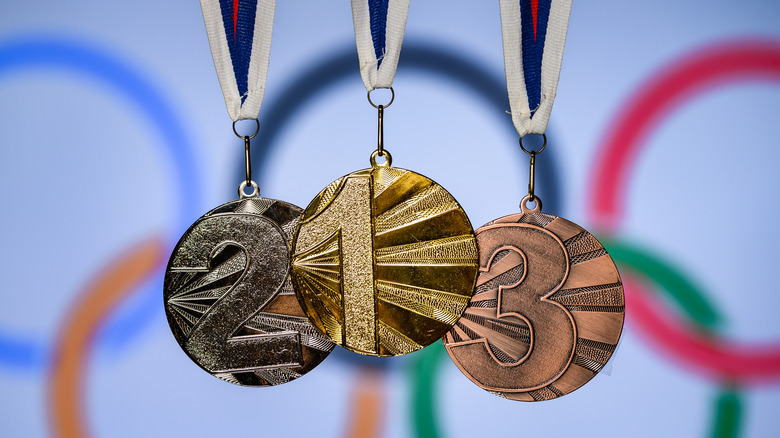 From its origins in ancient Greece, the Olympic Games have been the traditional arena for proving which athletes are the fastest, strongest, nimblest, and most determined in the world. Even people who don't normally follow sports – and whose athletic abilities are limited to walking to the fridge – enjoy tuning in. It's hard not to feel a little vicarious thrill of national pride every time a local hero takes home a medal.
There have been many glorious moments at the Games over the years: the U.S. hockey team's unexpected win over Russia in 1980; Nadia Comeneci's perfect-10 gymnastics score; Usain Bolt's superhuman speed; Torvill and Dean redefining ice dancing; Michael Phelps's record-breaking eight gold medals in swimming, the list goes on (via Greatist).The upcoming Tokyo Olympics is expected to have plenty of exciting moments of its own, thanks to athletes like gymnast Simone Biles, tennis great Novak Djokovic, openly transgender weightlifter Laurel Hubbard, and Bruce Springsteen's equestrian daughter Jessica Rae Springsteen (via BBC).
But as the slogan goes, with every thrill of victory, there are plenty of agonizing moments of defeat and embarrassment. Even superstars like Olga Korbut and Gabby Douglas have had their awkward moments they'd hope to soon forget. Technical glitches, performance stumbles and slip-ups, and regrettable outbursts and expressions have made history almost as often as the gold-medal performances. Here are just a few of the most memorable ones.
Vancouver 2010 had an embarrassing torch malfunction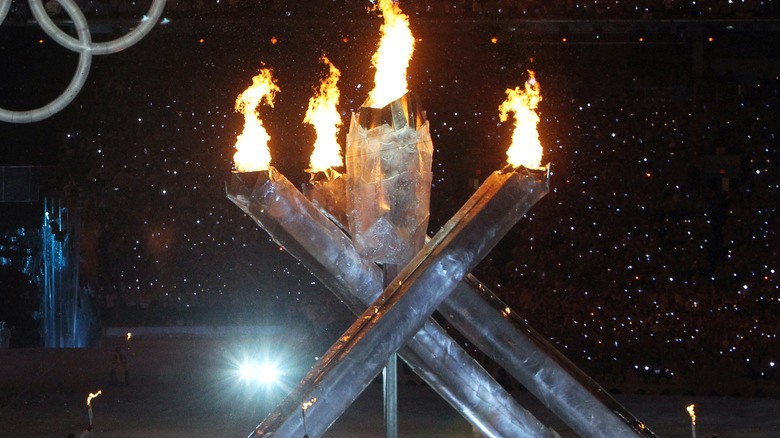 The moment everyone waits for at the start of each Olympic Games: the lighting of the Olympic flame.
Every country hosting the Games is tasked with creating a creative and meaningful cauldron for their Olympic stadium, which is traditionally lit by a local sports legend. The Vancouver committee came up with a multi-part design: four metal pillars crisscrossed around a central torch. The pillars and torch were to rise up out of the stadium floor on cue, and five famous Canadian athletes would be stationed at each one to light them simultaneously.
It was a showstopping idea… almost. Millions watched, both inside the stadium and at home, as only the center pillar and three of the four pillars came up as Time recalls. Catriona Le May Doan, a champion speedskater, could only stand there awkwardly holding her torch while her fellow champions lit their sections. The wonky piece was later put in place and lit for the remainder of the Games, but it was too little, too late.
Seoul 1988 had cringe-y antics and a dove disaster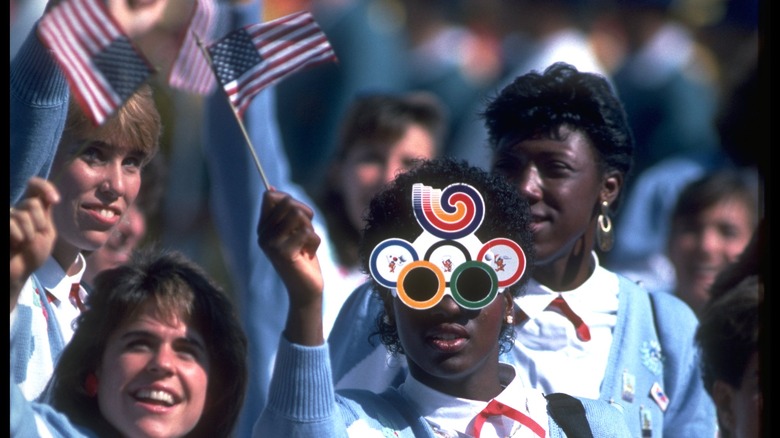 The U.S. team trained diligently in their respective sports for the 1988 Games in Seoul, but maybe they should have gotten some training in the international protocol as well. The opening ceremony featured the traditional Parade of Athletes, in which nearly every country enters the arena alphabetically according to the language of the host country. Greece, as the originator of the Olympics, always enters first, and the host country is always last, as per the International Olympic Committee.
Defying parade etiquette, the Americans were a disorderly bunch who haphazardly wandered outside their group, carried message signs (a real no-no), and even blew off dress code by wearing Mickey Mouse ears (via ESPN). Not only did their antics disrupt the rest of the parade, but they also came off as disrespectful to their mannerly South Korean hosts. An IOC vice president later noted that the U.S. athletes "should have thought, 'Let's not act like total klutzes.'"
As if that weren't enough of an embarrassment, the Opening Ceremonies were marred when a time-honored tradition literally went up in flames. Since 1936, the ceremony has included the release of doves – the international symbol of peace – shortly before the Olympic flame is lit. The Seoul Games planned for the birds to take off from the Olympic cauldron shortly before the flame was lit, but…let's just say that some of the doves met an untimely end in front of millions of viewers (via Bustle). "Symbolic" birds have been used ever since.
In Seoul (yes again), there were scandal after scandal after scandal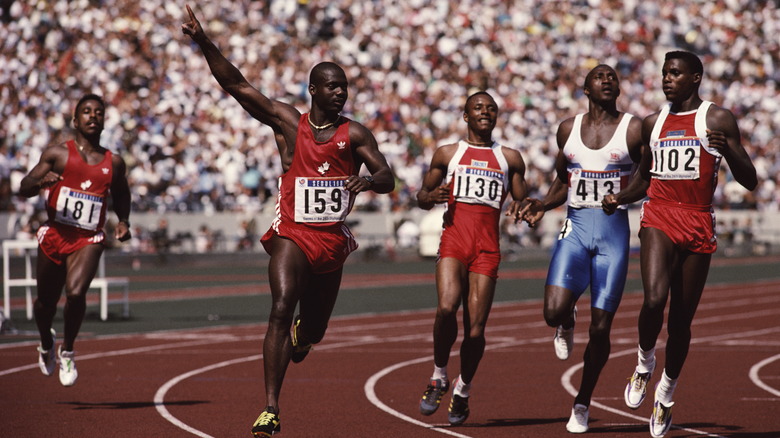 The 1988 Seoul Games continued to offer memorable moments after that eventful opening day – and not always in a good way. One of the most anticipated events that year was the men's 100-meter final, the race that determines the fastest man on earth.
Although American sprinter Carl Lewis was hoping for a repeat of his previous Olympic victory, Canadian Ben Johnson blew him and the other competitors away with a world-breaking time of 9.79 seconds. He boasted to reporters afterward, "[T]his world record will last 50 years, maybe 100" (via CNN).
The very next day, victory turned to humiliation as a routine drug test found that Johnson had traces of a banned steroid in his urine. He was forced to return his gold medal, which went to the second-place finisher: Lewis. But Lewis, too, had been doping even during the Olympic trials, which should have resulted in a suspension. Yet the U.S. Olympic Committee overturned the suspension and allowed Lewis to compete, rather than leave America without a gold-medal contender (via The Guardian).
Further investigation unearthed an unpleasant little secret: Over the course of two years, officials turned a blind eye as more than 100 athletes used performance-enhancing drugs – including six of the eight men who ran that 100-meter dash. Even today, that particular event is known as "the dirtiest race in history."
Lindsay Jacobellis learned (the hard way) that every second counts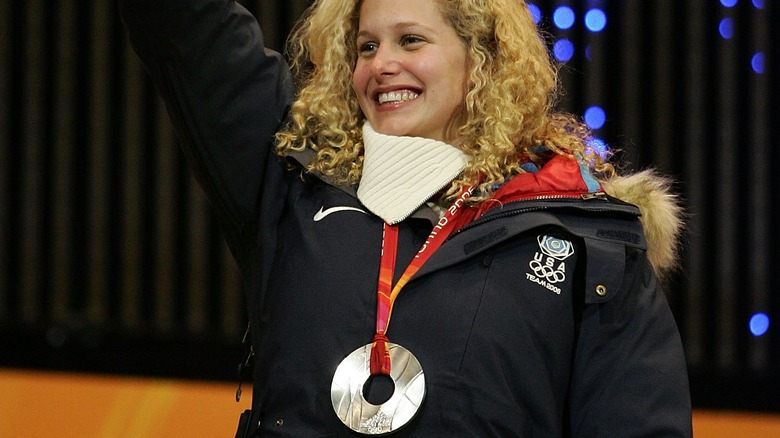 It should have been Lindsay Jacobellis' finest hour. The American snowboarder was already a multiple world championship winner, and she hoped to add to her honors at the 2006 Winter Olympics in Turin, Italy. In the finals of the women's snowboard cross – a downhill race involving multiple curves and jumps – Jacobellis got off to an early lead. She stayed well ahead of the pack, even as one of her competitors crashed through a barrier and out of the competition. It was her race to lose, and it seemed impossible that she would.
Then, in a total shocker, Jacobellis decided to do a fancy "twisting" grab of her board as she took the final jump. The stunt caused her to lose balance, fall, and land off-course. She righted herself and got back on track, but those split seconds opened the door for Switzerland's Tanja Frieden to pass her and take the top spot on the podium.
Jacobellis admitted to USA Today, "Snowboarding is fun. I was having fun." That fun cost her dearly. Per CBS, she went on to compete at Vancouver, Sochi, and PyeongChang, but never even came close to victory. However, she was named to the U.S. Snowboard Team for the 2021-22 season, which is a good indication that she'll be trying for one more shot at gold in Beijing next year.
This gymnast became a walking meme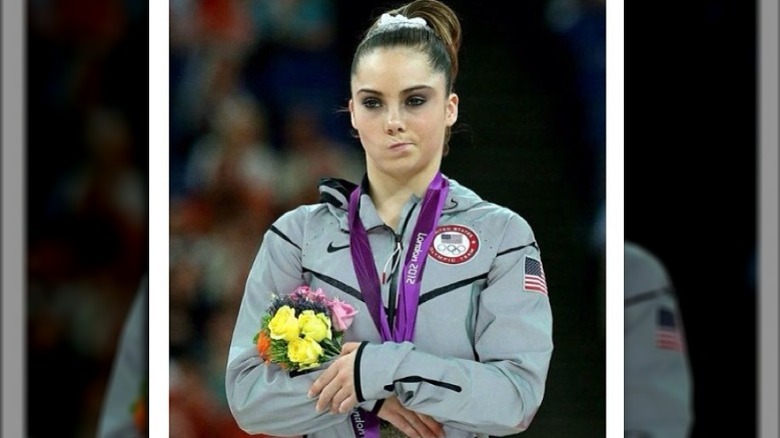 It was the Smirk Seen 'Round the World. The 2012 U.S. women's gymnastics team, dubbed "The Fierce Five," was expected to dominate the events, and they didn't disappoint. For the first time outside their home country, the American women won the gold in the team event. There were individual triumphs as well with Gabby Douglassnagging gold in the all-around competition – the first Black American to do so – and in the individual events and Aly Raisman placed first in the floor exercise and third in balance beam (via USA Gymnastics).
McKayla Moroney was heavily favored to win the vault, but a stumble on her second pass dropped her score low enough for Sandra Izbasa of Romania to edge past her and take the gold. On the medals platform, the camera caught Moroney making a rather unsportsmanlike grimace as she stood on the podium. The moment quickly went viral, inspiring countless memes with the theme "not impressed."
The elite gymnast explained years later that her expression is one she unconsciously makes "all the time," and in this case, it reflected her disappointment in her own performance (via NBC). Moroney never returned to the Olympics, but she's doing quite well as a social media influencer specializing in health. She's also appeared in a GEICO commercial in which she's seen retrieving a Frisbee from a house roof – then making her trademark smirk when the Frisbee gets stuck again.
Mexico City, 1968: A powerful protest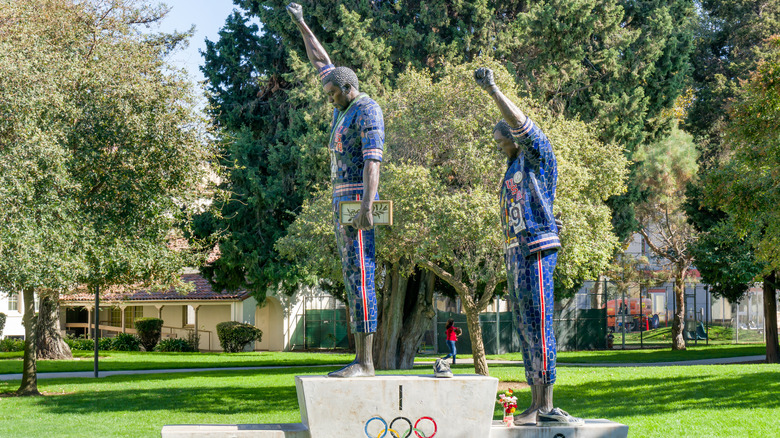 We close out this list with an Olympic moment that was considered awkward in its time but has since been celebrated as a powerful gesture. The 1968 Olympics in Mexico City took place that October, following a year of anger and civil unrest. Both Martin Luther King Jr. and Robert F. Kennedy had been assassinated and young Americans were increasingly protesting the Vietnam War and racial discrimination.
Tommie Smith and John Carlos were active in their college's civil rights organization when they were tapped for the Olympic track and field team. Both competed in the 200-meter dash, where Smith took gold and Carlos the bronze. At the medals ceremony, they appeared barefoot (symbolizing global poverty). The two bowed their heads and raised a black-gloved fist in the air as the national anthem played. Smith called the gesture "a cry for freedom and for human rights," but much of the public saw it as a radical and un-American act (via History). As a result, Smith and Carlos's professional and personal lives suffered for years.
Only in recent years have the activist athletes been recognized for their bravery. In 2016, Smith and Carlos were invited to be ambassadors for the U.S. Olympic Committee. President Obama invited them to the White House, where he honored them, stating at the time, "Their powerful silent protest in the 1968 Games was controversial, but it woke folks up and created greater opportunity for those that followed" (via CNN).