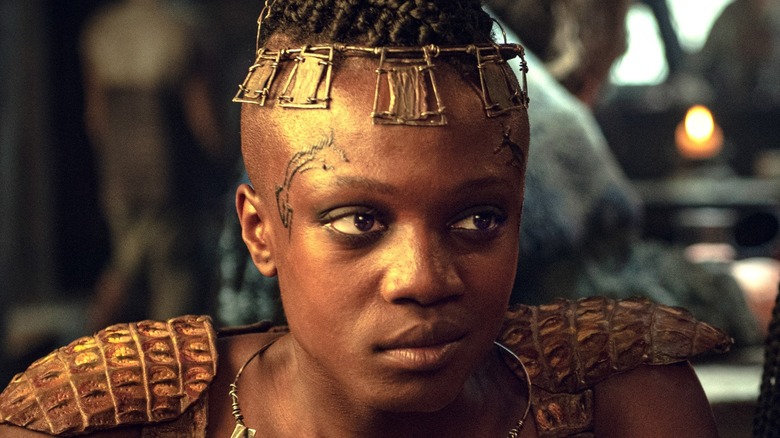 "The Witcher" is one of Netflix's most-watched and best-liked shows, and with Season 2 finally arriving on the streaming network on December 17, it's a perfect time to revisit the eight episodes of the first season and appreciate the truly entertaining ride that the show has been so far. From pitch-perfect casting and amazing fight scenes to awesome monsters and catchy tunes, the show has something for every fan of the fantasy genre.
If you've been paying attention to behind-the-scenes stuff, you might have noticed that the production of "The Witcher" has also had its strange, curious, and outright tumultuous moments. However, you might not have noticed that there are so many stories about making "The Witcher" that the show's production has seemingly been almost as wild as the end product. How, exactly, did the show become such a rollercoaster ride both on-screen and behind the cameras? Let's take a look at some bizarre things that happened on the set of "The Witcher."
The pandemic stopped the production of The Witcher Season 2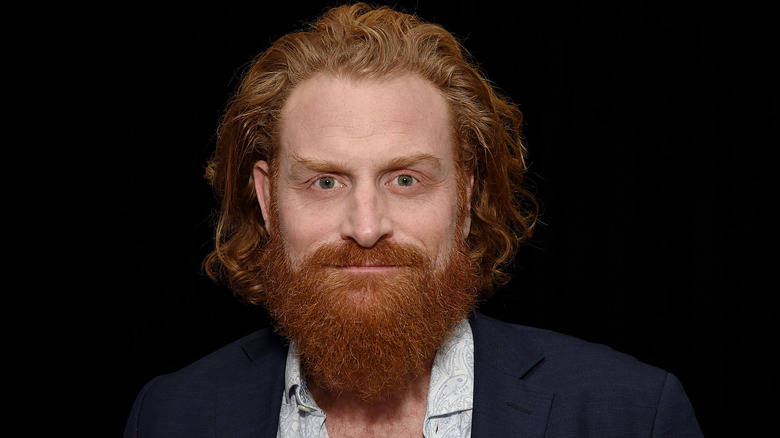 In March 2020, the production for "The Witcher" Season 2 was underway in the UK, but was soon halted because of the COVID-19 pandemic (per Deadline). The news dropped on March 16, and on the same day, Season 2 newcomer Kristofer Hivju revealed on Instagram that he had tested positive for the virus. "My familiy [sic] and I are self-isolating at home for as long as it takes. We are in good health – I only have mild symptoms of a cold. There are people at higher risk for who this virus might be a devastating diagnosis, so I urge all of you to be extremely careful," Hivju wrote, and encouraged everyone to follow the hygiene and safety precautions to prevent the spread of the virus.
The "Game of Thrones" star rode things out in his native Norway, and while his symptoms were fortunately quite mild, the industry-wide pandemic shutdown meant that "The Witcher" production was out of commission for quite a while. Season 2 ultimately couldn't resume production until August 2020.
New problems, new delays
Kristofer Hivju wasn't the only person in "The Witcher" Season 2 production who became tangled with the pandemic. Per Deadline, multiple crew members received a positive COVID-19 diagnosis in November 2020, and the production was forced to grind to a halt for a second time. Though the filming was eventually able to wrap up (per Variety), the delays and lockdown were challenging, to say the least. In an interview with The Gamer, Anya Chalotra (who plays Yennefer) spoke of the difficulties the pandemic and the multiple delays it caused brought. "It wasn't [easy]," she said. "There were parts that were easier than being in the real world because we were in a space which we were protected in. We have an onsite testing center, and I felt safer inside the studios than I did out."
Chalotra also noted that the sheer length of the production brought an extra hurdle to the acting game. "In one aspect it was fine," the actress said. "In another, it lasted a year and a half for goodness sake. To sustain yourself through lockdown is hard, but to sustain a character and bring the utmost respect, etiquette, and everything else to a set so everyone can do their jobs fully … because it's all coming from you, it can be quite tiring. But you have to pinch yourself and remember 'I'm playing Yennefer of Vengerberg'."
The production had to make do without its star for a while
Like its very name implies, "The Witcher" focuses pretty heavily on Henry Cavill's Geralt of Rivia. However, as Deadline notes, the production of the show's second season had to make do without its star for quite a while, when a reported "minor leg muscle injury" forced Cavill on a temporary sick leave. The actor later confirmed that it was a hamstring injury, but while it could have been a potentially dreadful setback for someone who's known for his physicality, Cavill decided to turn the lemons into lemonade (via People).
""When I look back, I realize, yes, it was a hard time," he said. "I think one of the skills I've picked up over the years is just forging ahead regardless of difficulty or hard work or trials and tribulations. So when the hamstring injury came, I tried to look at the silver lining. It was like, 'Ok. I was working insane hours and it was exhausting and I now physically can't work because I'm on crutches.' So I was focusing more on taking the time off and going, how can I best heal myself?"
As Variety notes, "The Witcher" Season 2 wrapped up filming in early April, so fortunately, it's pretty clear that this setback was merely a temporary one.
Henry Cavill turned out to be a ridiculously good sword fighter
You wouldn't expect that every actor who has played a Musketeer over the years is a fencing expert. It's easy to assume that an actor just learns what they need to know about the subject to get through the scene, and lets stunt men finish the rest. That's one way to do it, at least. The production of "The Witcher" opted for a radically different approach, and Henry Cavill ended up studying the blade to the point that he actually convinced experts. In a "Witcher" Season 1 behind-the-scenes video (via YouTube), Cavill explains the swords Geralt uses in the show, and casually reveals that he became so familiar with the Witcher's particular fighting style that he actually gave pointers on hilt design to the armorers. In another behind-the-scenes clip (via YouTube), he gives the low-down on one of Season 1's most impressive sword fights, again demonstrating great knowledge about the arts of both sword combat and movie magic.
Cavill, in fact, does such a good job with the sword that medieval martial arts expert Gregory Mele was happy to give him the seal of authenticity. ""It's believable that he's a fighter," Mele told Polygon.
You might not immediately guess it, but Cavill is a big ol' nerd. The hulking, chiseled-jawed man who has gone face to face with Ethan Hunt and believably played Superman in multiple movies likes to spend his free time painting mini figurines (via Instagram) and building his own gaming PCs (via PC Gamer) — which he uses, among other things, to play the "Witcher" games. With such dedication, it's no surprise that he was happy to immerse himself in the swordplay element of the production so thoroughly.
Two actors developed a very peculiar relationship
While shooting the second season of "The Witcher," Joey Batey — who plays the fan-favorite bard Jaskier — evidently had a grand old time, to the point that he developed a peculiar "old couple" chemistry with one of his co-stars. In "The Witcher" panel at the 2021 Lucca Comics & Games convention (via Redanian Intelligence), Batey revealed that he and Kim Bodnia — who plays Gerald's mentor, the witcher Vesemir — had adjacent rooms during the production, and became pretty close over the lengthy production. "We became like an old married couple," Batey said. "Kim is a madman and so dedicated to his art but also as soon as the camera cuts, he's just the first person to joke and laugh, one can hear him laughing from like a thousand miles away."
Season 2 newcomer Bodnia was evidently a big hit among "The Witcher" cast, because Henry Cavill has also heaped praise upon the "Killing Eve" star and the nuances he brings in the chemistry between Geralt and Vesemir (via Entertainment Weekly). As for Bodnia himself, he demonstrated his Joey Batey-approved sense of humor when he described his version of working with Cavill to express the two Witchers' emotional center. "It was so tough sometimes, you know, because we want to be strong all the time, we want to fight, we want to believe we're badasses," Bodnia said. "So sometimes I had to cry a whole day in front of him, just to make him fill a tear."