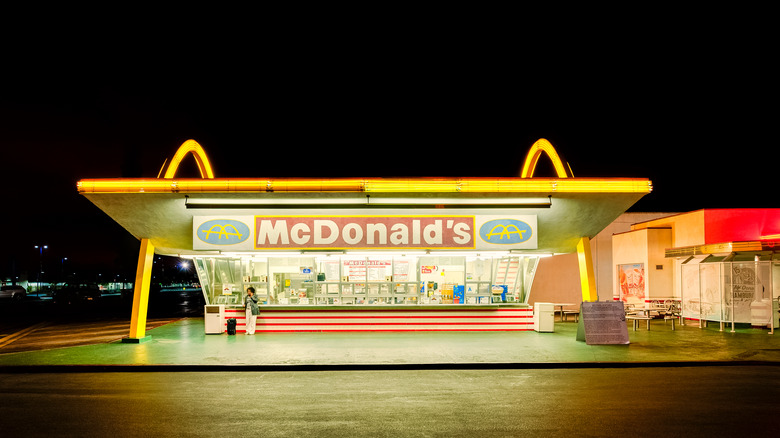 We know what you're thinking: If you've seen one McDonald's, you've seen them all, right? Not so fast.
McDonald's became the internationally recognized brand it is today after Ray Kroc began franchising stores back in the 1950s (via McDonald's). Since then, just about every restaurant has had the same look and feel, not to mention the same menu. According to QSR Magazine, there are nearly 14,000 McDonald's restaurants in the United States today, making it very difficult for any one location to stand apart from the thousands of others. But some have managed to do just that. Whether it be because of their location, history, design, or newness, more than a few McDonald's have separated from the pack and established themselves as unique locations in the fast food giant's empire. We can promise you that eating at these restaurants won't feel like eating at any other McDonald's you've been to before.
From the world's oldest McDonald's to one built in a historic landmark to the only one housed in a UFO, these are the most unique McDonald's you'll find in the U.S.
1. The historical landmark McDonald's in New Hyde Park, New York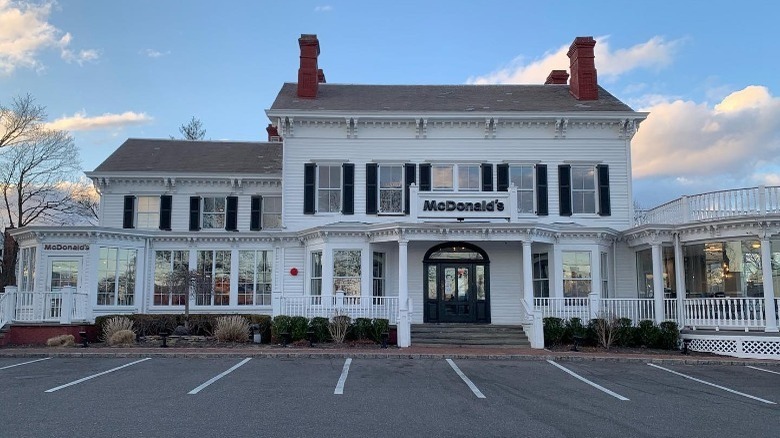 McDonald's has an undeniable place in Americana history. It's only right for it to have at least one location that is, officially, part of history. What many have called "the most beautiful McDonald's" in the country can be found on Long Island in the quaint suburban town of New Hyde Park. The restaurant is housed in a Georgian-style mansion built in the 1700s. According to Insider, the building was originally a prominent family's farmhouse, then held several other uses over the next two centuries before being abandoned and falling into disrepair. McDonald's purchased the property in the mid-1980s, but residents didn't like the idea of the historic building being knocked down to make way for a fast food restaurant. They successfully petitioned to get the structure designated as a historic landmark.
McDonald's agreed to restore the two-story building and retain the 1920s-style exterior, complete with white pillars and painted shutters. "We overcame opposition because we took great strides to go out into the community to make sure we did everything we could to make it right," original franchise owner Larry Anderer told Newsday. "In my opinion, it's a faithful replication of what it looked like in the 1920s." The location celebrated its grand opening in 1991 and has been open ever since. To this day, you'll find unique architectural elements that give this fast food restaurant a decidedly upscale feel, including a vestibule, double staircase, and portico.
2. The UFO McDonald's in Roswell, New Mexico
Sometimes it's best not to overthink things. So, when you're looking for a theme for your McDonald's located in Roswell, New Mexico, just give the people what they came for: a restaurant in the shape of a UFO. Said to be the only space-themed McDonald's in the world, the restaurant looks like a flying space saucer, complete with a shiny metal exterior that lights up with neon bulbs when the sun goes down. There's also a sign with a little green alien standing next to the McDonald's arches, alien-shaped stencils on parking lot spaces, and a giant mural featuring Ronald McDonald riding a rocket.
The space theme continues inside where guests will encounter out-of-this-world sculptures and intergalactic paintings. The crown jewel of the Roswell McDonald's is the Play Place. According to NewMexi.co, the 2,000-square-foot area has room for 65 people and features a who's-who of McDonald's characters decked out in spacesuits and flying around the Play Place in various aircraft.
3. The turquoise McDonald's in Sedona, Arizona
If you like the Southwestern aesthetic, you'll love the McDonald's in Sedona, Arizona. This particular location foregoes the traditional golden arches and instead adorns its building with turquoise pops of color.
This was not a design choice by McDonald's; their hands were forced. Sedona is located in the middle of Arizona, surrounded by a picturesque landscape of mountains, red rock, canyons, and pine forests. Therefore, the city has established regulations to ensure buildings don't intrude or take away from the natural beauty. According to Reader's Digest, when the McDonald's store was built in Sedona in 1993, the city believed the restaurant, with its bright yellow "M," would be jarringly out of place. McDonald's agreed to paint all of the restaurant's arches a soft turquoise blue that would better match the natural landscape.
Hopefully you're a fan of the color if you happen to be driving through Arizona with a craving for McDonald's. If it's not pleasing to your eyes, however, at least your stomach will be content. Besides the turquoise arches, the restaurant is similar to every other McDonald's you've been to before.
4. The World's Oldest McDonald's in Downey, California
You may have never heard of Downey, California, but the town located just outside of Los Angeles is home to an important part of American history: the world's oldest McDonald's restaurant (via Eater LA). Opened in 1953, this was technically the fourth McDonald's ever, but its three predecessors have since closed, making the Downey location the longest surviving McDonald's. And it truly is a blast from the past.
The look and feel of the McDonald's we have all come to know and love was the creation of Ray Kroc. Because the owners of the Downey store signed a franchise agreement with the founding McDonald brothers and not Kroc, the restaurant was never forced to make the branding changes that have become hallmarks of Mickey D's. You won't see the famous golden arches here, just one giant, skinny arch. There's no Ronald McDonald or Play Place. In fact, if it weren't for the "McDonald's" name, this burger joint probably wouldn't be recognizable.
Kroc eventually acquired this restaurant in 1990, but it has retained its old-school vibe. There's even a small museum on-site filled with artifacts from back in the day. The only thing that is modern about this McDonald's is the menu. You'll find all the same items as any other location, with one minor exception. Although McDonald's started baking its apple pies in 1992, the Downey location still deep-fries these delectable desserts.
5. The global headquarters McDonald's in Chicago, Illinois
In 2018, McDonald's relocated its headquarters to Chicago after nearly a half-century in the Windy City's suburbs (via CNBC). The nine-story building has a 700-person conference center, Work Café, fitness center, and several outdoor terraces. But those are just for employees. The fun for the rest of us can be found on the ground floor, home to a one-of-a-kind McDonald's open to the public.
Encompassing more than 6,000-square-feet, the eatery known as the Experience of the Future restaurant features modern designs, self-order kiosks, table service, mobile order and payment, outdoor seating, and an Australian McCafé area with trained baristas. All this makes the Chicago location unlike any other in the world, but it's the restaurant's menu that stands out more than anything else. The global headquarters eatery stays true to its name with a rotating menu of McDonald's items from around the world. This has included a McSpicy Chicken Sandwich from Hong Kong, Cheese & Bacon Loaded Fries from Australia, Mozza Salad from France, Poutine from Canada, and Angus Maestro Burger from the Netherlands. The restaurant even has a map of the world with Golden Arches that illuminate a country when that nation's food is on the menu. But don't worry, the global headquarters restaurant also sells classic McDonald's items such as the Big Mac, Quarter Pounder with Cheese, and Chicken McNuggets.
6. The giant arch McDonald's in Las Vegas, Nevada
If you're opening up shop on the Vegas Strip, you're going to need a show-stopping element. That's precisely what you'll find at the McDonald's at 3475 Las Vegas Boulevard. The restaurant, located next door to Planet Hollywood and across from CityCenter, stands out thanks to a giant, two-story golden arch right outside its doors. "We wanted to create a one-of-a-kind restaurant that complements the current metropolitan landscape and character of Las Vegas," Josephine Wee, Rocky Mountain operations manager for McDonald's, told USA Today. "Featuring 24-hour service, bright decor and unique art in a modern setting, Metro McDonald's provides a fresh dining experience that guests will enjoy for years to come." The fast food giant certainly asserts its dominance, as the giant arch towers over two nearby quick-serve restaurants: Panda Express and Chipotle. The two-story restaurant also comes equipped with free WiFi, surely a major draw for tourists walking up and down the strip.
According to USA Today, the McDonald's store opened in 2012 with a ceremony befitting its locale. The event included a red carpet, DJ, showgirls, and celebrity appearances.
7. The new Disney World McDonald's in Orlando, Florida
Disney World celebrated its 50th anniversary in 2021, and the famed amusement park couldn't let the milestone pass without unveiling a new, state-of-the-art, eco-friendly McDonald's on its grounds. The restaurant suits its magical location, as it looks and functions unlike any other McDonald's in the world.
According to Buildings.com, the Disney World restaurant is McDonald's first to be net-zero, meaning the site produces as much energy as it uses. This feat is achieved through a variety of architectural and engineering elements, including more than 23,000 square feet of solar panels, natural ventilation, surfaces that redirect rainwater, LED lighting, low-flow plumbing fixtures, and a giant living green wall. And don't forget about the bikes. Outside, guests can burn off a few calories on stationary bicycles. The energy produced by these bikes is funneled back into the restaurant and used to help light the building and charge cellphones.
"With McDonald's, we all saw an opportunity for design of the Global Flagship at Walt Disney World to tell an important story about sustainability," the building's architecture firm told Buildings.com. "The design of the building embraces environmental education with features like storytelling kiosks and environmental-themed graphics can be found throughout the restaurant, teaching guests how the high-performance building's renewable energy and efficiency features work and why they're important." McDonald's plans to use the location as a test site of possible sustainability solutions going forward.
8. The retro McDonald's in Fairhaven, Massachusetts
The world's oldest McDonald's in California isn't the only old-school McDonald's in the United States. There's another blast-from-the location on the other side of the country. In Fairhaven, Massachusetts sits a retro McDonald's that looks straight out of the 1950s (via Only In Your State).
The restaurant is instantly recognizable thanks to the legendary golden arches spanning from the ground to the roof, a trademark of McDonald's locations back in the day. The fun continues inside, where guests will find a black-and-white tiled floor, classic dining booths with vinyl padding, and pink and blue neon lights. The walls are adorned with records and other 1950s memorabilia, and the service counter is decorated like a piano. There's even a working jukebox! Diners can choose from a music catalog of both classic and contemporary songs. If you're in the Northeast and are craving burgers and nostalgia, this is the place to go!
9. The fancy McDonald's in Independence, Ohio
"Fancy" and "McDonald's" are two words you usually don't hear in the same sentence — unless you find yourself in Independence, Ohio, that is. Located just 20 minutes south of Cleveland, the city of Independence is home to the fanciest, dare we say the classiest McDonald's you'll ever come across. According to Only in Your State, some people even refer to it as "The White House of McDonald's."
So what's so special about this place? The two-story restaurant is housed in a colonial-style building complete with balconies. To create a more dignified look, there are no traditional golden arches outside and the "McDonald's" name is written in black instead of the bright yellow we're used to. Inside, you'll find a double staircase and even chandeliers. But if you think this McDonald's is too sophisticated to sell Chicken McNuggets, think again. The menu here is the same as any other Mickey D's in the country. And yes, there is a drive-thru!
10. The Epic McD in Orlando, Florida
The new Disney World location isn't the only notable McDonald's in Orlando, Florida. According to Visit Florida, the restaurant at 6875 Sand Road is the world's largest Entertainment McDonald's and Play Place. So how big are we talking about? According to Eat This, Not That, the three-story restaurant, nicknamed "Epic McD," is a massive 19,000 square feet, nearly five times the size of an average McDonald's location (via Motley Fool). Taking up all that space is a 20-foot-tall play structure, a 30-foot-tall Ronald McDonald replica, and more than 100 arcade games.
It's not just the Play Place that has been supersized. This Orlando location's menu is just as extensive. In addition to your usual McDonald's items, the restaurant also has a Bistro Gourmet menu featuring panini sandwiches, pastas, and custom-made fresh-baked pizza. For breakfast, you can order dishes such as ham and cheese French toast or Belgian waffles. There's even a dessert bar! The best part of this Orlando McDonald's, however, is its hours: It is open 24 hours a day, 365 days a year.
11. The mansion McDonald's in Freeport, Maine
The city of Freeport is one of Maine's premier tourist towns. Located on the Atlantic coast, it's teeming with picturesque ocean views, seafood restaurants, and outlet stores. It's also home to the very first L.L. Bean. But what gives this town an especially appealing look is that nearly every home has a quaint, colonial aesthetic. When McDonald's was looking to open a restaurant in Freeport's historic 150-year-old Gore House mansion back in the 1980s, locals were apprehensive.
It turns out their fear was less about a fast-food restaurant moving into town and more about the visuals of giant arches overtaking a classical Victorian-style mansion, so McDonald's agreed to work with the town. "What we are doing there is something we probably have never done before in terms of design and the amount of time and effort involved," McDonald's manager of media relations Stephen Leroy told The New York Times. "We are willing to spend the money to make it compatible with the area, the history, the community, and the people who live there."
The result is an "archless McDonald's" free of the usual in-your-face branding and advertising. The building blends the old and the new. It maintains its Colonial style architecture (including its fireplace) and has been decorated with old photos of the town of Freeport, but includes modern features like touchscreen ordering kiosks and, of course, a drive-thru.
12. The green McDonald's in Savannah, Georgia
McDonald's dates back to the 1940s, long before terms like "climate change" and "green technology" came about. Suffice to say, times have changed since then, and environmental concerns have moved to the forefront. Because of this, we have buildings like the McDonald's in Savannah, Georgia's Abercorn Common (via AIA Architect). It might not look much different from normal, but the sustainably built restaurant, constructed in 2005, is the first LEED (Leadership in Energy and Environmental Design) certified McDonald's. The building features more than 1,000 square feet of windows, an energy reflective roof (painted yellow, of course), and was made using mostly recycled material.
"It's a beautiful McDonald's," franchise owner Gary Dodd told QSR Magazine (via GreenBiz). "And this one, because it's green — it's special. And it's going to save us some energy costs as well." The U.S. Green Building Council, which awards the LEED certification, says going green cuts a building's utility bills by up to 50%. According to the American Institute of Architects, the Savannah store is 20 to 30 percent more energy-efficient than a standard McDonald's. "It makes economic sense," Taryn Holowka, spokeswoman for U.S. Green Building Council told QSR. "These buildings are saving energy, therefore the utility bills are lower. The people inside the buildings are healthier and more productive … so if you can save more money on people costs, with less absenteeism, less turnover, why wouldn't you?"
13. The national park McDonald's in West Yellowstone, Montana
When you think about National Parks and the great outdoors, McDonald's is probably not the first thing that comes to mind. But that will all change if you visit Montana's iconic Yellowstone National Park. Just outside the park's west entrance, a stone's throw from the Montana-Wyoming border, sits a very unique looking McDonald's, one that does its best to blend in with its outdoorsy location (via Trip Advisor). The building looks like a giant, rustic log cabin, complete with bear sculptures and photos, a wooden McDonald's sign, and something you almost certainly won't see at any other McDonald's: a "Please Do Not Feed the Wildlife" sign.
While the restaurant's setting may be appealing, its menu prices might not be. Based on numerous comments on Trip Advisor, this particular McDonald's is quite expensive. "This was the highest priced McDonald's in the world, seems like it anyway," one person wrote. "Most expensive McDonald's I have been to in quite some time," another chimed in.
14. The highway overpass McDonald's in Vinita, Oklahoma
If you find yourself driving along the Will Rogers Turnpike in the tiny, northeastern Oklahoma town of Vinita, you'll spot an arch-shaped building rising up and over the highway. This eye-catching structure has some history. According to The Joplin Globe, it was originally constructed in 1957 as the home to a restaurant called the Glass House, with windows overlooking the cars below. Now it's got a different eatery inside. You guessed it — a McDonald's. But not just any McDonald's. Only in Your State reports that this highway restaurant is the largest McDonald's in all of Oklahoma and was once the largest in the world.
The building was remodeled a few years back and now includes a convenience store, gift shop, artwork, sculptures, and educational flatscreens. The windows are still in place, allowing diners to watch cars disappear underneath their feet. The exterior arches used to be painted yellow to represent the famous McDonald's golden arches, letting all the drivers know what was inside. The highway sees roughly 26,000 motorists every day, according to the Oklahoma Department of Transportation (via Newson 6). During the remodel, the arches were put back to a neutral color, likely because McDonald's isn't the center's only restaurant anymore — there's now also a Subway.
15. The train station McDonald's in Barstow, California
You've eaten McDonald's in the car countless times before. Why not elevate the experience by enjoying your Big Mac and fries in a train? You can do just that at the Barstow Station McDonald's (via Weird CA).
The city of Barstow, California, which sits smack dab in between Los Angeles and Las Vegas, is a major transportation hub for cars, buses, and, yes, trains. So, when local businessman Fred Rosenberg was opening a truck stop on the edge of town in the 1970s, he built the plaza to resemble a fake train station. McDonald's was Barstow Station's first tenant. (Rosenberg owned the restaurant as well. Legend has it he won the McDonald's in a card game with Ray Kroc.) The fake station even has fake train cars, several of which are used as dining areas for the McDonald's restaurant. Although the cars aren't going anywhere, the setting provides for a unique dining experience.
Over the years, the restaurant has been remodeled somewhat to include amenities like a drive-thru, but the trains remain, as does the rest stop's entire train-station motif. But McDonald's isn't the only game in town anymore. Travelers will also find a Subway, Dunkin', and Panda Express.