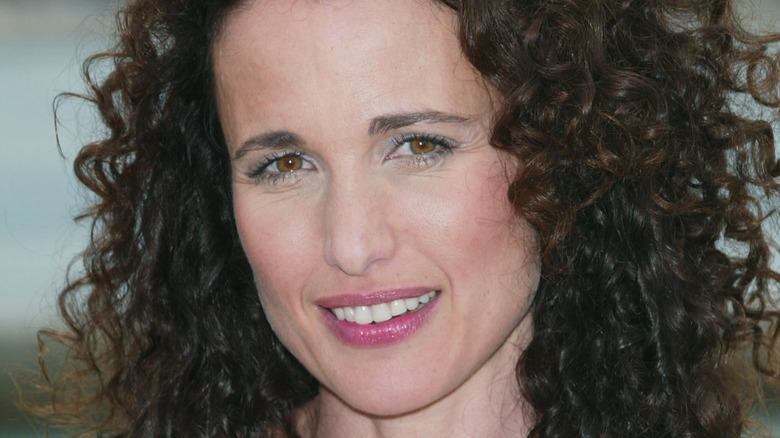 This article contains references to alcoholism and substance use.
One important thing to note about the transformation of Andie MacDowell from 16 to 63 years old is that the Southern belle has always seemingly remained grounded, no matter how much she's grown. The L'Oreal representative started her career as a model after being spotted by a Wilhelmina Models representative while in Los Angeles in the '70s (via The Sun). It should have been a thrilling moment for the young woman, but MacDowell had other concerns weighing her down.
As The Guardian reported, the actor had spent much of her childhood helping to care for her mother, who suffered from alcoholism. As a teenager, MacDowell even worked with her mom at McDonald's until her mother was fired for being drunk. "It was real hard for my mother to get well," the actor told Entertainment Weekly in 1991. "We could've checked her into a mental institution by force, but that was too frightening for us."
Her mother's continual ill-health was a huge responsibility for the teenager to care for. However, by the time she'd left her teen years behind, she was ready to pursue a modeling career, leaving "South Carolina for New York with $2,000" and not a single contact there to lean on for support. But she soaked in the culture of her new neighborhood and peers, enjoying "plays and books and all this stuff I hadn't been exposed to," she told The Guardian. MacDowell added, "It was brand new and I thrived."
If you or anyone you know is struggling with addiction issues, help is available. Visit the Substance Abuse and Mental Health Services Administration website or contact SAMHSA's National Helpline at 1-800-662-HELP (4357).
The unsure model
Just because she was thriving in a new environment doesn't mean she was enjoying every aspect of her new career as a model. In fact, Andi MacDowell almost quit due to how alienated she felt by the industry and the prevalence of drug use within it. "There was a lot of cocaine around," she told The Guardian. "I had a small experience at the very beginning and hated it. … I really didn't like the way it felt."
Consequently, she told her agency she wanted out. Instead, they advised her that she was "around the wrong people" and flew her out to Paris, where she met a young man "who didn't drink, smoke or do drugs." As MacDowell told The Guardian, this clean-cut gentleman turned out to be the Moët & Chandon winery heir, so her "whole life opened up" following their meeting. "I started working non-stop," she said.
Sadly, her mom had a heart attack and died when MacDowell was 23 (according to People). Still living in Paris at the time, the young model missed out on her mom's final year of life and decision to quit drinking. It was something that MacDowell reflected on with sadness to The Guardian, where she admitted she wanted to return to her hometown to "find out from other people what that year that I didn't get to experience was like."
Embarrassing early roles
Andie MacDowell was more than just a pretty face, and in the early '80s, people were starting to notice. The young star subverted model norms by arriving "to fashion shows in a T-shirt and jeans" and wowing people with her personality. "I think it was my sense of humor and realness that people liked," she mused to The Guardian.
A now-iconic commercial for Calvin Klein featured the young model unleashing that humor and realness with a charming Southern accent, but she wanted more, telling Bustle, "I did theater in college and knew since I was a child that I wanted to act." She got her wish, landing her first role in the 1984 Tarzan flick "Greystroke" at the age of 23. However, the memory of the film continues to be one of the most embarrassing for the star, whose natural accent was dubbed over by Glenn Close for the entire film.
Stating that she received "no complaints about her performance" prior to learning of the vocal switch, MacDowell told the Chicago Tribune that she found the experience "devastating" and "a cruel time." Critics were "mean-spirited" about the decision to remove her voice from the film. However, it only made MacDowell more determined to prove herself to the industry. "I knew I was going to have to fight really hard. So I just took a lot of classes and worked on every aspect of myself," she said.
Breaking into Hollywood
At 27, Andie MacDowell landed a role in Joel Schumacher's brat-pack graduate melodrama "St. Elmo's Fire." She played a doctor obsessively pursued by Emilio Estevez's Joe Goldberg-esque fanatical law student. It didn't give her much to flex her burgeoning talents, but it was a crucial career step. "It took until I was 30 … to get a role that I could prove to everybody what I was capable of," she told the Chicago Tribune.
The role in question was her breakout performance in Steven Soderbergh's indie hit, "Sex, Lies, and Videotape." As Andie MacDowell told Interview, the film was a rare blend of success — "a great piece of art" which also "made money." The star won an Independent Spirit Award and a Los Angeles Film Critics Association Award for her performance, as well as a Golden Globe nomination. The project changed things for her, and she told Interview, "I went from being kind of discarded to being wanted, and it was the most magical thing."
It was a magical period in general for MacDowell, who married former model Paul Qualley in 1986. She gave birth to their first child later that year despite not "planning on having children," as she told Bustle. Speaking to the website about her style of rejecting "glamorous" looks in favor of "flowy dresses and boots" and other casual pieces, she said, "I think a part of me was just wanting to feel comfortable." That sentiment would become her signature.
Juggling motherhood and a blossoming career
The '90s heralded a fresh start, as Andie MacDowell followed up her smash indie debut with the romantic comedy "Green Card" opposite French theatrical cad, Gérard Depardieu. As Entertainment Weekly enthused about MacDowell at the time of the film's release, the project was positioned to "serve as her passport to the big time." It certainly helped. The actor packed six films into a two-year period, including the Bruce Willis action flick "Hudson Hawk," and indie dramedy "The Object of Beauty" opposite John Malkovich.
Somehow, the star also found the time to have two more children with her husband. The disparity between the domestic comforts of her personal life and the demands of her career must have been tricky to navigate. In an interview with The Daily Beast, MacDowell confessed to her discomfort at having to "stay out late" to attend work functions around this time, stating that partying was "not [her] nature." Similarly, she found the paparazzi's newfound affection for her "frightening," telling Entertainment Weekly, "I'm not accustomed to people yelling my name."
Though the actor hit red carpets looking the most glamorous she ever had during this time — her hair long and dramatic, her dresses simple but chic — she had all the flair of a woman clocking in for her 9 to 5. Acting may have been her dream, but fame seemed little more to her than a snore that ruptured from it.
The rom-com queen arrives
By 1992, Andie MacDowell had gotten used to depicting the love interest in a variety of Hollywood films, big and small. Which is just as well, because two of her biggest films to date would center around just such a role for the star. The first, "Groundhog Day," would position the actor as an endearing suitor opposite improv superstar Bill Murray's character, a misanthropic curmudgeon repeating the same day over and over.
The film was a surprise success, something that nobody "could really predict … Especially [with] something like 'Groundhog Day,'" as MacDowell once told Newsweek. The oddball comedy helped to showcase the actor as a star capable of delivering savvy, smart quips with heart and nuance. She'd need those skills for her next trick as another love interest — this time, to Hugh Grant's neurotic everyman in the Richard Curtis rom-com "Four Weddings and a Funeral."
Speaking to The Guardian, MacDowell reflected on reading the script during promotional duties for "Groundhog Day," thinking it was "one of the best [she'd] ever come across." "Intelligent humor is something I really enjoy doing," she said, adding that Curtis' talent for humor with "a beautifully romantic heart" was something she deeply appreciated. Arguably, these sensibilities also seemed to suit the star, who seemingly thrived when her down-to-earth nature was beautifully juxtaposed against a sharp, irreverent script. Unfortunately, as she edged closer to her forties, she wouldn't always land roles quite as complimentary to her talents.
The beginning of a difficult time
As Andie MacDowell was enjoying a career high, her star started to wane. At 37, the actor reunited with "Groundhog Day" director Harold Ramis for the comedy flick "Multiplicity," and it proved to be one of her first major box office flops. As MacDowell has often maintained, however, she remains proud of the film and defends its value. "It was a brilliant movie," she told The AV Club in 2018, arguing that the studio "didn't publicize it the way they should have."
Be it bad luck or bad decisions on behalf of the industry, MacDowell couldn't catch a break in her late 30s — but it wasn't for lack of trying. On paper, the roles she was choosing seemed solid, but their reality often fell far short of their potential. Her performance in indie-darling Win Wenders' "The End of Violence," for example, left The Washington Post wincing that "this film proves even the greatest among us are capable of having a very bad day."
Meanwhile, Entertainment Weekly described the Andy Garcia rom-com "Just the Ticket" as "a rote, labored love story" which uses MacDowell for "poster appeal." On the red carpet, the actor used this moment to routinely step out in astonishingly glamorous get-ups, the likes of which came with a battle statement spoken in a silent, sartorial dialect fluent in Hollywood: I'm here, I'm fabulous, I'll fight for my career. And she did.
Changes and challenges
As the '90s ended, Andie MacDowell arrived at her 40s — an age that isn't always appreciated in a woman's acting career. In fact, while speaking about the "lack of interesting characters" available to her in the latter half of her career, the actor admitted to The Guardian that she'd "felt lulls" since leaving her 30s, declaring, "I've been struggling since I was 40."
Clearly, this was a major age of transformation for the star, who also divorced her husband Paul Qualley in 1999 (via the Daily Mail). Speaking to People on the painful nature of divorce, MacDowell stated, "It's not an easy transition. I think that the sooner you can let go of any anger, the better off you are." It's understandable that the actor may have felt angry at this time. Not just for the dissolution of her marriage –though heartbreak can pierce the placid facade of even the most laidback among us – but also for the abrasive limitations she was facing in her career.
Either way, you would never have known what the actor was going through by looking at her. MacDowell continued to look the picture of professionalism, wearing slightly more relaxed styles on the red carpet, aesthetically fighting back against Hollywood ageism with youthful defiance. She looked glamorous, yet comfortable: a woman willing to play by Hollywood rules, but without having to compromise her own style and values to do so.
A millennial career slump
The end of the '90s had been rough on Andie MacDowell, but the new millennium arrived with hope. In 2001, the actor married businessman Rhett Hartzog, a former high school classmate she'd reunited with in 1999 (per People). The coupling saw the star stepping out in soft, romantic gowns and lighter dresses, her face so flush with love that some of her looks made the L'Oreal representative appear as though she bathed in a magical vat of anti-aging Retinol on the daily.
By 2004, however, People was reporting that MacDowell had filed for divorce from Hartzog, with a source describing the split as "a painful and very private time." It was a fraught moment in the actor's personal life, and sadly, her professional life was also proving to be difficult. The star appeared in a series of films which were derided by critics and audiences alike.
Most notable was the 2001 flop "Town & Country," a film which Rolling Stone once quipped was so bad it was "less deserving of a review than it is an obituary." The project continues to be renowned as "one of the biggest flops in movie history" (per NME). In 2005, the Hallmark movie "Riding the Bus With My Sister" – a flick so atrocious that Lorelai Gilmore once called it "a Friday-night special" in her roster of enjoyably bad movies on "Gilmore Girls" — further confirmed that MacDowell had hit a career slump.
An age of defiance
Work didn't get much easier for Andie MacDowell as she entered her 50s, but the actor refused to be ground down by her struggles. She worked consistently. "I may not be the lead or I may not get the starring roles that I used to because so many movies revolve around youth, but I refuse to go away, because I enjoy it. I always find a way to get work," MacDowell told Fox News.
Sartorially, MacDowell wasn't hiding herself away, either. On red carpets, the actor arrived in complete ownership and celebration of her age and sexuality, pairing a series of chic looks with the ultimate accessory: her personality, which she once described to The Guardian as being "kind of goofy." This was a woman making the most of her life — peaks and slumps and all — and loving every second of it.
It's telling that during this period, the actor pushed herself into new territories professionally, and in a myriad of different ways. She voiced a CGI hen in family film "Barnyard," played a butt-expanding salon stylist in "Beauty Shop," and brought to life a "narcissistic sex addict" (as she told Fox News) in the Lifetime movies "At Risk" and "The Front." Sure, these roles weren't brimming with prestige, but they at least gave MacDowell a fresh set of paints to fling at the great palette of her career while she awaited her next big piece.
Behold! A resurrection
Luckily, that next big piece was awaiting Andie MacDowell as she entered her 60s. While speaking with Michael Keaton for Interview, she indicated that the business could be brutal and hard to predict. "You feel like it's all over and you'll never work again," she said. "Then all of a sudden, people like something you do, and you get a great script and feel revived, like, 'Oh wow, okay. I'm not dead yet.'"
For the first half of the 2010s, the great scripts that infused her with renewal could have been the whip smart Kat Dennings-led teen drama "Daydream Nation," or the modern male-stripper masterpiece "Magic Mike XXL." By all accounts, MacDowell sounded like she (understandably) had the time of her life filming the latter. The actor told The Guardian that she "really wanted" the role of a "wild and foul-mouthed" mom, "because the character is completely different than anything I've played." Joe Manganiello's topless convenience store grind likely also helped; let's be honest.
Unsurprisingly, MacDowell's career resurgence looked phenomenal on the star, who stepped out looking the most radiant and confident she possibly ever had. Admittedly, the actor had maintained a consistent sense of style since she arrived in Hollywood — the only thing that ever changed was her overall vibe. Previously, MacDowell appeared on red carpets dressed for the job. Now, she looked like she was dressing only for herself.
A barely seen triumphant performance
By 2016, Andie MacDowell was maintaining a career balance by appearing in TV movies such as "Christmas Inheritance" and the TV shows "Model Woman" and "Trial & Error" while also challenging herself with fulfilling performances in indie flicks. "Love After Love," one such indie film wherein the actor depicts a heartsick widow, saw the star doing some of the best work of her career. There was just one problem: As MacDowell told The Guardian, "Not as many people have seen it as I would have liked."
On top of being one of MacDowell's strongest performances, the role also pushed the actor out of her comfort zone to deliver her first nude scene, at 61. Something which the media focused on a great deal, causing the actor to gripe, "It was embarrassing how it was written about," to The Daily Beast. Ultimately, she was proud of how the scene helped to express "the vulnerability" of her character and that it gave her "a lot of confidence." "You need to see it's part of her humanity," she told the website.
Fashion-wise, it seemed that MacDowell's spirit had shifted in some way. Turning 60 may have given the star a sense of assurance and liberation. But being given the space with which to try new things in her career — even if not many people always saw her efforts — gave her even more freedom to be herself, without apology.
A dark comedy doyenne
Thankfully, Andie MacDowell wasn't done with trying new things, and as such, she entered 2019 with two prominent roles as a propagator of dark comedy. And damn, did it suit her. The first, a celebrated role as the eccentric Aunt Ivy in British comedy show "Cuckoo," gave the star a chance to showcase what a deft skillset she has when it comes to sardonic humor. The second was Radio Silence's "Ready or Not," a slyly hilarious horror film in which McDowell depicts the wry matriarch of a prestigious family with a devilish secret.
Both gave the actor an opportunity to flex a darker, funnier side to the wholesome, good girl image that she'd put forward for the majority of her career. Speaking to Nightmarish Conjurings about starring in the horror hit, the actor confirmed that "Ready or Not" made her "a huge fan" of the "highly creative genre," and she was certainly open to doing more work like the film. Horror, she told the website, "allows for exploration for so many different kinds of feelings that you don't always get."
MacDowell suitably returned to her pitch black curls at this time, but the star also started wearing more dramatic, darker gowns for her era of wicked chuckles. The Guardian once complained that though these roles "are entertaining … they do not showcase the full range of her talent." But on the red carpet, she looked like she was having a ton of fun.
Bringing her career home
By 2021, Andie MacDowell's delightful boldness reached new levels when the actor allowed her natural grey hair to come through. Speaking to Interview, she suggested the decision was as easy as it was satisfying, stating that it was "exhausting" to maintain the illusion of youth. "I'm not young. And I'm okay with that," she said, adding, "I feel so much more comfortable. It's like I've taken a mask off or something." MacDowell had never looked more at home in herself or her career.
On top of enjoying a fun cameo as herself in the Ted Danson sitcom "Mr. Mayor," the actor also starred opposite her daughter, Margaret Qualley, in the Netflix show "Maid." As described by Interview, the role required MacDowell to play a "fictional mother to her real-life daughter," and to depict a character struggling with serious "undiagnosed" mental health issues in the midst of a crisis. As the actor told Michael Keaton via the outlet, her role demanded her performance "be bigger than I might normally be" in a way that she found "terrifying."
But clearly, that element of the unknown is also something that drives MacDowell in her career and her subsequent performances. Her trajectory isn't the standard, and it's thrilling to see. "Everyone has their own journey," she told The Guardian. "Maybe something fabulous is going to happen for me at 70." Suffice it to say, we can probably count on it.