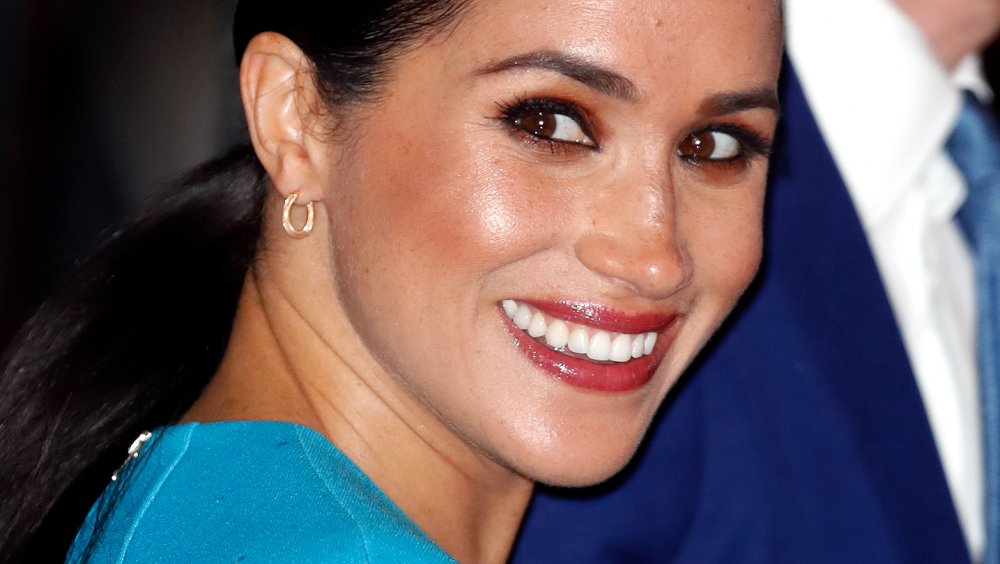 Meghan Markle is the first American to marry into the royal family since King Edward VIII married American socialite Wallis Simpson after their scandalous romance led him to abdicate the thrown. But it is Markle's poise and elegance in her royal role — not to mention, her ability to consistently shake up the status quo of The Firm — that has captured the world's attention.
Her catapult into the royal family was unexpected, even though she grew up around the entertainment business. Woodland Hills, a suburb in Los Angeles, was Markle's home town, and her upbringing was far from conventional. From an early age, Markle seemed to understand her purpose as a global citizen. She was always focused on how she could help her community. By 15, she was already volunteering in soup kitchens. Along the way, she became a powerful advocate for women and the poor. Once she became an A-list actor, she used her celebrity status to bring even more attention to the causes she cared about.
When she became the Duchess of Sussex, Markle's humanitarian work didn't stop, but her life became harder as she dealt with cruel British tabloids that seemed to make it a priority to demonize her. Of course, we all know how she and Prince Harry decided to deal with that. But let's rewind, all the way back to the beginning, and take a look at her evolution, from toddler to tiara.
An early lesson about race shaped Meghan Markle's views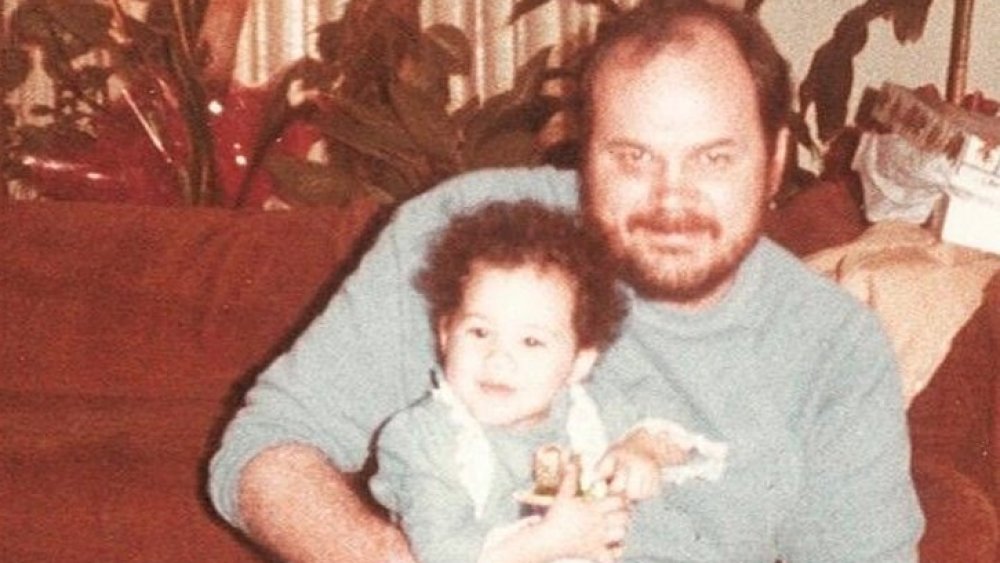 In this picture, Meghan Markle is a toddler, pictured with her father, Thomas Markle. According to Inside Edition, the adorable, curly-haired kid lived with him, and her mother Doria Ragland, in Woodland Hills until they divorced when she was 6.
Meghan's signature curly locks reflected her bi-racial heritage. Her father is white and her mother is Black. Her parents' background shaped her identity in a way that was sometimes confusing. In an essay for Elle, she wrote, "Being biracial paints a blurred line that is equal parts staggering and illuminating." Growing up, Meghan didn't see many people that looked like her. Woodland Hills was far from "diverse," as she put it. Her mother was often mistaken for her nanny, and that by middle school, the pressure to "choose" a race was further compounded when she had to fill out a census. "I didn't tick a box. I left my identity blank — a question mark, an absolute incomplete — much like how I felt," Meghan wrote. Fortunately, Meghan's dad came through with some sage advice: "If that happens again, you draw your own box."
Meghan Markle's dad's job was cooler than yours
Here, Meghan Markle (far left) is in elementary school, pictured with some of her friends. By this time, the freckle-faced cutie was attending Immaculate Heart Catholic School, and still rocking her signature 'fro.
Her after-school experience looked a lot different than her strict classroom structure. Her father worked as a lighting director and director of photography for the hit show Married… With Children. Markle told Esquire that, for 10 years, she spent every day after-school on the set with her father. That time shaped her view of the acting world. That's where Markle was first introduced to the magic of show business. "There were a lot of times my dad would say, Meg, why don't you go and help with the craft services room over there? This is just a little off-color for your 11-year-old eyes," recounted Markle. Her time on set gave her the chance to meet some of the era's most popular bombshells. "There were guest stars like Tia Carrere and Traci Lords and Nikki Cox. Those were the kind of women coming in every day," Markle shared.
The opinionated young girl turned into a strong woman
From an early age, Meghan Markle had an opinion worth hearing. By age 11, in 1993, she had already taken her wisdom to the national stage.
That year, she was interviewed along with some classmates on Nickelodeon's Nick News. They were tasked with giving their take on the the imagery in commercials, which were stereotypical scenes of women doing housework. Markle didn't hold back. She said she was tired of the patriarchal roles in the commercials. "I don't think it's right for kids to grow up thinking these things, that just Mom does everything," she told the host.
She didn't stop there. She wrote a letter to Procter & Gamble (the makers of the commercial), asking the company to change its dishwashing commercial. Her suggestion? Trade the word "women" in the line, "Women are fighting greasy pots and pans with ivory soap" to the word "people." They took her advice and changed it.
Markle: 1 P&G: 0
Blink and you'll miss Meghan Markle on General Hospital
In 2002, Meghan Markle made her first appearance on General Hospital as a nurse. By this time, she was usually wearing her hair straight. She only had a few lines, but she rocked those scrubs!
The following year, she graduated from Northwestern University. She majored in theater and international studies while in college, but once she finished school, it cleared up her schedule so she could audition for roles in Los Angeles. However, it wasn't her degree that saved her from the low-wage jobs other rookie actors lean on to get by while they try to make it. Instead, it was her handwriting.
Markle told Esquire, "I've always had a propensity for getting the cursive down pretty well. What it evolved into was my pseudo-waitressing job when I was auditioning." Fun fact: She wrote the wedding invitations for Robin Thicke and Paula Patton's wedding. Little did she know, she would one day be even bigger than the A-list celebrities she worked for.
It was pretty much 'no deal' for Meghan Markle
By the time Meghan Markle was 25 years old, she had some success in acting, but she was still trying to make ends meet while pursuing her dream.
From 2006 to 2007 she worked as a "briefcase beauty" on the game show Deal or No Deal. Although Markle looked great in her role, wearing bouncing curls and a bright mini-dress, she told Esquire the job was far from glamorous. She couldn't sit down until someone picked her number. Did we mention she was wearing five inch heels? Ouch.
"Definitely working on Deal or No Deal was a learning experience, and it helped me to understand what I would rather be doing," she revealed. "If that's a way for me to gloss over that subject, then I will happily shift gears into something else." Lisa Gleave worked with Markle on Deal or No Deal as a fellow "briefcase beauty." She told Gold Coast Bulletin (via Harper's Bazaar), "I remember her [Meghan Markle] being very focused on her acting career."
Meghan Markle's big break
In the 2010 picture shown above left, 29-year-old Meghan Markle was on the cusp of her big break. By 2011, Suits, a pilot she was in, got picked up. She had one of the main roles as Rachel, a smart paralegal who was the main character's love interest.
When the USA series became a hit, Markle was surprised. In 2016, she told Glamour, "I've done so many pilots that have never saw the light of day and we didn't know what Suits was going to become at the time." On the show, she was mostly dressed in Tom Ford, Burberry, and Prabal Gurung. But on the red carpet, she departed from Rachel's office looks, while still keeping it simple, as demonstrated by her look at a 2012 event for USA Network (above right). Of her sartorial preferences, Markle told Glamour, "I don't tend to go with things that are ornate — just beautifully made pieces and some classic jewelry. Let the work speak for itself. I love that."
Even though she was far from her days as a struggling actress at this point, she didn't overdo it on the red carpet. Instead, she stayed true to her "California-cool" roots.
Prince Harry wasn't Meghan Markle's first hubby
2011 was a big year for 30 year-old Meghan Markle. Not only did Suits make its debut, but she also married actor and producer Trevor Engelson (pictured above). By this time, Markle was wearing her hair in a warm-brown hue and her skin was glowing.
According to US Weekly, the Markle and Engelson were together for seven years before getting married in Jamaica. The wedding was relatively small, with only 102 people in attendance
But by 2013, they divorced almost as quietly as they got married; neither released any official statements explaining why they broke up. According to The Sun, the divorce papers cited the always vague "irreconcilable differences." According to Andrew Morton's biography of Markle, Meghan: A Hollywood Princess, it was Markle that ended things. A source told Morton, "The marriage ended so abruptly that Meghan sent her wedding and engagement rings back to Trevor by registered post." Another source reportedly told the author that Markle's decision came "totally out of the blue."
Sparks fly between Meghan Markle and Prince Harry
In July of 2016, Meghan Markle met Prince Harry, the Duke of Sussex. By this time Meghan was 35 years old, and considered an A-list starlet for her work in Suits. At this point she swapped her bronze hair for a darker hue. It would take nearly a year for them to make their first official public appearance together, at The Invictus Games in Toronto in September 2017 (shown above).
Meghan and Prince Harry owe their meeting to a mutual friend that set them up on a blind date. She told the BBC she only had one question for her friend: "[Is] he nice?" Prince Harry says he had never heard of Meghan before, but he was smitten instantly. "I was beautifully surprised when I, when I, walked into that room and saw her. There she was sitting there, I was like, OK, well, I'm really gonna have to up my game!"
The pair liked each other so much, that they scheduled a second date, before their first date was even over. Their instant connection was like something that came out of a movie.
Meghan Markle becomes a princess
16 months after they started dating, Meghan Markle and Prince Harry got engaged in November of 2017. The world was intrigued by the haste in their engagement, but the couple wasn't phased. Prince Harry told BBC they fell in love "so incredibly quickly," that it seemed like proof the "stars were aligned."
Surprisingly, Prince Harry kept the engagement sentimentally simple. He asked 36 year-old Meghan to marry him as they were cooking dinner at home. "It was so sweet and natural and very romantic. He got on one knee," said Meghan. By this point in the relationship, Meghan's style had become a lot more conservative. Her look had always been on the simpler side, but once she got engaged she took less risks, adapting to the royal family's dress code, with longer hems and simple manicures. In May of 2018, Meghan married Prince Harry in a classic Givenchy gown that slightly hung off of her shoulders.
Meghan Markle becomes a mommy
In October 2018, Kensington Palace announced Meghan Markle and Prince Harry (now the Duke and Duchess of Sussex) were expecting their first child together. The couple kicked off their announcement with their first major royal tour. Meghan slayed her maternity looks while on the trip. She went to Australia (above left), New Zealand, Tonga, and Figi (above right) while proudly showing off her now visible baby bump. The couple kept the gender of the baby a surprise.
Although Meghan's life had changed since becoming a royal, she still managed to keep up her life somewhat normal. According to People, Meghan returned to New York City in February 2018 to attend her baby shower with her star-studded squad, that included: Serena Williams, Amal Clooney, Jessica Mulroney, and Gayle King. Okay, so maybe that's not exactly normal.
The pair's son, Archie Harrison Mountbatten-Windsor, was born on May 6th, 2018.
The trouble with the royals
Meghan Markle's time in the royal spotlight was far from easy. She was victim to countless malicious articles from British tabloids, that many chalked up to racism.
By 2019, the critical environment seemed to weigh heavily on the royal couple. In October of that year, Prince Harry released an emotional letter to the public, which called out the British tabloids. "I have been a silent witness to her private suffering for too long. To stand back and do nothing would be contrary to everything we believe in," he wrote. He also announced he would take the extraordinary step of suing the tabloids. Citing what he perceived as an unfair "double standard" the press had for Meghan, Harry claimed, "They have been able to create lie after lie at her expense simply because she has not been visible while on maternity leave."
In an interview for the documentary Harry & Meghan: An African Journey, Meghan agreed with the interviewer that it has "been a struggle," and confessed, "It's a lot. … It's a very real thing to be going through behind the scenes," when asked if she was OK.
Meghan and Prince Harry check out with Megxit
By January 2020, Meghan Markle and Prince Harry decided it was time for a massive change. They released a statement, saying, in part, "We intend to step back as senior members of the Royal Family and work to become financially independent, while continuing to fully support Her Majesty The Queen." They also announced they would be spending their time between North America and England, to "enable us to raise our son with an appreciation for the royal tradition into which he was born, while also providing our family with the space to focus on our next chapter." Their last official royal engagement (shown above left) was the Commonwealth Day service at Westminster Abbey in London in March 2020.
Since the shocking announcement, known as Megxit, Meghan has taken some public speaking engagements. She's looking visibly happier (shown above right with son Archie in a screenshot from a May 2020 Instagram video) since the restructuring of her role. The family is said to be living in California since August 2020, according to ABC News. As for her career trajectory, Meghan seems to be going back to her roots. In early 2020, she signed a voiceover deal with Disney in return for a donation to a wildlife charity, and in September 2020, The New York Times reported that both she and Harry signed "megawatt Netflix deal" that will see the Duke and Duchess producing "documentaries, docu-series, feature films, scripted shows and children's programming" over the course of several years.