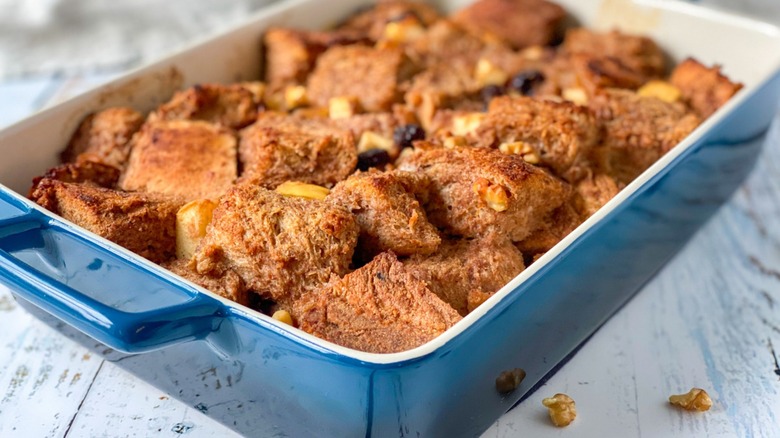 Bread pudding is one of those old-timey desserts that is pure comfort in a bowl. It's warm, heavy, rich, sweet, starchy … all those things that make us feel better on a cloudy, gray day when we're feeling a bit down. The problem is, a heaping helping of sugary carbs might feel good in the moment, but it may leave you feeling too heavy later on in the night — especially if you've already enjoyed a rich dinner.
Thanks to recipe developer Hayley MacLean, you can enjoy your bread pudding in a lighter way. She took this classic dessert and made it healthier without sacrificing the least bit of delicious flavor. As she tells us, "This bread pudding recipe is much healthier than more traditional versions because it avoids using any refined sugar and is made with whole wheat bread as opposed to white bread, which provides more complex carbs for sustained energy!"
Ready to learn how you can make this bread pudding for yourself?
This dish is full of healthy ingredients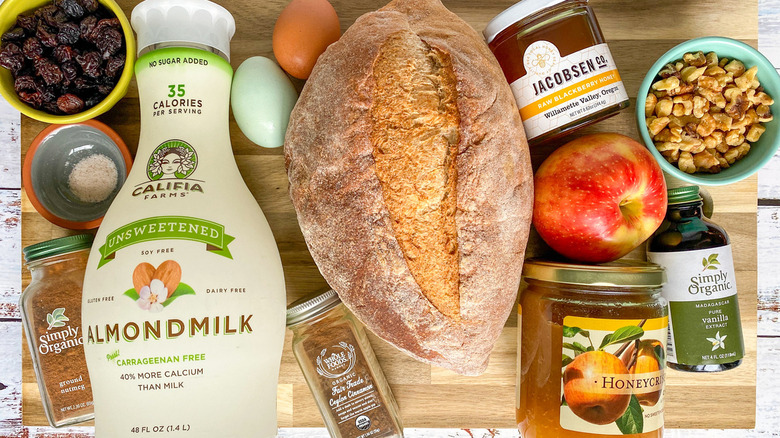 There's just so much goodness going on in this dish! For starters, MacLean has replaced the dairy milk typically used in bread pudding with almond milk. The dish also uses unsweetened applesauce along with eggs as a binder, and it utilizes honey instead of sugar as a sweetener. Vanilla extract, cinnamon, and nutmeg all add some flavor, while chopped apple, raisins, and walnuts make for nutritious mix-ins. The bulk of this bread pudding comes from the bread, of course — in this case, it's a loaf of crusty whole-wheat bread.
MacLean tells us, "There are definitely a few different items you could switch out in this recipe! Using maple syrup instead of the honey would add a wonderful flavor, or [you could switch] out any sort of plant-based (or even regular!) milk for the almond milk." She also mentions that "using pumpkin puree instead of the applesauce would make a really fun fall version of this dish," adding that, in this case, "I would also use dried cranberries and pecans as mix-ins instead of the raisins and walnuts."
If you want a vegan version of this bread pudding, she says you can just swap out the eggs for flax or chia ones but also says, "Another option to thicken things up and hold the bread pieces together is to add three tablespoons of cornstarch to the almond milk mixture prior to pouring it over the bread pieces."
There's only a tiny bit of prep work involved here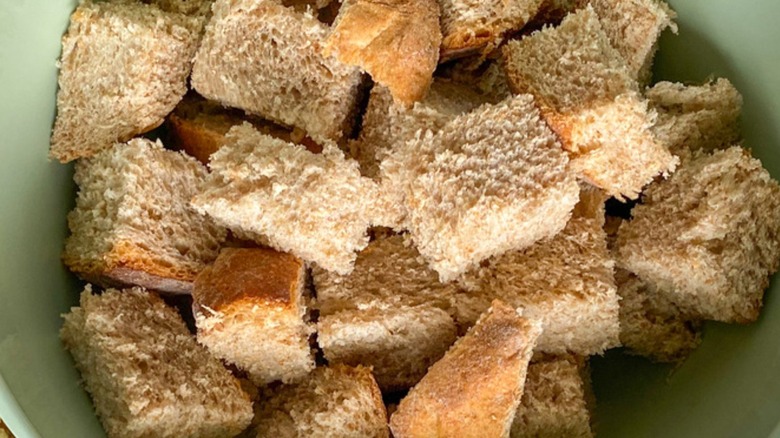 Only two of the ingredients require any prepping. One of these is the apple, which will need to be sliced, cored, then chopped into chunks. There's no need to peel the apple, though. As MacLean explains, "I like to leave the peel on the apple because it gives a little bit of extra texture throughout the dessert." She goes on to add, "It is also full of fiber and has a higher percentage of beneficial nutrients like Vitamins K, A, and C than an apple that has been peeled!"
You'll also need to chop the bread into chunks ranging from one to two inches in size. Once this is done, take all of the bread chunks and put them into a large mixing bowl. Set them aside for a moment.
Give the bread time to absorb all the healthy goodness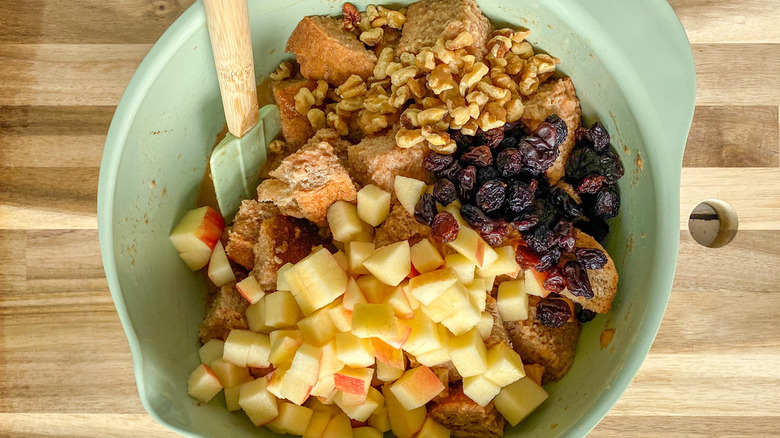 Pour the almond milk into a large mixing bowl and add the applesauce, eggs, honey, vanilla, cinnamon, nutmeg, and salt. Whisk them together until they are thoroughly combined.
Pour the liquid over the top of the bread chunks. Mix the apples, raisins, and walnuts into the pudding mix, then put the bowl in the fridge for at least an hour so the bread can absorb all of the liquid.
Enjoy this bread pudding warm from the oven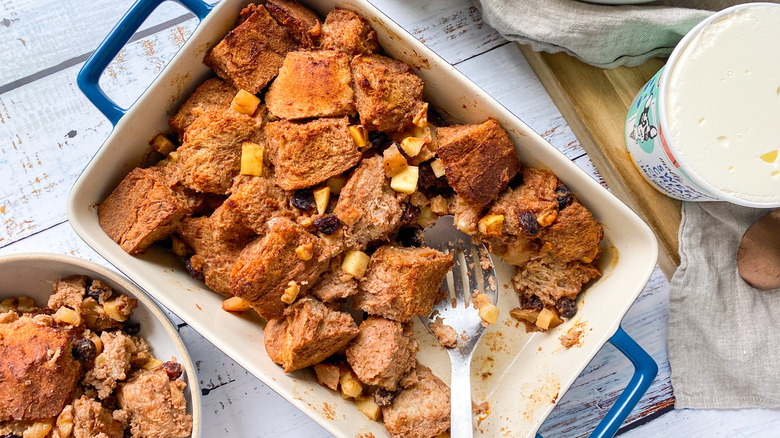 As the bread is soaking, preheat the oven to 350 F. Once the bread has soaked up all of the liquid, scoop the pudding into a greased nine-by-13-inch baking pan and spread it out to make an even layer. Bake it for 40 to 45 minutes until the top is set and golden-brown in color, then let the pudding cool for 15 minutes before dishing it up.
MacLean tells us, "I love how this recipe is soft and gooey on the inside with a nice crispy texture on the top. It's the perfect combination of textures and is just such a warm and cozy dessert on these cooler fall evenings." She likes to serve her pudding topped with vanilla-flavored coconut milk ice cream and says vanilla sauce and/or whipped topping would also be delicious. (Try making the latter from canned coconut milk!)
"To make a more decadent dish," she tells us, "a caramel or chocolate sauce could be used too."