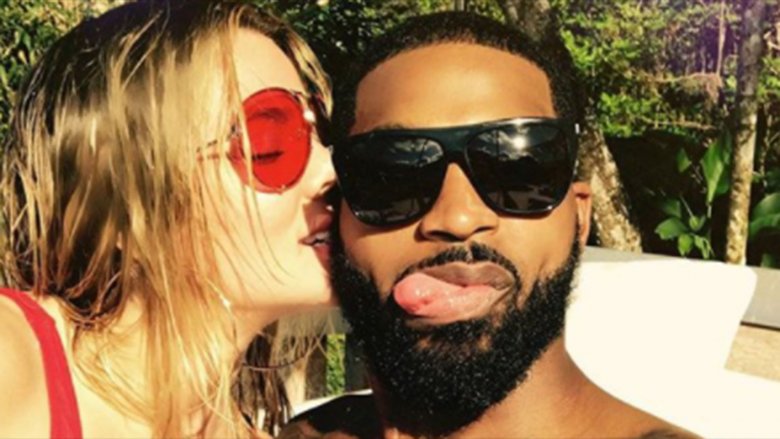 Khloé Kardashian was madly in love with Cleveland Cavaliers center and power forward Tristan Thompson, which made the world really happy, particularly considering everything she'd been through in her first "toxic" marriage to Lamar Odom.
You may remember, Odom confessed to cheating on her, yet she nursed him back to health after a terrifying drug overdose following their split. After a series of short-lived relationships with James Harden and French Montana, it was really heartwarming to see her finally find happiness with a new beau.
Kardashian and Thompson are constantly gushing over one another on social media and in the press, and Kardashian is often spotted courtside cheering on her man. These two aren't engaged and have dating for less than two years, but their romance seemed to be smooth sailing as they prepared for the arrival of their baby girl. Alas, right before giving birth to True Thompson, their relationship became a hotbed of turmoil as stories about infidelity, baby mama drama, and family feuding dominated the headlines.
Let's take a close hard look at the strange things about Khloe Kardashian and Tristan Thompson's relationship.
They moved at warp speed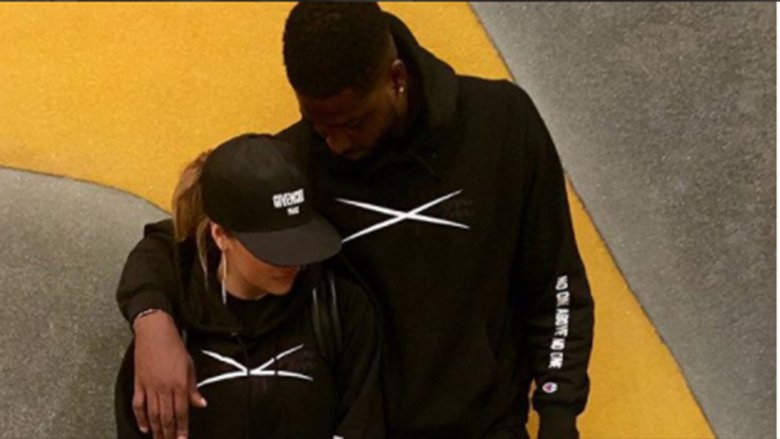 Khloé Kardashian and Tristan Thompson were at least a "mini-thing" by Labor Day 2016, reported People, and by April 2017 — not even a year into their relationship — she told the Evening Standard she was ready to have kids with him.
"I would love to have a family [with Thompson]. We've talked about it," she said. "He [already] is a father, and I know for a fact that he would be an impeccable father … I definitely want to be a mom. But I don't put the pressure on it. It's not like, 'The clock is ticking.' I feel in my soul it will happen."
Two months later, on Keeping up with the Kardashians (via E! News), Kardashian gushed, "Tristan and I definitely talk about starting a family. He wants to have about five or six kids with me and that's lovely. We could start at one and we could grow from there."
And grow they did.
She seemed reluctant to be a mom
Kardashian's feelings about motherhood have evolved over time. She seemed reluctant to dive into parenting before she and Thompson got together — and even briefly afterward.
In the August 2017 issue of You magazine (via the Daily Mail), she admitted, "We're still in a new relationship and I love us having time together. Once you have kids you can't get back your non-kid years … You worry about your children for the rest of your life. The concern I have is raising little human beings in a world that's filled with such hate and terror. That seems very scary."
However, she clearly changed her tune when she got pregnant with his child. "This is something Khloé has wanted for years and years, and yet it's more than that: she didn't want it unless she was in the right relationship for it," a source told People in September 2017, when her pregnancy news was revealed. "She never let it happen with Lamar, intentionally, and she never considered it with James or French or anyone else she has seen. But this is such a wonderful moment for her: not only is she going to be a mother, she is going to be raising a child with a man she truly loves. Everyone is over the moon for them both."
Tristan was caught on camera allegedly cheating
Just days before Khloé Kardashian was set to give birth to their daughter, Tristan Thompson was busted creeping around with several other girls numerous times — and it was all caught on camera.
On April 10, 2018, TMZ posted surveillance video footage of Thompson with three women, two of whom took turns kissing and fondling the NBA star. The footage was reportedly from a Washington, D.C. hookah lounge and was filmed in October 2017 when Kardashian was about three months pregnant with Thompson's child.
Also on April 10, 2018, TMZ obtained video footage of Thompson entering a New York City hotel with an Instagram model named Lani Blair on April 8, 2018. The curvy brunette can be seen following Thompson into the hotel at approximately 5 a.m., eventually leaving with what looks like an overnight bag. It's reportedly the same woman Thompson was cozying up to at a nightclub earlier in the evening in footage captured by the Daily Mail.
The witness who filmed the nightclub footage dished, "He was on the table right next to us with a group of friends and some girl who he was obviously making out with all night. They were holding each other and it was so obvious … He was texting and talking on the phone and she was obviously looking over his shoulder. Everybody knew who he was. We talked about it and everybody watched them make out several times."
He may have been cheating with the same girl for a while
A source told Radar Online that not only has Thompson been cheating with several different women, he's also allegedly been seeing Lani Blair whenever he's in the New York area. Blair reportedly works as a cocktail waitress at a Queens, N.Y. strip club called Club Angels — but she called out of her shift on April 10, 2018, at the last minute after the cheating scandal nearly broke the internet.
One of her colleagues told Radar Online, "After everything she's dealt with today, she's not coming in tonight."
A bartender at the club also claimed Thompson is a regular at the strip joint, where Blair has been employed for roughly six months, saying, "He shows up here from time to time."
Another insider told Radar Online that when they spotted Blair and Thompson kissing at the nightclub days earlier, "they seemed to know each other well already."
Tristan may be a serial cheater
Unfortunately for Khloé Kardashian, insiders believe Tristan Thompson has been messing around since the beginning of their relationship.
"Tristan has been consistently cheating on Khloé," a source told People. "He's a serial cheater. And there will be more women to come out of the woodwork … First Lamar cheated on her and now Tristan. She's been through so much."
The source said that the rest of the Kardashians "are heartbroken for Khloé. They didn't realize how deceptive Tristan could really be." Neither did Khloé, who the insider said only "focused on the positives" of their romance. "As far as she knew, there were no negatives," the source said. "Once she made the decision to commit, she was all in and trusting … [she] was beyond head over heels … He was her everything. They had a life together. She honestly thought he treated her like gold, like a queen. [He] gave her everything, doted on her, told her how beautiful she was. To her, life was perfect. And it all just came crashing down."
Even Thompson's own friends supposedly knew he was doing Khloé dirty. "None of his friends are surprised by this and they all know he cheats," a source close to Thompson told Us Weekly. "Most of his friends and people in his circle also cheat and don't think there's anything wrong with it."
Will Khloé read the writing on the wall?
Khloé doesn't seem to want to believe that Thompson was unfaithful to her, despite the avalanche of bad press.
"Khloé is shutting everyone out right now and doesn't want to listen to anyone," a source told Radar Online. "She is trying to pretend this isn't happening … When she spoke to her sisters earlier today, she assured them that this was all a big misunderstanding and that Tristan would be able to explain it. But with all the recent evidence that has just presented itself, no one knows what to do."
An insider told InTouch that Thompson is scrambling to win back Khloé's trust. "[Tristan]'s been in Khloé's ears apologizing, telling her that these videos aren't what they look like," a source said. "He's telling her that the girl he was with at the hotel is [a friend of a friend] and that the video of him kissing that chick last year was a stupid bet he made with one of his teammates."
Everyone warned her about dating another NBA star
Some insiders were concerned about this relationship from the start.
A source told People, "When Khloé first started dating Tristan, her family questioned if it was a good idea. There were several concerns, including that he is another basketball player and also that his ex was pregnant. It took a while for the family to accept Tristan. They were worried that Khloé would end up heartbroken … Being on the road as an athlete, you face many temptations. But Tristan always assured Khloé's family that he was totally committed to Khloé. Khloé thinks the world of Tristan."
Another insider concurred to Us Weekly, "Kris, Kim and Kourtney, all had concerns about her relationship with another basketball player, and now their fears appear to have serious merit. Women are constantly throwing themselves at professional athletes, and it's very easy to stray when teams are on the road … After the living hell that Khloé had to deal with while married to Lamar with the constant cheating, her sisters had wanted her to date a non-athlete. Tristan is the young hot star of one of the hottest teams in the NBA."
She's relying heavily on the rest of the KarJenner clan
The Kardashians always put family first, and this is no exception. A source told Entertainment Tonight, "Kris has gathered the family and made sure they would all be there for [Khloé]. They are so excited for Khloé. Her sisters are being super supportive of her… her family is rallying around her … They won't let any news change the importance of how beautiful this birth is for Khloé."
"They want her to focus on having a healthy experience," the source said, adding that the family is trying to keep Khloé away from "any of the news right now … At this point, Khloé's family wants nothing more than to believe that he is a stand-up guy and that this was a setup."
An insider told Radar Online that in light of the drama, Khloé may "move in with Kris for a while until she decides what to do … She feels sick inside, and her biggest dream has turned into her worst nightmare."
Kris Jenner may be plotting her revenge (and ratings gold)
Insiders claim that the ever-crafty Kris Jenner is plotting to get back at Tristan Thompson for cheating on Khloé Kardashian, and she may very well do so using clever film editing on Keeping up with the Kardashians.
Filming reportedly resumed on April 8, 2018, "So, the cameras are catching all of the Tristan and Khloé's drama," a source told Radar Online. "…Kris makes sure that every second of their lives is captured by the production crew. Every single second. This is no different."
Another insider told Radar Online, "Kris is plotting revenge, and it is not going to be pretty. She said Tristan has been immediately fired from appearing on the show, and she is blacklisting him from all future family endeavors. She totally trusted him, and was beginning to actually love him like he was her own son. But after he did this to Khloé while she is getting ready to give birth, this is the end for him … Kris knows that this is going to make great TV, but it will be at her daughter's expense, unfortunately."
Even Khloé's potential enemies feel sorry for her
Tristan Thompson's ex, Jordan Craig — who he left for Khloé Kardashian while Jordan was pregnant with his son — posted kind words aimed at Khloé on Instagram after the scandal broke.
"If you respect yourself and you respect others, you would never make light of the misfortune of anyone, nor would you feel indemnified when it comes at the expense of others," Craig wrote (via Us Weekly), adding, "Wishing peace for everyone."
Even Amber Rose, who previously feuded with Khloé, sent her well wishes, writing on Instagram (via Entertainment Tonight), "I know we've had our differences in the past but my heart is broken for you sis. Smh no one deserves to feel that pain especially during such a sensitive time. God bless you and your baby."
Still, some people think Thompson's actions are karmic punishment for the Revenge Body star's behavior while Thompson and Craig were together. "Khloé's family warned her: 'If Tristan cheats on his pregnant girlfriend with you, he will cheat on you with another woman.' But Khloé doesn't listen to her family when it comes to love. She can't seem to pick the right man," a source told In Touch Weekly. "Khloé is scared to push Tristan because she doesn't want him to break up with her and leave her pregnant and alone. She's really afraid that Tristan will get tired of her, like he did with Jordan, and she'll become just another one of his baby mamas."
She may be angrier about the humiliation than his behavior
A source told Life & Style that Khloé Kardashian may be more angry about the humiliation Thompson caused her than about his actual cheating. "She's embarrassed and feels so betrayed and feels like Tristan is a liar. A cheater," the source said. "He's no different than Lamar."
Insiders concurred that Khloé was furious. "The first reaction was that this was a setup: that the girl in the club totally threw herself at him, made sure it was caught on tape, tipped off [photographers] to catch her going into the hotel, and then basically made sure they caught her leaving. Everyone wanted to give him the benefit of the doubt," a source told People. "It's the public humiliation that's worse than anything … It's all snowballing — sex tape hoaxes and other women from ages ago, and it's a nightmare. This is supposed to be the most joyous time in her life and it's been ruined, and that's probably what hurts most of all. Khloé could probably convince herself to get over the fact that he maybe, kind of, sort of, hooked up with some groupie while out on the road. But being so indiscreet about it and letting it get splashed all over the place and having it humiliate her? That's actually even worse."
Though plenty of people are speaking for her, Kardashian went radio silent on her social media accounts after the scandal broke and to date, she has not directly addressed the controversy.
She's trying to remain focused on parenting
"The only thing Khloé can do now is focus on her baby," a source told People. "What's happened over the last 24 hours changes a lot of things, but it doesn't change everything: It doesn't change that Khloé has dreamed of becoming a mom, already loves her baby so much, and that soon her dream is going to come true. She can't wait to meet her little girl, can't wait to hold her … and so for right now, the focus is just on getting to that day as safely and healthily as possible."
That day arrived a little sooner than expected. Though the baby reportedly wasn't due until the end of April, TMZ reported that Kardashian had "early contractions" after news broke about Thompson's alleged infidelity. The rest of the family reportedly rushed to be by her side, and they apparently she got there just in time. According to TMZ, Kardashian delivered her baby around 4 a.m. on April 12, 2018. The tab said mom Kris Jenner, sisters Kourtney and Kim Kardashian, and bestie Malika Haqq were all by her side during the birth. Guess who else was reportedly present at the birth? Thompson.
A source told Radar Online that Kardashian is "going for full legal and primary custody of her daughter. Also, she's made up her mind to leave Cleveland following the birth, which her family and mom Kris is thankful for." According to TMZ, Kardashian and Thompson do not have written any financial or custodial arrangements for their daughter, so a trip to court may be in order soon.
Fans are furious with Tristan
On April 11, 2018 — the day after the cheating scandal broke — the Cleveland Cavaliers hosted a home game against the New York Knicks, and fans made sure to let Thompson know exactly what they thought of the scandal.
Several fans in the stands held up signs in support of his scorned girlfriend, with one reading "We [Heart] Khloé." He was also booed several times in the 30 minutes he played during the game. Sources told TMZ that because Thompson first hit the court during a timeout, he didn't have to worry about being heckled during introductions at the beginning of the game, but he still didn't get off scot-free with the spectators. Witnesses said the boos were loudest when Thompson was onscreen and when referees called him out for personal fouls.
And talk about "worst timing ever:" the Cavaliers also gave away a Thompson-signed basketball for fan appreciation night during the game. Yikes.
He was linked to a fifth woman
Just when everyone thought the dust was settling on Thompson's cheating scandal, the Daily Mail reported that Thompson had been linked to a fifth woman behind Khloé's back.
The fifth alleged mistress, Tania, was reportedly first spotted with Thompson in November 2017 in New York City, where she allegedly spent the night with him at the Four Seasons hotel — the same hotel where Thompson allegedly spent the night with Lani Blair. She then traveled to Boston to be with him at an away game in February 2018, and was spotted hanging out with Thompson at a hookah bar as recently as March 2018 (and leaving together in the same Escalade.)
Though there are photos of Tania and Thompson partying together and in suspicious situations outside of his hotel, there aren't any actual images of them being intimate. Tania's father told Radar Online, "She's very upset … She's telling me nothing happened. She's a friend of one of the guys who plays on the same team."
Is she getting a very, very expensive push present?
In light of all his bad press, Thompson is reportedly desperate to win Khloé over again — and he's said to be attempting to do so with material goods.
"Tristan is so emotional right now. He is going all out to prove to Khloé that he loves her and is going to be a great father to their daughter. Tristan is already working on an incredible push present for Khloé," a source told The Sun. "He has commissioned a stunning diamond necklace and matching bracelet for Khloé, and a mini version of the bracelet for their princess. The jewelery, made of pink diamonds, is going to be engraved with the couple's initials showing they are united. It is insane! He has spared no expense on the gift around [$56,000], and promises Khloé he will stand by her."
But is he truly sorry? Some insiders insist that he is. "He is incredibly remorseful for everything that has happened," a source told Us Weekly. "Tristan is asking her to give him another chance and to give them time as a couple and a family to bond, especially with the off-season looming."
Kris Jenner wants her to move back to Los Angeles STAT
Aside from whatever potentially diabolical reality TV revenge plan Kris Jenner could be cooking up, she also allegedly wants Khloé to get as far away from Thompson as she can.
A source told Us Weekly, "Kris is concerned that the longer Khloé stays in Tristan's house with their daughter, True, she won't move back to Los Angeles as she had indicated she wanted to do before she gave birth in the aftermath of his cheating scandal. Kris has been a constant presence in the house, helping Khloé with True. Things have been strained with Tristan, but she has forgiven him. Their relationship is still very much up in the air."
"Khloé's concern is that Tristan won't be able to bond with True because of the basketball playoffs if she moves back to Los Angeles," the source added. "Kris is pushing for the move because she just wants Khloé and True out of there."
Kimye are reportedly furious
Kim Kardashian and husband Kanye West are reportedly seeing red in terms of Thompson. A Kimye insider told People, "They both feel Khloé has gone through so much and that she deserves being happy. They can't believe that Tristan has been going behind everyone's back. They find his behavior disgusting."
Neither has publicly commented on Thompson's behavior, but rumor has it that Kardashian is mad because Thompson hurt not just her sister, but also the family brand. "Kim has taken a tough love stance with Khloé, warning her that her choice is Tristan or her own family," a source told Radar Online. "Kim is disgusted that Khloé is even thinking about taking this man back. She doesn't want to kick a sister when she's down, but she's telling the family a certain toughness in necessary as it affects them all. This is bad for the brand and Kim doesn't appreciate how Tristan is dragging the Kardashian name through the mud. Kim believes that people are laughing at them and it's only going to get worse the longer he sticks around. Kim has offered to help Khloé any way she can with the baby — as long as she kicks that cheater to the curb!"
The rest of the family may be out for Tristan's blood
Kris and Kimye aren't the only KarJenners who are allegedly upset with Thompson.
A source told People that Rob Kardashian, who was always particularly close with Khloé, is "furious" with the NBA star, saying, "Khloé has always been there for Rob and he hates that she was hurt — he knows what it feels like to be screwed over by someone you trusted. Rob won't forgive Tristan for this."
Meanwhile, Kourtney Kardashian, Kendall Jenner, and Kylie Jenner escaped the Khloé-Thompson drama with a trip together to Coachella, because they're allegedly just sick of the headache and want Khloé to snap out of her lovesick, rose-colored glasses and kick him to the curb for good. A family insider told Radar Online, "Khloé's family just thinks she is insane for not leaving him after everything he put her through … Of course they ditched her [for Coachella]. Khloé needs to wake up and move back to L.A. if she wants to be a part of their family. No one wants to hear either of their lame excuses anymore."
Lamar Odom may want another shot
After everything Khloé and ex-husband Lamar Odom went through together — including his own cheating scandal, overdose, and recovery — insiders believe Odom may want his ex-wife back.
Before True's birth, a source told Us Weekly, "[Lamar is] very concerned to read the reports that Tristan has cheated on Khloé. Lamar would absolutely get back together with Khloé, and realizes he wasn't the best person he could be while they were together. It's incredibly upsetting for Lamar."
After True's birth, a source told InTouch that Odom was planning to reintroduce himself into Khloé's life. "Lamar's shooting his best shot and trying to crawl back into Khloé's life now that she's in a vulnerable spot," the source claimed. "He sent True a plethora of baby clothes, pacifiers, and the best present of all — an infant Clippers and Lakers jersey with his name and old number on the back! Lamar knows Khloé's going through hell and would like to be there for her just like she was for him when he was knocking on death's door. He has the utmost respect, love, and admiration for Khloé and is tremendously happy she's had her first child. Truth be told — Lamar wishes he were the father."
Scott Disick could be playing both sides
Scott Disick, who was accused of cheating on Kourtney Kardashian — the mother of his three kids — so many times that she finally called it quits for good, is reportedly reaching out to Thompson in his time of distress.
A source told Radar Online, "If anyone knows how tough it is to be part of that family it's Scott, and he's got lots of sympathy for Tristan. Scott's telling Tristan he understands what he's going through and that he's there for him if ever he needs a friend. Scott's been censured, too, in the past for his wild ways. His experience has taught him the Kardashians can be a prickly group."
The insider added that because of Disick's close friendship with Khloé Kardashian, he's going about building a relationship with Thompson very, very carefully so as not to rock the boat … and to protect his own pockets. "Scott is reaching out to Tristan on the sly because he doesn't want to make waves himself," the source alleged. "He still needs the family and their money."
True's last name may have been a tough decision
Not only are Khloé and Thompson not married, but his alleged cheating scandal wreaked havoc on her final days of pregnancy — sources claim that made choosing a last name for the little one no easy task.
TMZ reported that Khloé and Thompson chose the name True months before the birth and had planned to give her Thompson's last name, but when video footage emerged of Thompson allegedly cheating on her, rumor has it Khloé gave their original idea some serious pause. In fact, sources told the site that it actually took Khloé a few days to fill out True's birth certificate because she was "beyond conflicted" over whether True should be a Thompson or a Kardashian. (The drama also delayed her decision over what monograms to use on some custom-ordered baby items, the tab noted.)
Sources claim that Khloé eventually decided that sticking with Plan A was "the right thing to do."
They're still together … for now
Sources claim that Khloé Kardashian and Tristan Thompson are still together to date, but it hasn't been smooth sailing since his alleged infidelity was exposed. A source told The Sun that this new mama is laying down the law: "Khloé is willing to give things another go, but she is not taking any of this lightly, so she has told him to curb his partying and no more strip clubs if they are to stay together."
An insider told People, "Khloé really wants to be able to forgive and trust Tristan again and have the life she hoped to have with him. She doesn't know if she'll be able to do that, but that's the goal. She loves the life they had, she loves the baby they have together, and she still loves the dream of being a family together. If she can find a way to rebuild with Tristan, she will."
The couple is reportedly living apart, despite reconciliation efforts. However, one source told People, "Everything that happened with Tristan is less about 'cheating' and more like, it was just a random drunken hookup that meant nothing and was kissing at most and didn't lead to anything else and was the fault of stupid groupies trying to trap him, and everybody just needs to move on."
Um, good luck getting the Kardashians' million of followers to "move on." We'll keep you updated as this strange relationship unfolds.