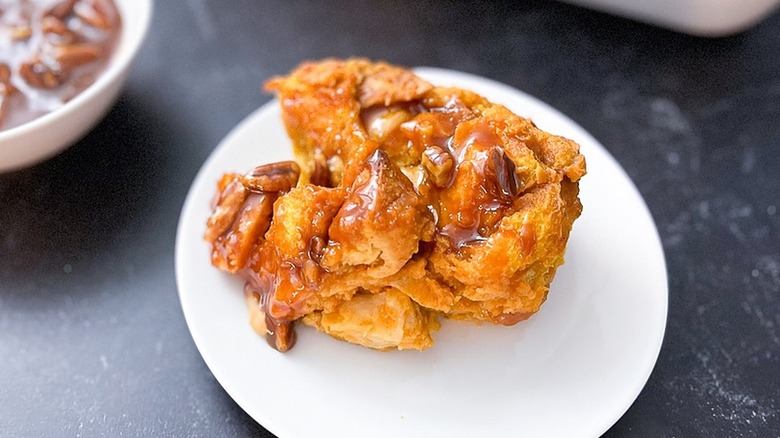 If you were trying to capture the taste of autumn in a dish, what ingredients might you include? Perhaps some pumpkin puree might come to mind, or maybe fall-themed spices like cinnamon, nutmeg, and ginger. Certain nuts have a very autumnal feel, and perhaps even a dash of some bourbon?
You can stop right there if these ingredients are sounding pretty seasonal already, because chef and recipe developer Erin Johnson has brought them together with this pumpkin bread pudding with caramel sauce. And don't let the "bread" part of the name fool you — this is a full-fledged dessert. "This is good with whipped cream, ice cream, or on its own," Johnson raves about this dish. From the warmth of the bread pudding to the festive flavors of pumpkin, pie spice, and bourbon, this is one dessert that will carry you through well into wintertime. So, without further ado, let's get going on this mouthwatering recipe.
Gather your ingredients to make pumpkin bread pudding with caramel sauce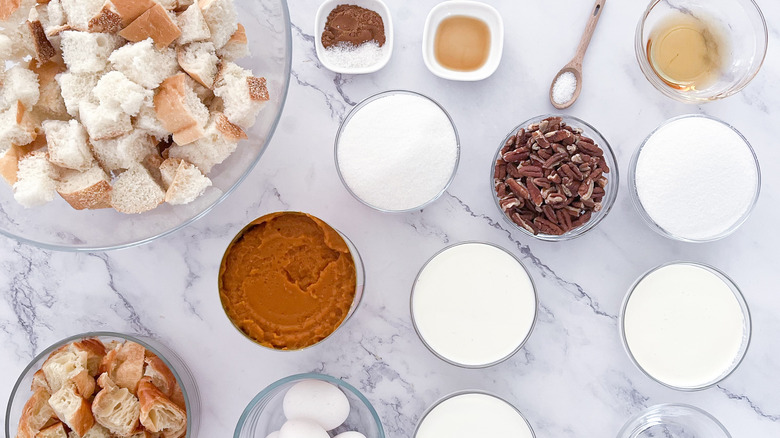 A lot of sweet stuff goes into this bread pudding, but that's what makes it so tasty. For starters, you'll need eggs, milk, half and half, heavy cream, vanilla extract, and a large can of pumpkin puree. Additionally, you'll need some sugar, pie spice (you can make your own, but it's easiest to use a store-bought mix), salt, cubed bread, cubed croissants, corn syrup, bourbon, and chopped pecans. Phew! It is quite the list, but many of these ingredients are likely already sitting in your pantry or fridge. Also, imagine how wonderful your home will smell with all of these decadent ingredients baking together?
Prep the pumpkin bread pudding, then let it chill
In a medium-sized bowl, beat together the eggs, milk, half and half, and vanilla extract. Then add the pumpkin puree, a cup of the sugar, the pie spice, and ½ teaspoon of salt. Mix these ingredients with together with a spatula or large spoon until everything is evenly combined. Next, add in the cubed bread and croissants, and stir to coat these breads in the pumpkin mixture. Now, pour bread mixture into a greased baking dish, cover it with plastic wrap, and refrigerate it overnight or for at least six hours. We know it's a long time to wait, but by letting it chill, all of the delicious pumpkin flavors will have time to soak into the bread.
Bake the bread and make the caramel sauce
The next day (or after six hours), preheat the oven to 350 F and take the chilled pumpkin bread pudding out of the fridge. Once the oven is heated up, bake the pumpkin bread mixture for 50 minutes, and put some foil over the top of the dish for the last 20 minutes of baking.
While the bread is baking, heat a cup sugar and the corn syrup in a skillet. Do not begin to stir until the sugar has started to liquefy. Once it is melting into the syrup, start to continually stir until the sugar becomes a golden caramel color. Then add a teaspoon of salt and the heavy cream to the pan. This will bubble and steam significantly, but it's all part of the caramel-making process. Once those ingredients are stirred in, remove the skillet from heat and continue stirring, adding in the bourbon and pecans.
Drizzle on the caramel sauce and serve
Once the bread pudding is done baking, remove it from the oven and pour the caramel sauce and nuts evenly over the top. Now allow your sweet creation to cool for 10 minutes, then serve it to the delight of your family or party guests.
And, if you have some leftovers? Johnson says you can "store leftovers (if there are any) in the fridge for up to two days." Simply reheat the pumpkin bread pudding when you'd like and enjoy your festive treat all over again!