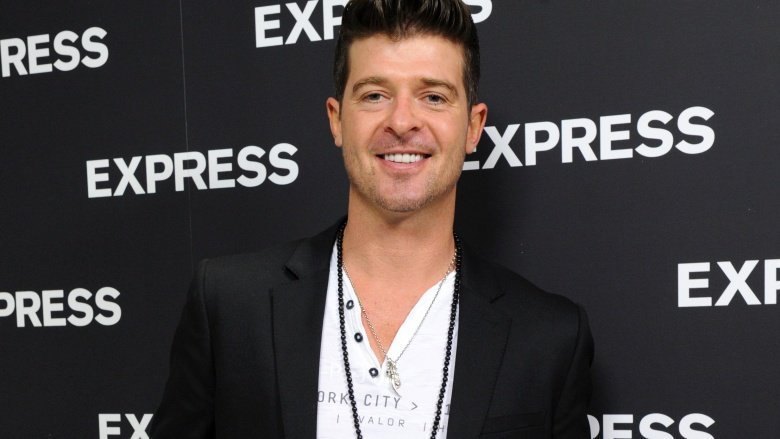 Some think of Robin Thicke as a modern day, blue-eyed, soul singer. Others would call him as a poor man's Justin Timberlake. Whatever your feelings might be about Thicke, there was no getting away from him in 2013, but just a year later, everything changed. He fell out of favor with the public and his then-wife and soon melted into music irrelevancy. Here are the reasons we don't hear much from the "Blurred Lines" singer these days.
He skipped out on his fake reality TV show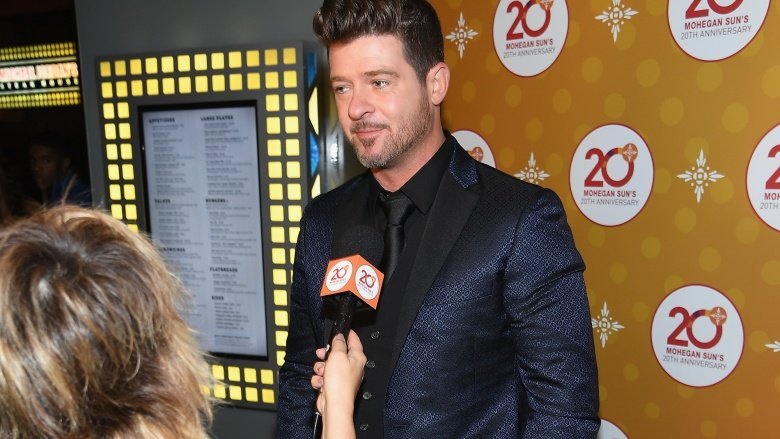 Around the same time his music career really started taking off, Thicke made the decision to walk away from the BET series Real Husbands of Hollywood. He revealed during an interview with The Breakfast Club that he backed away from the show to focus on his music career. In retrospect, that decision may have been a poor one, considering his music career and marriage subsequently tanked. The reality TV show parody could have helped keep Thicke remain in the public eye while providing some much-needed levity. He did make a cameo during the show's fifth season.
That awkward MTV VMAs performance
There are certain mental images no person wishes to be stuck with for the remainder of their lives. Miley Cyrus grinding on Thicke at the 2013 MTV Video Music Awards nears the top of the list.
Instead of adding sex appeal to his "Blurred Lines" performance, the routine spawned a very awkward, very controversial moment. Thicke and Cyrus took quite a bit of flack for the raunchy performance, and Thicke responded by essentially throwing the "We Can't Stop" singer under the bus. During an interview for OWN's Oprah's Next Chapter, he said, "Listen, I'm the twerkee. I'm twerked upon."
The day after the performance, Thicke told Vanity Fair, "They told me [beforehand] that Miley's going to take her clothes off and dance around and she might bend over… I just said, 'I don't care, let's entertain the people. Let's give them something they're not ready for, let's make them talk.'"
Well, people did talk. Unfortunately for Thicke, it was for all the wrong reasons.
His breakup was messy
Not only did Thicke have to deal with the fallout of his unpopular VMAs performance, but the raunchy moment was rumored to have played a part in his breakup with wife Paula Patton. TMZ claimed Patton felt disrespected by the spectacle.
However, Patton said she was aware of the twerking stunt well in advance of the VMAs. "They rehearsed for three days. Robin told me in advance," she told the Today show (via Us Weekly). Patton reportedly decided to end her eight-year marriage soon after the VMAs because life with Thicke simply "didn't work out." While she admits she was "very in love" with the crooner, she said she was ready to move on.
As for Thicke, he was quick to shoot down infidelity rumors, stating that he and Patton "simply couldn't be together anymore." That didn't stop him from making one of the most cringe-worthy attempts in music history to get his wife back (more on that later.)
His custody battle was even messier
In January 2017, just under two years after their divorce was finalized, Patton was granted a temporary restraining order against Thicke related to her claims that he had an ongoing substance abuse problem and an uncontrollable temper that allegedly jeopardized the wellbeing of their then-6-year old son, Julian. According to People, Thicke vehemently denied Patton's allegations, but an investigation was launched and Thicke's visits with Julian were limited to three days a week under court supervision.
By August 2017, something drastic had changed. TMZ reported that Patton and Thicke "hammered out a custody deal" for Julian in which they would once again share joint custody. Fortunately, the custody mess was resolved, but it's not exactly the kind of stuff that makes for inspired songwriting.
'Get Her Back' was a failure in more ways than one
Faced with losing the love of his life, Thicke poured his heart and soul into an album dedicated to winning back his one and only. Not one for subtly, the 2014 album, titled Paula, took things to a literal extreme that made the American public somewhat uncomfortable.
The lead single, "Get Her Back," features a music video that attempts to lay Thicke's relationship bare, but "Cry Me A River" this track is not. Instead, the dark video feels heavy and almost stalkerish, so much so that The Washington Post's Bethanie Butler said his efforts represented "how not to do a song about an ex."
In the end "Get Her Back" was a commercial flop, debuting with 24,000 sales—an 86 percent drop from his previous effort. The failure effectively ended Thicke's hot streak on the charts. Even so, it's likely he would have gladly taken the hit if it meant he got his wife back. Alas, Patton still opted for the divorce.
He endured cultural backlash for 'Blurred Lines'
Though the song was undoubtedly the hit of the summer in 2013, it wasn't the career-making smash Thicke may have hoped it would be. In addition to the obvious ramifications of the aforementioned lawsuit, Thicke also experienced significant criticism over the song's lyrics, in particular the lines, "Good girl/I know you want it," which the Daily Beast suggested were "kind of rapey."
Things didn't improve a year later when Thicke attempted some slick social media marketing by encouraging fans to hit him up using the #AskThicke hashtag. According to Time, Twitter asked all right, and it was not good. Haters quickly piled on with questions such as, "Once you've cracked 'hug me', any thoughts on what rhymes with 'misogynistic douchebag'?" and "What form of sexual or emotional abuse will you be normalising in your next jaunty hit?"
It turns out Thicke's problems with "Blurred Lines" were really only beginning, because…
He was tangled up in a lawsuit
Thicke's single "Blurred Lines" would prove to be his biggest career hit. The tune was as catchy as it was controversial, but the track wasn't just the subject of think pieces. It was also at the center of a multi-million dollar lawsuit. In March 2015, a jury awarded Marvin Gaye's children $7.4 million after determining "Blurred Lines" borrowed heavily from Gaye's "Got to Give it Up." The copyright case sent shockwaves through the music industry, with 200 artists coming forward to push for an appeal. As of this writing, that appeal is ongoing.
He didn't even write the song
Seemingly to top off the experience of being as hated as humanly possible, a few months after the #AskThicke trainwreck, the "Blurred Lines" singer admitted in a deposition related to the copyright infringement case that he was so wasted when he recorded the song that he basically had nothing to do with it other than singing the words.
"I was high on Vicodin and alcohol when I showed up at the studio. So my recollection is when we made the song, I thought I wanted—I—I wanted to be more involved than I actually was by the time, nine months later, it became a huge hit and I wanted credit. So I started kind of convincing myself that I was a little more part of it than I was and I—because I didn't want him—I wanted some credit for this big hit. But the reality is, is that Pharrell had the beat and he wrote almost every single part of the song," Thicke testified, according to The Hollywood Reporter.
This would seem to mean that in his self-professed fraudulent attempt at becoming a superstar, Thicke got himself branded a "kind of rapey misogynistic douchebag." Ouch.
He took time off to be with his family
Despite a rough 2014, Thicke was able to find somewhat of a silver lining, thanks to his son, Julian. Thicke spoke to Good Morning America about his decision to take a step back from his music career: "I took some time off to just be with my son and my family. It helps you gain perspective on what's important in life." In addition to being there for his son, Thicke also reportedly took his mother on vacation.
After taking some time for himself, Thicke was ready to return to the music scene, which he did during the summer of 2015 with the single, "Back Together," a track that actually wasn't about reconciling with his ex. In his own words, he didn't even write the song!
He's grieving the loss of his father
Thicke's attempt to move forward with his life and music career was derailed in late 2016 by the death of his father, beloved Growing Pains actor Alan Thicke, on Dec. 13, 2016. Robin released a statement through his official Instagram account, referring to his father as "the best friend he ever had." In the aftermath, a source told People Thicke was a "rock" for his grieving family, even "taking the lead to organize everything" alongside his late father's wife, Tanya.
Considering family was key to getting Robin through a tough divorce and downward turn in his music career, it's no surprise he's keeping close to those who matter most to him as he works his way through another rough period in his life.