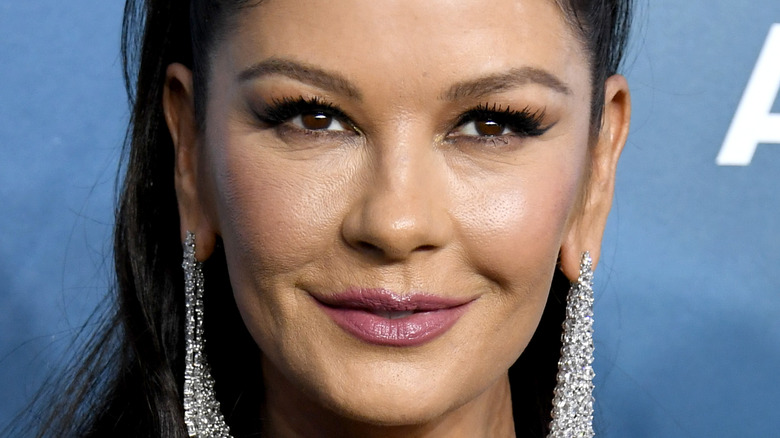 It's safe to say that the Douglases are one of Hollywood's most iconic families, thanks to a legacy that dates back all the way to the 1940s with late actor Kirk Douglas. Of course, his son, Michael Douglas, has had an impressive career of his own starring in legendary films like "Wall Street" and "Basic Instinct." But the "Fatal Attraction" star solidified his status as Hollywood royalty when he married another successful actor, "Chicago" star Catherine Zeta-Jones.
Their 25-year age difference may have been the stuff of tabloid fodder, but Zeta-Jones and Douglas have managed to do what a lot of other Hollywood couples can't, which is stay together for a long time. According to Us Weekly, the duo met at a 1998 film festival, and by that November, revealed they were expecting their first child together. Douglas had previously been married to film producer Diandra Luker, but in November 2000 — once their divorce was finalized — he and Zeta-Jones married in an extravagant ceremony held at the Plaza Hotel in New York City.
It's clear that Douglas and Zeta-Jones wasted no time starting their own family: after welcoming son Dylan Michael Douglas in 1999, the couple had daughter Carys Zeta Douglas in 2003. While both Dylan and Carys come from a famous family, these siblings have managed to keep a low profile over the years. Yet, both of Catherine Zeta-Jones and Michael Douglas' children are very talented and interesting in their own right, so let's get to know them a little better.
Catherine Zeta-Jones and Michael Douglas' kids had a normal childhood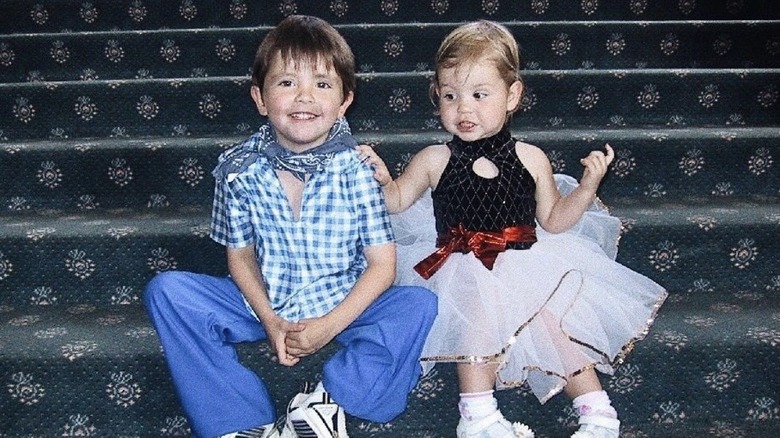 Dylan and Carys Douglas may be the children of big movie stars, but they seemingly managed to stay grounded because of how they were raised. Their mother, Catherine Zeta-Jones, explained to ET, "They've kinda been removed from the crazy world of Hollywood. …We've kind of shielded them away." The "Zorro" star told The Telegraph that it was because she and husband Michael Douglas "wanted them to have a normal childhood, not being photographed going to school every day" or "on film sets with a tutor." Zeta-Jones even revealed how the celeb parents pulled it off, adding, "If I was working, Michael would be home with them and vice versa."
It apparently worked, since Carys admitted to Town & Country in 2018 that she used to not know what her parents did for work. "I thought my dad was a pancake maker," she dished. "I didn't know he was an actor." However, when Carys did realize that her family was kind of a big deal, she wasn't into it, confessing, "When I was younger I didn't like the idea of having this name attached to me, this kind of 'Douglas dynasty' stuff."
Despite their celeb status, Carys' mom also made sure she and her brother weren't spoiled. "I'm very conscious of my kids being very rooted, very down to earth and I'm always big on manners," Zeta-Jones explained to The Telegraph, reiterating to Town & Country, "There's nothing worse than a privileged kid without manners. I drilled it into them like boot camp."
They're following in their parents' footsteps
Like their parents, Catherine Zeta-Jones and Michael Douglas, Dylan and Carys Douglas apparently caught the acting bug — even though breaking into the business may actually be harder for them because of their famous last name. "It's not an easy way in," Zeta-Jones explained on "The Drew Barrymore Show." "In fact, one has to prove oneself more." Yet, it seems that Dylan and Carys are willing to put in the extra work, since their mom admitted, "Their love of the craft of acting is so strong," even calling it "their passion."
Zeta-Jones also pointed out on the "Today" show that she believes her kids are aware of what they're getting into: "They know what celebrity-dom is. They know the goods, the bads, warts, and all of that." And while it may sound harsh, she admitted to ET that if her children weren't talented, "[We'd] kinda guide them towards something else. But it's so evidently clear that they have it."
Dylan has even done some voice work in the Disney cartoon, "Phineas and Ferb." As for Carys, she's been in several school plays. For her part, Zeta-Jones joked to ET about what it's like to have their family so entrenched in the entertainment industry. Recalling a time when all four were discussing their current projects, Zeta-Jones joked of the married pair, "We both went, 'This is four actors at one table, it's too much.'"
Education is important to the Douglases
It's safe to say that Dylan and Carys Douglas still take their education very seriously, even if they're more interested in becoming actors. Dylan in particular has been studying at the Ivy League school, Brown University. His whole family made the trip to the Rhode Island campus to drop him off in 2018, with his mom, Catherine Zeta-Jones, even sharing a heartfelt video of that experience Instagram. She wrote in the caption, "Let the lectures really begin! …Good luck in the next exciting and enlightening chapter of your life."
However, it wasn't just Dylan who moved away for school, as Carys left home even before college to attend boarding school in Europe. Her dad, Michael Douglas, didn't seem quite ready for that, telling Closer Weekly in 2019, "She really wanted to take off. It was unexpected because we actually moved to be five minutes from the school that she'd been going to." Zeta-Jones apparently had a harder time sending Carys off to college. In August 2021, she posted a throwback video of Carys, admitting in the caption, "My daughter Carys prepares for college!!! … Carys is packing her bags and I am looking at old videos."
While it may be difficult for Zeta-Jones and Douglas to see their kids leave the nest, the "Chicago" star is very proud of them. "They're both extremely bright and they're both studying history and politics," she gushed on the "Today" show, before quipping, "And they get all their brains from me."
Dylan and Carys Douglas are musically inclined
Dylan and Carys Douglas aren't just taking on the craft of acting, they both also seem to be quite interested in playing music. Dylan made that clear in 2020, when he posted a video of himself singing Rolling Stones' songs onstage at a Greenwich Village café. He appeared to be really into performing, writing in the Instagram post's caption, "My kind of Friday night!" His famous parents seem supportive of his music, as well, since dad Michael Douglas joked in the comments, "Mick, you're getting younger and younger!" and his mom, Catherine Zeta Jones, wrote, "Brilliant."
Dylan shared another video of himself singing at home during quarantine, where he also showed off his talents for playing the bass. It looks like Carys shares a love of music with her brother, since she has also posted clips of herself singing on her Instagram — but the piano is apparently Carys' instrument of choice over the bass, which is evident from a highlight reel on her page that is dedicated to her onstage performances and piano playing. For her part, Zeta-Jones couldn't help but share her daughter's musical talents. For International Women's Day in 2019, the star posted an older clip of Carys singing and playing the piano during a concert, writing in the Instagram post's caption, "You are exceptional."
It's unclear if Dylan and Carys are trying to professionally pursue music like acting, but it's obvious both have the talent and experience to back it up.
They've had to overcome some obstacles
Dylan and Carys Douglas may be the children of movie stars, but that doesn't mean that they grew up without facing their fair share of obstacles. For Dylan, that was dealing with the learning disability dyslexia. His father, actor Michael Douglas, told Parade in 2010 that was a reason why they moved out of Bermuda, saying, "It was recommended he go to a special school in the New York area." Dylan didn't let his dyslexia stop him from reaching his goals though, something his dad praises him for. The "A Perfect Murder" star gushed (via Us Weekly), "He worked really hard, and the fact that he worked himself up to get into an Ivy League school, I'm just so proud of him."
Carys, on the other hand, had to deal with bullying at school when it came to her dad's age. She revealed to Town & Country, "People would be like, 'Your grandpa's here to pick you up.'" She added that having prominent parents makes her feel like she has to work even harder, explaining, "I feel I need to constantly prove myself to people — that I am not just my parents' daughter."
Then there's the paparazzi. Carys dished, "I used to get really upset. They would jump on the subway and sit right in front of me." Carys struggled with the tabloids, too. She recalled, "There's this picture of my dad and it's like, 'Michael Douglas Cancer Again, Dying In a Month.' I just started crying … Only it wasn't true."
Carys Douglas is into fashion like her mom
Carys Douglas seems to be making her mark as an up and coming model and fashionista these days. You could say she's even an Instagram influencer, since she has 167K followers who like her glamorous photos, but she's already landed a few magazine covers, too. In 2018, Carys and mom Catherine Zeta-Jones posed together for the cover of Town & Country magazine — and then, in 2019, they did it again for Vanity Fair Spain.
Douglas also made a splash when she accompanied her famous mother to New York Fashion Week in both 2017 and 2019, and sat front row alongside other big stars at high-profile shows like Michael Kors (via Vogue). For Carys, it's not just about the glam and red carpets, though, as she's actually very into the fashion, telling Town & Country, "Fashion has been so important in my life, because my mom is like a fashion icon to me. I'm always looking through her closet." It appears that Zeta-Jones admires her daughter's fashion sense just the same, as she gushed, "She has her own individual style. She's modern but age-appropriate."
Perhaps their flawless mother-daughter look and mutual appreciation for fashion is why they were asked to do a fashion campaign together for Fendi in 2019. "We had so much fun on set," Carys told People. "Our sense of humor is pretty similar so we are always laughing when [my mom and I] are together."
Dylan Douglas is a daredevil who's into politics
By the looks of Dylan Douglas' Instagram, he seems to be quite the adventurer. Case in point: In addition to posting a video of himself cliff-jumping in Capri, Italy, he shared a skydiving clip taken in Quebec, Canada from 2019. Yet it doesn't appear his mom, Catherine Zeta-Jones, is a fan of these risk-taking hobbies, since he joked in the parachuting video's caption, "Don't tell mom… ." Of course, the "Intolerable Cruelty" star saw the post and later commented, "Mom just found out."
For his part, dad Michael Douglas shared video of Dylan's cliff jump on his own Instagram. Yet, the elder Douglas admitted on "The Ellen DeGeneres Show" that he warned his son to take some precautions. "What I did not like is he was the first one to jump … let a couple of other people go off first just in case there's any rocks in there," he jokingly dished. "…I said, 'Ok guys, just don't be first.'"
Dylan does have other interests outside of being a daredevil, though. According to The Brown Daily Herald, he's also part of a group of students who formed a "political action committee" at Brown University in 2020 called MakeRoom. Discussing the campaign on Instagram, Dylan explained in the caption, "MakeRoom is a grassroots movement pushing for the next generation of fearless progressive leaders in this country." It's clear that Dylan Douglas has a passion for politics and wants to use his voice for more than just Instagram likes.
They supported their half-brother through his addiction
It appears that Dylan and Carys Douglas grew up a lot differently than their older half-brother, Cameron Douglas, who is Michael Douglas' son from his first marriage. Cameron struggled with drug addiction for years beginning when he was teen, and it eventually led him to serving time in prison in 2009. A decade later, the "Traffic" star admitted to People that when it came to his eldest son, "Life became a series of crises. I thought I was going to lose him."
Cameron's prison stint, which ended in 2016, also impacted Dylan and Carys, with their dad explaining to The Guardian in 2010, "The kids really miss him, and he misses them. I've taken them to visit." Michael also appeared to partially blame himself for Cameron's struggles, saying, "I clearly know I made mistakes. There were absences." He even added that he brought up his younger children differently by mentioning "these days I am consumed with being a father."
These days, Cameron and his younger half-siblings seem to be closer than ever. In a 2020 Instagram post, Dylan called Cameron "a beautiful soul, a brilliant mind, and most of all, an amazing brother." He also promoted Cameron's autobiography, "Long Way Home," in another post, writing, "It is such a gift to have my brother, such a thoughtful and smart person back in my life." As for Carys, she shared in 2017 how both Dylan and Cameron were "the best brothers a girl could ask for." It seems that the Douglas children have each other's backs no matter what.
If you or anyone you know is struggling with addiction issues, help is available. Visit the Substance Abuse and Mental Health Services Administration website or contact SAMHSA's National Helpline at 1-800-662-HELP (4357).
The pandemic brought the Douglas kids back home
Like most people in 2020, the COVID-19 pandemic led to some major life changes for the Douglases, in that Dylan and Carys Douglas returned home to quarantine with their parents. Mom Catherine Zeta-Jones, spoke about it on the "Today" show that July: "Michael and I were kind of early empty-nesters, because our son Dylan is off at college and our daughter, Carys, goes to school in Europe. And so all of a sudden they descended on back into our home, and it was just wonderful."
The "Entrapment" star even dished to her fans in a Q&A session on social media (via Hola!) how the family spent time "playing cards, playing Monopoly, having three meals a day." She also emphasized, "We haven't killed each other, we've respected each other's space. Just to have the time to be together and to talk, it's been really great. I've really enjoyed having the whole family together." It appears that Dylan agreed that living at home was going better than expected, as Zeta-Jones pointed out on "Today," "Supposedly, my son's friends told me that we've faired much better than a lot of his friends' families. He said, 'Mom, you have no idea. James is not talking to his dad, he's not talking to his mom.'"
Zeta-Jones did acknowledge their challenges, though, when she posted a photo of her children on Instagram in September 2020. "Today both our young adults go back to studying," she wrote in the caption. "In different, unprecedented ways… So battle through. This too shall pass."
The Douglases are a close family
Dylan and Carys Douglas may have moved far away from home to attend their respective schools, but the Douglas children seem to have a great relationship with their parents, actors Michael Douglas and Catherine Zeta-Jones. Both kids have even made their fondness of them obvious on Instagram. For example, in a special Father's Day post in 2021, Dylan wrote of his father, "You are my whole world. You are my leader, a role model and someone I aspire to be in every way." In fact, a lot of Dylan's posts tend to include his famous family.
Carys seems to feel the same way, since her Instagram also frequently features her mom and dad. In a photo of herself as a baby with her mother on a film set, Carys referred to Zeta-Jones as "my superwoman, my mummy," and alongside another pic of the star, Carys wrote, "Your love of life inspires me everyday." As for her father, she captioned a snapshot of them cuddling with, "My everything. thank you for all you do."
Dylan and Carys aren't just close with their parents, though, and they seem to also share a special bond with each other. Dylan has shared several photos of himself with his younger sister in various stages of life, calling her his "best friend" in one post. Carys, too, has written that her brother is her "best friend," as well as "my rock and my whole world" on Instagram. Apparently, sibling rivalry is not a thing for these two.
Catherine Zeta-Jones and Michael Douglas' children adored their grandparents
It isn't just the immediate Douglas family that's tight, in that Dylan and Carys Douglas adored their grandparents. Because of that, it seems both Dylan and Carys were hit very hard by grandfather and veteran actor Kirk Douglas' death in February 2020.
Dylan commemorated him on Instagram, writing, "Pappy you are my hero and you always will be … thank you for the immense impact you had on my life." Just months before, Dylan had also celebrated Kirk's 103rd birthday on the social media site, where he called him the "undisputed king of class." Carys was also very close to her grandfather — she made this clear in a tribute post following his death, writing how he "was and forever will be my inspiration, my biggest supporter and the best grandpa in the world."
Both Dylan and Carys were just as fond of their grandmother, producer Anne Douglas, who sadly died in April 2021. Carys called her "the epitome of elegance and grace. The kindest, most generous soul," while Dylan wrote to Anne in a tribute post, "Thank you for the time and love you gave me." The Douglas kids seemingly spent a lot of time growing up with their mother's family, as well. Catherine Zeta-Jones explained to People in 2007, "My kids have been with my parents in Wales, getting spoiled. They love it."
While Dylan and Carys are lucky enough to come from a rich and famous parents, it appears their true blessing is having such a loving family.