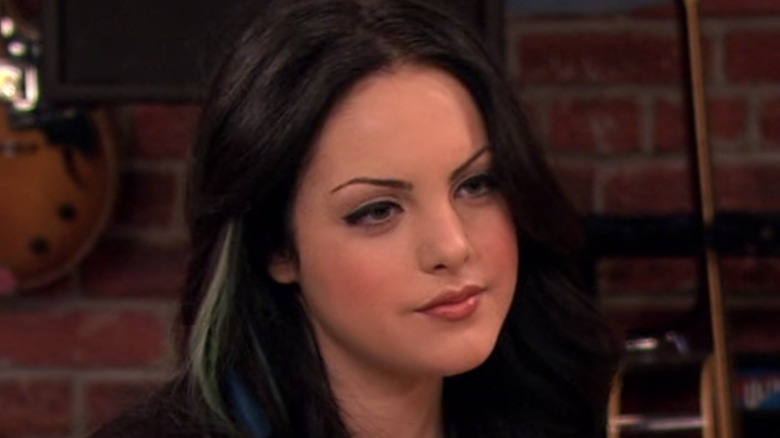 When the Nickelodeon comedy "Victorious" was created, it was widely believed (as in the New York Post) to have been envisioned as a vehicle for Victoria Justice from Jamie Lynn Spears' "Zoey 101." However, the other talented young women who starred with Justice in the series, as part of the main cast from Hollywood Arts High School — namely, Ariana Grande as sweet Cat Valentine and Elizabeth Gillies as Goth-only-not Jade West — soon stole the show and became fan favorites. Sure, Tori was the undeniably talented (but slightly vanilla) star. However, Cat was adorably clueless and Jade was the jealous, mean girl with an edge as sharp as those scissors from "The Scissoring" she adores so much. And they could both sing, backing up Tori and each other with glorious harmony even if they didn't all quite get along all the time on-screen. Well, except that it's impossible not to get along with sweet Cat.
After debuting in 2010, the series ran another four seasons until 2013, ending as a sometimes strange (think creepy ventriloquist dummy Rex Powers) but often fun, mostly family-friendly show. And even in retrospect, Jade remains one of Nickelodeon's most memorable characters: Buzzfeed called her, in 2019, "hands down the best character on 'Victorious.'"
So, whatever happened to Elizabeth Gillies, anyway?
Elizabeth Gillies continued to act, including voicing a character on Nickelodeon's Winx Club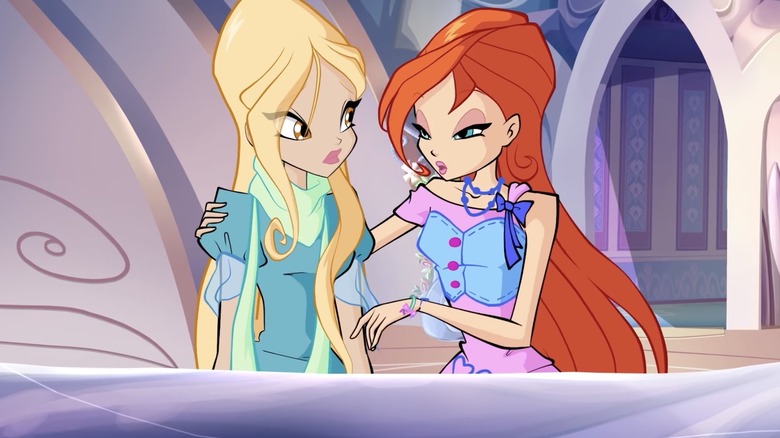 While a cast member on "Victorious," Gillies was one of several Nickelodeon actors tapped to voice characters in a revival of "Winx Club" on Nicktoons. On the animated series about witch-fighting fairies that originally made a splash in Italy, she played Daphne, the older sister of main character Bloom who sacrificed herself but appears to her sister as a guide. Two other actors from "Victorious," Ariana Grande and Daniella Monet, also voiced characters on the series when Nickelodeon brought the series to the U.S. in 2011. The show outlasted "Victorious," but in 2014, it made some cost-cutting changes (via Licensing Special Report from 2014) that was believed to result in Gillies and her "Victorious" castmates losing their gigs with the show.
In the three years following the end of "Victorious," she worked in some movies, including the horror film "Animal" as Mandy, the Lifetime movie "Killing Daddy" as Callie Ross, and the remake of "Vacation" with Chris Hemsworth, as Heather. She also guest-starred on shows like "American Dad!" playing Lena Horne, and "The Penguins of Madagascar," in which she played a singer. She joked to Buzzfeed, when asked about the first project of hers she'd watch again, that one prospect would be "my award-winning Lifetime movie 'Killing Daddy,' Just gets better with every watch, what a performance given by me. Not."
Elizabeth Gillies played Denis Leary's daughter on Sex and Drugs and Rock and Roll
In 2015, Elizabeth Gillies joined Denis Leary's "Sex and Drugs and Rock and Roll" on FX as Gigi, the daughter of a former rock star who shows up at her father's doorstep. The show only ran for two seasons to mixed reviews. Gillies' character received mixed reviews, too: "Gillies has a powerful voice — and the early episodes give her ample opportunity to showcase it — but the writing of her character is the show's weak link, and a general drag on the proceedings," Variety said. Gillies actually sang live in the show.
In an interview with Entertainment Weekly, Gillies said the role appealed to her because Gigi was a lot like her. She told the publication that she had no qualms about moving into a less family-friendly role: "I'm playing a role where I get to sing, act, and be funny, and it's just like a dream for me. As far as moving to more adult TV, I've always had a racier sense of humor and I've never played the good girl, so I don't think it'll shock any of my fans from Nickelodeon. They're all grown up now anyways," she said.
Elizabeth Gillies has made cameos in her good friend Ariana Grande's performances
Unlike some former Nickelodeon and Disney stars, Gillies hasn't seemed to split her focus between acting and music. The only music she's released has been associated with her acting projects, including songs like "You Don't Know Me," her character's spot-on anthem from "Victorious" that brings her boyfriend Beck (Avan Jogia) back to her; "We are Believix," the song she did for "Winx Club," and a few tunes such as "Complicated," which she sang in "Sex and Drugs and Rock and Roll."
However, she's made a few high-profile appearances both live and on-screen with her good friend Ariana Grande, who has been the biggest musical star to come out of "Victorious" to date, and whom she had known before they were cast on the show when they acted together in "13" on Broadway. Most notably, Gillies played the Lindsay Lohan role of Cady Heron in the video for "thank u, next," which was a parody of "Mean Girls" with a few other teenage girl-power movies mixed in, such as "Bring It On," "13 Going on 30" and "Legally Blonde." It included a lot of other fun cameos as well.
She also showed up in patent leather on stage in 2019 at one of Grande's concerts in Atlanta, Georgia, where the two sang live the song "Give It Up," their duet that figured prominently in the first season "Victorious" episode "Freak the Freak Out" (Matt Bennett, another "Victorious" alum, was also in the "thank u, next" video and the Atlanta show). Now, can we get her back together with Victoria Justice to do "Take a Hint"?
Elizabeth Gillies has been Fallon Carrington on the Dynasty reboot since 2017
Starting in 2017, Gillies has starred in "Dynasty" on The CW as Fallon Carrington, the fiesty and intelligent heroine of the series, the daughter of businessman Blake Carrington who sets out to create her own path when her father won't give her the chief operations officer position at his company, instead handing it over to his new fiance, Cristal Flores (played by Nathalie Kelley in "Dynasty" Season 1). Over the course of four seasons, her character has engaged in all the interpersonal and business related drama that the name "Dynasty" has evoked since the 1980s when the original nighttime soap dominated airwaves. Gillies has compared the writing to "candy," with an element of camp, and said she loves the show because it is "without boundaries." She's even been able to sing on the series, which she says doesn't make sense but "we do it because we can get away with it," as she told MediaVillage. Her character got married in Season 4.
She noted she was a big fan of the original show. "It was so iconic and such an important moment in fashion, pop culture and TV history. We took a big swing in rebooting it, but we are simply paying homage and tribute to it. We're nothing like the original, and once you make that separation you can really enjoy our show," she said. "It's a fun, complete guilty pleasure. The fashion is excellent and of this time, and after four years we've found our own voice. There are Easter eggs to the original here and there, but we are our own show entirely."
The series, with its musical performances, Easter eggs, and all, has been renewed for a Season 5 (via Deadline). It's expected to return in 2022.
Elizabeth Gillies got married to Michael Corcoran in 2020
Naturally, Gillies is on social media. She has 13.1 million followers on Instagram and 3.3 million on her Twitter. In 2020, the 27-year-old actress posted pictures to her Instagram from her August 8 wedding to Michael Corcoran, record producer and composer, whom she had been reportedly dating for six years. USA Today reported that the wedding had been originally planned for April, but was postponed due to the pandemic. The wedding had 10 guests.
"Although there weren't many of us, we were surrounded by family. It was everything I could've asked for," Gilles told Vogue of the ceremony.
"It has been such a long road for us, and at times [it] felt like a total impossibility that it was hard to believe we'd actually gotten to that moment where it was really happening," Gillies continued. "Once we were exchanging vows … I think I turned to Michael and mouthed, 'Oh, my God, we actually did it.' We were so happy."
Corcoran is known for his work on Nickelodeon and Disney shows including "Victorious," for which he co-wrote the songs "L.A. Boyz," "Freak the Freak Out," "Countdown" and "5 Fingaz to the Face," which the entire cast performed in "Driving Tori Crazy." It's likely this is how the couple met.